Last Updated on by Eddie Kremanis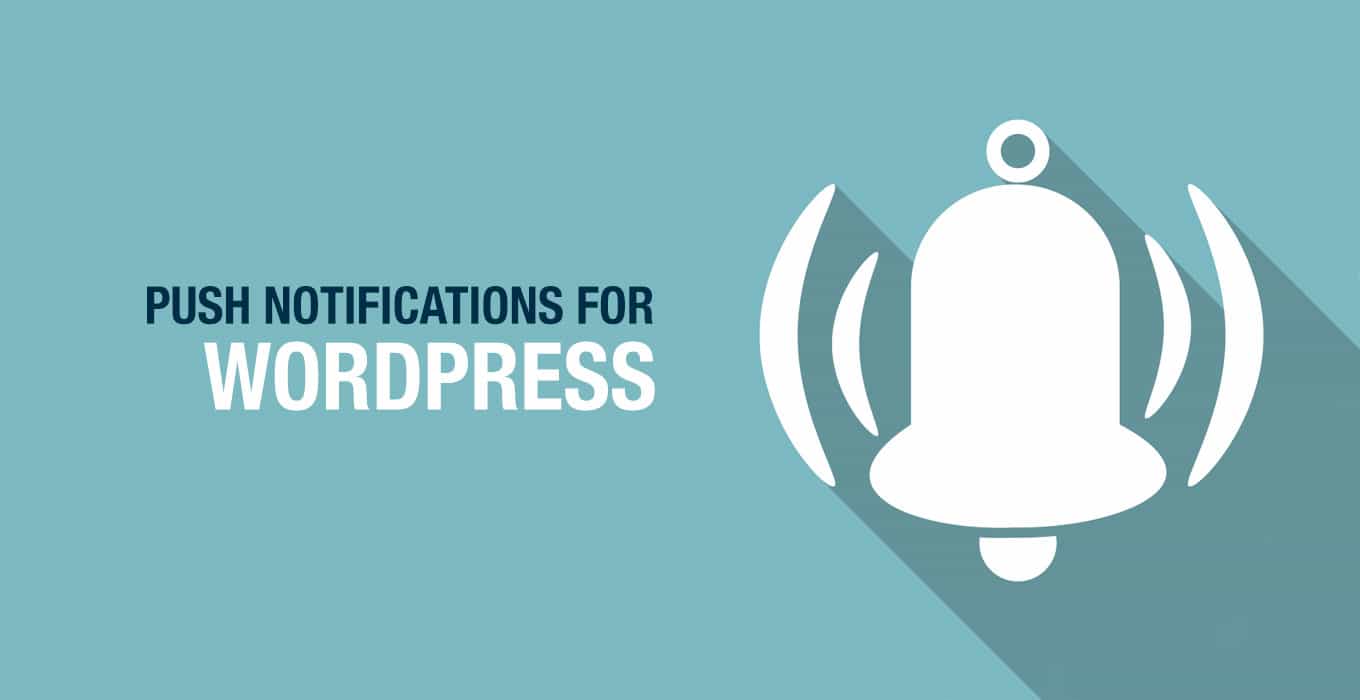 When you spend hours writing a new blog post you want your target audience to read it. However, this doesn't always happen. With thousands of websites out there all competing for the same audience, it can sometimes be difficult to ensure your content stays at the forefront of people's minds.
Using push notifications for WordPress is an impressive way to keep your visitors updated with what is new on your site. By sending messages directly from your WordPress website to people's phones or desktops, you can ensure your audience is aware that you have something new to share. These little reminders can help drastically increase your web traffic and ultimately help your website convert better against its goals.
In this article, we'll look at what exactly push notifications are, how they work, and what solutions are available so that you can enable them for your WordPress website pronto.
What are Push Notifications?
Push notifications for mobile apps have been around for a long time. However, it is only quite recently that the technology to send push notifications from a WordPress site has become available.
Push notifications for WordPress enable you to notify your subscribers, via a message, of new events occurring on your site. An example of an event could be a new post being published. The notification can be displayed even when a subscriber is not actually on your site.
This makes push notifications a great way of staying in contact with your audience without the need for them to be on your website.
What are the Benefits of Using Push Notifications?
Push notifications aren't just for the big e-commerce sites selling countless products. Even the humble blogger can benefit from using push notifications to notify their audience when a new post has gone live. So what are the benefits for sites using push notifications?
Engage Directly with your Target Audience
Push notifications for WordPress work under the same premise as a mailing list: because people have to opt in they have already shown an interest in your niche. This means that they are your key target audience. You want to keep in contact with them and encourage them to return to your site.
Emailing out your content is extremely beneficial and an important way to build rapport with your subscribers. However, to engage with your audience over email you firstly have to get the mail opened, which can be difficult in these times of inbox overload
Push notifications differ as they are immediately visible on a person's computer or mobile. As the notifications don't need to wait for the recipient to open them, they enable you to engage directly with your audience.
Engage directly with your audience by setting up push notifications on your #WordPress site.
Click To Tweet
Increase your Website Traffic
People can only be interested in things they know about. You may have written a brilliant new post, but if your audience doesn't know about it then they won't visit your site. Immediate promotion of new blog posts through push notifications for WordPress can solve this problem, helping to send targeted traffic to your site.
Regular  reminders of your site through notifications also helps ensure people don't forget about you.
Improve your Sales
You're not limited to only using push notifications to promote new blog posts. If you run an e-commerce store you could use them  to promote new products. You could also send out news of sales or competitions you are running.
How to Create Push Notifications for your WordPress Site
Push notifications for a WordPress site are very easy to setup because, like all things WordPress, it can be done using a plugin. There are many different WordPress plugins out there that offer this service but they all work in a similar way.
Once installing and setting up a push notification plugin, the first time people visit your site they will receive a prompt to encourage them to opt into the notifications. Once they have agreed to receive push notifications then they will see them every time you choose to send them out.
Push notifications arrive on people's devices as a message and once clicked on, will take them directly to your site. Most plugins will enable you to choose what content to promote with a push notification. People can opt out of the push notifications at any time.
What to look for when selecting a push notification plugin?
There are a few key ways push notification plugins differ. What features you need will dictate which is the best option for you, but here is a basic checklist to help you get started.
What devices (phones, tablet, PC) and browsers does it work with?
Do your users need any extra software to receive the notifications?
Is it easy for you to select what goes out as a notification and what doesn't?
Does it offer customizations?
Does it offer analytics?
What is the cost?
So let's have a look at some solutions that enable you to send push notifications from your WordPress site.
OneSignal

OneSignal is an extremely impressive WordPress plugin that offers a remarkably versatile push notification service. Offering an unlimited number of push notifications to Chrome, Firefox and Safari, this free solution is by far my first choice.
OneSignal enables you to set up a variety of custom push notifications. For example, you can create automatic notifications to be sent out when a blog post is published or to target followers with reminders to visit your site if they haven't done so in the last few days. Targeted notifications can also be sent to specific visitors based on language or the number of times they have visited your blog.
Alternatively, scheduled notifications can be sent depending on your followers time zones or even when they last visited your blog. All of these features enable you to engage with your followers and help drive traffic to your site.
Other features include:
Supports Chrome (Desktop & Android), Safari (Mac OS X), and Firefox (Desktop) on both HTTP and HTTPS sites.
15 minute set up
Option of customizing the opt-in form
A/B testing to see which notifications are most effective
Real time analytics
The setup of OneSignal does take a good 15 minutes, with multiple steps. However, with the types of features available, all offered for free, I think this plugin is definitely worth it.
PushUp Notifications
PushUp Notifications is a feature rich solution that offers push notifications sent from your WordPress site to Apple desktops (Mac OSX). After installing the PushUp Notifications WordPress plugin, setup is extremely straightforward and quick, with no WordPress experience needed. There is a simple opt-in form and, when sending a notification about a new post, there is a simple one click box you can select before publishing.
As well as a streamlined push notification process, PushUp Notifications also offers basic analytics. This will help give you an understanding of how many people are receiving your notifications, amongst other things.
Further features of this plugin include:
Manage the solution from within your WordPress dashboard
Be selective as to which posts you send out with one click push requests
No extra software needed for your users
Analytics to monitor engagement
Pay as you grow payment plan
The main downside to this solution is the fact that people have to open their website in Safari 7 to be offered the notifications, although this may change in the future. However, that said it is a very easy and competent plugin that definitely offers a good service.
Price wise the start up fee costs just $14.99. After that, you pay according to how many notifications you push. Anything under 100 is free and the fee then moves up in increments, with 10,000 – 50,000 push notifications costing just $15.99 a month.
Chrome Push Notifications

Chrome Push Notifications is a powerful free WordPress plugin that offers unlimited notifications from your site. However, it only enables push notifications to be sent to Chrome (desktop and Android). Although it lacks some of the extras which the above plugins offer, its simplistic approach to push notifications is refreshing.
Features include:
Easy and quick setup
Select post types for which you would like the push notifications to be sent
Automatic push notifications for newly created posts
Custom logo for your notifications
Custom notifications
It is worth noting that you need HTTPS to use this plugin. It also does not offer much in the way of features. However, it is very straightforward to use and probably a good option for people just starting out in the world of push notifications!
Using push notifications for #WordPress is a great way to keep your visitors updated and drive more traffic.
Click To Tweet
Problems with Using Push Notifications
There are a couple of problematic issues to consider when using push notifications. The main obstacle is that of getting people to accept the notifications in the first place. Plugins that offer customizable opt-in pages are helpful in this matter, as you can create a pop up that is user-friendly in relation to your site's image.
Getting the balance right in relation to the number of push notifications that you send out can also be difficult. Send too many and people can get fed up with notifications constantly appearing on their device. Send too few and people will forget about your site. This is why a plugin that offers analytics can be helpful as over time you can monitor what works best for your audience.
Final Thoughts
Push notifications for WordPress have many benefits for your site. Push notifications offer direct contact with your target audience, helping you to share your new content with your viewers and reminding them to visit your site. This extra engagement with your viewers can lead to increased web traffic and sales.
So install a WordPress plugin and start using push notifications today!
Do you use push notifications to reach your audience? What plugin do you use and have you seen any effect on your traffic or sales? Please share your thoughts in the comments below.