Last Updated on by Nick Braithwaite
Online video content has become a must have for all successful content creators. Ever since Google purchased YouTube, video has been on the rise, and its significance and popularity is only growing. These days, the addition of video content to your website or blog posts can drastically improve SERP rankings and boost your chances of hitting Google's front page by an astounding 53%. Add to this the fact that video can help you attract a completely new audience, and you'll understand the importance of not only creating quality video content, but also displaying it on your website. Which is precisely why we've prepared this list of the top 5 WordPress video plugins for you to use in 2020.
1.     Embed Plus for YouTube

With over 200 thousand active installations and a user rating of 4.5 stars, Embed Plus for YouTube is among the most popular free video plugins in the WordPress repository. This amazing plugin lets you embed YouTube videos, playlists, live streams, or even entire channels into any page or post on your website. It's compatible with the Gutenberg editor, as well as the Classic editor, which makes it a great option for both new and experienced WordPress users.
Embed Plus boasts a variety of impressive features, like improved privacy settings and GDPR compliance, the ability to make playlist and channel embeds display in a responsive gallery layout, improved accessibility, automatic localization, and many more. And if that's not enough for you, you can upgrade to the PRO version starting from just $29.99 and unlock advanced features like faster page loading, featured thumbnail images, a full visual customization wizard, automatic SEO markup, and others, depending on the package you choose.
You can get Embed Plus for FREE in the WordPress plugin repository.
2.     WP Video Lightbox

While it doesn't have much in terms of advanced settings, WP Video Lightbox is a great option if you're looking for a simple but effective way to embed YouTube or Vimeo videos on your website. It has over 70 thousand active installations and a user rating of 4.5 stars. What makes WP Video Lightbox stand out is that once a user clicks to view a video, it will be opened in a lightbox popup. You can customize the lightbox's options, such as its opacity, width, height, autoplay function, etc. from the plugins settings panel.
There really isn't much more to say about this plugin, as its focus is on simplicity and ease of use. The only thing new WordPress users might want to be wary of is that WP Video Lightbox doesn't come with a Gutenberg block, but instead uses good old fashioned shortcodes. Luckily, there's a handy YouTube video tutorial that explains exactly how to use the plugin and shows you how to add videos to your pages using three types of anchor links (image link, text link, and automatically generated thumbnail).
You can get WP Video Lightbox for FREE in the WordPress plugin repository.
3.     FV Flowplayer Video Player

Another popular and free plugin you can download directly from the WordPress repository is FV Flowplayer Video Player. This plugin has more than 40 thousand active installations and a user rating of 4.5 stars. With FV Flowplayer, you can free yourself of third party platforms like YouTube and Vimeo and instead upload and embed your own videos on your website in FLV or MP4 format.
This plugin comes with some great features like remembering video positions, creating playlists, an AB Loop function, etc. Besides that, the plugin is compatible with Gutenberg and comes with its own block. The free version of the plugin is branded, which might present an issue for some users, but you can get a premium license starting from $75. This license also unlocks all the plugin's advanced features, such as Google Analytics, Cuepoints, Native fullscreen layout, Keyboard shortcuts, Subtitles, Slow motion, Random seeking, and Retina screen support.
You can get FV Flowplayer for FREE in the WordPress plugin repository.
4.     YourChannel

The YourChannel plugin lets you move your YouTube channel right to your website. All you need to do is provide the plugin with your YouTube username or channel ID and it will embed all the videos and playlists from your channel to your site. It can also show your channel banner, the number of videos and views of your channel and your profile picture. This plugin currently has over 10 thousand active installation as and a user rating of 4.5 stars.
If you're a content creator who already owns a popular or rising YouTube channel, then YourChannel is probably the plugin for you. It lets you clone your channel onto your site and therefore effectively have two possible locations where users can find your awesome content. And thanks to features like RTL support, smooth transitions, caching, and the possibility to play videos either in a lightbox or within your page, you can easily customize how your cloned channel will behave and create a unique user experience on your website. The pro version unlocks a whole load of advanced features and can be purchased starting from $19.
You can get YourChannel for FREE in the WordPress plugin repository.
5.     YouTube Gallery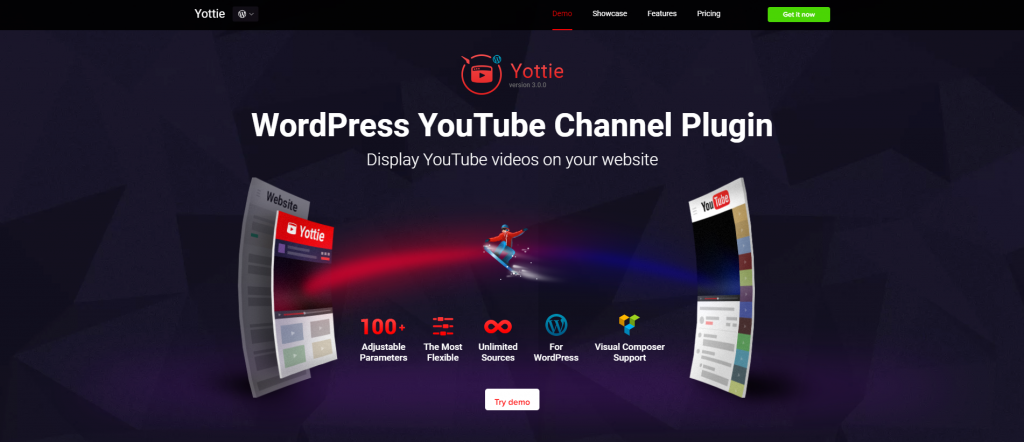 YouTube Gallery is the only plugin on our list that isn't available for free on the WordPress repository. Instead, you can get this plugin for $39 on CodeCanyon.          But there's a few good reasons this plugin isn't free. For starters, the sheer amount of customization you can do is mind-blowing. You can choose from three preview layouts and three distinct play modes, choose exactly what information will be displayed in popups, customize the header, create a variety of gallery layouts, change navigation controls, and so much more. YouTube Gallery also lets you create groups of videos from separate channels and playlists, allowing you to curate YouTube content to your hearts content.
The plugin boasts compatibility with all WordPress themes and has been tried and tested with the most popular themes on ThemeForest. It lets you add you content in a variety of ways, including via classic WordPress shortcodes, widgets, or even through the Visual Composer page builder. But one of the most impressive features of YouTube Gallery has to be its compatibility with Google AdSense. You can link your AdSense account to the plugin and show related ads in your video gallery as a way of monetizing your content.
You can get YouTube Gallery for $39 on CodeCanyon.
And that concludes our list of the top 5 WordPress video plugins for 2020. Each has a specific use, so choose carefully. But regardless of the one you opt for, remember that as long as you create quality video content, your online visibility (and with it your entire business) will grow. So get out there and start producing some awesome videos. These plugins will then ensure those videos are seen not only on YouTube, Vimeo, or any other third party video hosts, but also right there on your very own website.