Last Updated on by WP Warfare
Choosing a reliable hosting provider is one of the most important parts of creating a WordPress website. You want to make sure your site is fast, secure, and scalable and that any technical aspects can be customized to fit your needs quickly and easily. That's why going with dedicated WordPress hosting can be a great solution, since these dedicated platforms are specifically built and optimized for running WordPress websites. The best-dedicated WordPress hosting companies offer a streamlined experience, ensuring you don't have any unnecessary bells and whistles to distract you or negatively affect the performance of your site.
Today, we're going to look at one of these providers – Rocket.net – to see if their dedicated platform is an excellent choice for hosting your WordPress website.
What is Rocket?


Rocket.net is a managed WordPress hosting platform that boasts an intuitive control panel, lightning-fast speeds, and a built-in security package to deter any potential attacks or hacking attempts. An all-in-one dashboard provides an easy interface to control all your websites, while the platform's integrated content optimization tools help you boost both your page rankings and your site's user experience.
How Does Rocket.net Work?
It's really simple, to be honest. Once you create an account and log in, you'll be greeted with the Rocket.net dashboard.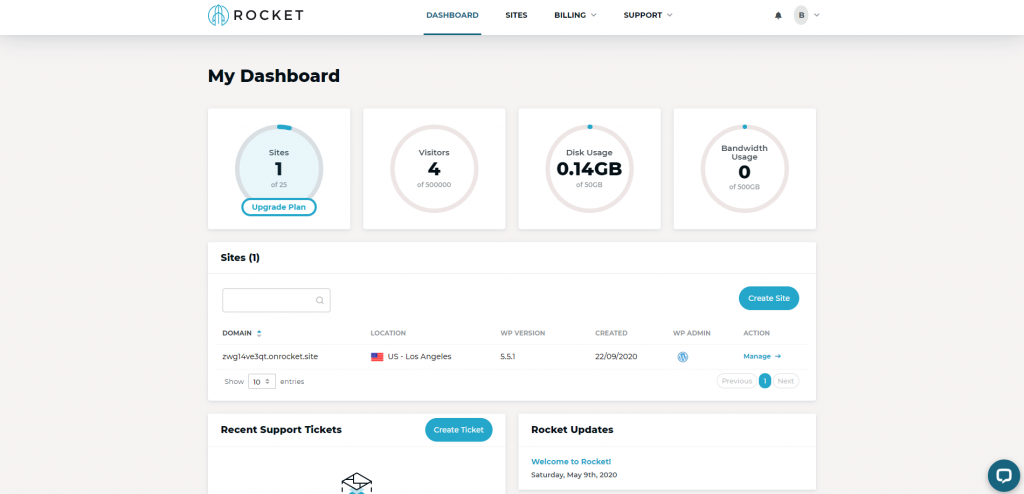 As you can see, everything is pretty self-explanatory here. To create your first site, just click the "Create Site" button. Then, give your site a name, set a domain, and choose the location of the server you'd like it on.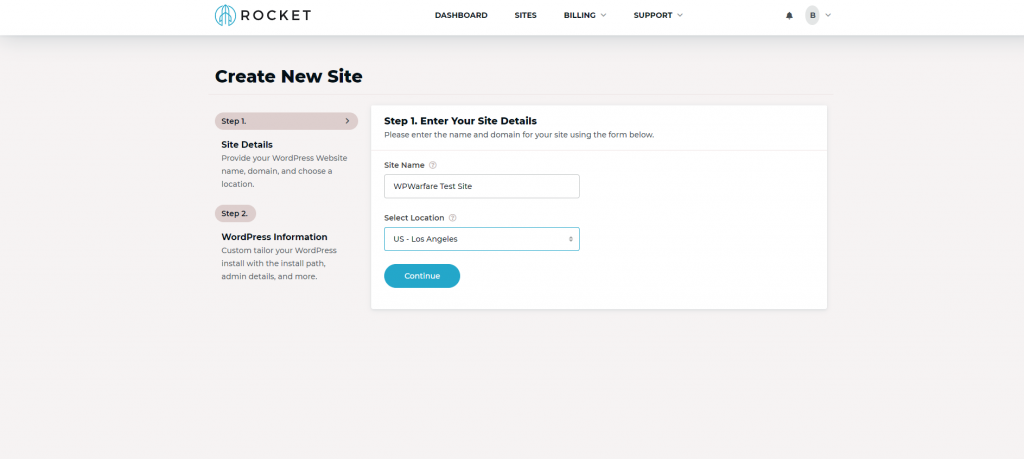 Next, you can choose the installation path (i.e. the URL you'll use to access your site), create an admin account, choose your language, and choose whether you're creating a multisite installation and whether you'll need WooCommerce installed.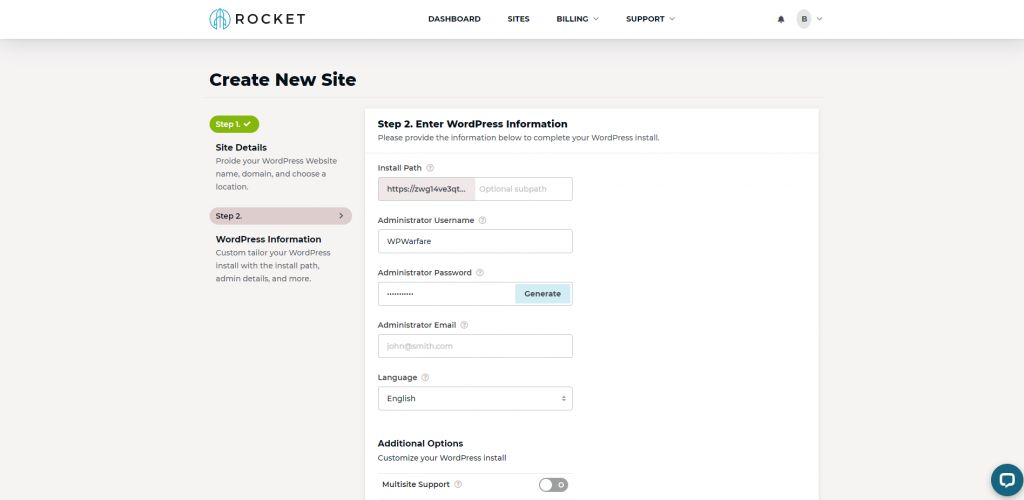 And that's all there is to it. As soon as you click "Continue" your website will be all set up and you'll be greeted by what the Rocket.net developers call their Mission Control page.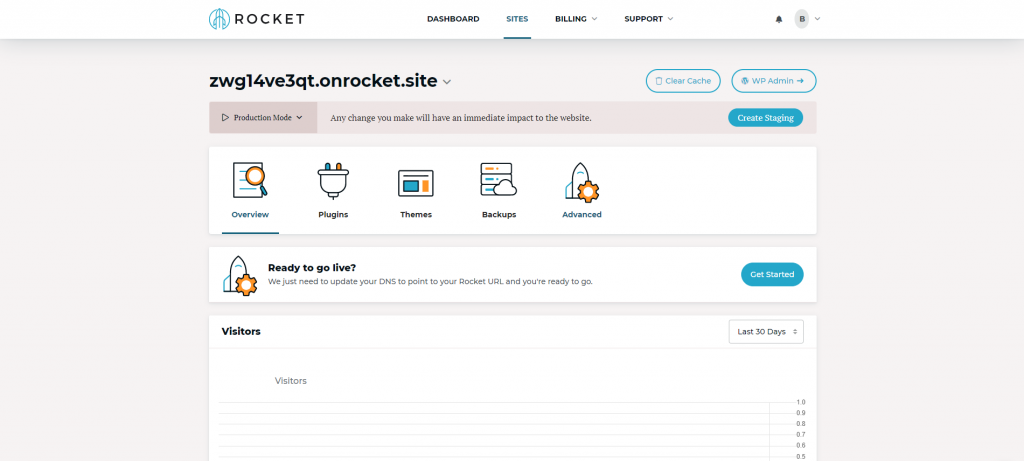 How Easy is Managing a Site With Rocket.net?
Now, the fact that I set up a WordPress website in mere minutes and without the hassle of uploading files via FTP, creating and connecting to a database, etc. is great. But a lot of hosting providers offer a simple WordPress installation. So, let's take a deeper dive and see what makes Rocket.net worth your money.
For starters just look at that admin panel. Simple, right? And simple is what we're going for here. All the most relevant information is right there in your "Overview" tab. You can see how many visitors you've had in the last 30 days, manage your FTP accounts, and view the technical aspects of your site. With the click of a single button, you can even set up a staging environment for testing out plugins, settings, and designs without affecting your actual live site.
The "Plugins" tab gives an overview of all the active and installed plugins on your site. As you can see, you get a few plugins preinstalled, like OptinMonster API, WP Mail SMTP, All in One SEO Pack, and others.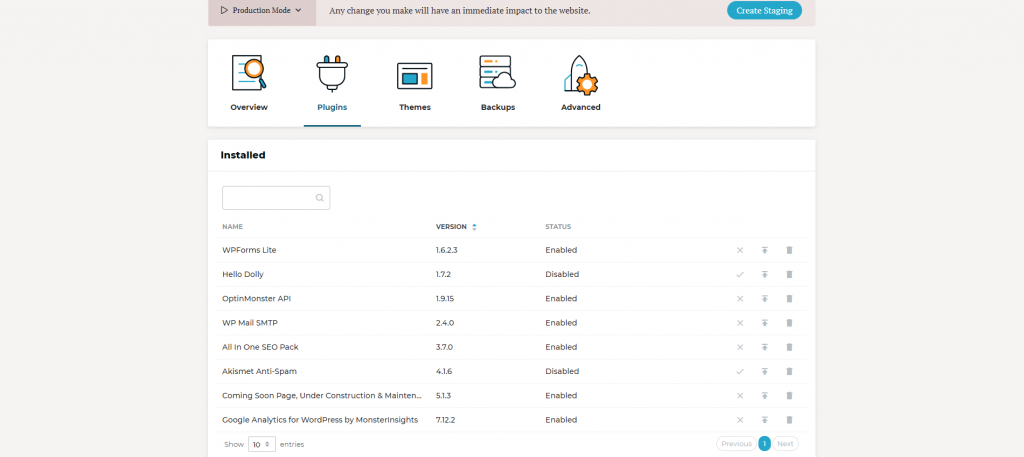 The "Themes" tab is just like the "Plugins" tab, only for themes.


The "Backups" tab shows all your manual and automated backups and lets you create, delete, download or restore any of your backups with a single click of your mouse.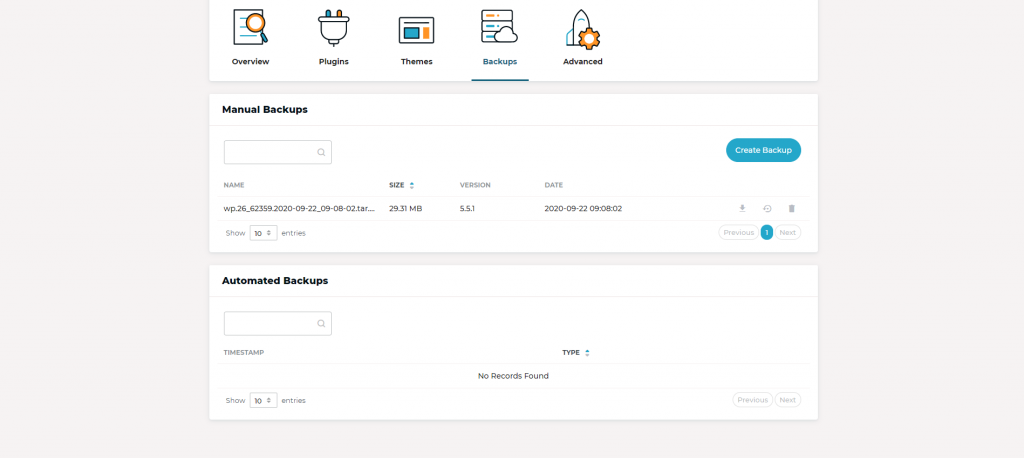 And finally, the "Advanced" tab, where you can check (and choose) the PHP version your site is running on, select whether you'd like to automatically update your WordPress Core installation, themes, and plugins, as well as manage your cron jobs and SSH keys.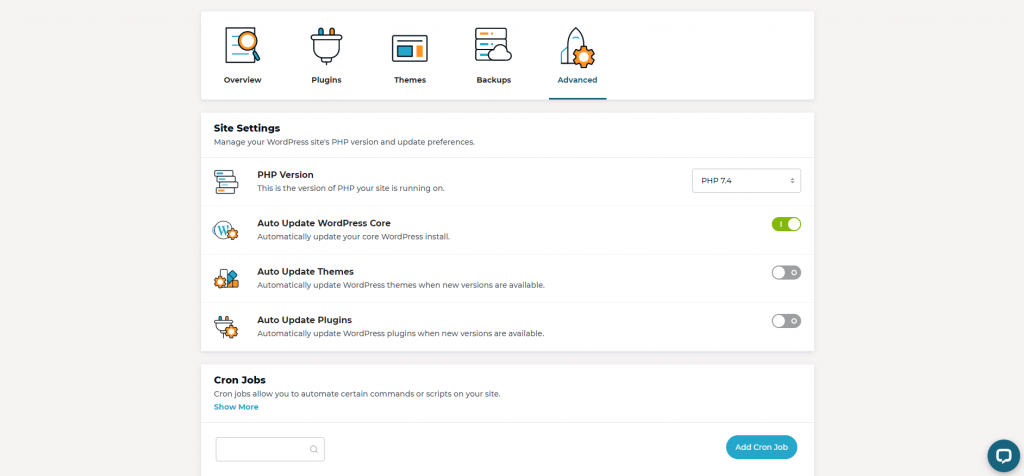 At the very top of the screen, the developers have added two useful buttons – one for instantly clearing your server cache and the other for logging you right in to your WP Admin panel.
What Else Does Rocket.net Offer?
In terms of technical benefits, Rocket.net provides a ton. What's most impressive is that regardless of the pricing package you choose to go with, you'll get a CDN, a web application firewall, automatic daily backups, hack and malware removal, SSH access, and 24/7 access to support via email and live chat. Add to that the 99.9% uptime Rocket.net promises and there's no doubt you get more than enough bang for your buck.
How Much Does Rocket.net Cost?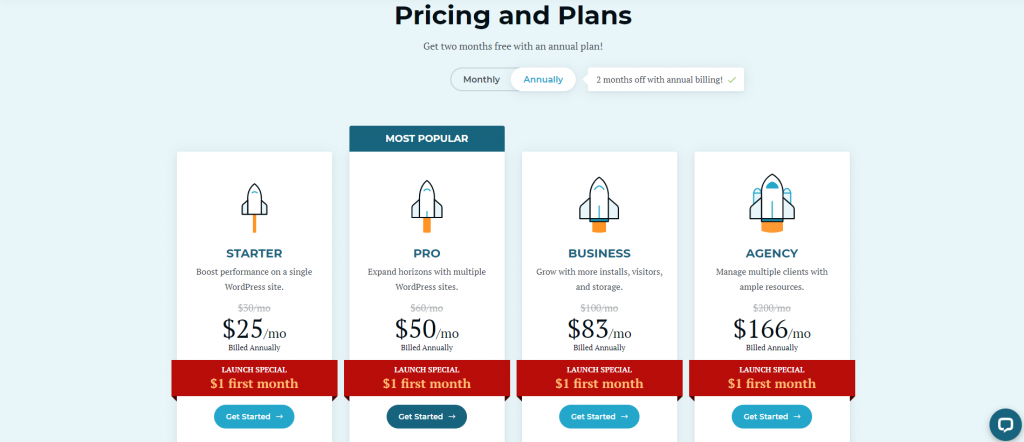 Rocket.net offers four pricing plans that range from $25 to $166 per month. Aside from minor things, like the "Starter" plan not supporting multisite and the fact that you only get access to phone support for the "Business" and "Agency" plans, the only real difference between them comes down to the number of websites you can create, the amount of monthly visits your site can have, and the disk space and bandwidth you get.
Is Rocket.net Worth Your Money?
If you're looking for a quick way to launch a WordPress website and want to enjoy the many benefits of standard hosting but without all the complication, then we say yes. Rocket.net is a reliable, secure, and fast managed WordPress hosting provider that will give you everything you need to create and control your WordPress website in a way that's both simple and intuitive.