Last Updated on by WP Warfare
We all know that the best type of marketing is word-of-mouth. In the online world, though, word-of-mouth basically boils down to link sharing. If someone likes your content, your brand, or your products, the way they're most likely to share their approval with the world is via – well, sharing. Which is why it's crucial to have a simple and practical sharing solution on your WordPress website. Today we'll be looking at the Better Sharing plugin – a completely free and infinitely easy to use plugin that will let you quickly set up a variety of sharing solutions and ensure your website visitors can effortlessly spread the word about you, your business, and your offerings.
Let's dive right in.
What is Better Sharing
Better Sharing is exactly what it's name promises – a WordPress plugin specifically designed to help you add better and more efficient sharing options to your site. The plugin is developed by CloudSponge – a company that specializes in address book integration. The plugin is available completely free on the WordPress repository, and can be downloaded right from your WordPress dashboard.

Getting Started with Better Sharing
Once you install and activate the plugin, you will see a new option in the left-hand sidebar named (you guessed it) Better Sharing. Once you click on it, you'll presented with some general options.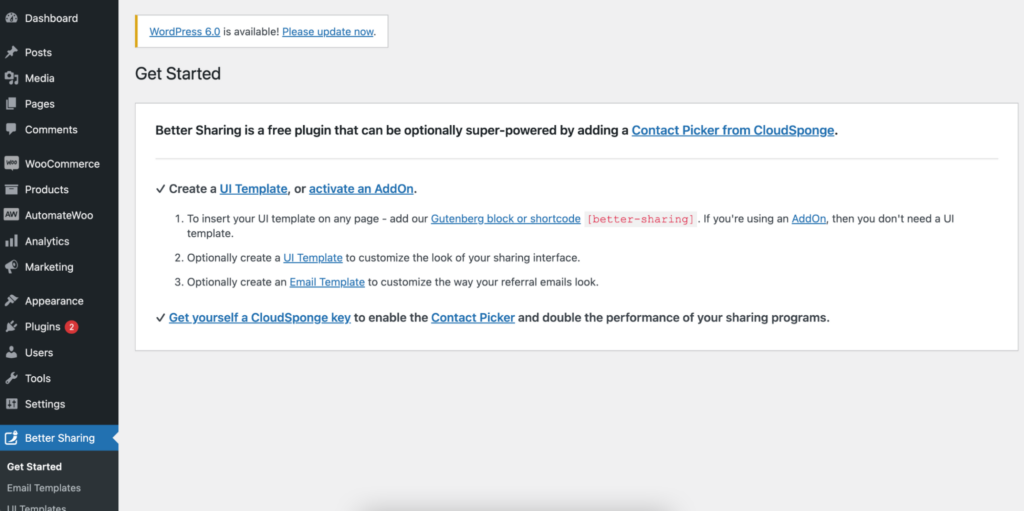 In the Email Templates section, you can set up multiple templates for your emails, allowing you easily switch up the text of the email on different pages on your site. To create a new template, simply click the "Add Email Template" button at the top of the page.
You can then change the default body text and subject line of the email. Better Sharing even includes some useful variables to help you personalize the email for each recipient.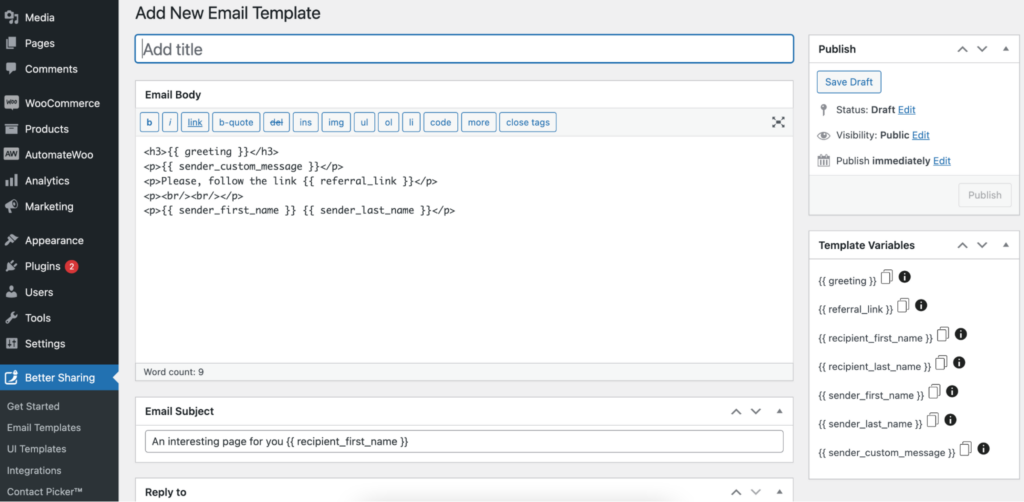 Next, in the UI Templates settings, you can set up a new UI Template by clicking the "Add UI Template" button at the top of the page. This is where you will set up the actual look and behavior of your Better Sharing block.
In the "Main" tab, you can choose whether you'd like the link shared for this template to be the link of the page the block is placed on, or a custom link of your choice. I'm going to leave this set to "Page/Post URL." You can also see a preview of your Better Sharing Block, and rearrange the order of the various available sharing options (which include sharing on social, direct link sharing, and sharing via email).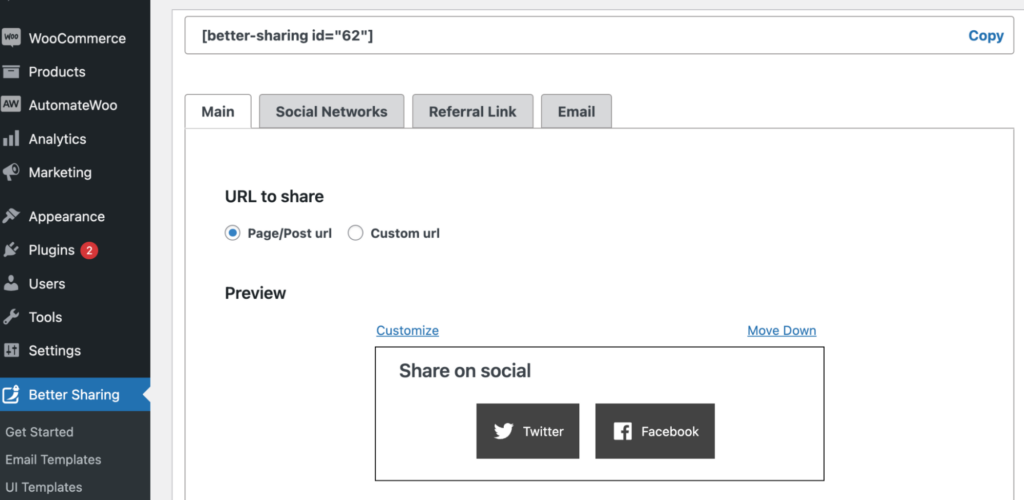 If you click the "customize" link next to any of these, you'll be taken to one of the three remaining tabs at the top. Let's go through them one by one.
In the Social Network tab, you first get to choose if the social network sharing options will be enabled or not. You can change the title of the block from "Share on social" to anything you want, and add a subtitle, like I have. You can also disable any of the available social networks, and change the message that will be shared alongside the link on Twitter (the default message is "Check out this link!").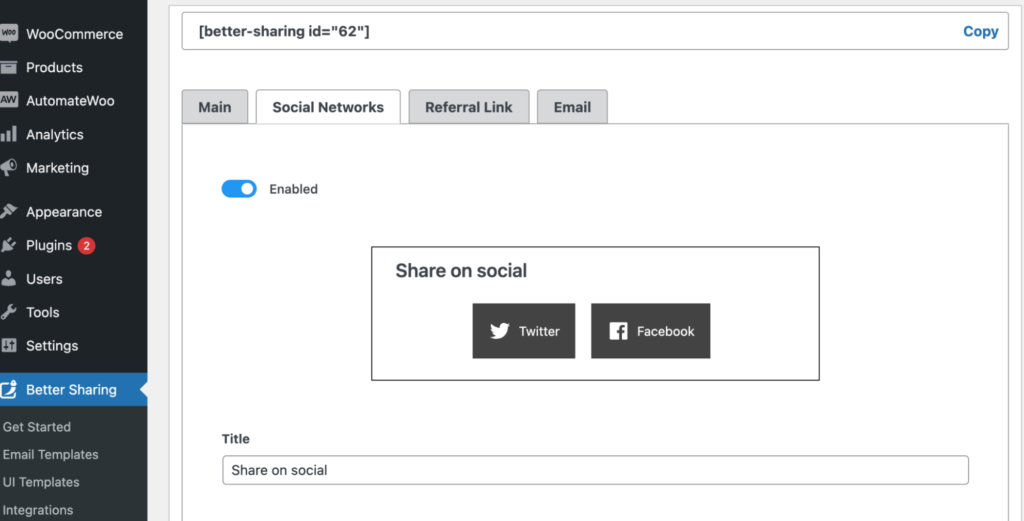 The Referral Link settings are pretty similar. You can choose whether this block will be enabled or not, as well as change the title and subtitle.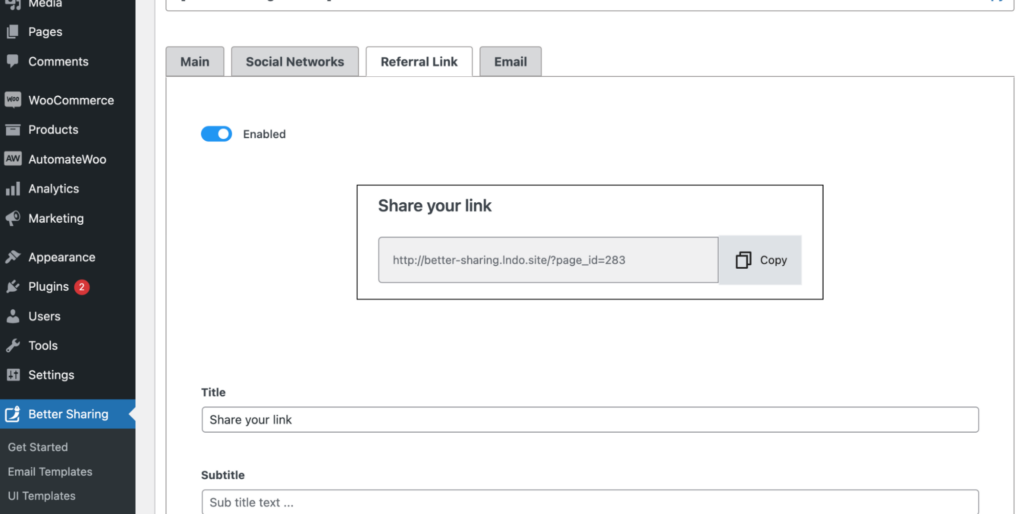 The Email settings, however, contain a few more options besides simply allowing you to disable the email block and change the title and subtitle. Here you can also change the placeholder text that inform your site visitors how to share to multiple contacts at once, enable or disable the custom message field and change its placeholder text (like I have), change the text on the "Send" button, and choose an email template to use. There's also a field for customizing your Contact Picker via JSON, but as that's an advanced option and only for users who already have a CloudSponge account, we'll skip it in this review. Though I do have to mention that integrating the Contact Picker will make it much easier for your users to choose who they want to share your links to.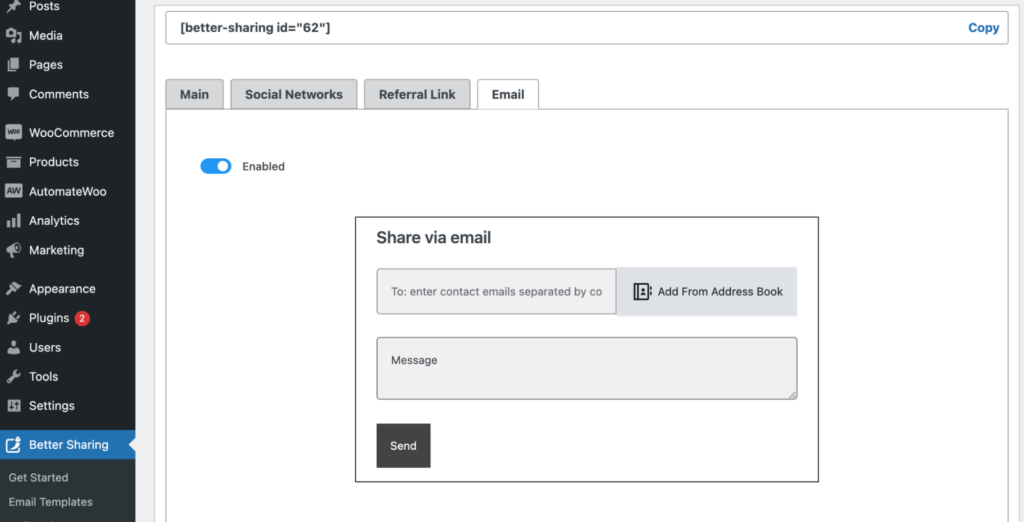 The next option in the Better Sharing settings lets you connect the plugin with several WooCommerce addons, like AutomateWoo's Refer A Friend add-on, Coupon Referral Program, and WooCommerce Wishlists. This is great if you have an online store, as it will make sharing things like referral links, coupons, and even wishlists much easier for your customers. Please note, however, that you have to have (one or more of) the three mentioned plugins installed and activated in order to integrate Better Sharing with WooCommerce. 

The final option is the Contact Picker where you can connect to your CloudSponge dashboard if you have a license (though you won't need one to use the plugin), and define some basic settings in terms of email sending. I'm going to leave the maximum number of emails per form submission options at 10, but I'm going to set WPWarfare as the company name. This way, if someone shares a link to one of my pages through email, the sender name will read something like "John Doe via WPWarfare."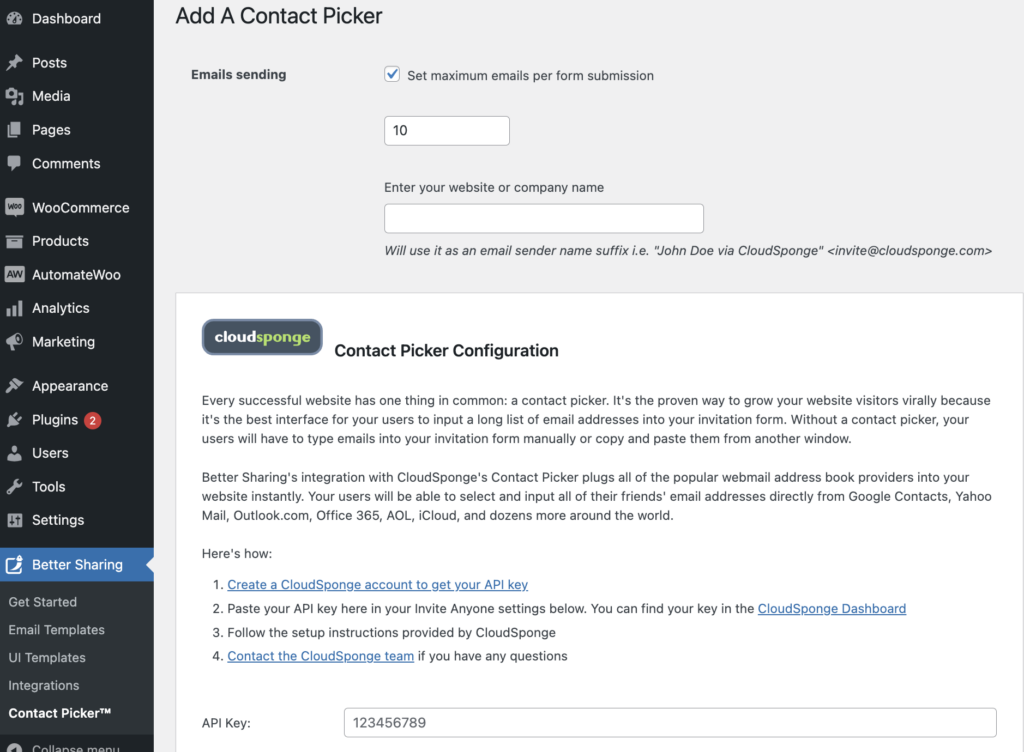 Adding the Better Sharing Block to a Page
Now, to finally add the Better Sharing block to a page, simply open the page in question for editing and search the block finder for Better Sharing.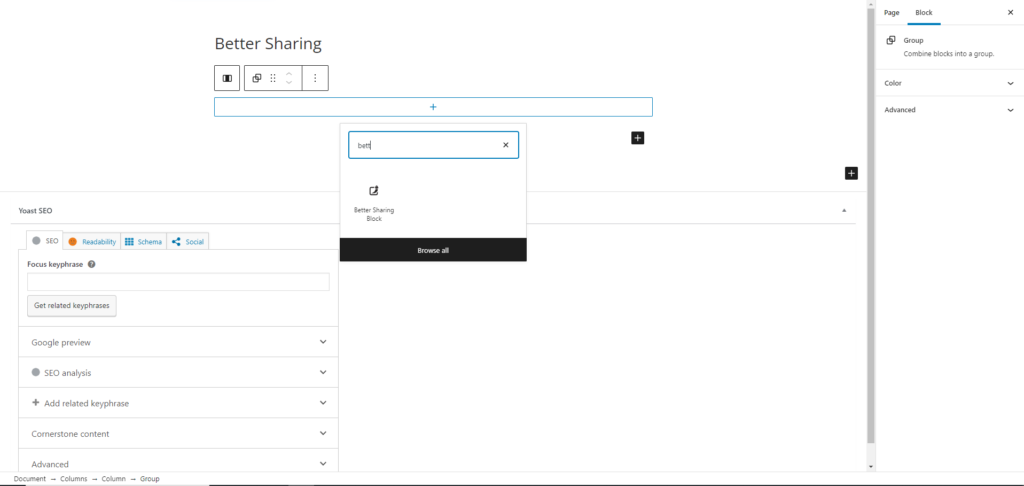 Once you add the block, you'll be able to choose one of your predefined UI templates.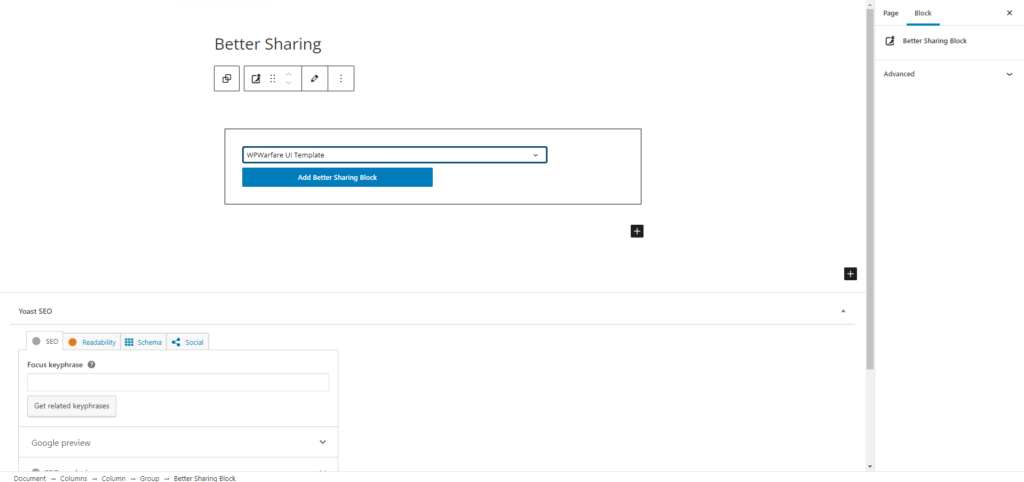 And then simply click the "Add Better Sharing Block" button to add that template to your page.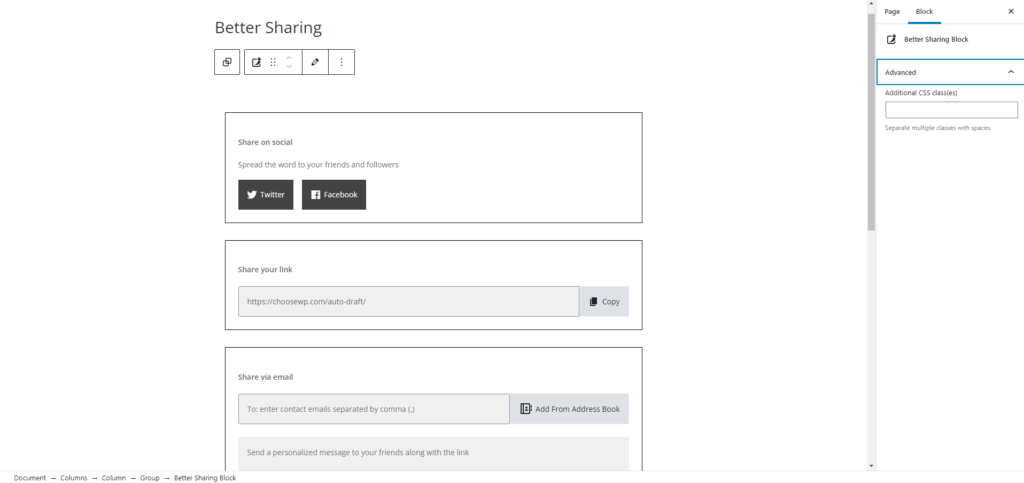 As you can see from the image above, the template contains the subtitle I added to the social sharing block, and the custom placeholder text in the email sharing block.
And that's how easy it is to set up and add the Better Sharing block to your pages. And if you'd like to switch up the actual design of the block, you can always add a custom CSS class from the advanced tab in the right sidebar. Then, with some CSS know-how, you can completely customize the block's look and ensure it matches your branding.
Is it Worth it?
Since it's a fully free plugin, Better Sharing is definitely worth it! If nothing else, you can try it out and see if it works for you. If, on the other hand, you're already in the market for a quick way to make page sharing easier for website visitors, then Better Sharing is definitely a plugin you should keep your eye on. One feature that really makes Better Sharing stand out is the ability to connect to your email provider and then quickly forward a product or post to any contact, this means that your users don't have to copy and paste their contacts out of outlook and into a form & will likely increase referrals. In fact, the only downside I currently see is that you need to know CSS to customize its looks. However, the default look is neutral enough that it should fit in with most website designs. All in all, Better Sharing makes it extremely simple to add practical sharing options to any page or post on your WordPress website, and when combined with CloudSponge's premium services it can really help you boost your site visits and conversion rates.