Online appointment schedulers are becoming increasingly important to service-based businesses, from the local restaurant owner to the professional speaker offering to deliver a keynote at huge convention centers. Giving prospective clients the ability to book their appointments with a few clicks or taps is a great time saver.
WordPress offers dozens of appointment scheduling plugins that are compatible with most themes. For WordPress designers looking to add functionality to their clients' websites, appointment bookers are sure to be well-received.
But not all of these plugins are created equal. Some offer basic appointment setting functionality and that's about it. Others offer plugins as just one part of a wider software suite, integrations that enable the business to receive credit card and PayPal payments, or push data to their contact relationship management (CRM) platforms or marketing automation tools.
These additional functionalities help the business owner to keep customer information in one place, while built-in automations help to save time and minimize cancelations.
Let's take a look at five of the leading appointment scheduling plugins, so you can decide which might be the best fit for your site, or clients' sites, in 2020.
1. vCita Offers Value Well Beyond Bookings
vCita gives website visitors the freedom to schedule, reschedule or cancel appointments at their own convenience. Once it's been installed, they can access the booking calendar on web pages displaying the widget. The plugin syncs with all the major calendars (e.g., Outlook, iCloud, Google, Yahoo) and is customizable.
Not only can people securely schedule appointments on your website, thereby reducing your workload, but vCita also offers optional features such as payment capabilities, contact management, lead generation—even the ability to create automated email and SMS marketing campaigns—on the same platform for a monthly fee.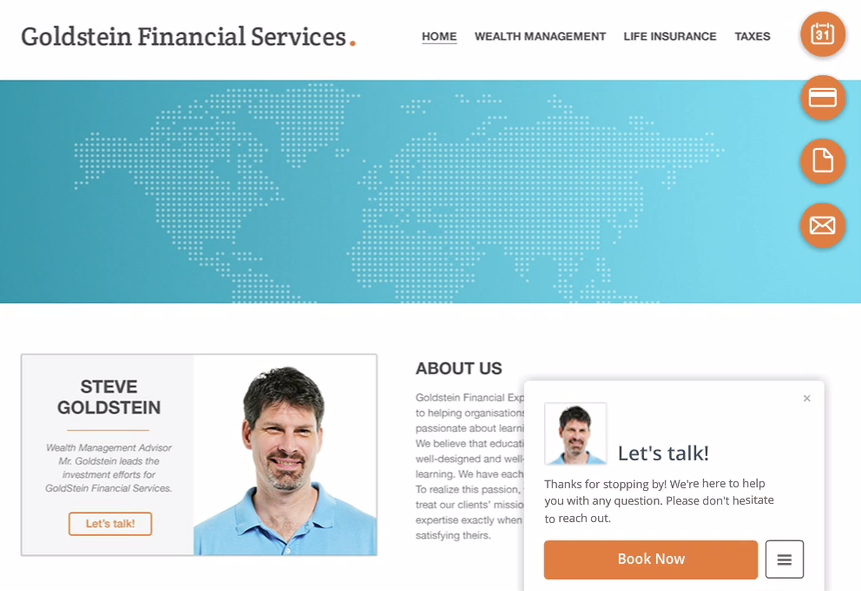 One of the most beautiful aspects of vCita's system is that you can integrate a number of valuable features that will help save time. For instance, the addition of billing and invoicing enables people to pre-pay for bookings with all the major credit cards or PayPal. And even if you aren't collecting pre-payments, you can set up automated reminders for past due accounts to keep delinquencies to a minimum.
As for client management and marketing, vCita makes it easy to manage all your leads, contacts and clients in one centralized hub. This way you can keep track of client histories from day one – payments, appointments and cancellations — and under one roof. You can set up automated, fully customized notifications and follow-ups and create drip or individual email and/or SMS campaigns for leads. vCita even has templates to choose from, complete with call-to-action buttons.
vCita offers several Partner programs for designers, including white label options. For end users, there are many pricing tiers, starting with a free 14-day trial. Individual plans start at $19 per month, billed annually.
2. StartBooking Plugin Goes Wide if Less Deep
StartBooking is another SaaS platform that helps you manage your online scheduling needs on WordPress and beyond.
It provides some of the tools offered by vCita on a much more limited scale. For instance, StartBooking accepts online appointments and is desktop, tablet and mobile friendly, but no Facebook integration.
StartBooking provides basic automated follow-up emails and integrates with Stripe payments only.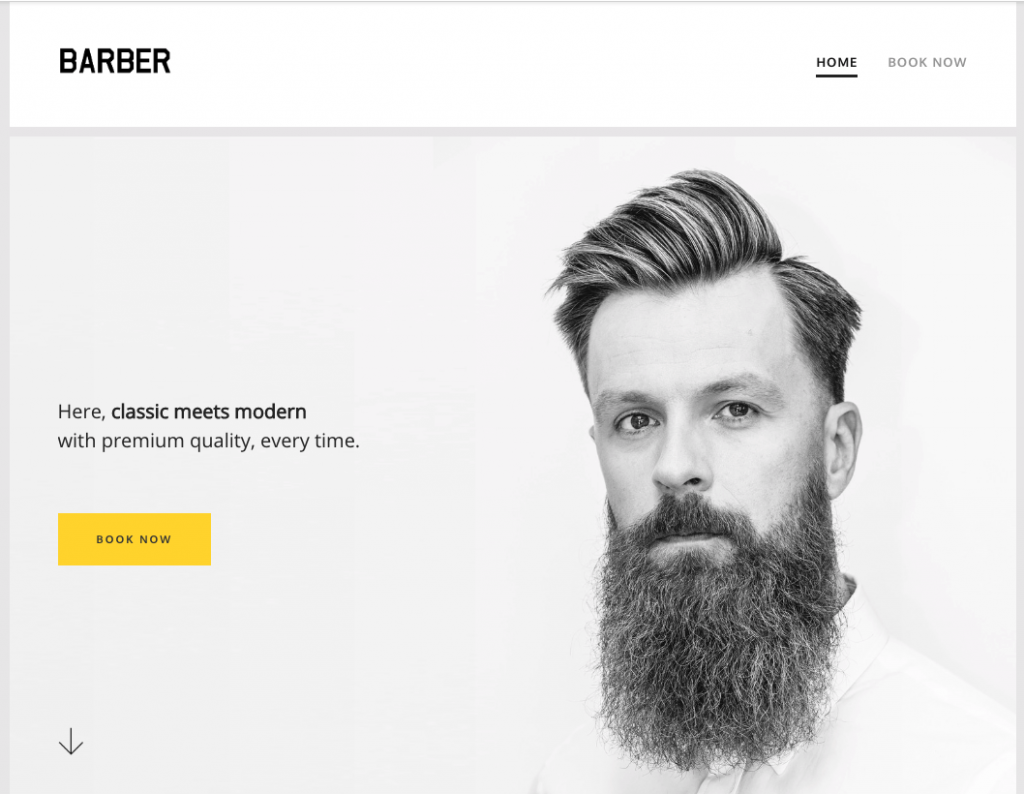 You can choose the Individual pricing plan for $8 per month (billed annually), which comes with unlimited sites, unlimited appointments, custom form fields, basic reporting, Google Calendar sync and Stripe payments. The Business plan goes for $20 per month (billed annually) and comes with all of the above, plus:
Advanced reporting, for more granular insights into your pipeline
Designated booking rooms, so you client can book three different therapists in three different rooms at the same time, for example
Business priority support
Personal setup and onboarding
They also offer a 14-day free account to "kick the tires."
3. Easy Appointments for Ad-Supported Scheduling
As its name implies, Easy Appointments is simple to use. Just choose from a variety of configurations (e.g., Single Column, Full Calendar, etc.), choose any of the optional extensions described below, and your client is good to go.
Updated as recently as October 2019, an "Email" field has been added to the custom form fields to add to the amount of data you can capture about leads. There's also a new Google reCAPTCHA box to eliminate bots. As an added benefit, multiple Google calendars, with two-way sync, can be connected to Easy Appointments with an extension plugin. This is helpful if your employees are each using their own Google calendars.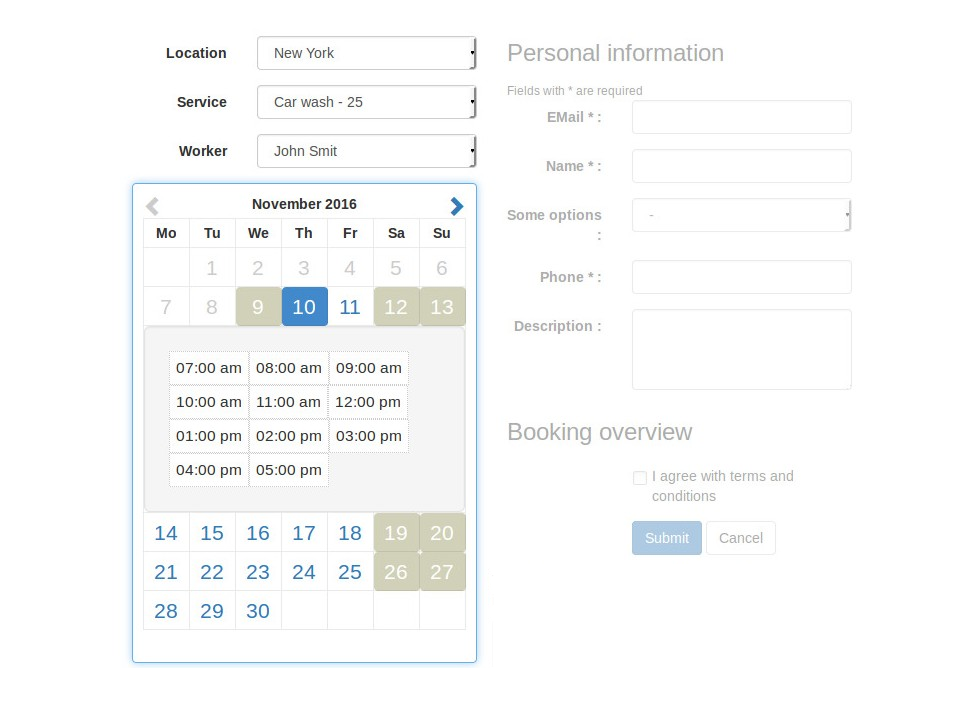 For many users, the free version is enough. For those looking for more functionality, several extensions can be integrated for a fee:
Twilio is useful, for instance, to send SMS reminders.
If you're selling productized services, WooCommerce works to make connections between each service and product, to add service/product to cart upon appointment creation, to redirect to cart or checkout page after client creates appointment, etc.
People who book can easily add appointments to their own calendars with the iCalendar extension, which sends users an ICS file with notification emails.
Easy Appointments does not have a reseller program. For $39, you can integrate five extensions, with one year of updates. Or, you can purchase two years of updates for $59, which also includes one hour of support.
4. SuperSaaS for Versatility with Add-ons
SuperSaaS is a plugin that also has optional features as a cloud-based appointment scheduler targeting both retail and service businesses. It is available in 33 languages, 26 forms of currency and all the world's time zones.
SuperSaaS offers step-by-step tutorials for a variety of scheduling scenarios, such as for a fitness club or therapist. You can use the template forms that are included, or customize your own using form builders. SuperSaaS enables you to add your own look and feel to the scheduler. There's even a free forever plan that's ad supported.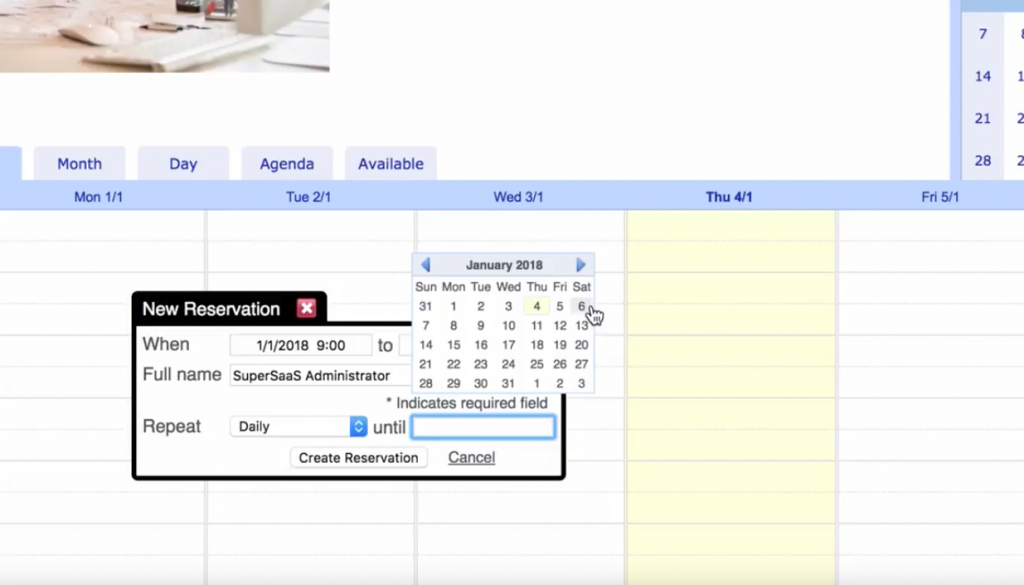 Adding payment features to the bookings requires integrating the tool with PayPal or Stripe. But regardless of how you plan to receive payments, the fee for your product/service can be displayed and collected at the time of booking.
SuperSaaS prides itself on being a "self-service model." If you can't figure out how to make the SaaS work from all the video tutorials and FAQs, you may submit a response form query or contact them by email.
SuperSaaS has a Partner program for Affiliates and Resellers. For end users, the SuperSaaS pricing structure is different from the rest of these appointment schedulers. The free version is limited to 50 future appointments per month. For $8 per month, you get 100 future appointments; for $96 per month, you can accept up to 6,000 future appointments (once the appointment is in the past, it no longer counts towards the quota.); and there are many other options for tiered plans.
5. Simply Schedule Appointments Lives in the CMS
Simply Schedule Appointments is another no-frills appointment booking plugin that currently targets solopreneurs. It offers a variety of ways to set up schedules once the plugin has been installed. Simply Schedule is exclusively WordPress-based.
In addition to the free version, Simply Schedule has three additional levels: The Plus version is good for one WordPress site and includes Google calendar sync and Mailchimp integration for email marketing purposes. PayPal and Stripe integration are available with the Professional version. Email and SMS reminders are available with the Professional and Business editions.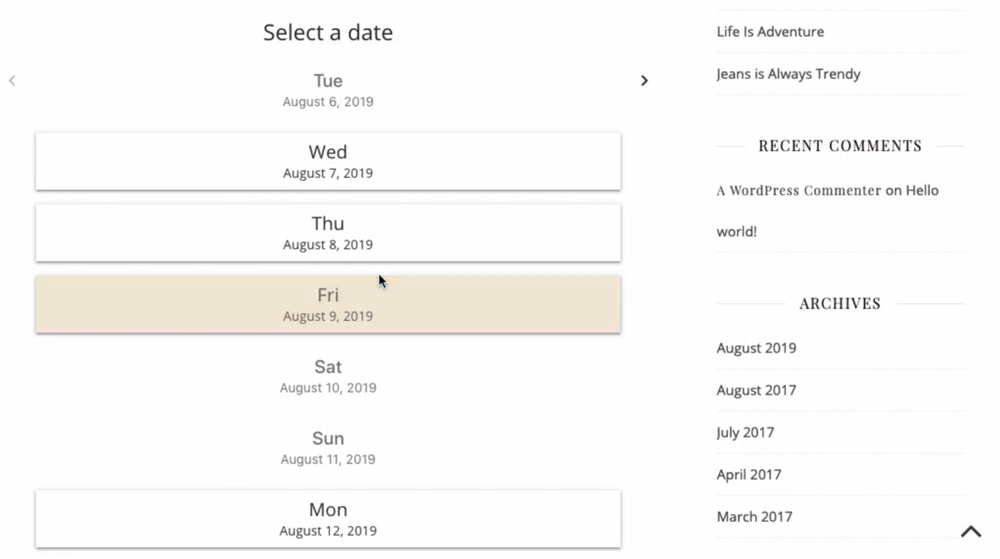 New for 2020 will be the Business Edition that gets you more group-related features, usage on unlimited websites, the ability to book group events and one year of updates and support.
Plus version costs $99, the Professional is $249 and the new Business Edition is $339.
Conclusion
Whichever appointment scheduler you go with, it's generally agreed that having an online booking system streamlines the scheduling process, cuts down on no-shows and can get you paid more quickly. The ones with automation and other integrated features around contact management also help you cut down on administrative work so you can focus on what's important—growing your businesses.