Last Updated on by Nick Braithwaite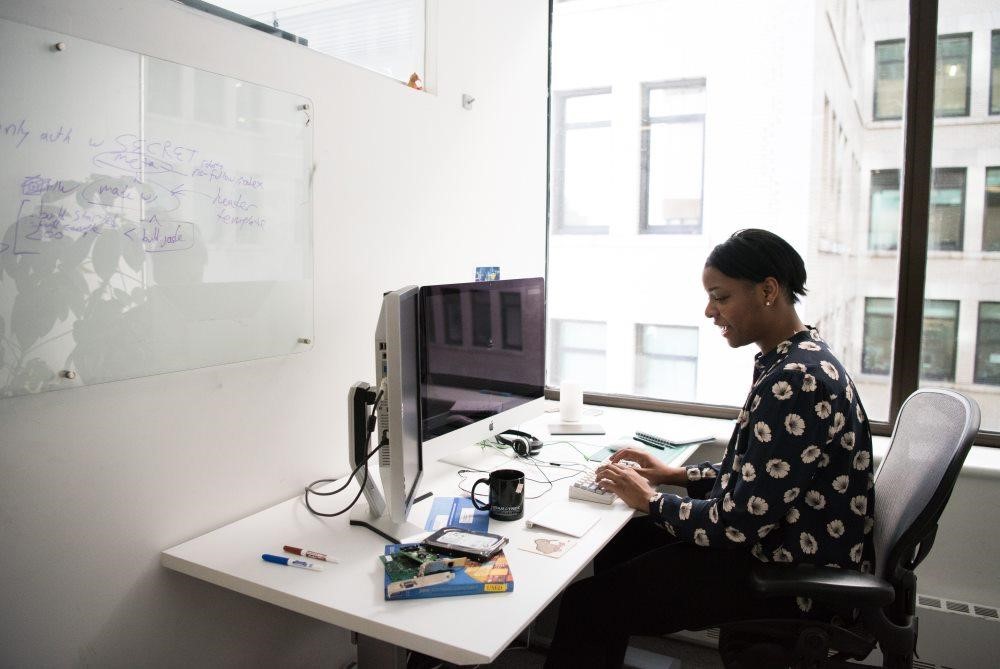 Businesses of many types – including design agencies, e-commerce brands, digital marketing consultancies, media companies and content publishing services – often run several websites at once and therefore need ways to manage them as efficiently as possible.
Indeed, building out multiple websites, managing setups, keeping track of their performance, maintaining them and performing updates can be a daunting task. And if each of these websites is hosted, coded and managed in its own set of environments, it doesn't take long for you to get overwhelmed with the number of platforms and login credentials required.
The simple solution is to use a multisite management tool that gives you complete access to all of your websites from a central platform.
In this post, we'll run the rule over some of the best tools available for managing multiple websites from a single platform.
1. InfiniteWP
InfiniteWP is a powerful plugin that offers several different tools to help you manage multiple WordPress sites.
It allows you to increase your productivity and save time by making it easy to access all of your websites from a single, centralized platform.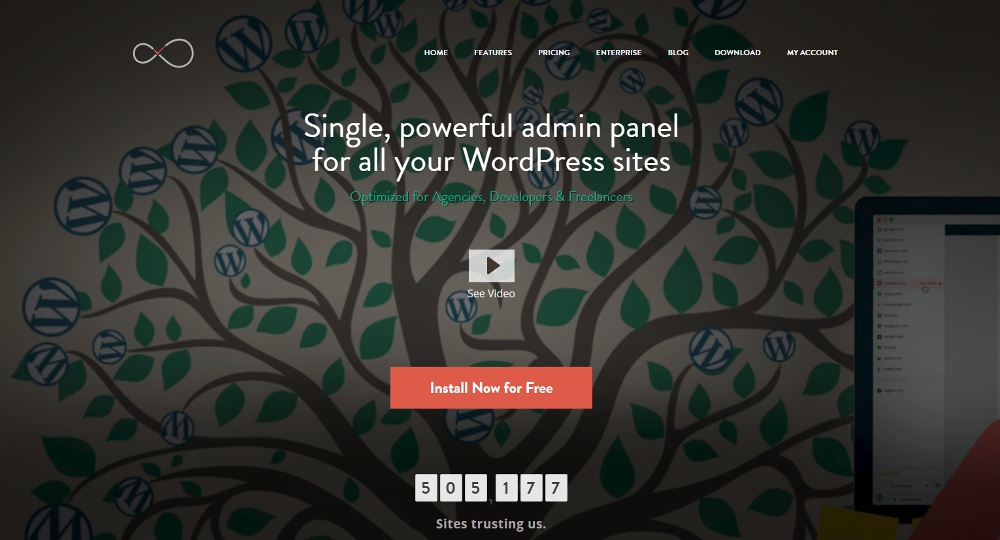 Key Features:
Easily update all your themes and plugins with a single click.
Quickly backup and restore data.
A set of premium tools for different tasks including maintenance, security, utilities, analytics, and reporting.
Its centralized dashboard gives you a bird's eye view of all of your WordPress websites.
InfiniteWP is a multisite management tool geared towards businesses that run digital marketing campaigns. Its bulk posting feature allows users to post multiple articles on different sites.
2. Duda
Duda is a powerful tool that allows you to easily manage multiple sites while boosting your online presence.
Whether you're looking to improve brand awareness through online marketing or want to build professional, conversion-driven websites, Duda has got you covered.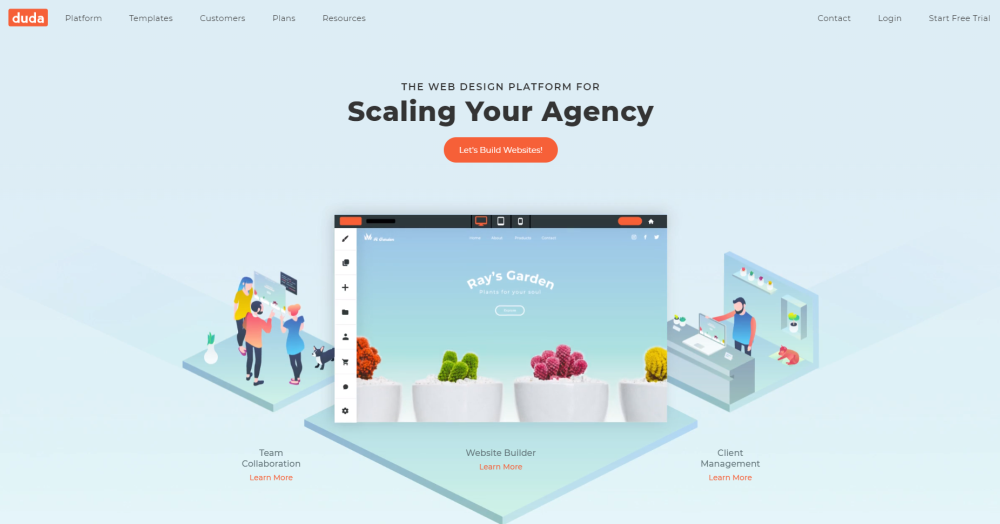 This site design platform is geared specifically towards providing fast page loading times. This makes it the ideal candidate for any agency looking to deploy and manage a growing number of websites. Many features that are pivotal for agencies – including hosting, SSL certificates, a robust content management system and the ability to create progressive web apps from any site – come included with every Duda plan.
Using this platform, you can expect professionally-crafted website designs that are optimized for maximum conversions. It's a fully scalable website management platform which means that it scales with your growing business.
Key Features:
Makes it easy to build multiple websites.
Offers a number of automation features that make it easy to perform maintenance tasks.
Built-in white labelling capabilities make it easy to brand client-facing information such as the login page.
Flexible design lets you manually edit the site code and stylesheets.
Offers built-in responsive site templates and custom design element libraries which help save time and effort when teams collaborate.
Duda gives you complete control over all your sites and enables you to view and manage them through a centralized dashboard. This allows you to make changes to any one of your websites from a single screen, without having to log in and out of any other platforms.
It also allows you to collaborate with your team members, which makes managing several sites that much easier.
3. MainWP
MainWP is another popular WordPress website management platform. It is free, open-source and offers a number of tools for managing multiple websites from a central platform.
Millions of users trust MainWP to deliver diverse content to their clients, readers, and viewers.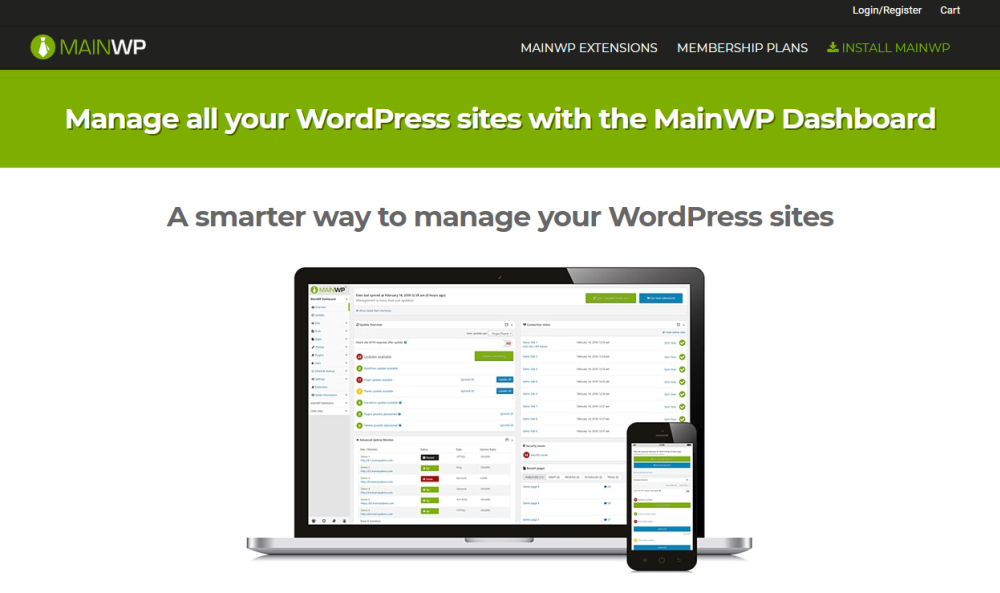 Key Features:
Easy-to-understand layout lets you quickly edit themes and manage plugins.
Sends you notifications to update any outdated plugins and themes.
Lets you quickly access different sites from a single dashboard.
It allows webmasters to easily create forums, landing pages, and social sites. If you have to manage several WordPress sites, the core platform doesn't let you access all of them from one place as a default, and there are some key disadvantages to the native Multisite feature.
But with MainWP, you can easily edit the site design, install and update plugins, write articles and collaborate with your team members across all your sites – from a single interface.
4. GoDaddy Pro
GoDaddy is one of the most popular site domain registration and web hosting platforms. It's especially popular among individuals and businesses looking for a simple site management solution.

If you're already hosting your site on GoDaddy's servers, consider upgrading your plan to GoDaddy Pro.
Not only is the Pro version available on a freemium basis, it offers some really handy site and client management tools as well.
Key Features:
Its user-friendly design lets you manage everything from a centralized dashboard.
It lets you easily add, remove, or hide clients.
Developers can add multiple clients and manage their accounts from the Client Product Dashboard.
It gives you a solid amount of control over all of your websites, regardless of whether they're hosted on GoDaddy or not.
GoDaddy Pro lets you manage multiple websites from a central hub and automate different tasks to save time. You can easily make site backups and create restore points before updating any one of your sites.
It's an ideal solution for online businesses that deal with multiple clients every day. A single dashboard can be used to manage DNS, setup emails and user accounts, and perform other administrative tasks. Many of these features will cost you extra and are most useful if you want to earn commissions by being a GoDaddy hosting reseller, but overall, this is a reasonably useful platform.
5. CMS Commander
CMS Commander is a powerful site management tool that's built around designing effective content marketing campaigns. Its centralized dashboard gives you a comprehensive view of all your websites and provides quick access to different key controls.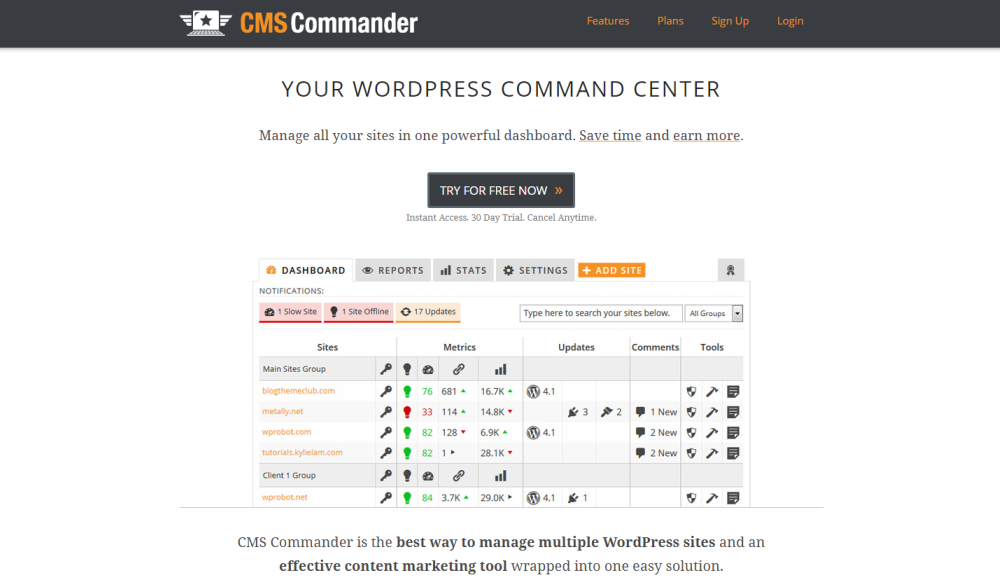 You can easily monitor different site performance metrics like backlinks, daily traffic, connection time and DNS lookup time. CMS Commander allows webmasters to automate several content management related tasks.
As a content marketing solution, CMS Commander is ideal for online businesses as it offers support for many third-party services such as Google News, YouTube, Amazon and Flickr.
Key Features:
It lets you easily track site performance from a centralized dashboard.
Allows you to install and activate plugins in a few clicks.
Lets you create customized backups by selecting the folder, site, or database of your choice.
Enables you to quickly clone entire websites when starting a new project.
Saves time by allowing users to post articles and blogs in bulk as well as support schedule posting.
Quickly copy the settings of any WordPress plugin to other sites using the Copy Blog Settings feature.
CMS Commander gives you complete control over your content management, online marketing and monetization. By automating different administrative tasks and scheduling blog posts across multiple sites, it offers your team members more freedom and flexibility to work on new projects.
6. Wix
Wix is a popular site design platform that doesn't require any prior coding knowledge. It lets you easily access multiple sites from a centralized hub and customize them to match your needs.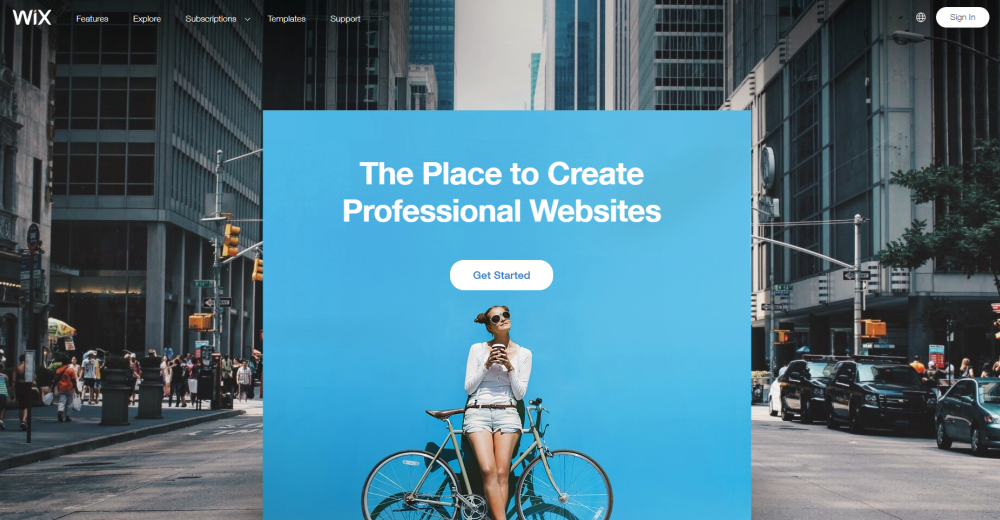 Its advanced design features, color, and font editing options make it the ideal solution for online marketing agencies and freelancers who need these features to deliver diverse content through multiple platforms.
Key Features:
Offers more than 500 design templates to go with your particular aesthetic requirements.
Intuitive drag-and-drop feature lets you easily design pages.
Automatically makes your website mobile responsive.
You can easily deploy animations, videos and other effects to make websites more visually appealing.
With Wix, you're able to access all of your sites through a single account, although you'll need to click through to individual website-specific editing environments in order to perform any significant tasks – not much here in the way of meta-dashboard controls. As with most website builders, hosting is included with all accounts.
7. iControlWP
iControlWP is another multisite management platform that lets you manage all of your WordPress websites from a single control panel.
It offers several tools that help keep your data secure and allows you to easily create site backups.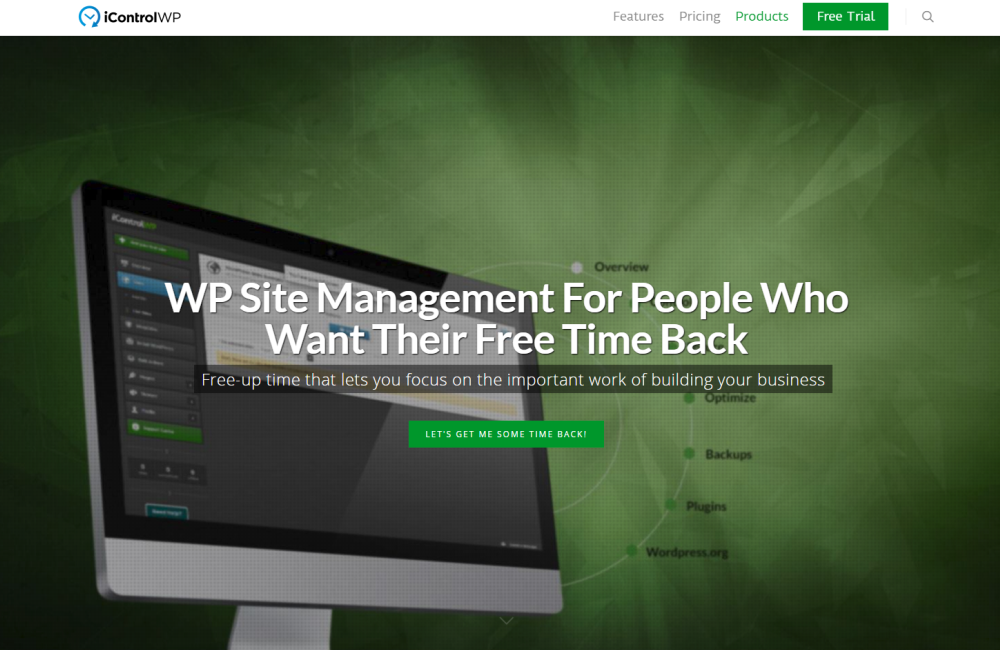 Key Features:
Manage an unlimited number of sites.
Automatically update all WordPress plugins and themes in bulk while allowing users to restrict specific plugin updates.
Offers daily automated backups.
Gives you the ability to check your backup data on a test site.
This platform lets you manage several sites with ease, as well as monitor all WordPress plugins, themes, and backups from a single interface. 1-Click WordPress Login gives you quick access to all your sites from within your admin control panel.
Conclusion
A lot of the time, businesses based specifically on a multisite network aren't sure what sort of features to look for in a multisite management platform before they onboard with one.
For this reason, it's a good idea to get an idea of the different options available to you. We shared some of the best multisite management tools out there and, hopefully, you're in a good position now to make an informed decision.
What are some of the most important features you look for in a multisite management platform? Let us know by commenting below!