Last Updated on by WP Warfare
As a WordPress developer it's nice to be able to try out different development setups. Most devs rarely get the time to play around with a new IDE or text editor because they are so busy with work. Getting the chance to sit down with CodeLobster was great. 
Just a brief intro this review refers to the Mac version, I usually use VSCode for my development projects. 
Thoughts 
The CodeLobster IDE was downloaded from here http://www.codelobster.com/download.html

Upon install I was presented with a 30 day trial of the pro version but this falls back to a free version if you do not wish to upgrade. I opened up a local WordPress site – it took about a minute for all the files to parse and it instantly picked up php errors no need to install an add on, which was great. 
I then wanted to change the colour scheme the white wasn't blowing me away. I wasn't able to find how to change the whole window colour which is a shame but I was able to change the editor text background so I went with brackets dark.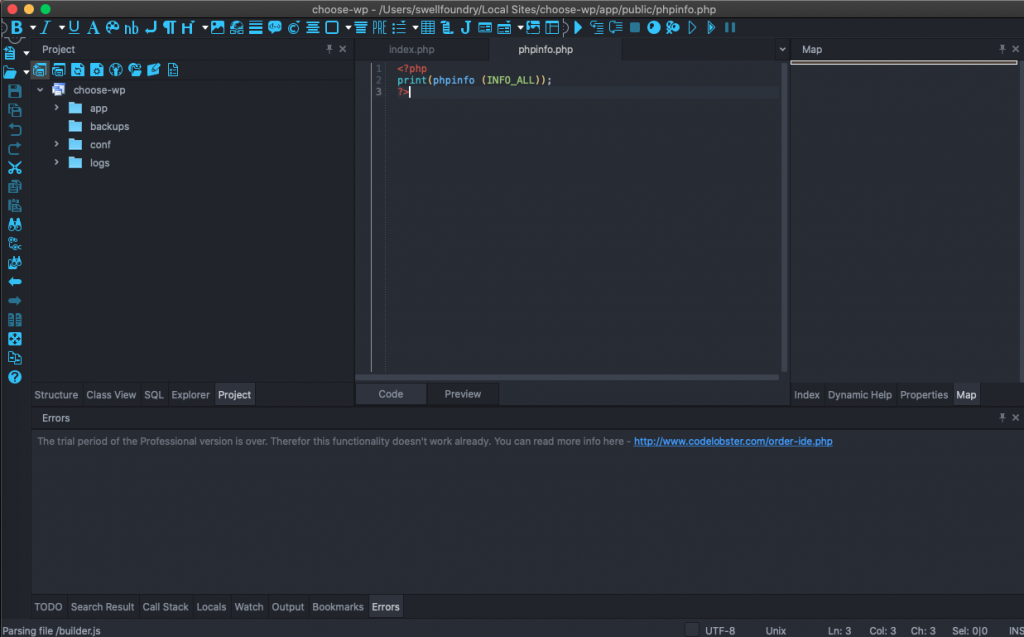 The detachable elements of the IDE whilst giving more flexibility got a bit confusing but I could see the benefit for a developer that really wants the exact layout they want, it offered more flexibility than VScode for example. 
I wanted to try and do some debugging so fired up a local project and enabled the XDebug cookie via the XDebug helper https://chrome.google.com/webstore/detail/xdebug-helper/ 
I set a breakpoint in the wp-config file to see if by some miracle it would work out of the box. I found that by changing the project home url in settings I was able to get the breakpoints to be picked up via XDebug, it did take a bit of tweaking but worked in the end.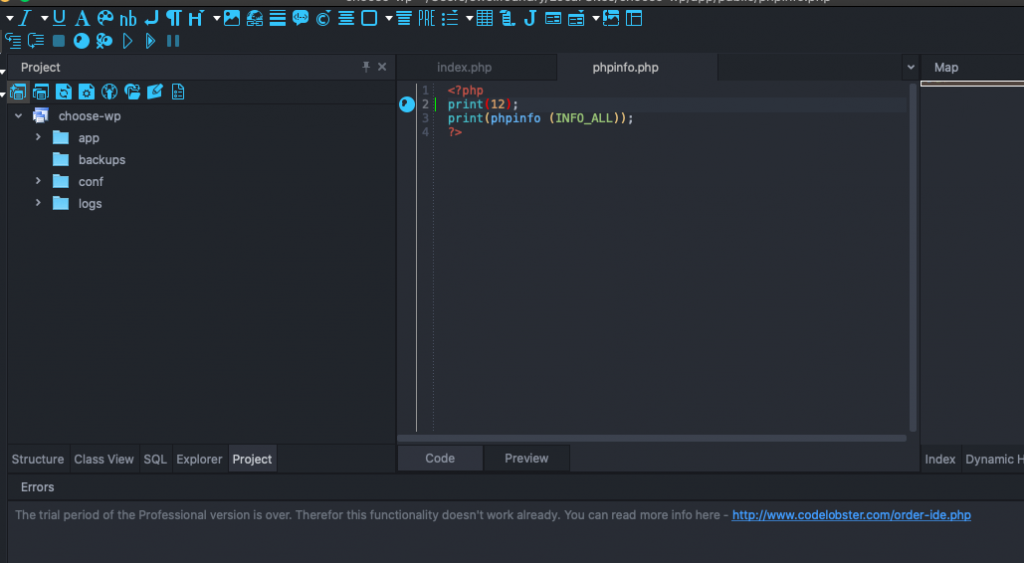 In the left hand panel you can toggle between class view, a feature that I really liked, it would save me time having to go to WordPress.org and look up a class. I also liked the html elements panel that allowed me to easily populate the page with a number of html tags such as lists, anchor links etc. 
Clicking on the settings button bought up the properties panel, similar to the config settings I am used to for VSCode so it was nice to have that element of familiarity. 
I did really like the fact that they have a built in WordPress extension, this helped to bring CodeLobster in line with some of my most used features on VSCode http://www.codelobster.com/wordpress.html. 
I should mention whilst I and this site are biased towards WordPress CodeLobster has support for all popular frameworks: Drupal, Joomla, Magento, Twig, JQuery, AngularJS, Bootstrap, Laravel, MeteorJS, Phalcon, CodeIgniter, CakePHP, Symfony, and Yii
Conclusions
Overall whilst I won't be switching from Visual Studio Code I do think that Code Lobster is an IDE that is worth taking a look at if you're looking for a custom layout with the ability to easily add in html elements. Also some people may prefer to use an IDE that is not owned by one of the tech giants.