Last Updated on by Vairo Kremanis
Think about the last time you tried looking for the perfect social media sharing plugin.
It wasn't that easy, right?
The multitude of options include Easy Social Share Buttons, ShareThis, AddThis and Monarch.
Each of them provide various different styles, location options and speeds when loading up on your website. In fact, it always seems like you get a social sharing plugin installed only to find one or two features that are missing along the way.
That's why we're pleased to talk about the Social Warfare plugin, because its impressive reviews and sleek designs get make us feel like the ultimate solution has finally arrived.
That's not to say that you should jump right into buying it, but we recommend following along with this in-depth review to get an idea of whether or not it's right for your business.
However, we think you'll be just as impressed as us, considering the low pricing, beautiful design and quality support.
So, let's not waste any time. Check out our Social Warfare review below to get a taste of the plugin.
Social Warfare Functionality
Speed
I've used the Filament Flare plugin for quite some time on most of my WordPress sites. However, the main problem I've found is that the load times are extremely inconsistent. Sometimes users see the sharing buttons right away, while other times it never pops up. Mobile interaction is a completely different problem, and sometimes the buttons don't seem to work. That said, it's still one of the best solutions on the market.
That's why we really enjoy the speed that comes with the Social Warfare plugin. During tests we've found that the buttons are lightning fast, pretty much popping up on the website before most of the other content does. The buttons don't seem finicky or hesitant to find a set location, much like I've found with other plugins.
Not to mention, they don't seem to slow down your site at all.
Simple, Yet Beautiful Buttons and Movements
Trying too hard with social media buttons can get the speed and overall simplicity of your site in trouble. That's why Social Warfare seems to have focused on one attractive design for each of the buttons. The uniform and accurate aesthetic brings together a professional, yet intriguing look, with animations to go along with it when people scroll over.

Each of the button colors correlate with the proper social media site. For example, Facebook is blue and Pinterest is red. You'll also see that a call to action reveals itself when a user scrolls over each button. So, Pinterest would say "Pin," while Twitter would say "Tweet." You'll also notice that the share counts are shown to the right of this bar. What's cool is that you can modify a setting to only show that share count after it reaches a certain number. This boosts your credibility, but only when the share count is actually going to help you out.
As we mentioned above, there's no reason to go with crazy designs for your social media buttons. All you're going to do is slow down your site and clutter the interface. That's why the Social Warfare design comes in handy.
Pinterest Images and Shareable Quotes
Inserting social media buttons is the plugin's primary feature, but since this is a premium plugin, one might expect to receive a few extra bonuses. Social Warfare does not disappoint, considering it has the ability to implement Pinterest images on your website.
What do these do?
They basically let you upload a Pinterest-specific image on a post or page, while including a Pinterest share button with a title and description. We like this for anyone who uses Pinterest for their site. Blogs for fashion, design and lifestyle come to mind.
Another bonus feature comes in the form of shareable quotes, which generate in-post quotes, pulling from the post and allowing people to quickly share the sentence with the world. So, if you write a line that begs to be shared, make it a shareable quote for the ultimate call to action.
Custom Tweets and Twitter Cards
The custom tweets feature comes in handy when you'd like to customize the tweets that go out from your blog. This makes it easier for your user and improves the amount of tweets created. The tool auto-populates a tweet for the user, so they don't have to think of what to say. If you've used other social sharing plugins in the past, you know that default blog titles and links often look messy and cluttered when in a tweet. Therefore, the custom tweets solve this problem.
An additional Twitter tool includes Twitter Cards, which let you display large, image summary cards when someone tweets from a blog post. You can also make it so that your Twitter username is always included with a tweet that goes out, improving your view of how many people are talking about your company on Twitter.
Support for the Most Popular Social Networks

I don't like getting overwhelmed with too many options, and neither do most users. Therefore, your best bet is to stick with the social sharing buttons that people actually use on a regular basis. Social Warfare keeps it simple, sticking with the following buttons:
Google +
Twitter
Pinterest
Facebook
LinkedIn
WhatsApp
Tumblr
Reddit
Pocket
Email
StumbleUpon
You're Not Only Stuck With One Style
Branding means a lot to companies and blogs, so the folks at Social Warfare have thought about what options need to be included for changing around button designs. Although the default styles are great for getting buttons implemented quickly, you can choose from over 5,000 other style combinations.
Ease of Use
Quick Implementation of the Social Sharing Buttons
One of the easiest ways to insert a list of Social Warfare sharing buttons is with a shortcode. These shortcodes are generated automatically, and you can access a quick insertion button from the comfort of your own WordPress page or post editor.

It's a one step process for implementing a shortcode, and you can copy these codes to other pages if needed.

Another way to get the Social Warfare buttons on your site is by activating the bottom bar. This item can go away at anytime, but the point is to remain in plain site when people scroll through your website. It's similar to a sticky menu that's always in view for sharing.

Support for Mobile Devices and Developers
One problem that many social sharing plugins have is the mobile interface. They're marketed as being responsive, but that's often not the case (or they take up too much space on the mobile interface).
The Social Warfare plugin delivers the buttons to mobile platforms with ease, and they remain in sight without cluttering up the actual content. It doesn't seem to matter what the screen size is, because during our tests the buttons still looked clean and visible, whether it be on tablets or phones.
Not to mention, the developer support is pretty remarkable as well. Basically, the plugin is open so that third-party developers can make their own add-ons. Therefore, if you fancy yourself a developer, extending the functionality shouldn't be too much of a problem. Or, you could go out and see if other developers have made features that you need for your site.
Pricing
The pricing for Social Warfare is scheduled to go up in July 2016. However, if you select a plan before that you're locked into that pricing for life. All of the licenses we talk about below are subject to a one year renewal if you'd like to continue getting customer support.
A 60-day money-back guarantee is provided, which is a huge bonus for those who would like to try out the plugin and not get forced into paying if it doesn't work out. Anyway, here are the plans to choose from:
Lieutenant's Package – For $24 per year you get to activate the Social Warfare plugin on one site, and you receive all of the features.
Captain's Package – For $110 per year you get to activate the Social Warfare plugin on five sites, and you receive all of the features.
Colonel's Package – For $200 per year you get to activate the Social Warfare plugin on 10 sites, and you receive all of the features.
It's unclear what the new pricing will look like in July, but the current pricing is pretty darn great. Most plugins with this type of support, functionality and sleek design are more expensive than the $24 price point. Or sometimes you end up with a watered down version that you get for free.
When the new pricing plans come out we'll be sure to update you on the changes.
Support & Documentation
The support resources and documentation items look pretty impressive, considering you gain access to a full knowledge base with options for searching and browsing through all documentation and FAQs. Along with that, an email form is provided for sending in questions that you may not be able to solve with the knowledge base. In addition, a rather impressive blog is constantly updated with tips from experts, social sharing strategies and updates for the plugin.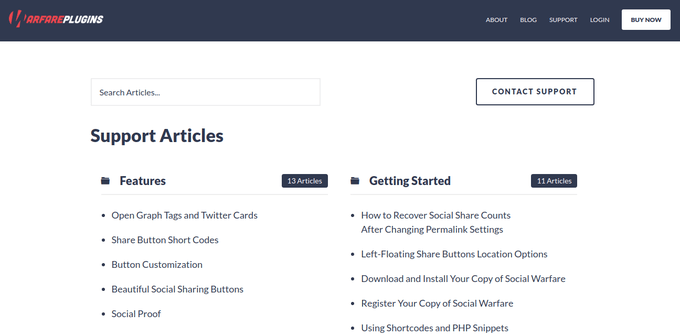 A social plugin company wouldn't be much without a social media presence. So, Social Warfare connects with customers through places like Facebook and Twitter. According to the Facebook page, the company responds within a day, so it could be nice for fast support.
Finally, you can signup for the email newsletter, which has some solid promotions, blog updates and links in case you forget how to contact the support team.
Overall, the support looks pretty remarkable for a plugin company, since far too often we see developers with minimal documentation, no email contact information and rarely updated blogs.
Conclusion
Compared to the dozens of other social sharing plugins on the internet, the Social Warfare receives a well-deserved 5 star rating from me.
The buttons have customization settings included, yet the default designs are down-right clean and professional. Lots of business websites and blogs could use interesting sharing tools like share counts, Twitter cards, shareable quotes and Pinterest images, but you generally have to install several plugins to get all of those features. With the Social Warfare plugin, it's all wrapped into one package, all at a reasonable price.
Although the pricing is going to go up within the next few months, we're still pretty confident Social Warfare is going to remain a good value.
If you have any questions about this Social Warfare plugin review, or if you've had experience with the plugin, feel free to mention your thoughts in the comments section below.