Last Updated on by WP Warfare
We're all witnesses to the immense power of social media. We've seen how tightly knit and well organized online communities can affect the real world, create global movements, and even influence political opinions. Not to mention the wonders they can do for budding brands through word-of-mouth promotion.
But social media isn't just Facebook, Instagram, and Twitter. In fact, any business can create its own online community. All it takes is a good WordPress user profile and membership plugin. Whether your plans for 2020 include building an online community for your brand, enhancing the functionality of your forum, or looking toward paid membership as your future business model, you'll find at least one plugin for your needs in the following list of 5 best WordPress user profile plugins.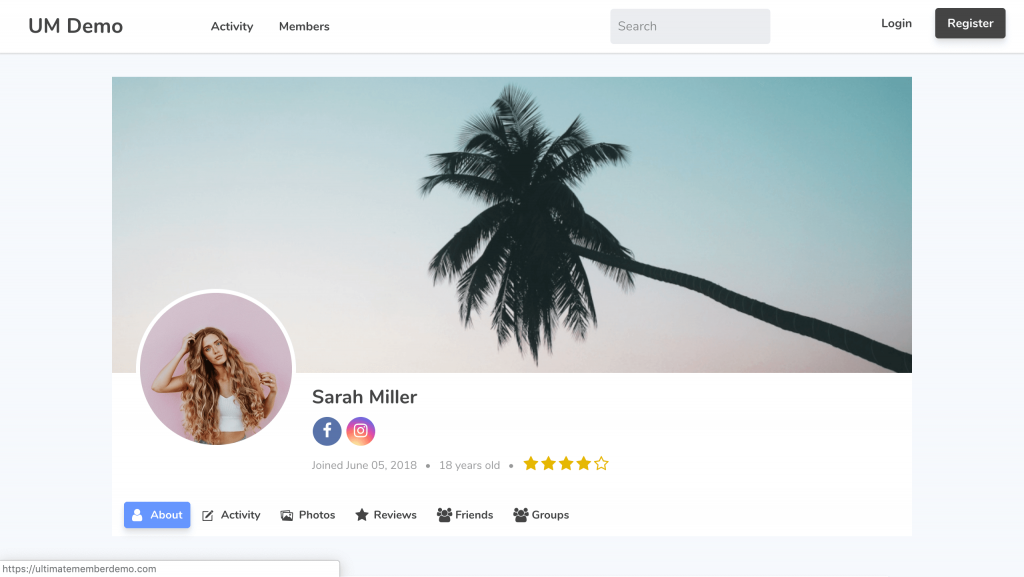 Ultimate Member is a lightweight user profile and membership plugin that's available for free in the WordPress plugin repository. With more than 100 000 active installations and a 4.3 rating, it's among the most popular profile plugins in the directory. With Ultimate Member, you can add both front-end user profiles and back-end user account pages to your website. Thanks to the drag-and-drop registration form builder and the ability to create custom form fields, you can also easily set up fully customized registration forms and gather the most relevant data from your users upon sign up. And while the core plugin comes with all the basic functionalities you might need from a membership and profile plugin, there are also 21 paid extensions and 4 free extensions you can use to enhance Ultimate Member's capabilities even further.
If that's not enough, the team behind the plugin has created an entire WordPress theme specifically designed for sites that have logged in users.
You can get Ultimate Member for FREE in the WordPress plugin repository.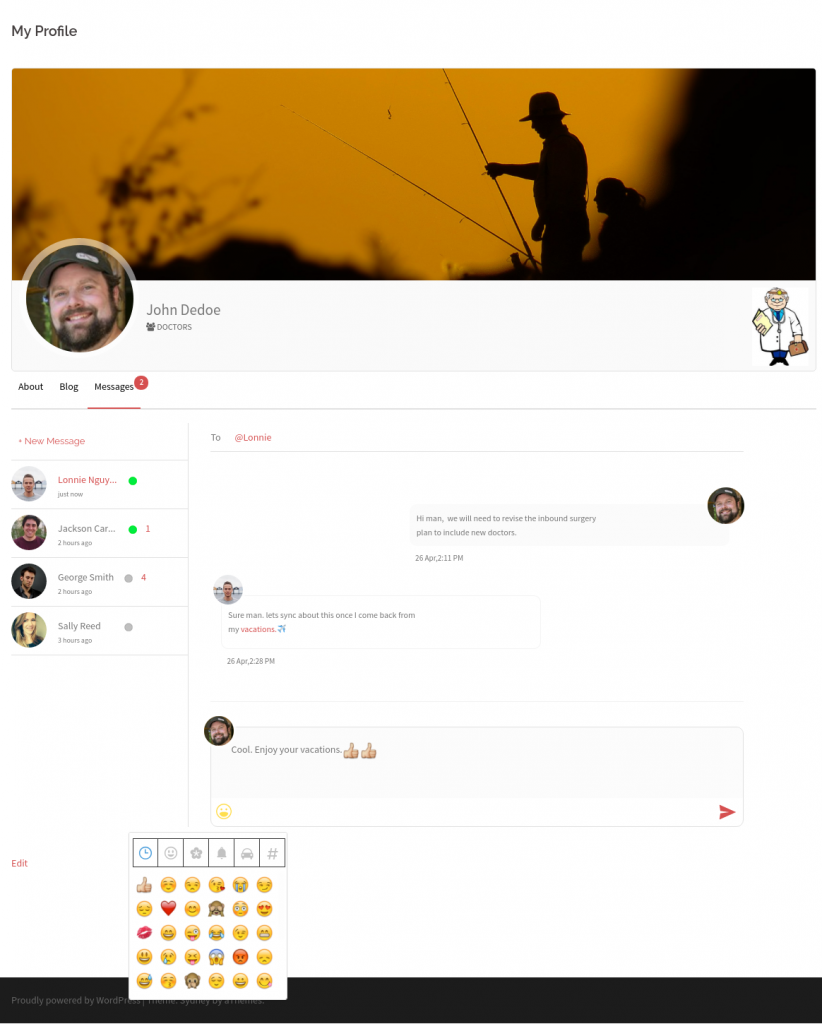 Profile Grid is another free plugin you can get from the WordPress repository. With just over 4000 active installations, it's perhaps the least popular plugin on our list. On the other hand, it holds a strong 4.8 rating, which tells us its user base is extremely satisfied with what it offers. The reason it's not used by more people might be because ProfileGrid is focused on providing a very specific experience based on community and social interaction. Besides the standard user profiles and registration forms, it also lets you create and manage user groups, enable paid memberships, restrict content to certain types of users, and enable notifications. You can create separate sign up flows for each type of user group, assign a moderator to each group, and even enable already existing users to request membership for public groups. The plugin also comes with an inbuilt messaging system that works in real time and lets users see the live status of the member they're chatting with. All this ensures you can create a highly customizable and unique community experience on your website. ProfileGrid is compatible with WooCommerce and bbPress, allowing you to set up unique user profiles for each of these plugins.
You can get ProfileGrid for FREE in the WordPress plugin repository.
UserPro is a premium plugin with over 19 000 downloads and a 4.4 user rating on CodeCanyon. And as you'd expect from a premium plugin, it offers far more functionality than the free profile plugins we've discussed up to now. With UserPro, you can not only create custom user forms and beautiful user profiles, but also let your users connect (and log in) to your site via their social media profiles. Users can follow each other, and there's even a searchable member list, allowing you to turn your website into a type of social media channel. Not to mention the amazing ability to create badges and achievements your users can show off. This plugin also offers front end publishing of posts and comments, as well as the ability to restrict certain content to specific users or user types. Compatibility with a number of popular plugins like WooCommerce, BuddyPress, myCred, and SVG Avatars generation makes UserPro an even more powerful option.
You can get UserPro for $39 on CodeCanyon.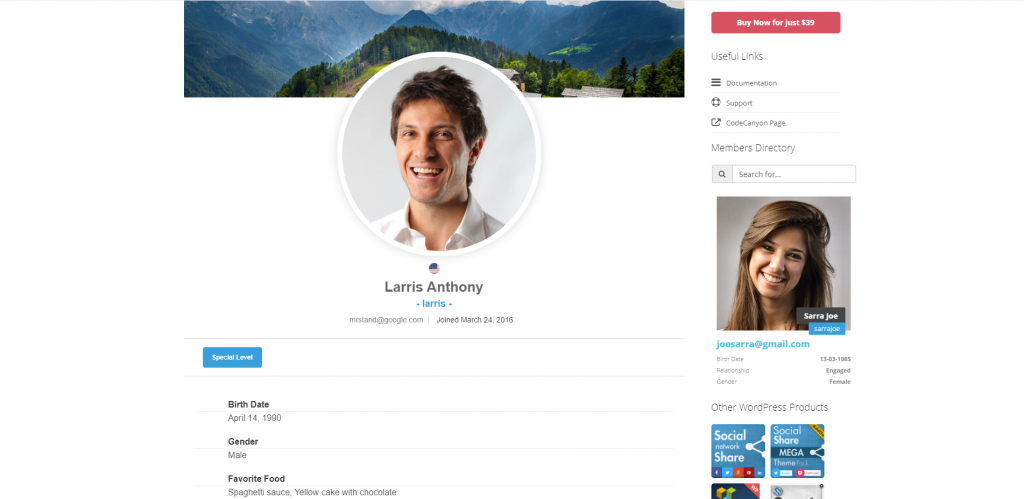 Ultimate Membership Pro is a premium plugin that's available for purchase on the Envato Marketplace. With over 18 000 downloads and a user rating of 4.5, Ultimate Membership Pro boasts itself as the most complete membership plugin available. And to be honest, it's really not far from that. This plugin comes with 40 integrated addons that, were you to purchase them separately, would cost you around $450. But what stands out the most among Ultimate Membership Pro's many functionalities is the ability to sell subscriptions to your site. Thanks to the multiple subscription functionality, you can create different types of user subscriptions and let each individual user sign up for as many as he or she wants to. Integration with over 11 payment gateways like PayPal, Stripe, 2Checkout, Braintree and others, makes selling subscriptions even easier. Other interesting features of the plugin include purchase gift codes, coupons, free/paid trials, social login with 7 different social networks, email marketing via 9 integrated platforms, push notifications and more.
The popular WP Mayor blog has a great video tutorial and review of Ultimate Membership Pro which you can check out here.
You can get Ultimate Membership Pro for $49 on CodeCanyon.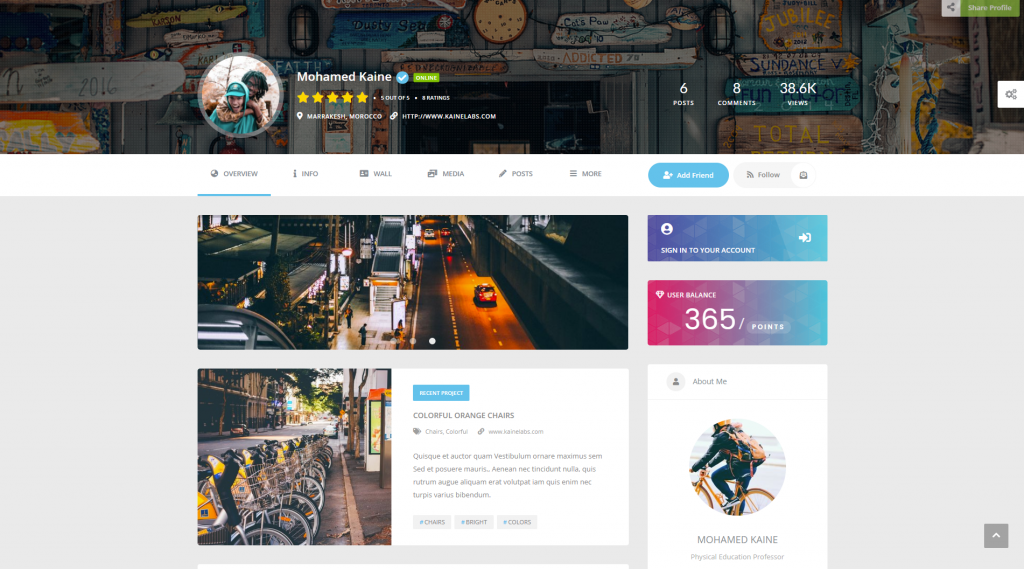 Youzer is a profile and membership plugin created especially for sites that use Buddypress. It has over 3 000 downloads and a 4.9 user rating. While its functionalities encompass only Buddypress sites, according to the rave reviews on the plugin's CodeCanyon page it's the best option available in this narrow niche. It comes with 16 custom WordPress widgets (like the Friends Suggestion widget, Notification widget, Activities RSS widget, Who's Online widget, and others). Among its social functionalities, you'll find things like verification badges, likes, mentions, activity streams and private messages. Users can post different types of content to their walls, including regular statuses, quotes, files, slideshows, photos, videos, and links. Youzer also lets you create member directories, private profiles, integrate ads to your site, and choose between 14 header styles. All this enables you to completely customize both the look and the feel of your Buddypress website to your unique needs. But it's not all looks and snazzy features. As far as security goes, Youzer comes with an integrated a Captcha system, a secure "reset password" system, and limited login attempts, making it one of the most secure profile plugins on our list.
You can get Youzer for $49 on CodeCanyon.
And that's our list of the 5 best WordPress profile plugins for 2020. Each of these plugins packs enough punch to help you create an active online community and harness the power of your user base. Which one you choose will simply depend on the type of website you're creating and the unique needs of your business.