Last Updated on by Nick Braithwaite
If you are running an online retail shop (or any online business), it's essential to have a proper way to track and identify your products and stock information.
The EAN (European Article Number, also known as International Article Number or IAN) is a commonly used numbering and barcode symbology system. It is one of the widely used methods for identifying your products and stock, along with specific retail types, packaging configuration, categorization, manufacturer, and more.
EAN comes with a few different standards, including the EAN-13, the most used standard.
It's super easy to utilize product EAN in your WooCommerce powered online shop with a few quick steps.
In this review, we will explore and test the functionality of the popular EAN for the WooCommerce Pro plugin by WPFactory.
Setting up the EAN for WooCommerce Pro Plugin
As for any other plugin, you can install EAN for WooCommerce Pro in your Woocommerce powered e-commerce website.
Note: While the plugin comes as both a free version and a pro version, we will mainly focus on the Pro version in this review.
Download the purchased plugin.
Log in to your WordPress admin and navigate to Plugins->Add New->Upload Plugin.
Select the downloaded zip file and click Install and then Activate. Once the plugin is activated, you can see it under the active plugins list.
After activating the plugin, you can access the plugin settings in the newly added WooCommerce settings tab via the WordPress admin dashboard.
Navigate to WooCommerce->Settings-> EAN tab.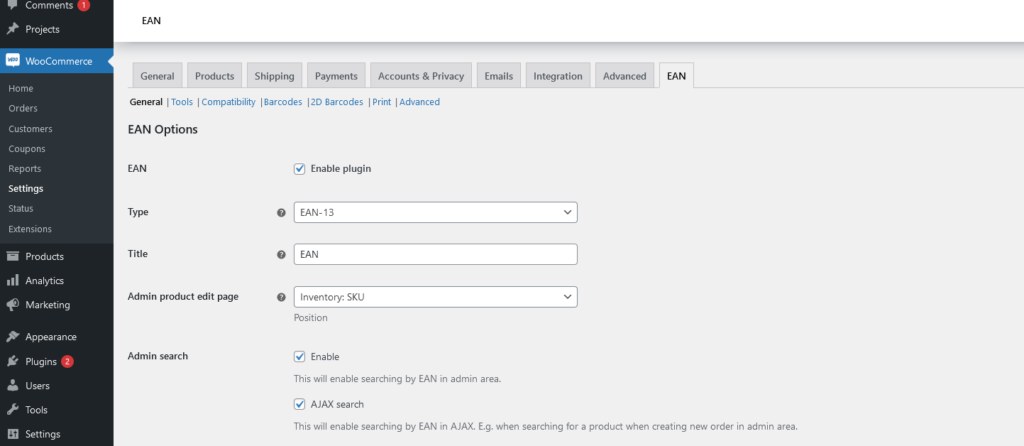 The EAN for WooCommerce plugin enables you to add an EAN number for each product. It allows you to define an EAN for each variation of a variable product or a single EAN for all the variations.
The pro version allows you to generate and display the barcode image for the product EAN in the frontend or backend or both, in the orders table, in emails, and with the REST API.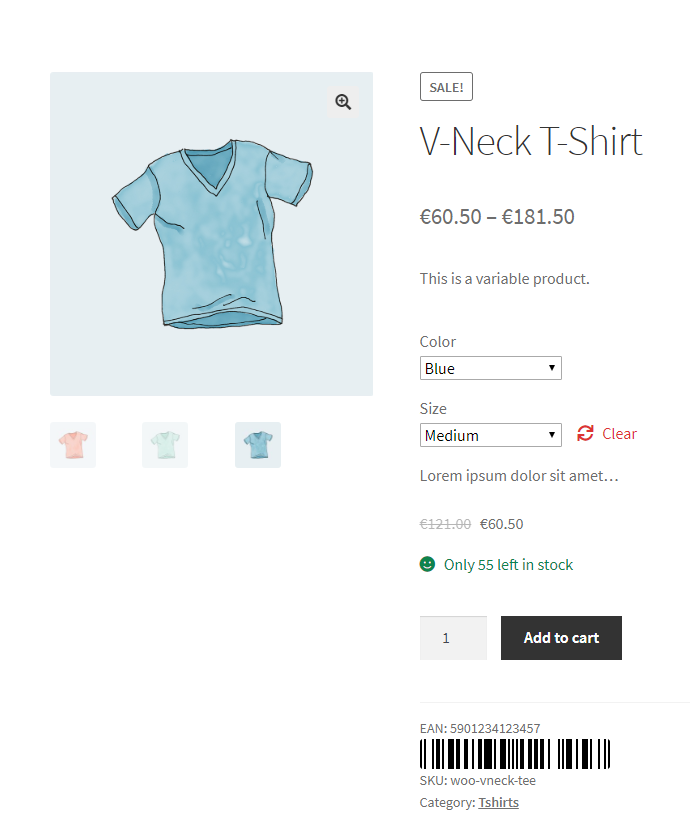 *Displaying product barcode in the single product page
Configuration
General Tab
You can completely disable/enable the plugin functionality from the General tab. The EAN for WooCommerce plugin supports a few different standard barcode types such as EAN-8, UPC-A, EAN-13, ISBN, JAN, and custom type.
You can choose where to display the EAN field in the product edit page, whether in the General, advanced, or Inventory tab.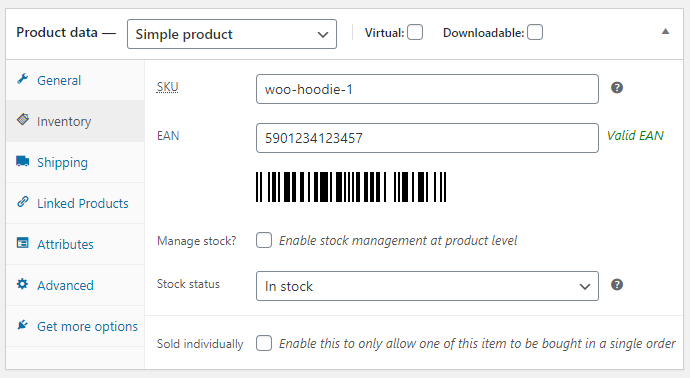 You can enable searching by EAN for admin, which will let admin users search for products using EAN. The plugin also lets you add EAN to the product object in the REST API.
Furthermore, you will be able to add EAN data to orders. You can choose to include EAN code into the metadata of new order items, orders created by admin, and orders created via the REST API. You can even choose to add EAN to structured product data (used in Google search console, SEO purposes) and order items table, which will display the EAN in the Thank You page and transactional emails.
On top of that, you can choose to show the EAN values in the frontend, change the way they are represented in the single product page, shop pages such as category, listing pages, cart page, and search results.
Tools Tab
The next tab, named Tools, provides an additional set of tools for your convenience.
There, you can choose to automatically generate EANs for all your products with ease. Furthermore, you can use customizable EAN type, country (from and to), and seed prefixes.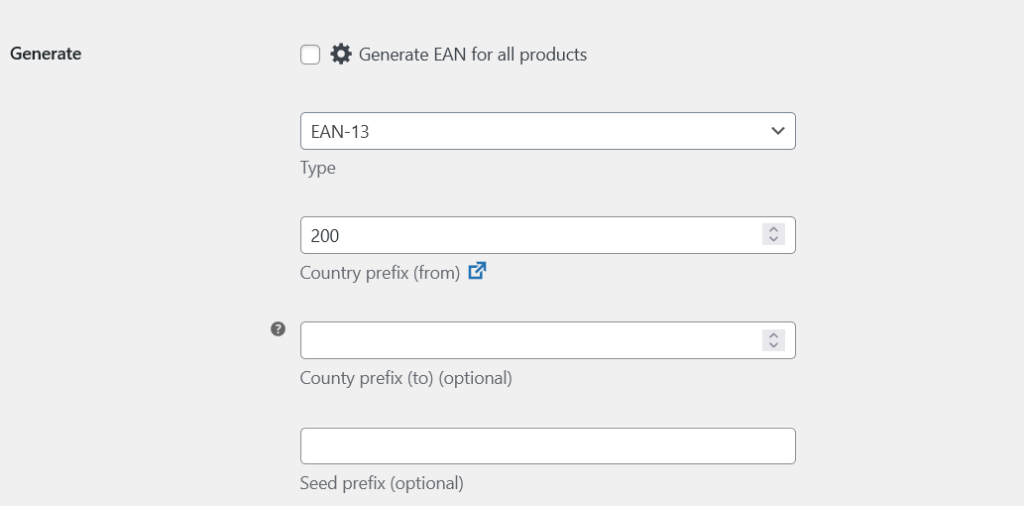 You can copy EAN codes from the product SKU, ID, or meta values, as shown below.

You can assign EAN values to products from a list of predefined EAN values.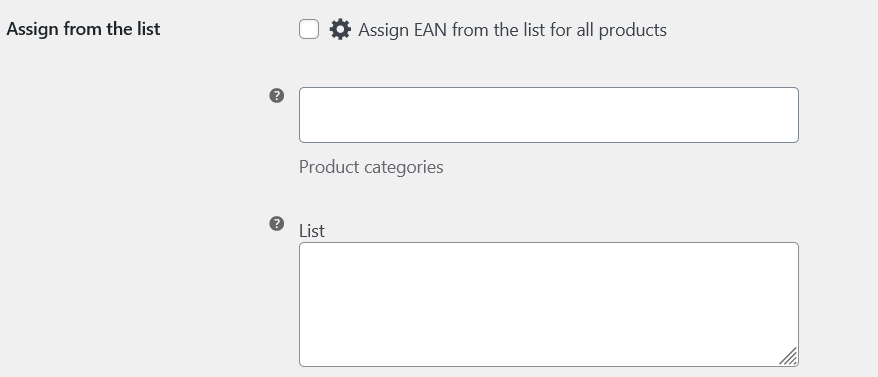 You can delete the assigned EAN values from all the products using the option below.

Additionally, you can choose to add/remove EAN codes for all orders at once.

You can even set up automatic trigger actions for product-related operations. For instance, you can set up an action to generate a new EAN code or copy EAN using SKU/ID or Meta and assign it to a product when creating a new product or updating an existing product.
You can also set up a periodic trigger action to run on all products periodically. For that, you have to choose the action from the given list (generate new or copy from), which will run periodically according to the time you defined (in seconds).
Plugin Compatibility Options tab
The Plugin Compatibility Options tab lets you enable or disable displaying EAN values on some other popular plugins.
For example, you can choose to show/hide EAN in PDF documents generated by,
Print Invoice & Delivery Notes for WooCommerce and WooCommerce PDF Invoices & Packing Slips plugins.
You can further choose to show/hide EAN in the vendor product form of the Dokan, WCFM, and WCFM Marketplace plugins with some additional settings on displaying the data.
Barcodes and 2D Barcodes Tabs
The barcodes and 2D barcodes tabs let you configure displaying one-dimensional or two-dimensional barcodes respectfully.
You can completely disable/enable the use of barcodes in each tab or choose any option you want.
You can enable barcode images on the product edit page for admin users and add a barcode column to the products list.
You can choose to show/hide barcodes on the front end, including single product page, cart page, order completed/thank you page, my orders page, and product emails.
You can also configure displaying barcodes with the other plugins discussed in the Compatibility tab.
Print tab
The Print tab lets you add the Print Barcodes action to the Bulk Actions of the products list page in the admin dashboard. You can configure and predefine print options, such as page orientation, measurement units, page format, borders, margins, fonts, barcode printing options (height, color, etc.), and product image options.
Advanced Tab
The advanced tab lets you define a Meta key to be used, force using remote images, import/export plugin settings, and reset all the plugin settings to the default.
The Verdict
There won't be a better choice than EAN for WooCommerce Pro if you are looking for an easy and hassle-free way to introduce a GTIN (Global Trade Item Number) to track and identify products in your WooCommerce store.
This plugin is easy to set up and use as well as comes with all the features you need. It provides built-in support for other popular WooCommerce plugins, supports multiple EAN standards, and allows store owners/admins to search products using EAN codes. What is more, it enables displaying beautifully crafted barcodes in the frontend for your customers and provides many more options.
It offers excellent support if you encounter an issue or need any help. It also well supports utilizing shortcodes and is very easy to use for anyone with WordPress/Woocommerce. This way, EAN for WooCommerce Pro is a very convenient plugin that guarantees compatibility with any theme you want to use in your web store.