Last Updated on by Vairo Kremanis
Have you heard the buzz?
No, its not about the Divi theme. That's been around for awhile, and although Divi is still one of the best multipurpose themes out there, something new is about to give it a run for its money.
We're talking about the Monstroid WordPress theme, an option that you may have stumbled upon due to its immediate popularity and seemingly endless feature set.
If you go to Monstroid's Template Monster page, you'll notice that the reviews are amazing. The details are rather comprehensive, and the pricing isn't terrible either.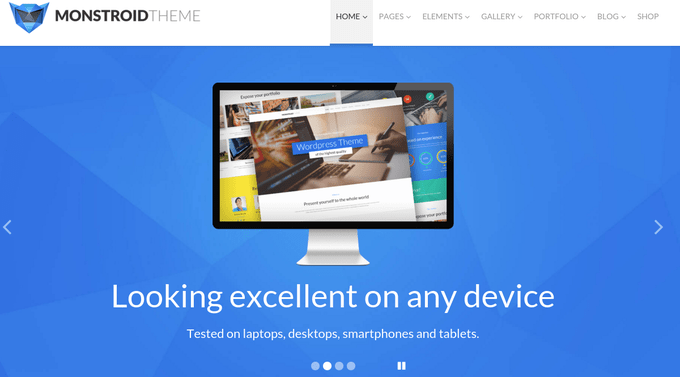 As WordPress themes evolve, we're starting to see all-in-one packages, where you take multiple demos, turn them into completely different layouts, and basically come up with hundreds, or thousands, of designs from a single theme.
This works wonders for developers, because they only have to pay a little less than $200 to have options that can be placed on just about all client sites. You can develop a church website just as easily as you could a complex online store.
Monstroid is one of those new themes, with tons of features packed into it. So, the question remains: Is Monstroid a viable solution for developers that would only like to use one WordPress theme for clients?
In addition, it is too overwhelming for beginners who may be intimidated by the incredible amount of features? After all, just looking at the sales page is enough to make your head spin.
These questions are valid, and they require answering, so keep reading this in-depth Monstroid WordPress theme review to decide if it's the right theme for you.
Monstroid Functionality
What's interesting about the Monstroid theme is that we'll most likely not even scratch the surface when talking about its functionality. With most themes you can dive in and pretty much explain how it caters to lawyers or online stores, then move on from there. However, Monstroid has tools for every type of company. Therefore, we're going to take a look at the features that we find most useful, and you can decide whether the ideal functionalities are included.
Testimonials and Staff Representation
A testimonial is one of the best ways to bring in new customers. Therefore, all you have to do with the Monstroid theme is to get a reputable customer to speak nicely about your company. Paste the quote in your dashboard, upload an image of the person and place the testimonial slider somewhere on your homepage.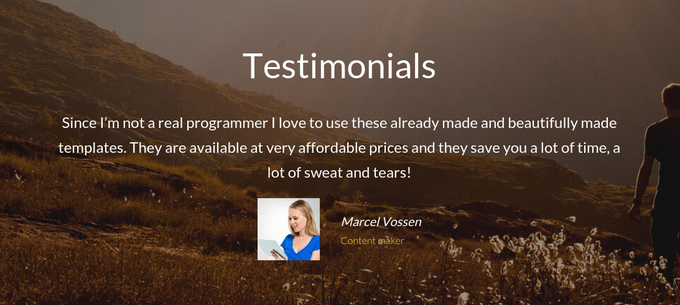 One thing I really like about the Monstroid theme is that it comes packaged with a drag and drop editor and some beautiful demo content. Therefore, when you land on the backend, there's not much you have to do in terms of design. In fact, most of the demos already have areas to input testimonials and staff member profiles.
Moving on, these staff member profiles work as another row that you can insert on the homepage, or just about anywhere on your site. Incorporate images, descriptions and names, along with job titles, giving your company a more personal look and feel. As with the testimonials, it doesn't take a genius to get this feature looking nice within a few minutes.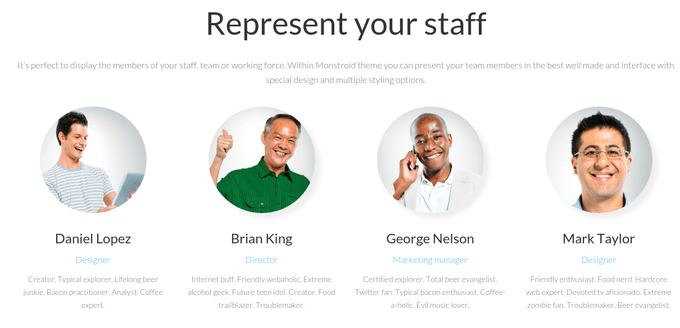 Social Integrations

Social media plugins are usually a pain in the butt, considering they weigh down your site, never seem to look right for your brand, and they are limited to whatever the developer decided to make. That's why I like it when I stumble upon themes that include all the social media buttons for me.
This cuts out the process of going with a third party plugin, and it ensures that I have both sharing and following buttons. Well, the Monstroid theme doesn't disappoint, because you can customize the buttons to whatever size, shape or color you desire. Place them on top of a parallax background or put them way at the top of your site, above your slider images.
Icons, Graphs and Counters

One thing to keep in mind with the Monstroid theme is that it's somewhat complicated trying to keep track of all the little goodies you get. For example, more than 50 stock photos are packed into the theme. You rarely see this, so it's cool to know, but quite easy to forget about.
The same goes for items like counters, which are great for agencies and freelancers. Also, icons and graphs come in droves with the Monstroid theme, making it almost impossible to not have visual elements scattered throughout your website.
Decent Portfolios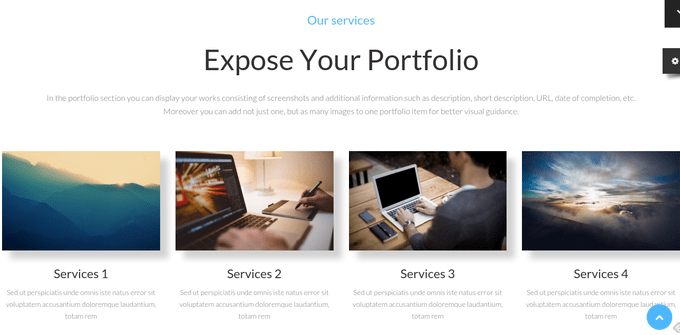 If you're interested in heightening the effectiveness of your company website with a portfolio, or maybe you'd like to make a website dedicated solely to bringing in new clients, the Monstroid theme is surprisingly helpful. The initial portfolio on the Monstroid demo doesn't have any filtering features, but after deploying the right plugin, I noticed that it does indeed allow for filtering.
You have a few options when designing a portfolio. The first is by using your blog with a recent post widget, while the other is going with a gallery that filters. Overall, they all work just fine. You might not be as satisfied with Monstroid as you would be with a theme that is built just for a portfolio, but it seems to do the trick. I had some problems with editing photos for the thumbnails, but those were only minor issues.
Ecommerce Tools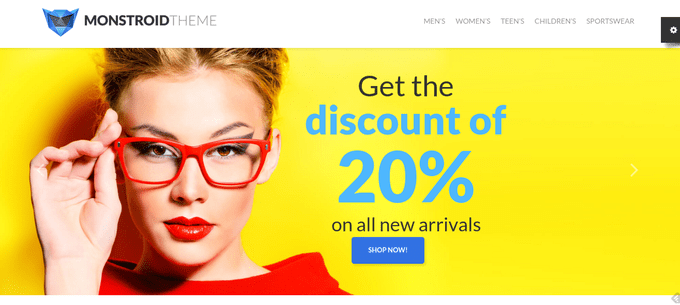 As you'll see in the pricing section, Template Monster offers a service for completely setting up an online store Although the service is a complete waste of money, the theme is still perfect for integrating with WooCommerce and selling online, as long as you do it manually. In short, Monstroid includes a complete demo for an eCommerce shop, complemented with sliders, shortcodes, featured product areas and a sleek shopping cart.
Not to mention, product filtering works nicely, and you gain access to all of the general features in Monstroid, like testimonials, contact forms, embedded maps, icons, featured blog posts and column shortcodes.
Monstroid Ease of Use
The first area I tend to look at to decide whether or not a theme is user friendly for the admin is the editor. The Monstroid theme offers something called a Statics Area builder, which is essentially a drag and drop builder with the ability to search for elements and swap them out when needed. So, you could search for a logo and change it.
It's not exactly the most robust drag and drop page builder out there, but several other components make it rather easy to use. For example, various shortcodes are packaged into the Monstroid theme, giving you a unique advantage over companies that opted for themes without shortcodes.
Shortcodes seem intimidating at first for the beginner, but they are designed to make things much easier for you in the end. Basically, shortcodes keep your hands out of the source code, while assisting in building items like columns (screenshot below,) buttons and tabs. A shortcode generator is also included, so you don't need to have a development degree or a complicated coding education to turn your theme into something special.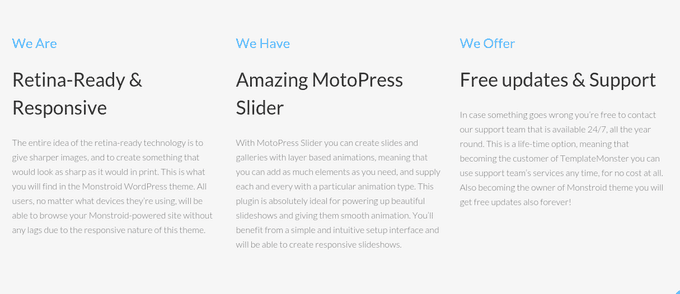 The backend of the Monstroid theme is organized in a reasonable manner. Quite often I'll install a theme only to find out that the WordPress tabs are far too scattered, and it's tough to locate a simple setting modifier. Although it looks a little intimidating at first, Monstroid is surprisingly compact on the backend, at least for such a feature-heavy solution.
The General Settings are listed towards the top, where maintenance mode tools and favicons reside. The blog is one of the first tabs, and you also receive everything else you would expect from a regular website, such as Styling, Navigation, Header, Page and Grid tabs.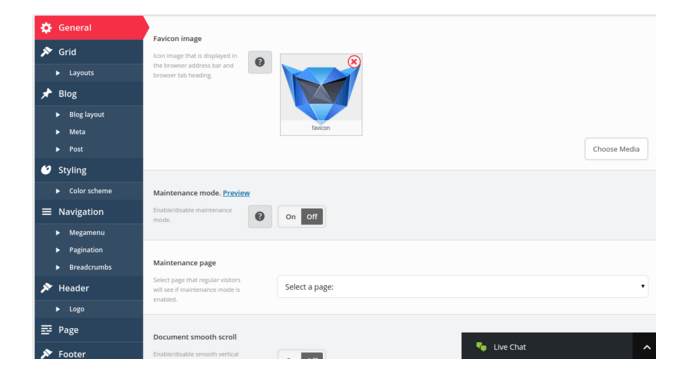 So, the backend is just fine for developers, but it may scare the heck out of beginners. In this case, that's where the demos come into play. Seven homepage designs are available for you to choose from, and each of them are populated with demo content. In addition, the theme has several PSD files, multiple layouts, a skin switcher and demos for anything from photography to education.

The goal of the developer is clearly to make it so that any organization could grab the Monstroid theme and make a reasonable online presence. Therefore, if you find a demo that works for you, there may not be any reason for you to play around with the backend anyways.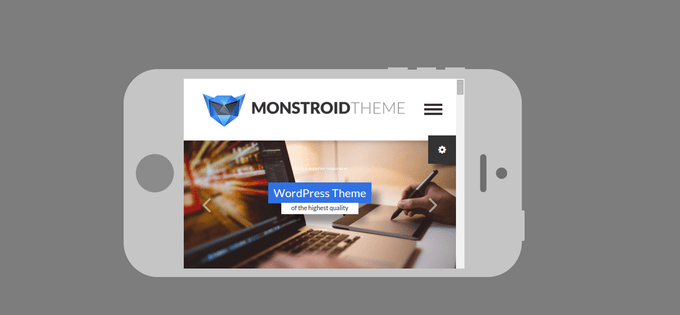 Finally, the Monstroid theme is completely responsive, and after testing it out, it's one of the cleaner-looking themes on my iPhone and tablets. The menu disappears until the user clicks on it, saving space and catering to the mobile environment. In addition, all of the website elements seem to snap right into place for the ideal viewing experience.
Monstroid Pricing
A single site license for the Monstroid WordPress theme runs at $79. However, some other recommended services and licenses are sold through the Template Monster marketplace:
Installation – For $49 the Template Monster team installs the theme in a matter of hours. This is a waste of money unless you have no idea what you're doing with a theme.
Installation and one year of hosting – For $82 you get hosting for a year and an installation. The hosting isn't a bad deal, but they gouge you on the installation.
A ready to use website – Starting at $299 you receive complete site customization, allowing for a ready to use website within a few days. They construct around six pages which isn't bad if you don't have the time to spend on your own site.
Developer's license – This is the most useful payment option, since I'm sure plenty of developers are going to take advantage of the theme. Basically, for $149 you can implement the theme on up to five client sites.
Online store integration – This goes for $199, and it integrates WooCommerce with the Cherry framework. I personally wouldn't pay for this, but some beginners might find it helpful.
Monstroid Support & Documentation
All Monstroid support goes through the Template Monster website. So, if you've had a chance to work with that company, you have a general idea as to what you can expect. If not, let me tell you, they are rather accommodating, as I've had a few themes in the past that haven't worked out for me.
They either have the documentation to help you out, or they've been known to offer a free theme if you can't figure a problem out.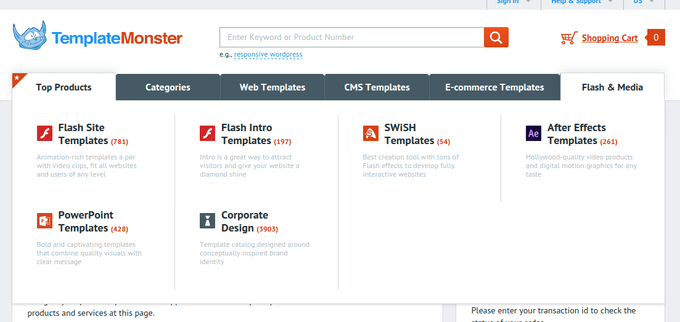 Template Monster has a generous refund policy, and the help center has documentation, live chat, email and a ticketing module. The FAQ section is a bonus, but I find it's best to just search for the name of your theme in the help area. So you would search for Monstroid in this case and reveal all the articles and tutorials that apply to the theme.
It's a pretty nice setup, so you shouldn't have any problems when it comes to the Template Monster Support.
Support and documentation can only take you so far. If you find that some sort of setting or tool is not included in the Monstroid theme, you have access to an extension library, which features some pretty cool plugins such as:
Cherry Mega Menu
Monstroid Skin Switcher
Cherry Blog Layouts
Cherry Custom Sidebars
Cherry Social
Cherry Rankings
Monstroid Wizard
Many More
Keep in mind that the plugins are free and included with the Monstroid theme. So, all you have to do is activate them if you need them. Some of the extensions are outlined in the functionality section of this article, so if you can't find something we talked about above, make sure you check the extra plugins available.
Summary
So, is the Monstroid WordPress theme right for you?
Let me answer some of the questions I posed at the beginning of this article.
Who is the theme best for? Anyone looking to make a website, as long as you have some sort of WordPress experience.
The theme doesn't slow your website down with all of the features, and it's well organized if you're familiar with WordPress. However, I can see a complete beginner struggling with the large amount of features. It's not a theme for people who only want to build a single site. I would actually recommend it mainly to those who have networks, or for developers who want to add a highly versatile solution to their library.
If you've had a chance to play around with the Monstroid theme, let us know your thoughts in the comments section below.