Last Updated on by Vairo Kremanis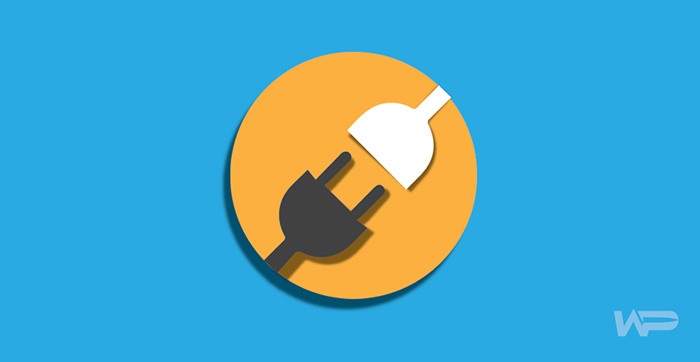 Creating content for your blog can prove to be quite the challenge.
Finding the time to post regularly is something you might struggle with. Not to mention brainstorming compelling topics can sometimes feel taxing.
That doesn't mean it's not worth the effort.
Once you've persevered and created content you're proud of, seeing your audience commenting on and actively engaging with your work is a rewarding experience.
But are you maximizing the blogging tools at your disposal?
Check out these 5 WordPress plugins you can leverage to help your blog shine.
1. Yoast SEO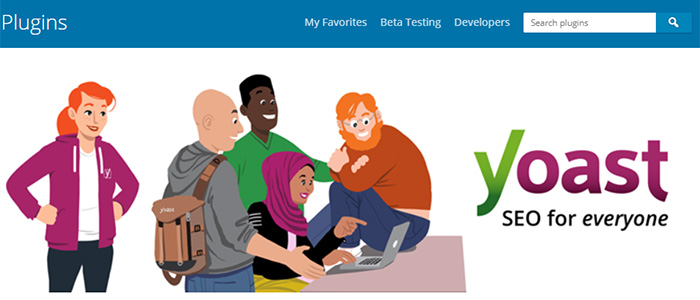 Yoast SEO is a leading SEO plugin with over 5 million active installs. It acts as your own personal editor by conducting content analysis on copy you upload into WordPress.
Yoast gives your content an overall readability score of either:
Good (Green)
Ok (Orange)
Needs improvement (Red)
There are many elements that come into play when it comes to scoring.
Benchmarks include:
Use of the passive voice
Paragraph length
Sentence length
Other useful features include a Flesch reading ease score that allows you to gauge how easy your copy is to understand.
You can find out what you need to improve on by taking a look at the Readability tab in the general meta box.
It'll display all your:
Problems
Improvements
Good Results
To point you in the right direction, it allows you to highlight text to get a better understanding of your results. Just click the eye icon to the right of the bulleted text to see what sections of your post you might need to rework.
You can enter in focus keywords for analysis if you choose to upgrade to the Premium version of Yoast.
If you're making use of the free version, there are still additional SEO tactics you can implement.
For example, you can edit the text of the meta description that'll appear on search engines.
What's nice about Yoast is that it provides you with tangible metrics to assess your content.
It gives you the visibility you need to ensure your blog posts are easily digestible and enhances your ability to create content your audience will enjoy.
It also helps you create SEO-friendly content, increasing your likelihood of drawing in new readers from Google and Bing.
2. Social Warfare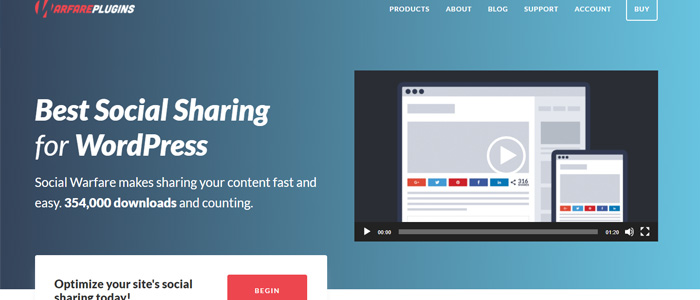 Social Warfare totes itself as "your ultimate social sharing arsenal for WordPress," and for good reason. They offer robust social sharing options to maximize your shares and the reach of your posts.
Their social sharing buttons are also sleek with high visual appeal.
With a simple click, readers can easily share your content on popular social media platforms including:
Social Warfare provides you with numerous customization options when it comes to button placement.
You can choose to have buttons:
Both at the beginning and end of your posts
Only at the beginning of your posts
Only at the end of your posts
Placed manually
You also have the option of floating buttons to encourage your visitors to share your posts at any stage of the reading process.
There's also a Click to Tweet feature you can make use of.
Once you install the plugin on your site, you can go to your Admin Dashboard to set up your customization options.
If you're using the free version, you have six buttons to choose from and can pick the order you want to display the buttons.
If you go with the Pro version, you have access to 15 social sharing buttons.
You also have the option to:
Set a minimum display number for shares
Customize the color of your buttons
Social Warfare displays the share count for each platform as well as the total share count. This can give your content a boost if you have an impressive number of shares.
The positive display of social proof will indicate to your audience that your content is worth reading.
It'll also encourage them to share if they see others joining in.
3. User Switching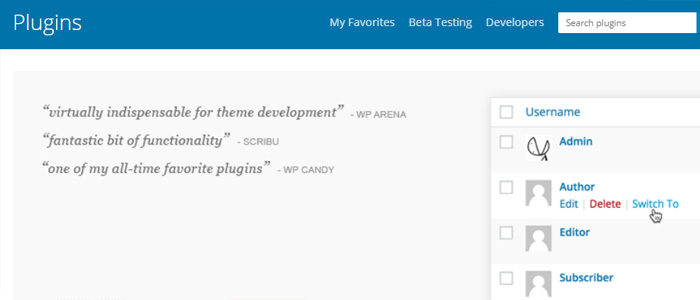 To build rapport and relationships with your audience, you'll want to respond to comments in a timely manner.
The User Switching plugin is a convenient tool to use if you want to respond to comments in the back-end of your site under a different user.
"But can't I just respond as the Admin?" you might be thinking.
If you're publishing blog posts under your Admin account, you may want to rethink this strategy.
Why?
Posting under Admin will expose your login details making you vulnerable to hackers.
Instead, consider creating another username for yourself. Assign yourself Author status.
To do this, go to Users > Add New in your Dashboard.
Once you've installed the plugin, you can hoover over the name of your newly created user.
You'll see a Switch To option.
Click this option to access the settings of your newly created user.
You can click the Comments tab in the toolbar and reply to any comments you might have.
You can switch back to your Admin settings by clicking Switch back to admin at the top of the page.
This plugin will save you from the hassle of having to log in and out of different accounts.
And it's also secure.
Only Administrators have access to this tool, so you don't have to worry about other users making use of it if you're not the only one with access to your back-end.
4. Simple Author Box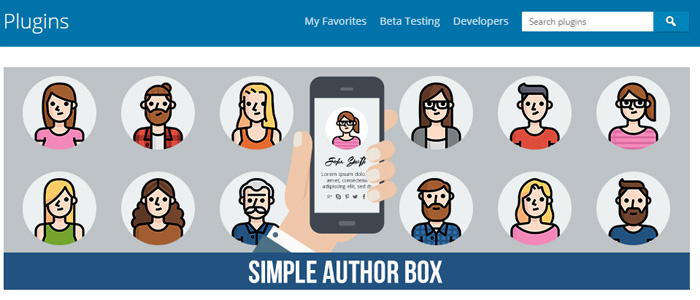 Although you may already have loyal readers, some visitors to your blog may land on your posts through various links from around the web. This means they might not be familiar with who you are.
The Simple Author Box is an effective way to add a face to the name behind the blog. This is where you can share a short paragraph about what you're all about.
You can also add links to your various social media handles.
Once you've installed the plugin, you can click the Simple Author tab on your Admin Dashboard.
This is where you can customize the appearance of your author box.
Customization options include:
Author avatar image style (you can choose a square or circle)
Pixel size of social icons
You can also change the color, size, and style of the font of the Author Box.
Since the box automatically adjusts to your theme's font and color scheme, this is something you only must do if you want a different look.
You can choose from a list of 30 social icons to display. You don't want to overwhelm your visitors though, so consider limiting your icons to five.
To populate the fields in the Author Box, you'll have to go to Users in the Admin Dashboard.
Once you click on your user name, you'll find a new section called Custom User Profile Image.
You'll want to upload the image you want to appear in your author box.
Add any social media links you want to display under the Social Media Links section.
Make sure to save your changes by clicking Update User at the bottom of the page.
5. MonsterInsights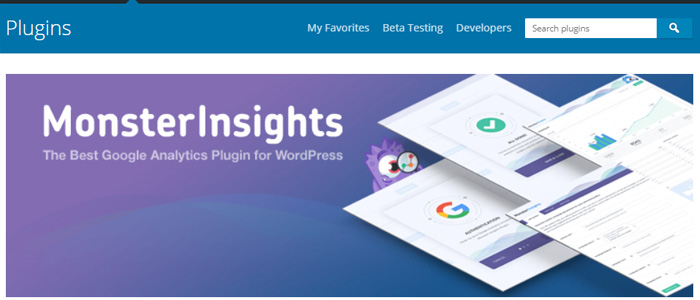 MonsterInsights is the leading Google Analytics plugin for WordPress. It provides you with a bird's-eye view of how visitors navigate your site and offers you the ability to monitor site performance.
Installing this plugin will allow you to understand:
What medium and sources are bringing users to your site
What outbound links readers are clicking
You'll first have to create a Google Analytics account to use this plugin. But once you do, there's no need to use code to get this plugin up and running.
MonsterInsights does this for you during the install setup process.
This plugin is an effective way to discover content trends.
You can see which posts are performing best with Popular Post Tracking.
You can also make use of Custom Dimensions to see what resonates most with your audience.
Custom Dimension Types include:
Published at
Post Type
Category
What makes this plugin so valuable is that it gives you the visibility to tailor your content to your audience's preferences.
Having the ability to decipher what your audience is gravitating towards will allow you to execute an effective content strategy.
Wrapping It Up
The right tools will enable you to maximize your blog's potential and save you time. Making use of these 5 plugins we discussed will empower you to create content that your audience enjoys and is eager to share.
Are there any plugins you rely on to optimize your blog?
Let us know in the comments!