Last Updated on by Vairo Kremanis
Analyzing Your WordPress Website Straight from the Dashboard
Understanding how people find your website and what their behavior is like once they get there, is just the beginning when it comes to capitalizing on your site's strengths.
In fact, getting to know your audience using a wide variety of metrics is crucial to your website's success.
Chances are you have heard that Google Analytics is one of the most popular, powerful, and insightful ways to monitor and analyze traffic that comes to your website.  Providing enormous amounts of information about who your site visitors are, what they are looking for, and how they found their way to your website, Google Analytics is by far one of the best options out there.
However, sometimes the mere use of Google Analytics on your WordPress website is a hassle.  Especially for those that are relatively new to running a website.
Signing up for a Google Analytics account, connecting your website, and installing the tracking code on every page of your website can become cumbersome and confusing to an inexperienced Google Analytics user.  In addition, in order to monitor the metrics, you must access your Google Analytics account (separate from your WordPress website) which can be annoying too.
But what if there was an easier way to track your Google Analytics metrics?
What if there was a way to access information directly from your WordPress dashboard, without all the tracking codes?
Well, there is a way.
Using MonsterInsights, the best Google Analytics plugin for your WordPress website, you can easily see how visitors find your website and what their behavior is like as they explore your site, all from your WordPress dashboard.
MonsterInsights: An Overview
MonsterInsights came to fruition as a way to make analytics easy for beginners and exploded in popularity immediately.  This is because, in addition to being super simple for novice website owners, it offers all website owners helpful insights into site visitor behavior.
Take a look at some of MonsterInsights' best features:
As you can see, MonsterInsights gets all website owners, regardless of their experience, off to a great start when it comes to monitoring and analyzing site success.
But there is more…
Top Features of MonsterInsights
Google Analytics Dashboard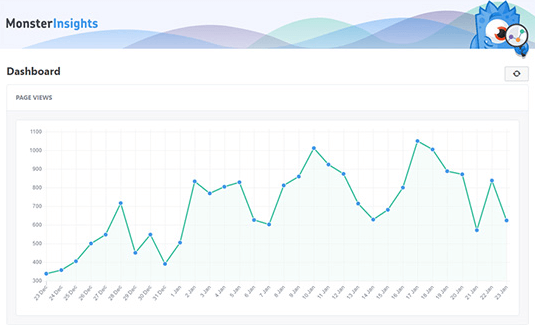 Making analytics easy is the whole concept behind MonsterInsights.  In fact, it offers you a way to check site performance and data at a glance, right in the dashboard of your website, all without needing to edit a single line of code.
From your dashboard, you can see data such as:
Page views over time
Top posts and pages
Top traffic sources
Top countries
…and more
eCommerce Tracking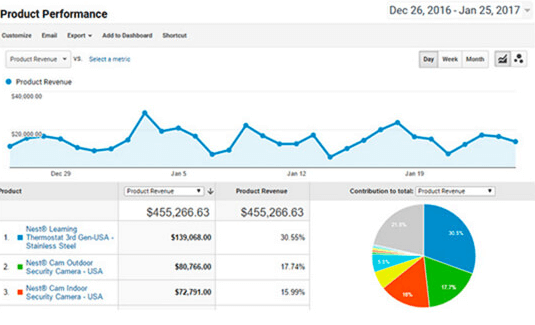 Knowing your customers is vital to the success of any store, whether it's a brick-and-mortar shop or an online shop.  That's why MonsterInsights allows you to track all data related to your WooCommerce or Easy Digital Download shop.
With a few simple clicks, integrate Google Analytics into your eCommerce shop and measure data such as:
Popular products
Average order values
eCommerce conversion rates
Other purchase activity
Ads Tracking
Monetizing your website is a great way to supplement your monthly income, even if you run a lucrative online store.  In fact, many website owners use AdSense banner ads as a way to collect extra revenue on a per-click or per-impression basis.
With MonsterInsights, you can ensure your advertisement efforts are generating the highest income possible.  In addition, you can remove any ineffective ads that your site visitors are not interested in exploring.  This will in turn help keep your bounce rates lower and average session times higher.
Custom Dimensions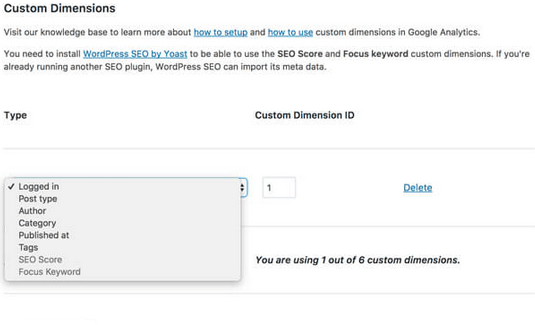 With MonsterInsights' Custom Dimensions, you can track customized data and have is display for you in your WordPress dashboard.  It is in this way you decide what data is important to your website's success.
After all, MonsterInsights is not designed to limit you.  Rather, it is available to open up your analyzation efforts.
Here are just some examples of custom data you can monitor and analyze:
File Download Tracking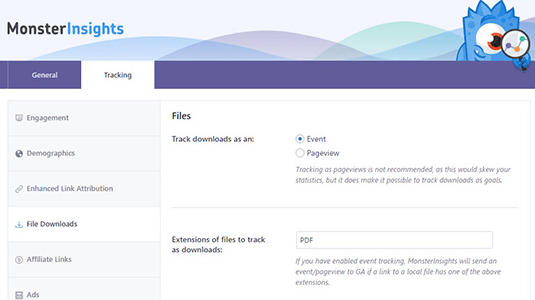 Google Analytics will not let you monitor how many times files have been downloaded by site visitors.  But MonsterInsights will!
If you offer image downloads, zip files, PDFs, MP3s, Word documents, or video files, it is crucial to find out whether your visitors are actually downloading them.  It is in this way you can produce content and products that site visitors and customers actually want, without wasting time or money offering things they don't.
Enhanced Link Attribution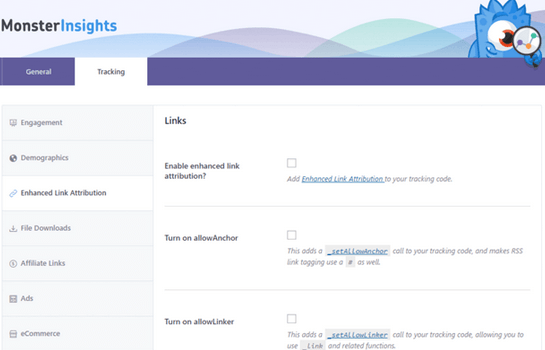 Easily find out which link gets the most clicks when you have 2 or more links going to the same destination from one page.
For example, see which landing page is the most effective amongst site visitors.  Or, discover which call to action button leads to the most conversions.  With this valuable data, you will be able to optimize each page of your website for the highest conversions possible.
Google AMP Analytics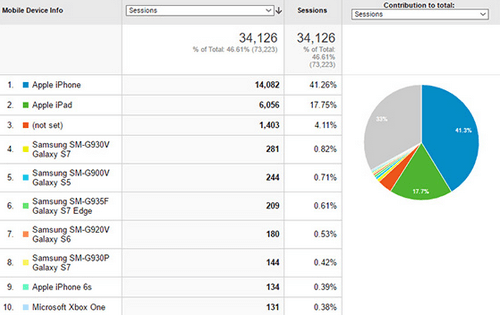 Having a responsive website is critical to any website's success these days.
But what good does having a mobile-friendly website do you if you can't measure mobile analytics?
Luckily, MonsterInsights lets you enable the Google AMP feature and get accurate representations of your mobile traffic.  In doing so, MonsterInsights detects when a site visitor changes from a mobile device to a desktop to avoid duplicating data.
Performance Addon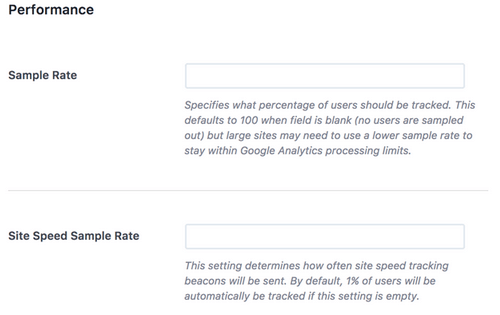 In order to stay within the Google Analytics processing limits, define your site's sample rate and site speed sample rate to ovoid going over the limit.  In short, this feature lets you determine what percentage of users should be tracked so you don't overload the system and find yourself having to pay for a Google Analytics premium service.
Support, Documentation, and Pricing
The team at MonsterInsights has a quick and easy support system for those that have pre-sale or general questions, as well as those that are current customers in need of technical support.
As far as documentation goes, there is an extensive section with category specific articles available for you to read, as well as an up-to-date blog offering information about MonsterInsights and many other analytics based subjects.
When it comes to pricing, MonsterInsights offers three distinct price points: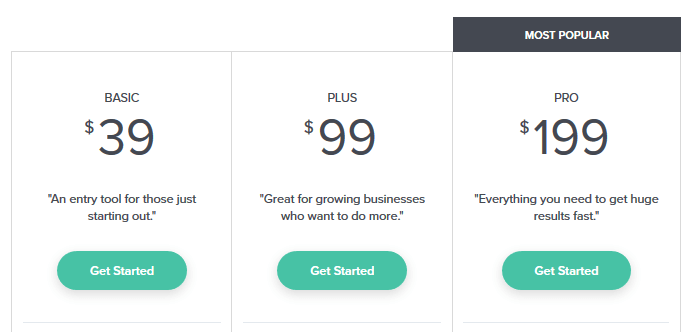 It's good to know that MonsterInsights comes with a 14-day 100% risk-free money back guarantee.  Also, for those of you still on the fence, try giving MonsterInsights Lite a try.  It's free from the WordPress Repository and gives you some basic insight into how MonsterInsights Pro works.
Final Thoughts
In the end, it is impossible to ignore the fact that monitoring and analyzing your website's activity is a game-changer when it comes to overall success.  After all, if you consistently provide excellent, and useful, content to your site visitors, content that they really truly need and want, they will continue to come back for more.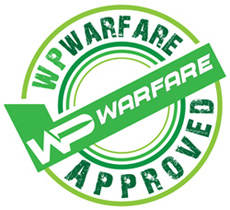 What's better they will share what you have to offer with those closest to them and help drive even more traffic to your site – all because you did a little metrics research.
For those seeking an easy way to capture Google Analytics data and check it out from the convenience of your own WordPress dashboard, MonsterInsights is the way to go.  In fact, here at WPWarfare, we gladly give MonsterInsights the official seal of approval.
Have you ever used MonsterInsights on your WordPress website?  What kind of data did you find the most helpful for improving your website design, traffic, and conversions?  I would love to hear all about it in the comments below!