Last Updated on by Vairo Kremanis
Staying in contact with your site visitors is essential to maintaining a strong presence on the internet.  With your competition vying for your readers' attention, it can be challenging to make yourself known as a reliable and trustworthy brand.
That's why implementing a solid contact form on your website can help.  Site visitors want to feel like they can reach out to you whenever they have a question, concern, or complaint.  They want to know that you are a real company, with real values, and a real dedication to the site visitors that support you.
However, some contact forms are too expensive, too feature-packed, or simply too difficult to use.  And, even when you single out the pricey ones or ones too difficult to configure, there are so many options out there to choose from it can become overwhelming quickly.
That's why I am here today to share with you one of the most beginner friendly contact form plugins on the market today – WPForms.
What is WPForms?

WPForms is a user-friendly drag & drop form builder designed to help WordPress website owners create beautiful contact forms within minutes.
In an attempt to avoid joining the ranks of "bloated, buggy, slow, and very hard to use" contact forms that plague the market today, the plugin developers of WPForms set out to make contact form building easy.
More specifically, WPForms is meant to exude power, functionality, and ease of use all at once.
Look at some of the neat things WPForms offers users right out of the box:
File Uploads. Allow your site visitors to upload files and media with their form submissions.  For example, collect images, video, Word documents, and PDFs.
Spam Protection. Add CAPTCHA to all forms or implement the Honeypot technique.  In addition, enable custom CAPTCHA, complete with questions or math equations.
App Integrations. Connect your contact forms with over 500 web apps using Zapier.  Send form data to places such as Salesforce, Freshbooks, or Google.
Geolocation Data. Collect and store your site visitors' geolocation data with their submission.
In addition, allow site visitors to submit content (such as guest posts) onto your site without logging into the admin area or give users the ability to sign forms using their mouse or touchscreen.  Lastly, capture partially filled out form information and follow up to boost potential leads.
WPForms Features – The Main Event
Website owners expect a lot out of contact form plugins.  They want plenty of features, an affordable price, an intuitive interface, and more.  Check out some of WPForms' best features and see why this contact form plugin is quickly becoming one of the most popular available today.
Drag & Drop Form Builder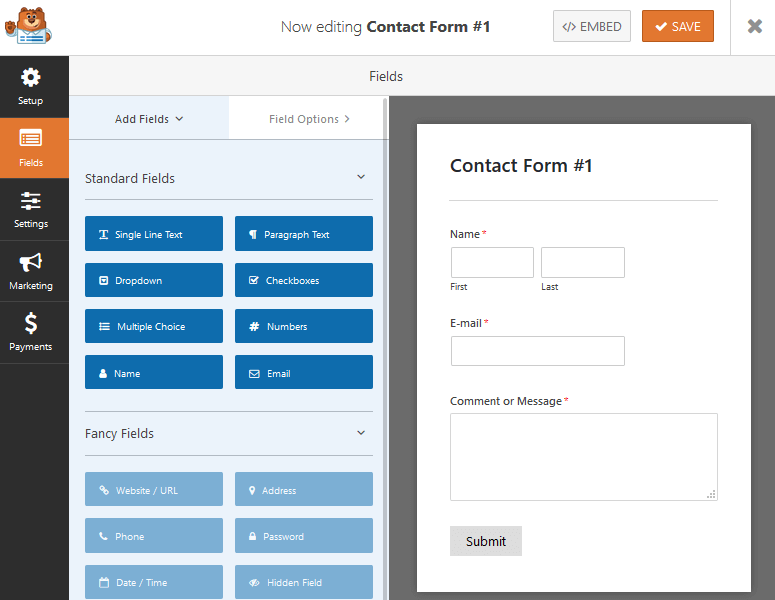 WPForms has a powerful built-in drag & drop form builder so you can create stunning forms in minutes – without writing any code.  Simply drag each field you want to include on your form, rearranging as needed.
To make things even easier, WPForms comes with pre-made forms that you can use to get started.  Or, if you prefer, build a form from scratch to meet your individual needs.
With the drag & drop form builder you can create not only contact forms, but also forms of all kinds:
Multi-Page Forms
Turn long forms into multi-paginated sections to break down the process for your site visitors and improve their user experience.  Rearrange fields, sections, pages, and more using the intuitive form builder.
Once a site visitor submits a form, view the entire form as a single page with one simple click on the backend of your website.
User Registration Forms
Create a custom WordPress user registration form for your WordPress website.  In addition, connect it to your newsletter or collect payments from site visitors directly from the forms.
Check out some of the ways you can benefit from creating a user registration form on your website:
Utilize WPForms' email marketing add-ons such as MailChimp, GetResponse, and AWeber to encourage subscriptions and build a bigger email list
Connect to payment gateways such as Stripe or PayPal to charge visitors for registering on your website
Enable a custom WordPress login page or implement a login widget in the sidebar of your website for easy user logins.
Newsletter Signup Forms
Using WPForms' Campaign Monitor add-on, you can build a newsletter signup form for building a bigger email list.  Simply create the form using the form builder and connect it to your existing Campaign Monitor account.
In addition, you can do the following:
Integrate your email list easily with your signup form
Segment subscribers into targeted groups
Integrate the add-on into any existing form
Not using Campaign Monitor for your email marketing efforts?  No problem.  WPForms also has the following add-ons for helping you grow an email list:
Constant Contact
AWeber
MailChimp
GetResponse
Smart Conditional Logic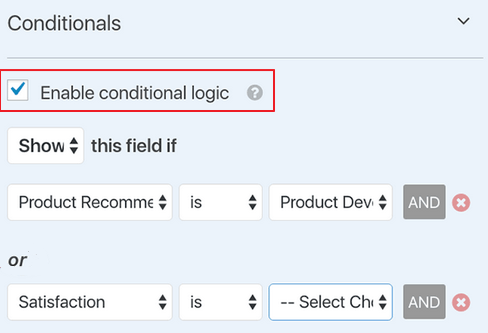 Aiming to aid you in your efforts to create the best user experience possible, provide website owners with an intelligent and powerful form, and make form building easier than ever, WPForms comes with built-in conditional logic.
Create dynamic forms that change based on user behavior as they fill in sections.  For example, hide or show fields and sections, encourage a newsletter signup, and more based on how your site visitors fill in each field.
Instant Email Notifications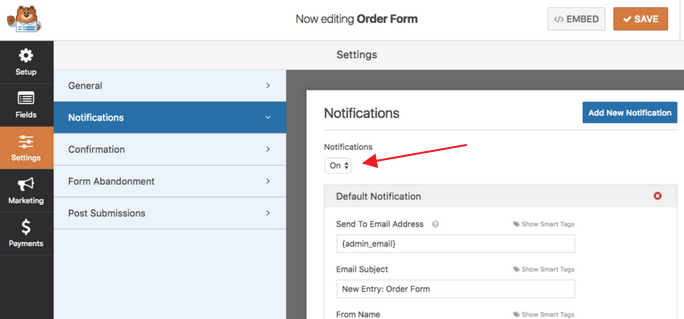 When people reach out and contact you, they expect a quick response.  WPForms understands this and notifies you immediately once a user submits a form on your website.
What's more, you can even have other people on your team notified after form submissions to ensure faster response times.  Each email notification will have all of the user's form details laid out for you.  In addition, you can view all form submissions from the convenient entry management screen as well.
Don't want email notifications?  Simply toggle off email notifications for one or all of your website's forms.
Entry Management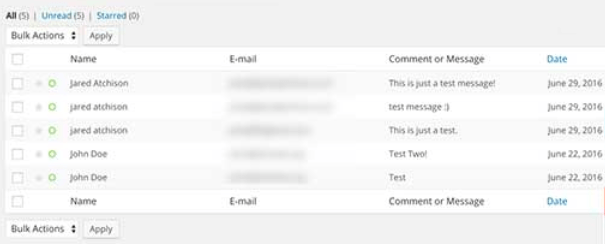 A lot of what WPForms provides feature-wise is geared towards making the user experience seamless.  That said, WPForms also puts a lot of thought into what it takes website owners to manage contact forms.
Streamlining the workflow for you and your team, WPForms has a convenient entry management screen, accessed in your WordPress dashboard, for checking all form submissions in an organized fashion.  Check leads, mark forms as read, delete those that have been addressed, and even manage multiple forms – all from one convenient location.
Power, Functionality, and Ease of Use
There is no denying that WPForms comes with plenty of exceptional features for making unique forms on your WordPress website.
But does the plugin meet the claims that it is powerful, functional, and easy to use?
In short, yes it does.  Not only does it provide the key features all good contact form plugins should, it goes beyond that of your average contact form plugin in these ways:
Powerful form builder built-in for quick form creation
All add-ons easily enabled with one click
Al form submissions easily viewed from one convenient location
No coding knowledge required
Multiple form types are supported
Drag & drop tool makes form building a cinch
Fully secure with multiple spam protection methods in place
In the end, WPForms provides the perfect mix of powerful features that are easy to use, that also function in ways many average contact form plugins cannot.
Documentation, Support, and Pricing
WPForms has a great documentation section that includes many articles, videos, and blog articles walking you through every feature the plugin comes with.  Learn about installation, customization, basic functionality, form management and more thanks to the effort the team at WPForms has put into making sure their users understand how to use WPForms.
For those who need additional support, you can easily login in to your WPForms account and submit a help ticket to the support team that is waiting by to help you.
WPForms comes with many price points to meets the needs of all website sizes:

It is also comforting to know that there is a 100% no-risk money back guarantee in place should you decide within the first 14 days of using WPForms it is not for you.
Final Thoughts
Right now, there are so many contact form solutions available for WordPress it's enough to make your head spin.  Some are quite expensive, some have too many features, some will slow your site down, and some are just not the quality you might expect from a WordPress plugin.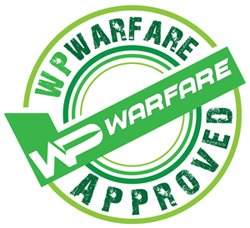 Luckily, WPForms is none of that.  In fact, this simple form plugin has the perfect balance of power, functionality, and ease of use all packed into one affordable plugin.
Therefore, this plugin deserves the WPWarfare.com stamp of approval.  It truly is no wonder why this plugin is quickly climbing the ranks as one of the most popular form builders on the market today.