Last Updated on by Vairo Kremanis
BuddyPress is one of the WordPress' most powerful plugins that can turn your website into a savvy platform for social networking. After publishing your content, you are able to share it with a rich community of peers and influencers. As BuddyPress keeps growing in popularity, more and more developers have jumped on the bandwagon and started creating new, intriguing themes. Here is the list of my favoriteWordPress BuddyPress themes for creating your personal social community site.
1. Klein ($59)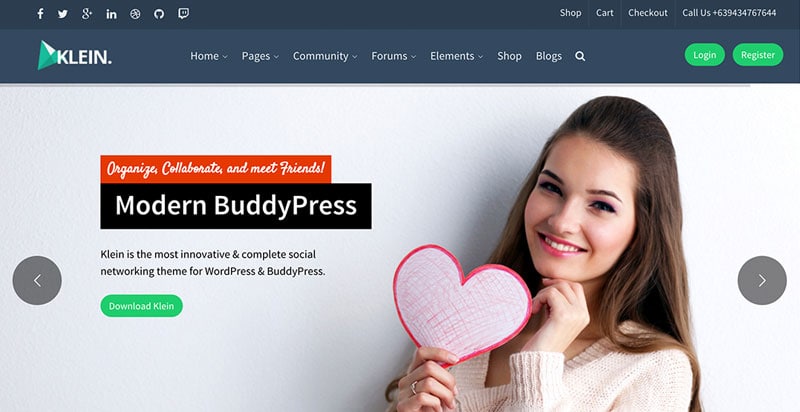 Klein is a stylish BuddyPress theme that's simple to setup with just a few clicks. You'll be able to quickly create a social networking website and there are plenty of customization options thanks to numerous layouts and a Revolution slider. The drag-and-drop builder easily integrates with WooCommerce, making it easy for you to sell your products or services online. You can also integrate Klein with Google and Facebook. If your primary goal is to create a website where you can connect with others and communicate with your audience, Klein is a worthy theme.
Demo
Download
2. United Community ($64)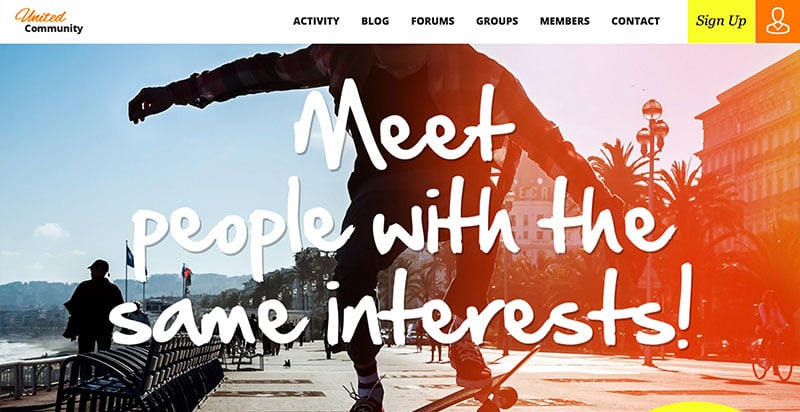 The UnitedCommunity theme was clearly built with an extra thought about what a website owner wants in a social networking platform. With all of the features you'll need to improve your site, UnitedCommunity has the ability to add inner pages and extensions. With a Liquid layout and a front page that's widget-ready, this theme is translation-capable and seamlessly integrates with WooCommerce. Plus, members can see notifications right in the convenient pop-up window.
Demo
Download
3. WildCommunity ($59)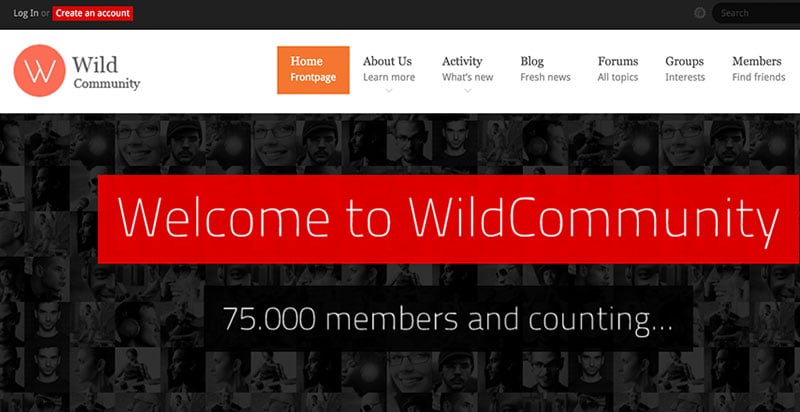 The multi-purpose WildCommunity theme is completely customizable, allowing you to add your own personal touch to your site. The responsive design is clean and fast, making your website look professional. The drag-and-drop builder is easy to use, which is great for people who aren't professional website designers. WildCommunity integrates with WooCommerce, allowing you to sell your products or services online. Choose from various layouts, including round, boxed, framed and wide options. Then, make changes to your layouts by choosing from seemingly unlimited customization options.
Demo
Download
4. NRGnetwork ($59)
This popular BuddyPress theme for WordPress is based on Behance, taking many of its elements and improving on them. Advanced features of the NRGnetwork theme include sharing content, following featured authors, SEO optimization and portfolio creation. This theme allows users to send messages, helping them expand their network.
NGRnetwork is great for design newbies, since the composer is visual and the theme is simple to edit, and it's especially useful for image-centric websites. Plus, the statistic capabilities let you analyze how well your website is performing so that you can make improvements when necessary.
Demo
Download
5. Kleo ($64)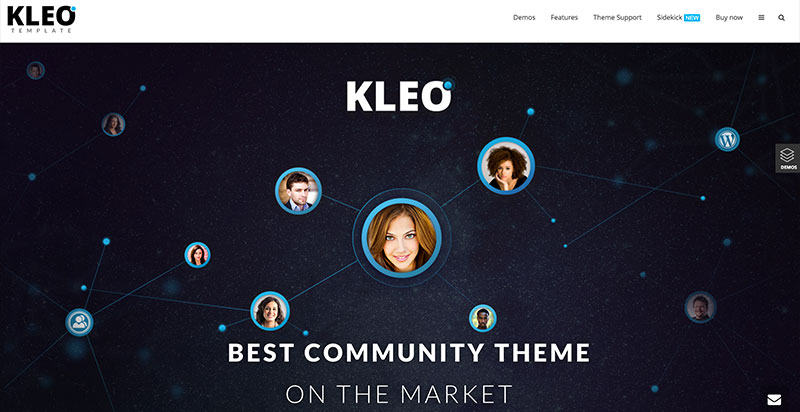 The Kleo theme is a multi-purpose solution for a variety of services and projects. Ideal for freelancers who want to promote their projects to potential customers, Kleo helps freelancers attract those employers who are looking for experts to help them with their latest project. Kleo is flexible, clean and easy to monetize, and it's both responsive and optimized for search.
Demo
Download
6. Socialize ($59)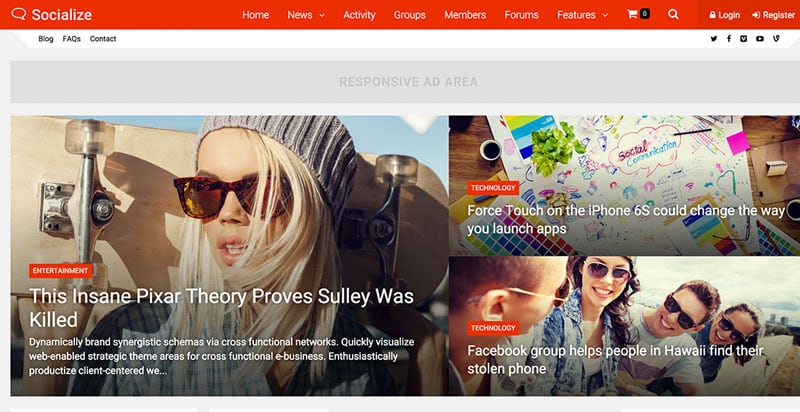 The multi-purpose Socialize theme website owners create social networks and communities. Along with sections that are specifically made for community creation, Socialize also lets users set up activity streams and member profiles. There are four homepage layouts, nine category layouts and six post layouts to choose from. The theme's structure is responsive and optimized for SEO.
Demo
Download
7. Boss ($129)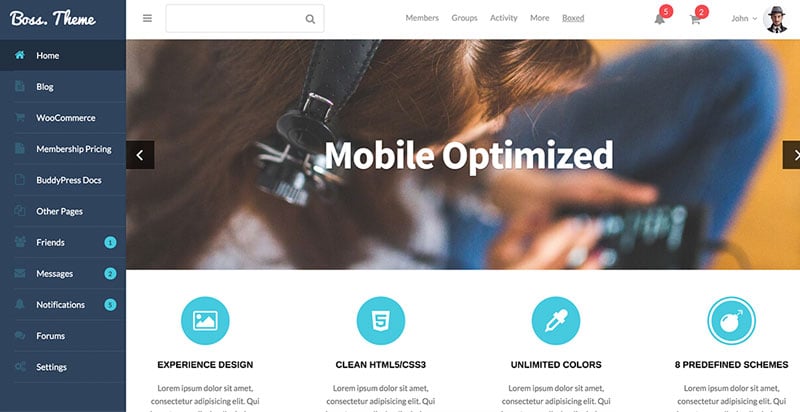 The Boss theme lets website owners create gorgeous, high-quality websites that give customers a fantastic experience. The theme has intuitive, attractive design and a huge list of important, useful features. Choose from pre-made color schemes or build your own. If you'd like, you can also change and customize the logos, widgets, theme navigation and cover photos. You can also integrate multilingual capabilities so that you can expand your reach.
If you're new to WordPress and website design, Boss comes with helpful video tutorials to get you started. You'll be able to get explanations of the main features of the theme, making it easy to install and customize your website. A live demo is also available. You'll be able to create a social network even if you don't have any web design experience. You won't need any background experience or knowledge of coding.
Demo
Download
8. Social Learner ($179)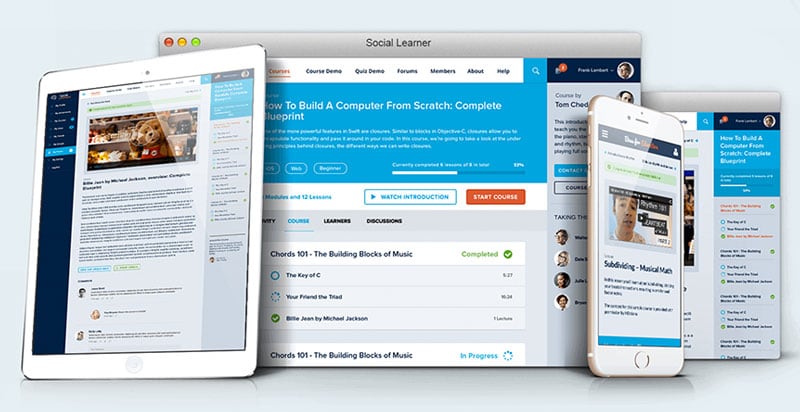 If the goal of your website is to educate your audience, consider using the Social Learner theme. The theme also encourages engagement, making it a great place for people to come together and connect. Social Learner has a unique combination of education and entertainment than many other themes don't have. While versatile, Social Learner is also efficient when it comes to e-learning. Forums and other helpful plugins are available with Social Learner, helping visitors meet each other and make new friends.
Responsive and search engine optimized, Social Learner will help your website gain exposure in search results. The toolbar is able to display live notifications for users, which means that your visitors won't need to update the webpage every time they want to see if they have a new notification or message. Also, thanks to the WooCommerce capability, you can sell your courses via your website.
Demo
Download
9. Woffice ($64)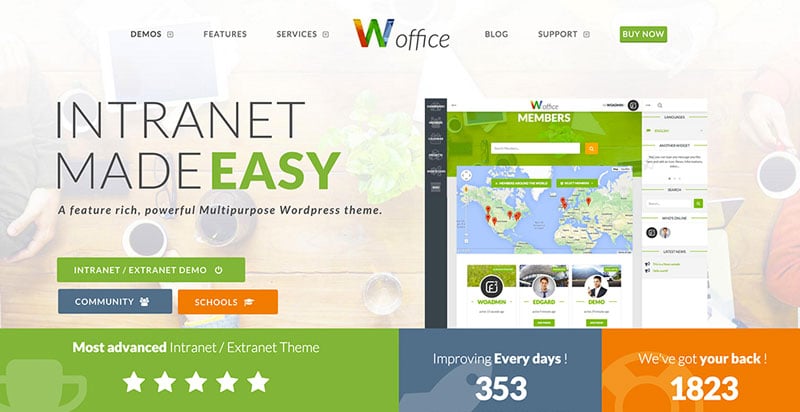 Woffice is one of the most innovative and advances BuddyPress themes available today. Using the latest website and design technologies, Woffice quickly adapts to screens of all sizes. Useful features of Woffice include a login page, calendar, messaging, chat, project management, file manager and forum. Choose from a variety of widgets to further customize your site.
Demo
Download
10. Slimvideo ($64)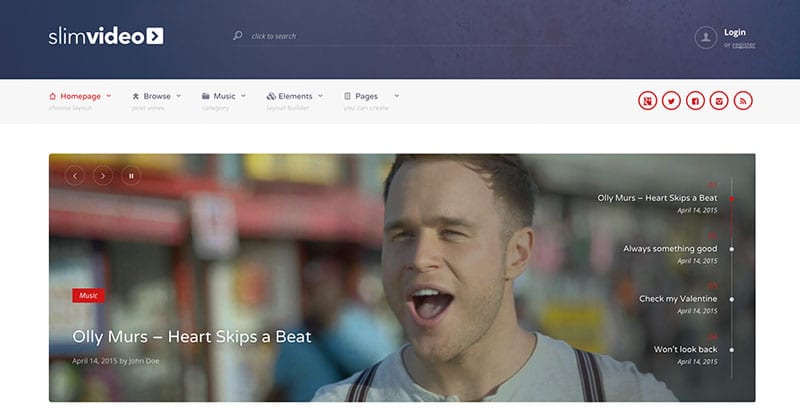 The Slimvideo theme from TouchSize is great if you're looking for a convenient way to enhance your website quickly. Plus, you'll have the ability to build a community while keeping control of all creative decisions. If you need to get a website up quickly, the demo data lets you have a fully functional website within minutes.
The theme includes a mega menu, multi-column layout and seven types of post views with various options. Every post is responsive and can be accessed even on small, mobile screens. From the four built-in sliders, choose which slider is featured on the site. The built-in system lets page visitors like posts, comments and content. Additionally, Slimvideo is translation-cable, supporting multiple languages. With the WooCommerce integration, you can sell your merchandise from your own online store.
Demo
Download
11. SocialChef ($59)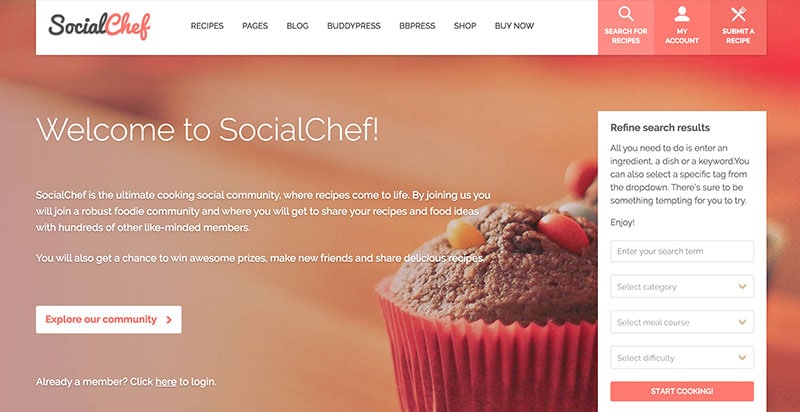 As the name implies, SocialChef is a BuddyPress theme for chefs and other food industry professionals. This is an ideal theme if you want to upload recipes, too, making it a good option for food bloggers. Attract people who love food, cooking and entertaining with your new website. Users can create a community to connect with one another and upload recipes. SocialChef has multiple theme options as well as WooCommerce integration.
Demo
Download
12. WPLMS ($64)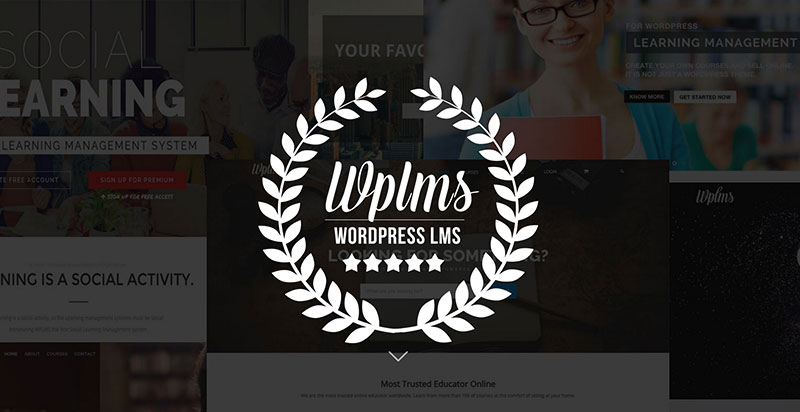 This Learning Management System theme is extremely efficient, used by teachers who need student management and course management tools. WPLMS has useful features like course manual evaluation, overall course stats, changes to courses for students, auto-notifications and bulk messaging.
The theme is touch-optimized and responsive, making it easy for visitors to access your website from a desktop computer, laptop or mobile device. The theme is simple to install and easy to customize, and the page builder lets you create unlimited pages. The Customizer lets you make basic tweaks to your theme, like updating the sliders. WPLMS is also compatible with various WordPress plugins.
Demo
Download
13. Plexus ($59)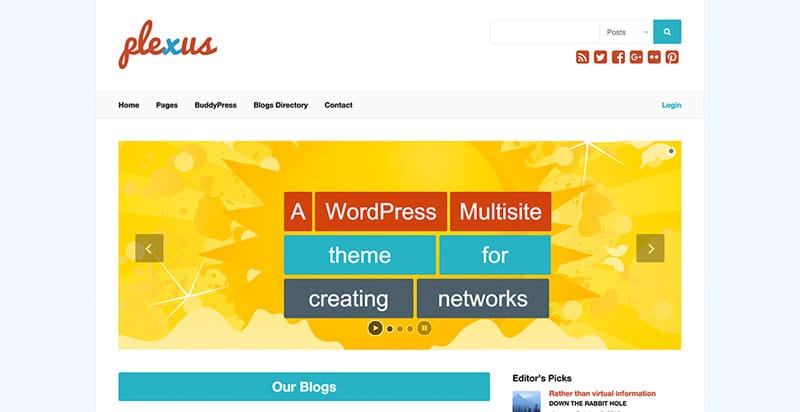 The clean and modern Plexus theme is fully responsive and ideal for a blog, social network or community site. The Visual Composer has more than 40 content blocks that can be used via a drag-and-drop editor and the theme has a slider for featured content, which is customizable in hundreds of ways. Note that this theme has excellent customer support that you can access for free. There's also detailed documentation that accompanies the theme so that you can figure out exactly how to customize it.
Demo
Download
14. Cardinal ($64)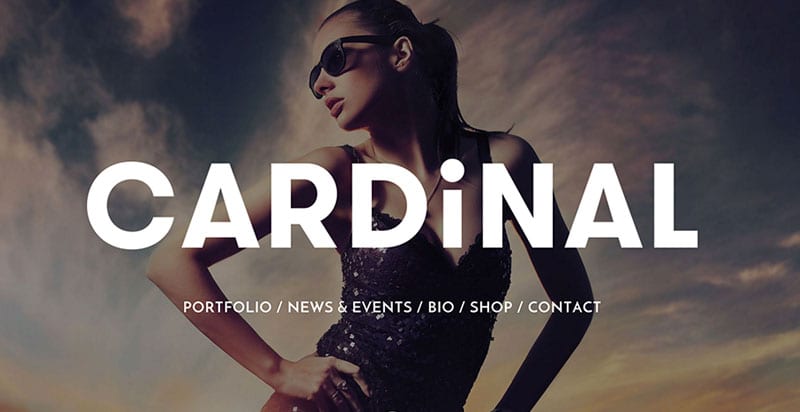 Cardinal can be used for a variety of purposes and niches. Drag-and-drop functionality makes it simple to setup a website and update it whenever you need to. The retina-ready theme quickly resizes on any screen size and you can incorporate a community forum. Cardinal has three styles and 30 demos so that you can figure out how to customize the site in order to meet your needs, plus 14 pre-set layouts and 45 elements. Additional features include a built-in mega menu, portfolio pages, loading animations and parallax effects.
Demo
Download
15. Cinematix ($59)
With the Cinematix theme, visitors will be able to register, create a profile, post messages in the forum, make connections, create and interact with one another. This is an excellent social networking theme for your sports team, business, school or niche interest. The theme has especially good options for pop culture lovers if you're creating a website dedicated to movies, TV or books.
Demo
Download
16. BuddyApp ($64)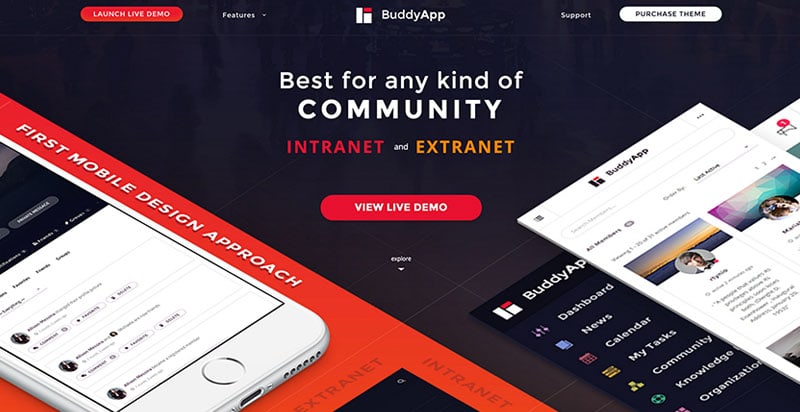 The BuddyApp theme is creative and adaptive, helping your website stand out from the competition. The Live Customizer allows you to edit colors and other website settings without any programming knowledge, viewing all changes in real time. Website creators can create a broad knowledge base in order to limit the amount of support tickets that come through.
The mobile-capable design ensures that it will be easy to view on any handheld device or computer. Whenever a user receives a message, they'll get a notification. Additionally, BuddyApp is compatible with just about any browser. With the Ajax search function, visitors can sort through all posts, members and groups to find what they're looking for, and a live chat feature that lets visitors communicate easily.
Demo
Download
17. Techwise ($64)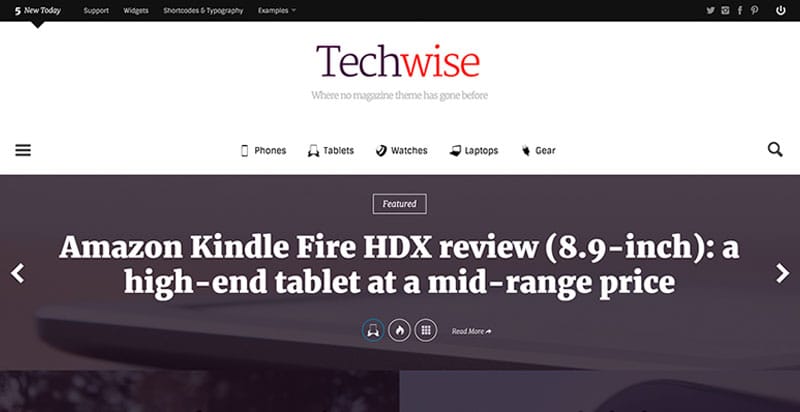 This WordPress theme is great for anyone who wants a magazine-style layout. Responsive and mobile-friendly, Techwise has a comparison system, allowing readers to compare various items and choose the best one. This makes it a fantastic layout if you're going to be selling products from your website. Website owners can post ratings and reviews of products for potential customers to peruse. The drag-and-drop page builder is easy to use and additional options include custom widgets, icons and colors.
Demo
Download
Got a new theme? Great! Now make sure you run your site on the fastest WordPress hosting. See our guide here.