Last Updated on by Vairo Kremanis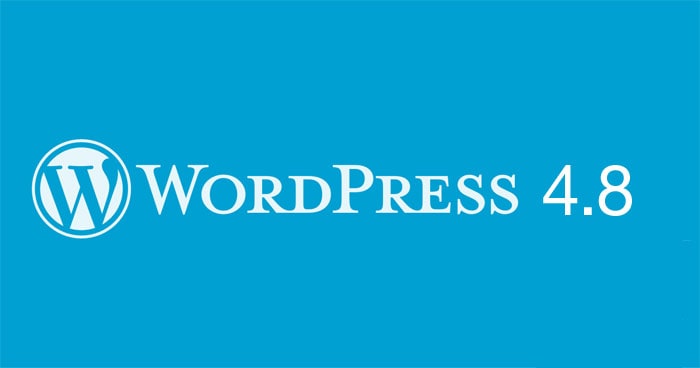 As you likely know, WordPress 4.8 is being hailed as the first major WordPress release of the year… but what can you expect to see? What is going to be different about it?
Here is a little bit of what you'll find.
WordPress is super-well-known as a tool that can allow anyone, of any skill level, to create and maintain their own website. And while it was first created as a blogging platform, it has most certainly evolved from that to become a very functional, adaptable, and useful tool for creating, managing, and maintaining websites of all different types.
But – if you've ever tried to use WordPress, then you will know that it has its limitations. They might be small ones – but they are limitations, nonetheless.
Thankfully, though, it continues to improve with time – and this newest update is just the latest example of how far WordPress has come. These updates really help to make the basic tools and experience of using WordPress more flexible for the non-HTML-friendly user… which is certainly welcome, as that is pretty much what it has always been about.
With that being said, here's a little look at some of the changes that you can expect to see as 4.8 rolls out and sets up.
The Text Widget Will Get An Improvement
First of all, those of you who have ever used the plain text widget in WordPress probably know that it is pretty simple. It's just a text box that allows you to add text and HTML code at-will. The only problem with the text editor is that newer users who are not familiar with HTML are pretty limited in what they can do with it.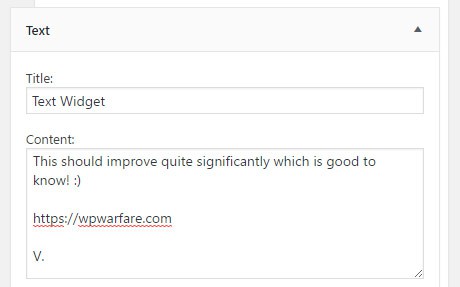 You need to use HTML to add links. You also need to use it to format text.
But thankfully, 4.8 is said to be rolling out with an updated text widget that will also come with a simple visual editor, as well as a text editor. Formatting text, creating lists, and/or adding in links will now be possible without the use of HTML coding, which is pretty awesome.
The Video Widget Is Getting An Update
WordPress 4.8 is also said to include a new and improved video widget, that will allow users to more easily upload videos to the side bar or to display on-site. Displaying videos from Youtube, or from any other video service that gives you an embed feature, will now be possible in the video widget.
There Is Going To Be A New Image Widget As Well
Video isn't the only media format that's getting new support in 4.8. There will also be a new image widget that will allow you to add images into the sidebar. Before this, you needed to write HTML or use a plug-in to accomplish this, which is certainly more complicated.
This new widget will allow you to upload images right from the widget. It will also allow you to choose images that are already contained within your WordPress media library. Clicking on a selected image will bring up a window where you can upload and insert the image. You will also be able to see a preview of the image in the widget's area.
There Will Also Be A News And Events Dashboard Widget
This new widget will replace the news widget that used to only show simple WordPress news. It will contain quite a bit more information, though, which sets it apart from the old version quite a bit. Not only will it give you info about new WordPress news, but it will also show you information about WordPress events that are going on in our geographic area.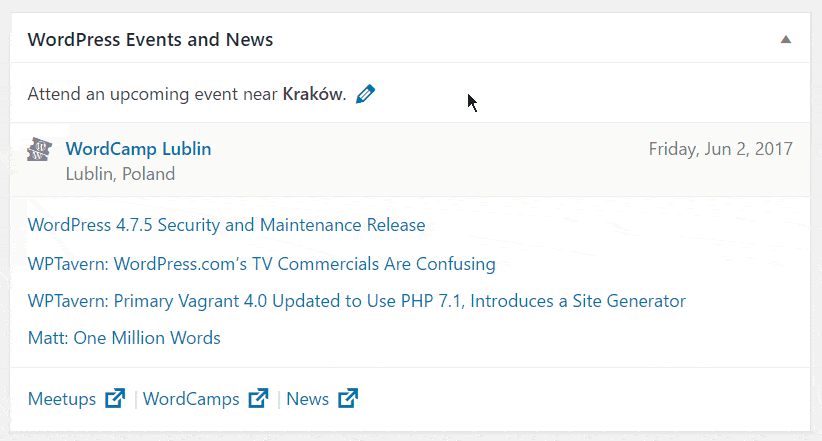 If your site has more than one user, then the widget will actually show each user information that is relevant to his/her individual geographic area, which is pretty cool. This information will be auto-detected, as the widget will send the person's IP address, timezone, and location to api.wordpress.org in order to show the proper information in the newsfeed.
But that isn't all. Users will also be able to manually change their location, so that they can view events anywhere in the world – in the event that they are traveling, plan to travel, or are just interested in what is going on elsewhere.
Other Miscellaneous Improvements
These are not the only changes that you will see with the rolling out of WordPress 4.8. There is definitely more to the app than just what we have recorded here.
For example, developers will find that the customizer pane will not be sized proportionately on larger screens. They will also see user names displayed more prominently on the edit user screen… etc.