Last Updated on by WP Warfare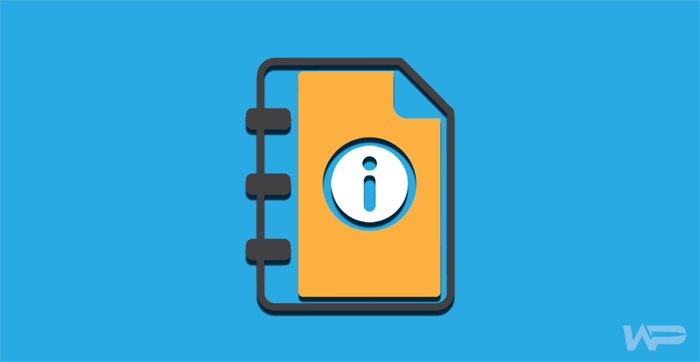 Many of the largest companies that own a WordPress site use in-house or external staff to manage their site, as they understand that maintaining their online presence is critical to their brand.  Before you dismiss this idea as being unachievable and out of your league, there are many excellent WordPress support services that provide professional solutions for a very reasonable price, even on an ad hoc basis.
Wouldn't you much rather spend your free time pursuing your favorite hobbies, or engaging with a new client instead of searching the internet on how to apply a WordPress fix?  Why not think about using a WordPress support service so that you don't have to worry when problems arise, allowing you to focus on what is most important to you – your business.
Running a Website is Hard Work!
Creating a website can be great fun, but running it is very time-consuming, monotonous and hard work.  It can be easy to get behind with your site's updates and overall health.  In addition, it is also essential that you keep your content, search engine optimization, and marketing up to date.  Here are just a few website tasks that you must undertake on a regular basis:
With these essential responsibilities to think about, it is no wonder that sometimes you can feel that your website is taking over your life!
What Are Your Options?
The thought of outsourcing can be unnerving, as you must trust someone else to take care of a valuable part of your business.
As a professional, you need to utilize your time effectively and let's face it, many of the jobs that you have to do to maintain your website are simply mundane.  Constant monitoring, analyzing and updating are just plain boring, and you know that your time isn't being well spent managing your site.  Focusing on growing your business should be your number one concern, and if you spend hours keeping your website up to speed, who is going to look after your livelihood?
It may be easy to imagine that the odd update here and there doesn't really matter, but missing them can prevent your site from working correctly, and cause you to lose money and customers due to website downtime.  By employing a WordPress support service, you can have peace of mind knowing that the next time a problem arises, you can confidently hand it over to an expert.
Whilst you may not have the money to hire a new member of staff to provide your site upkeep for you, there is a range of more viable and affordable choices out there.  For example, you can invest in WordPress support services or hire a freelance developer.  You could also carry on looking after your site yourself for a few hours a week, but how much money could that translate to you losing?
Below are a few companies that we recommend to assist you with your website.
One-time Issue Fixes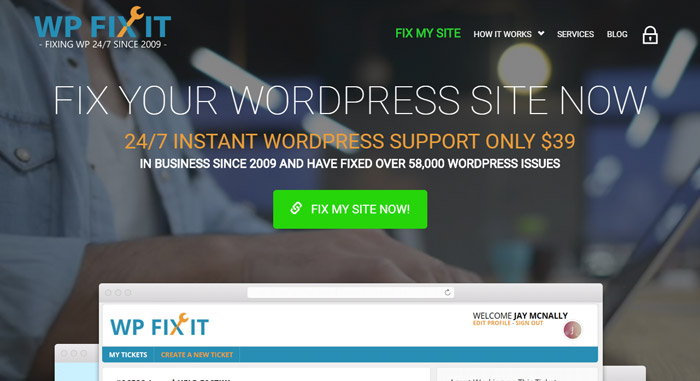 With a price of $39 per issue, wpfixit.com either has a one-off fee or if you prefer to go with their monthly option for ongoing support, backups, hosting, software updates, and security protection.
With one-off resolutions costing around $49, this support service can fix a single problem, or provide maintenance subscriptions at various levels.  Ongoing updates, support tasks, security monitoring and malware cleanups are just a few of the services that gowp.com provides.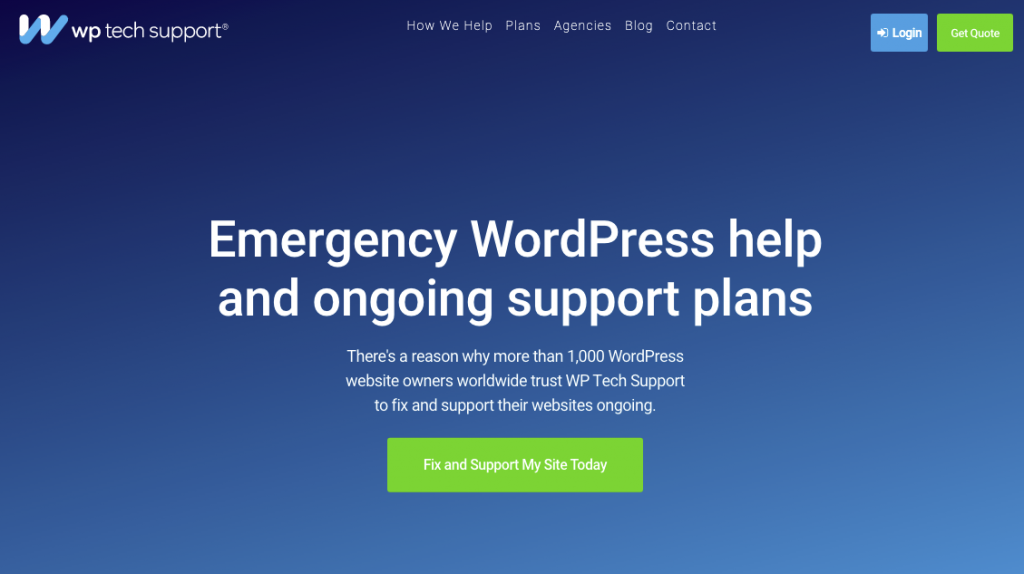 WP Tech Support offer dedicated WordPress maintenance services from as little as $45 p/m. The WP Tech team are available 24/7 and will quickly diagnose your problem and get you back up and running. WP Tech Support offer a 3 tiered price structure for businesses of all sizes and also custom plans for agencies. Don't need a plan? WP Tech Support have a great value 'Emergency Fix' option of just $65 to keep your website running smoothly.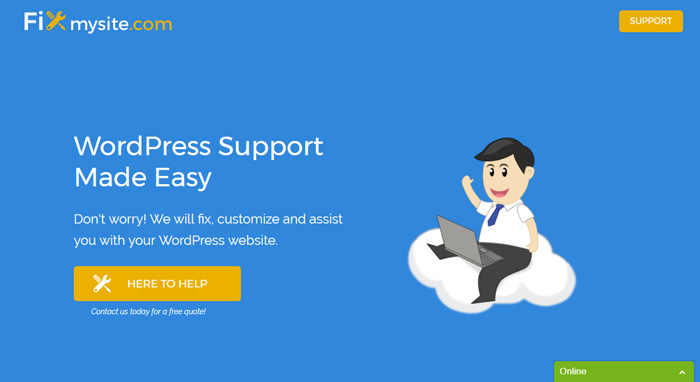 A newcomer on the block and unlike its peers, fixmysite.com does not charge recurring monthly fees.  Their support desk fixes issues one ticket at a time.  Fees can vary depending on the request, but they have a great value starting price of $29 for a successfully resolved issue.  In addition, they offer a free website assessment and no obligation quote.
Maintenance (monthly subscription)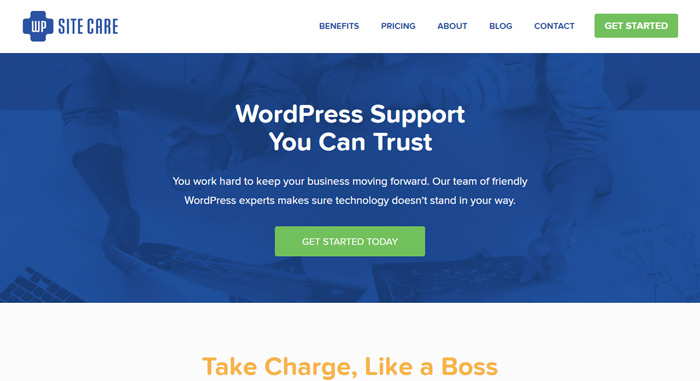 This WordPress support company provides maintenance and on-hands support.  Prices at wpsitecare.com start at $79 per month for core services all the way up to $999 for your own customized support package and personal account manager.  Their services range from hourly cloud backups, dedicated development hours and uptime monitoring.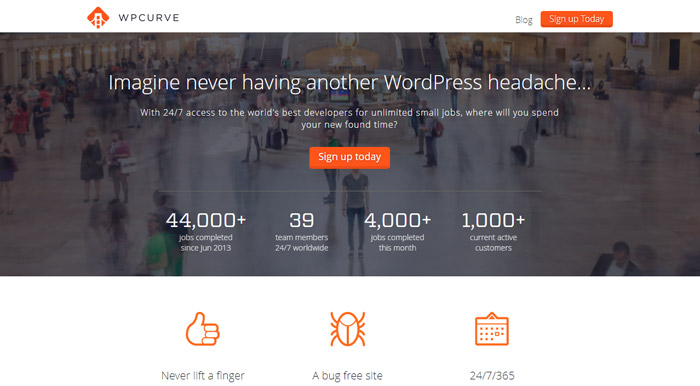 From $79 as a monthly fee, wpcurve.com promises that you will have a bug free site all year round.  They can help with increasing search engine traffic, prevent site hacking, speed up your site and reduce your bounce rate.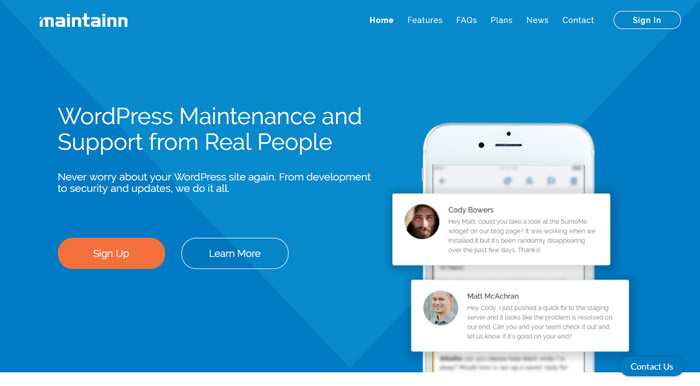 Maintainn.com offer expert support that includes security monitoring, WordPress updates, and offsite backups.  Their support packages begin at $49 per month and they have a plan that can fit any size of business.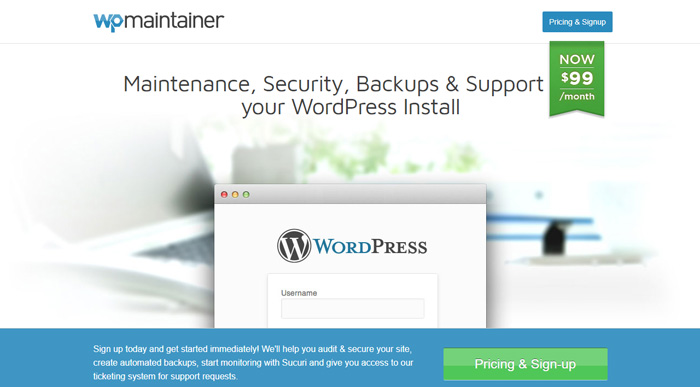 With just one monthly package costing $99, wpmaintainer.com delivers monthly site customizations, scheduled site backups at a time of your choice and security monitoring and cleanups.
Conclusion
As you can see there are many support choices, with one-time fixes starting at just $29 to thorough monthly maintenance plans that can be personalized to your requirements.
Both your website and business are incredibly important and handling both can be very challenging.  Time is your most precious asset and you should invest in it wisely.
By outsourcing your WordPress maintenance to professionals who can manage issues ranging from regular updates to intricate coding problems, you can then put your efforts into maximizing your business, or indulging in the luxury of having some additional spare time.