Last Updated on by Vairo Kremanis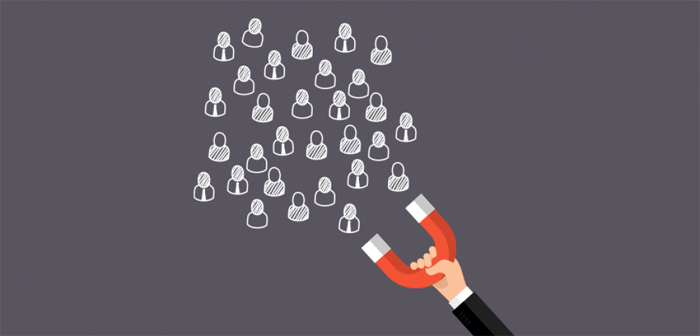 Understand your potential customers. They are capable of channeling reliable information about products, the quality and the varieties available in the market. In a way, they are trying to find you. And you need to be found by these potential customers.
So what you need is to find unique ways to attract and engage such potential customers and influence them to buy from you. This process is called lead generation.
A Quick Walk Through a Sales Funnel
A typical lead generation process initiates soon after a potential customer is attracted to your brand entity. This customer was most probably attracted through
organic outreach of your website or blog
smart keyword planning and SEO to get listed in relevant or specific search results
Your brand entity must then seek to convert the lead into a customer with strong Call to Action buttons, landing pages, and simple forms to collect information. The customer could be engaged further in many ways such as
free downloads of valuable content
subscription to insightful and regular blog content
By gaining the lead's interest with valuable resources and content, you can influence the potential customers' buying intent. This influence exerts through
customer management program and services
engaging content and simple buying processes
When the customers buy from you, your strategy will continue to engage your customers with your brand entity through content, events and offers, reviews and feedback. You will seek to
delight the customer
inspire and invite them to promote or endorse your brand
Very important actions are evident at each junction. And when we know that customers are capable of attracting and channeling relevant information about products and brands towards themselves, we must fully appreciate the power of lead generation that impacts the bottom line of any online business.
Lead generation is all about engaging and sustaining customer interest in your brand entity that quickly converts into buying action.
Here are five ways to increase lead generation for your new brand entity.
1.   Begin With SEO
Well begun half done. A serious brand entity will ensure solid and credible online presence. Search engine optimization [SEO] will enable your brand entity to appear frequently in relevant search results. You will be able to create an impact with your brand presence using SEO techniques such as keywords [and long-tailed keyword phrases] planning, backlinks, greater visibility, etc. An SEO plan can anchor new customers and boost visibility.
An SEO specialist will help you optimize your web pages, advise you on better site designs, improve your page navigation, place CTAs and forms on pages, and advise strategies on augmenting your organic outreach with creative content management.
2.   Content Marketing
Blogging is one of the most effective methods to engage customers and increase lead generation.
There are many interesting ideas and methods to increase lead generation from creating demo videos and tutorials to a strong and active social media presence, from influencer marketing to direct email marketing campaigns.
The modern-day customer wants creative content that gives them knowledge and greater insight into products. You need to constantly fulfill this requirement to stand out among the overabundance of brands. The evident trends include preference for
videos and short tutorials [e.g., Buzzfeed, Tasty videos, Instagram stories, etc.];
news articles and "how to" articles on current social issues [e.g., How to survive earthquakes, how to be happy, etc.]; and,
online courses and free content [e.g., free webinars, massive open online courses or MOOCs, etc.].
Strategize the way you will manage the content on your website. Think about adding surveys and original research content; testimonials and feedback videos; eBooks, resources, and reusable content; insightful blogs and real-life stories and free trials, incentives, and offers. There are numerous ways to curate powerful content that could communicate your uniqueness and value to your existing and potential customers.
3.   Social Media Presence
Social media has been changing the trends of how customers view brand entities and interact with them. A powerful social media presence is greatly beneficial for your new web presence.
Instagram and Pinterest have paved avenues of creating the visual appeal of your products that impress the audience and creates leads. Snapchat and Instagram stories are powerful tools to create a following. Thought leadership and influencer marketing, especially on Instagram is changing the way brands can promote and create awareness of their products and services.
Make use of the social media tools and update them on a frequent basis for greater outreach. Hold webinars, events, and promotional activities inviting thought leadership personalities and influencers to "talk" about your products.
4.   Customer Relationship Management
CRM software will help you collect and manage the information of your customers and inform you of their preferences. CRM solutions range from the chatbots to call center conversations, query and complaint management to feedback survey forms, etc.
CRM can play a key role in generating leads and understanding various trends of the market. The intelligent technology will help your brand focus on premium products and user experience, helping attract and retain customers.
5.   Outbound Marketing to Generate Leads
While inbound marketing strategies and techniques will have a greater buy-in of your customers since they were the ones who [apparently] found you; outbound marketing strategies must also be explored to increase lead generation. The idea here of a balanced marketing mix to achieve desired outcomes.
Explore the many options of PPC [pay per click] to blog management and guest blogging services, link building, direct mail campaigns, etc.
Summary
By understanding lead generation, you can create a measurable impact on your business' bottom line. Beginning with tools that create a powerful online presence of your brand entity, content management is key to growing customers and retaining them.
A word of advice: while the industry practices the methods above, each business will have a different response and success rate for each of these methods. Test and try the ones that work best for you. New initiatives and even established businesses need to persevere patiently to see effects and reap benefits.