Last Updated on by Vairo Kremanis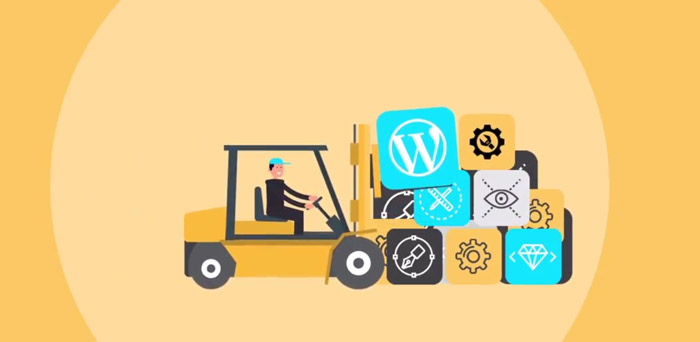 Even though there are dozens of great maintenance mode plugins for WordPress, users still don't pay enough attention to under construction pages. Instead of handling things in a few clicks, many individuals knowingly display a broken site to their visitors. Don't be part of that group!
When possible, work on your site on a local WordPress installation or use a staging site. But even if you have access to a development area, there are still times when you will have to work on the live site. In those cases, create a landing page that will inform your visitors about the maintenance mode and hide the broken site from nosy folks.
It is possible to create everything on your own, but it will take the time to generate a page on by yourself. Instead of coding, wouldn't it be much more interesting to have the under construction page in just a few clicks? Let us show you some of the best WordPress maintenance plugins that will help you.
Under Construction Page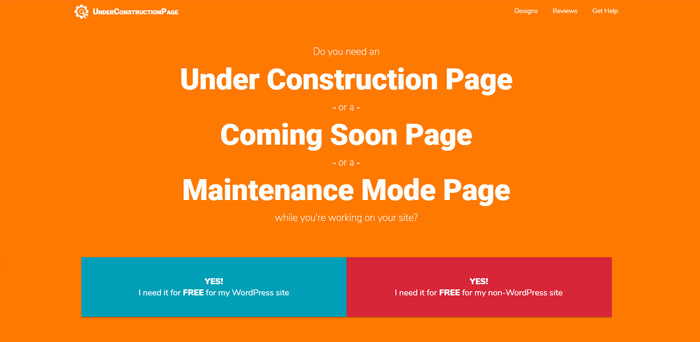 One of the best plugins for the job is also completely free. Under Construction Page has been rapidly growing its user base and currently holds 90,000 happy WordPress users.
The plugin is very simple, yet it allows you to create a professional looking page in less than five minutes. There are just a few elements you have to select and content to write.
There are more than twenty templates you can choose from. The developer has been uploading new designs twice per month, and we love that! There's alway an interesting picture to be found in the repository, and we've been told that the developer is thinking about implementing even more pictures to the database.
You get to connect the maintenance page with your social media accounts and Google Analytics. You can automate the process of going out of maintenance mode, and even allow specific users to see the normal page instead of the maintenance one. Just install Under Construction Page and see why it's one of the best out there.
Coming Soon Page & Maintenance Mode by SeedProd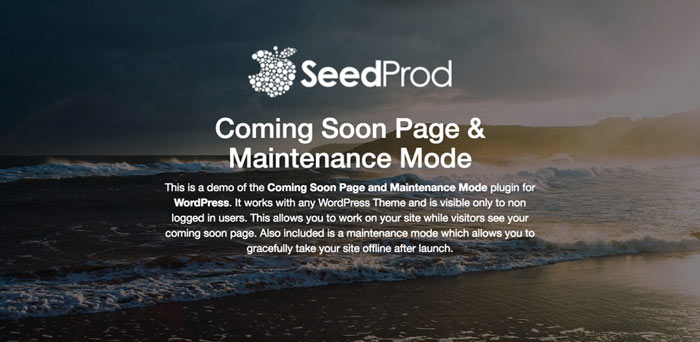 The free version of the plugin works with any WordPress themes. It is responsive and allows you to customize the coming soon or maintenance mode page in details.
Coming Soon Page & Maintenance Mode by SeedProd lets you add custom CSS and HTML, it is translation ready and works on a multisite.
The free version is relatively simple but works great for any website. If you decide you need more from your maintenance page, you will be interested in the PRO version which counts more than a dozen extra neat features.
Minimal Coming Soon & Maintenance Mode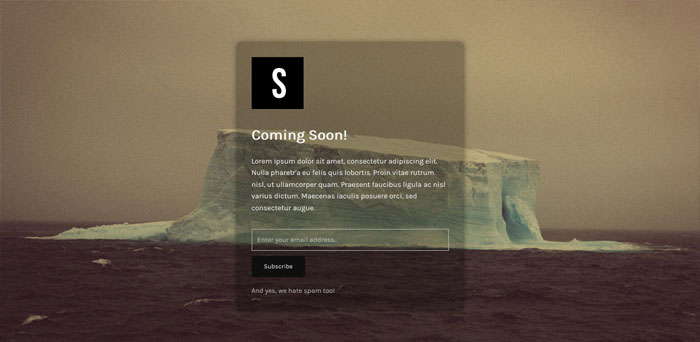 Although not as popular as the previously mentioned plugin, Minimal Coming Soon & Maintenance Mode is another great choice for your site.
Instead of having templates, this plugin lets you upload your own background images and logos. You can also control the elements of a maintenance page, add your custom HTML and CSS code and thus create a unique page for your blog.
By entering a MailChimp API key, you can quickly show a subscription form which will collect users' emails while you're fixing stuff on the site.
Easy Coming Soon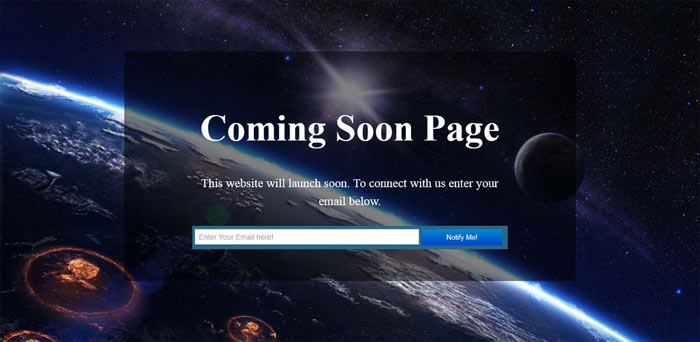 This responsive WordPress plugin gives you the possibility to create coming soon pages just by selecting templates. It is flexible, responsive and provides a nice responsive option panel.
Easy Coming Soon lets you connect your Facebook, Twitter and Google+ accounts so that visitors can contact you on any of the social networks. You can also add a subscribe feature and collect emails from users who land on the coming soon page.
Change colors, images, and fonts. Add Google Analytics tracking code, use live preview option and allow logged in users to see the normal page. There is also a PRO version which features many more great things for the coming soon page.
Elementor Maintenance Mode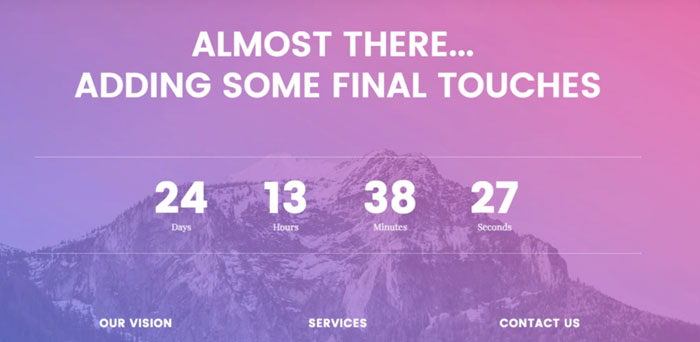 If you are already using Elementor, you will love the new feature – a free Maintenance Mode option. Whether you want a maintenance or coming soon page, now you can choose a template and create one with a simple drag&drop feature that Elementor provides.
There are nine templates (both free and premium) where you can use text, headlines, forms, timers, and much more.
The plugin is SEO-friendly, and it will work with search engines just the way you wanted. Also, you can control which users will have access to the regular site.
Maintenance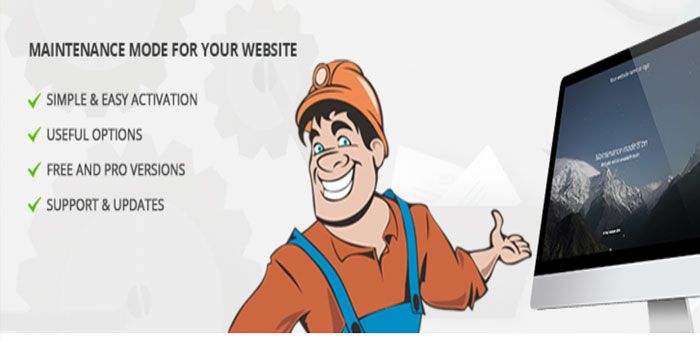 Maintenance is another popular WordPress plugin for the job. It allows HTML/CSS layout, fullscreen background, and usage of custom logos.
The plugin is simple and easy to use. You can configure colors for fonts, icons, and backgrounds. Work on custom titles, headlines, and other text.
It is easy to allow users to log in, show or hide an admin bar, add Google Analytics and even exclude pages in Maintenance mode.
If you opt-in for the PRO version, you can expect many more features like user permissions, galleries, countdown timers, and much more.
WP Maintenance Mode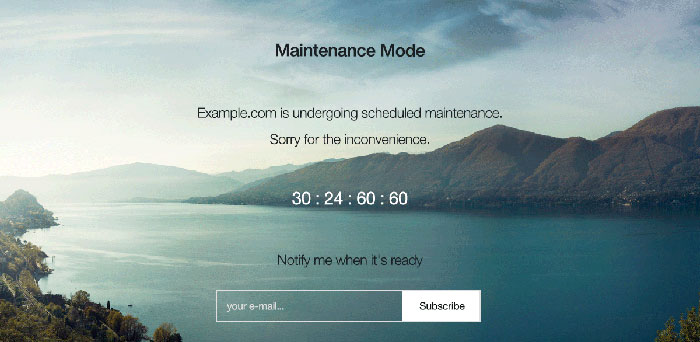 Whether you want a maintenance or coming soon page, this fully customizable plugin will let you create one. Modify text, change colors and backgrounds. You can also show a countdown timer which will be a great asset for a coming soon page.
There are different templates you can choose from, while contact and subscription forms will help you stay in touch with your visitors. If you want to add more contact details, you can always display social media icons on the page as well.
WP Maintenance Mode is responsive and also works great on a multisite. If you decide to exclude specific pages from the mode, you just need to select them from the plugin's settings.
Conclusion
Whether you just need to fix a few problems on your site or want to notify visitors that you're still working on the design, maintenance and coming soon pages are the way to go.
By displaying such a page, you will let your visitors know that you care about them and you will also get a way of connecting with people even if your site isn't working at the moment. At the same time, the plugins from the list will take care of communication with search engines, so that your site doesn't suffer from being offline for some time.
Next time when you're about to fix something on the site, install one of the plugins and stop worrying about the negative effect of the maintenance mode. We are sure your maintenance page will look amazing. Which maintenance plugin from this list do you like the best?