Last Updated on by Eddie Kremanis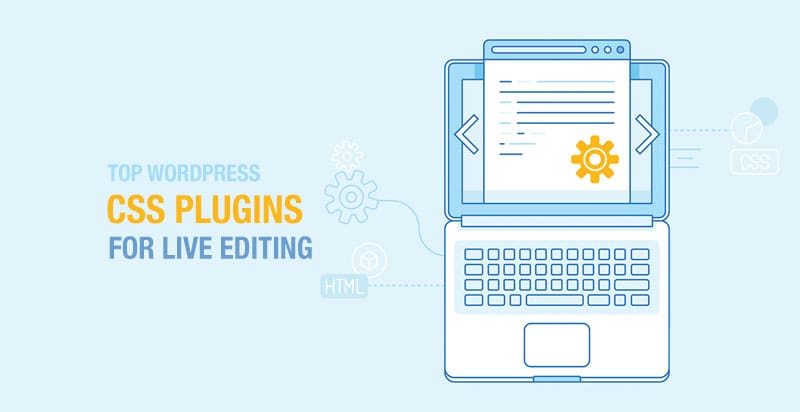 One of the easiest ways to customise your WordPress website is to edit the underlying CSS files. However, editing these files directly can be tricky. Thankfully there is a great selection of WordPress plugins that make the process of personalising your website via CSS much easier.
In this article, we are going to look at the top 5 free WordPress CSS plugins that you can use to customize the appearance of your site through a live editor. Don't worry if you don't know CSS. These plugins take care of that for you!
CSS Explained
CSS stands for Cascading Style Sheets and it dictates how HTML elements should be displayed on your site. CSS has control over the appearance of a webpage and it is this code that you need to customize if you want to alter your site's design.
By customising the CSS of your site you can alter the colour, font, patterns, background, or any other design feature. This can be important for web designers and site owners who want to create an individual look. Although most themes offer a variety of options when it comes to design, customizing the CSS code allows you to go that one step further and create a site exactly as you envisaged.
What is Live Editing?
All the CSS WordPress plugins in this article feature a live editor. The benefit of this is that it allows you to preview your changes in real-time rather than having to save a file, switch browser tabs and refresh the window, only to find out that your changes didn't have the desired effect.
A good live editor will speed up the process of customising the appearance of your website through CSS files, giving you instant feedback as you make changes.
Visual CSS Style Editor

Visual CSS Style Editor is a feature-packed WordPress live CSS editor plugin that enables you to customise your website in a few clicks. With a 100% front end style editor, it is extremely quick and easy to use.
Just select any element that you want to customize, be it background patterns, colours, fonts, animations or something else, and choose the alterations that best suit your site.
Features:
Created for beginners and advanced users.
Works with all WordPress themes and plugins.
A powerful selector system helps to create the best selector for each element you have chosen to alter.
Visual Editor provides simple visual controls.
A powerful CSS Editor allows you to write CSS in real-time, as well as offering an auto-completion feature.
This plugin is also offered in a premium Pro Version which is worth considering. The extra features offered include a visual drag and drop tool for any element, 300+ background patterns, and a visual resizer.
SiteOrigin CSS

SiteOrigin CSS is a powerful WordPress CSS editor plugin that offers simple visual controls and real-time preview. If you enjoy writing code then you will be impressed with the autocompletion of this plugin which makes writing CSS fast and easy.
If you don't enjoy or understand using code then this user-friendly plugin could still be for you. The visual tools enable you to choose, click and change your sites design without needing any coding experience whatsoever.
Features:
Inspector – to help you find the correct selector to use for each element of your site design.
Visual Editor – simple visual controls help you to choose a colour, style, and measurements so you can make changes in just a few clicks.
CSS Editor – this advanced CSS editor has autocompletion for both selectors and attributes. It will also help identify any problems within your code before you publish your changes.
Works with any theme.
Actively developed with free updates and upgrades.
SiteOrigin CSS creates an enhanced editing experience, enabling you to alter the look and feel of each page to create your own unique website. Definitely worth trying out, whether you are a veteran WordPress coder or a beginner with no experience.
TJ Custom CSS

The TJ Custom CSS plugin is a good option for those wanting to live preview changes whilst adding custom CSS to their WordPress site. The Custom CSS option is added not only to the WordPress dashboard but also to the Customizer, enabling you to preview changes on the front end as you go. The live feature of this plugin is impressive, saving you much time pressing refresh and switching tabs!
This free WordPress live CSS editor plugin will automatically override any default styles from other plugins or themes. However, it does not alter your theme or plugin CSS files so you don't need to re-edit the files if you want to restyle your website at a later date.
Features:
Live Preview.
Child theme alternative to add customization.
Built in syntax highlighting text editor.
Easy to install and use.
No configuration needed.
All in all a simple but very helpful plugin that works effectively and saves you time. However, you will need to understand the basics of CSS customization to get started.
WPCustomizer Pro

This WordPress CSS editor plugin is for editing your WordPress theme on the front end. WPCustomizer Pro enables you to customise your website without having to actually write any code. Perfect for beginners or for people without much time or interest in code.
Simple and friendly to use, this customizer plugin can modify background, colour, font and margin, to name just a few. Just select an element you would like to change and then choose from the CSS options. It also allows you to set different styles for different devices, like smartphones, tablets, PC's, etc.
Features:
Visual editor with live preview.
Choose different customizations for different devices.
All changes are saved so you can delete or modify past changes at a later date.
Compatible with all WordPress themes.
Works well on WordPress multisite installations.
WP Customizer Pro also comes with useful instructions to get you started and a helpful support system.
Advanced CSS Editor

Advanced CSS Editor is a lightweight and easy to use live editor WordPress plugin. It enables you to edit from the Customize menu on any of your frontend pages and see the live changes before saving.
The main feature of this plugin is that it lets you actually write different CSS codes for different devices, ie phone, desktop, tablet. Again, these edits can be seen live whilst you are editing.
Features:
Lightweight plugin.
Live Editing via Customizer.
Custom CSS for different devices.
Can apply Global CSS.
Fully Responsive.
Another impressive feature packed plugin that enables you to customize your site through a live editor. However, to take full advantage of this plugin's features you might need a little more than just a basic understanding of CSS.
Final Thoughts
The five WordPress CSS Plugins for live editing that have been discussed in this article are all good options. The one you pick very much depends on your experience of CSS customizing and your interest in the subject.
Look over the features of each plugin and choose the one you think is most suited to your needs. Then try it out. But don't worry, if you can't get to grips with it, you can always try another!
Have you used a WordPress live CSS editor plugin? Which one would you recommend? Please share your thoughts in the comments below…