Last Updated on by Eddie Kremanis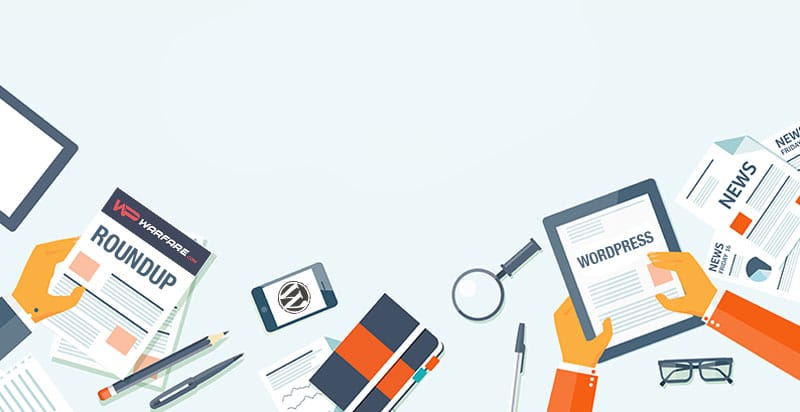 Welcome to our first WordPress roundup. A carefully selected list of latest WordPress tutorials, news, and other related resources from across the web. I'm planning to publish this every week and hope it will add value to our readers. You will be able to view all our previous roundups under WordPress News category. But for more great content on WordPress throughout the week, join us on Twitter or Facebook page.
WordPress Articles & News
WordPress 4.5.2 Security Release – The WordPress 4.5.2 is now available for your download. This is a security release for all previous versions and it is strongly recommended that you update your sites immediately as earlier versions are affected by a SOME vulnerability through Plupload, the third-party library WordPress uses for uploading files.
WordPress 4.6 will Drop Open Sans in the Admin – The upcoming version, WordPress 4.6, is planning to ditch Open Sans in favor of system fonts in the admin panel.
Introducing Blogging U. On Demand – Become a blogging pro or explore new creative frontiers with a Blogging U. course. Enroll any time, and get education, inspiration, and support when you need it!
WordPress Today: From Blog to E-Commerce Powerhouse – Jason Resnick looks at how WordPres has changed the way we build websites and shop online.
Tutorials & How To's
How to Scan Your WordPress Site and Patch Security Vulnerabilities – When was the last time you check your site for security vulnerabilities? Has it been a while? Then this post by Jenni McKinnon on WPMU is a must read for you. Jenni explains how to scan your WordPress site and server for vulnerabilities, plugins you can use and how to patch up existing security holes.
WordPress SSL: a complete guide to implement HTTPS on WP – A complete guide by David Attard on why and how you can implement WordPress on HTTPS or WordPress SSL.
MailChimp with WordPress: Ultimate Guide for integration – Learn how to integrate MailChimp with your WordPress and start building your mailing list.
9 Quick Tips When Choosing a WordPress Theme – Choosing a theme for your new site or your next project can be overwhelming, I've been there myself, here Bob Dunn shares his nine tips to make it a breeze.
6 Ways to Speed Up WordPress – Few quick tips on how you can check your site's loading times and what you can do to speed up your WordPRess website.
Marketing & Conversions
Content Upgrade WordPress Plugins To Grow Your Email List – Lindsay Liedke shares some plugins and tips on how you can use content upgrades on your WordPress to build your mailing list better and faster.
5 marketing strategies for e-commerce websites – Chris Lema shares his 5 marketing strategies for new eCommerce websites.
Resources & Other Posts
Add Facebook Like Reactions to Your WordPress Website – Tom Ewer looks at few WordPress plugins that you can use to mimic the Facebooks "Like" reaction system on your posts.
21 Best One Page WordPress Themes of 2016 – Are you looking to create a single page WordPress site? Then look no further, start your research with this WPBeginners list of best (Free & Paid) single page WordPress Themes.
That's it for this week. Thanks for stopping by, and enjoy your weekend!