Last Updated on by Vairo Kremanis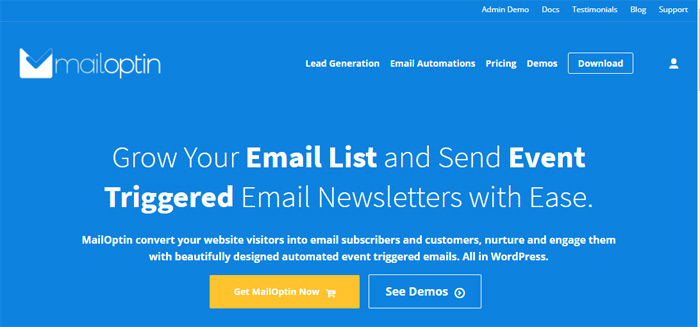 MailOptin is an email marketing software with features that can dramatically help you grow your email list faster. The plugin is built to collect email addresses from anywhere within your site, using different type of optin forms and settings to effectively increase conversions.
If you want to make your email list journey worthwhile, you need the best tools with sufficient data, targeted displays and A/B testing performance comparison to know what direction you are heading towards.
MailOptin has become highly-sought due to some of its premium offerings, like the exit-intent technology which would be explained later in this review as well as other smart features like page level targeting and automated newsletter on publication of new posts.
With its responsive design, multiple optin forms that can be fully customized to blend in and become an integral part of your website design; you won't be at any disadvantage working with MailOptin. The simplistic design of the plugin gives you complete control over your settings; there are no options without detailed description to give you a heads up. Whenever you are lost or need a deeper explanation of any option, there is a knowledge base area on the official site that takes care of it.
The point is that everyone wants to successfully grow an email list. However, to grow a great email list, it is going to get down to the kind of strategy you apply to your work.
There are methods that worked in the past, but they no longer have the same effect. Therefore, your creativity, craftiness and willingness to use incentives to lure people into your mailing list are paramount. To make this happen, you need eye-catching, beautiful, functional optin forms that are both detailed and persuasive. Most especially, optin forms that won't distract your users, and this is where MailOptin comes into the action.
Let us find out what gives MailOptin its bragging rights and why you need to invest in it to get tremendous result.
Pricing
Right now, the plugin has two premium pricing plans and a free plan, they are:
Lite – Free for access to three optin campaigns, limited email campaigns and templates.
Standard – $99 per year for unlimited optin campaigns, exit-intent, sidebar forms, before/after post forms and email support.
Pro – $199 per year for all MailOptin features; advanced optin analytics, priority email support, WooCommerce, EDD integrations and lots more.
MailOptin Lite version is completely free. Unfortunately, it has some limits. To get access to more features and options, you will need a premium license.
Get MailOption Lite to try for free or purchase a premium plan on the official MailOptin website.
The Dashboard

MailOptin is powerful, yet very flexible and simplistic. The design of the plugin, the built-in features and ease in working through the plugin's dashboard leaves an awesome experience.
Right from installing and activating the plugin, you will have access to the dahboard where you can create optin forms.  You will find stuff like "Settings," "Connections," "Optin Campaigns" and "Campaign Log." The names expresses what you will find when you navigate through them.
Email Marketing Integration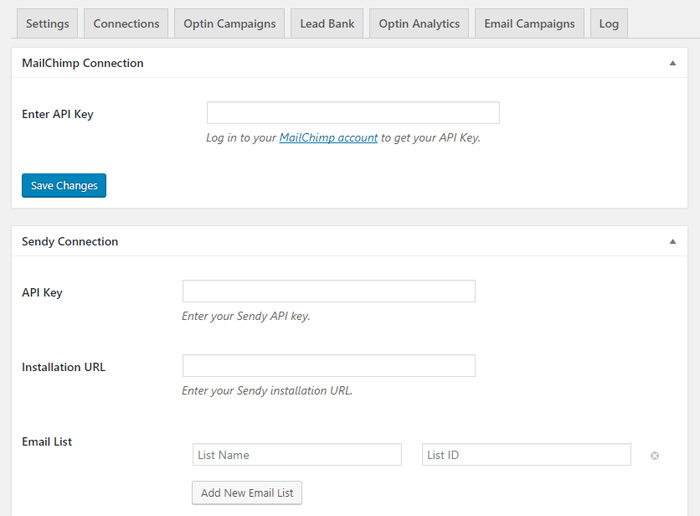 The plugin has support for all the popular email marketing providers which is a huge advantage. MailOptin integrates perfectly with MailChimp, Sendy, Constant Contact, Campaign Monitor, Drip, ConvertKit, AWeber and others. The team managing the plugin are very active, constantly including support for new email marketing providers, so you should anticipate more integration as time progresses.
Setting Up MailOptin
Within the plugin's dashboard, you will gain access to the connection page and other options that will prepare you for creating optin forms within few minutes.
Once you have connected MailOptin to your preferred email marketing service provider.  You can determine the type of optin form you want to create in the 'Optin Campaigns tab'. It has the popular popup optin form called Lightbox, the In-Post optin forms and Notification Bar readily available. Also, you can make use of Slide-In and Sidebar/Widget forms.
Here is what these optin forms look like when activated on a live website.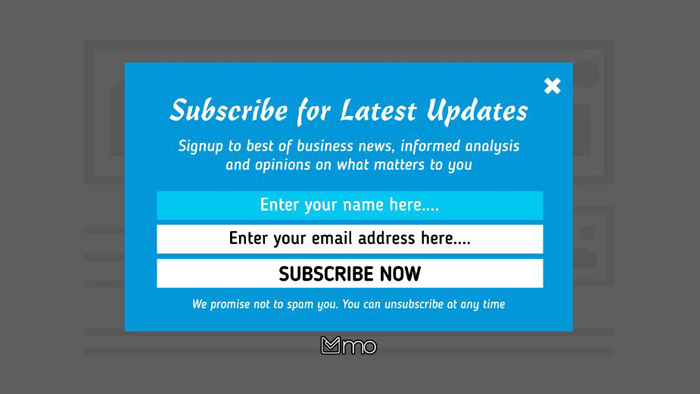 Lightbox: This creates beautiful popup optin forms in your website.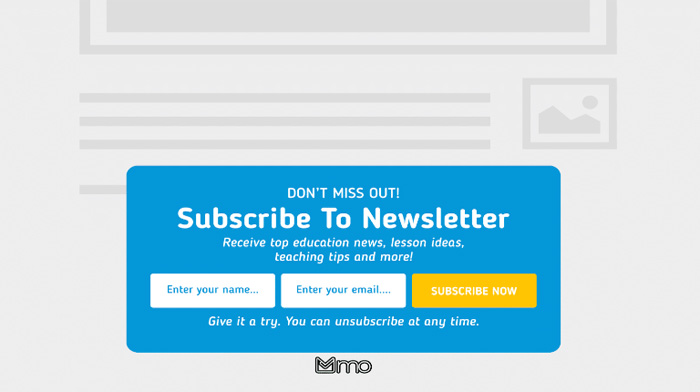 In-Post Optin: Enables you to display your optin forms at the top or bottom of your post.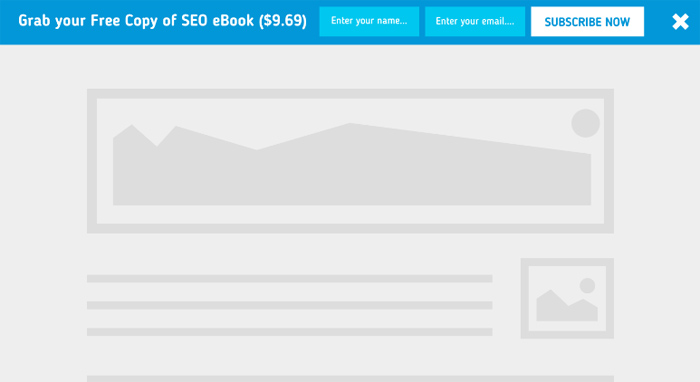 Notification Bar: An option to make a notification bar appear with an optin form at the top of your website.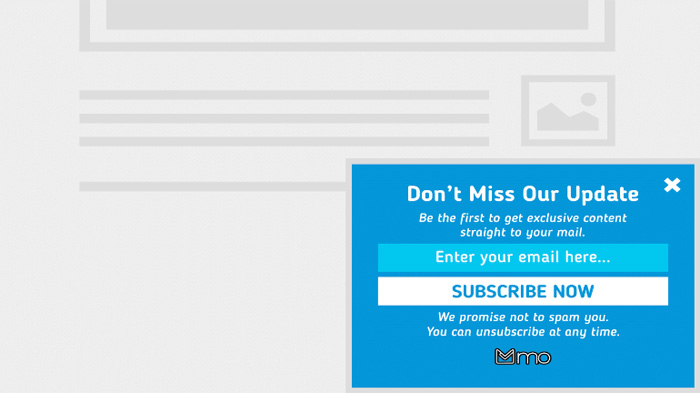 Slide-in: MailOptin can display slide-in optin forms at the bottom corner of your site.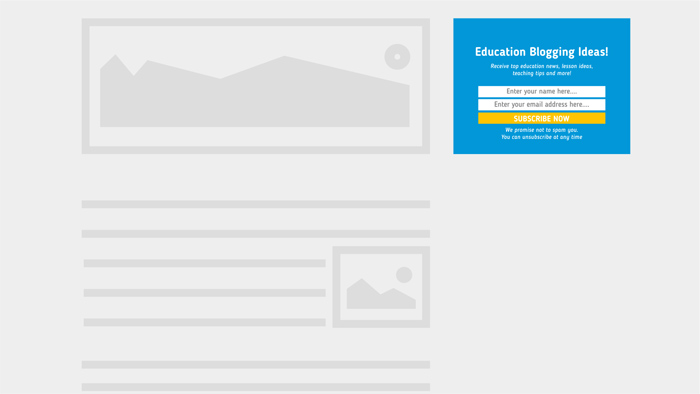 Sidebar/Widget: Sidebar optin form is generally for the sidebar placement, you need to place this optin form in a widget area that is visible to every visitor on your site making it easy for them to subscribe to your mailing list.
Automatic Triggers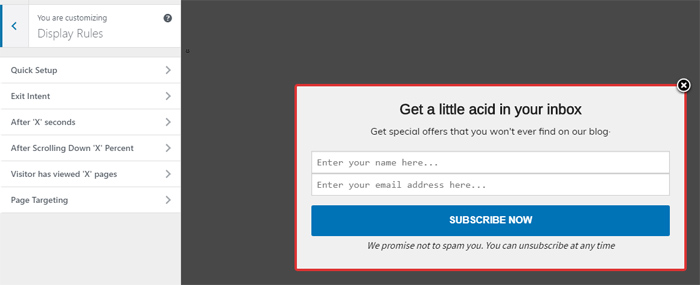 In terms of Automation, MailOptin does an excellent job. There are a lot of automatic triggers on the plugin that are designed to help you become more efficient with the way you interact with your email list.
Here are some of the automatic trigger features built-In into the plugin:
Exit-intent: Using MailOptin, you can set your optin form to display only when the user is about to exit your site. This a smart feature that retains aggressive email list building without distracting your users. Study has shown that 70% of users get irritated by displaying instant popups when visiting sites and MailOptin quietly solves the problem with its "exit intent" automatic trigger that works like a charm.
Time Delay: MailOptin can trigger an optin form to display after a pre-defined time spent by the user on the site. This can help your optin campaign not to be perceived as intrusive.
After Scrolling: After a user scroll through a pre-defined percentage of your page, you can trigger your email subscription form. The plugin makes the whole process very easy; all you need to do is define the settings in the "Display Rules" panel in the form builder.
Page Number: Do you want your optin forms to be displayed only when a user has visited a certain number of pages in your site? For example, if you want your optins to display after a user has interacted with three pages in your site, it is entirely possible using the automatic trigger feature on MailOptin.
New Published Post Trigger: Rather than manually create newsletters after publishing new posts, MailOptin can trigger New Post Notification newsletters to your email subscribers. It uses built-in attractive templates to keep the process alive.
Click Launch: MailOptin can trigger an optin when a user clinks a pre-configured link on your site. This is used to initiate content upgrade in your site. Learn more about content upgrade here.
Display Rules
Ever wanted to dynamically control how visitors respond to your optin forms? The display rules on MailOptin will make that possible. These rules involve you making different optin forms appear on your site depending on the response of your visitors.
With MailOptin, it is possible to trigger forms only after the visitor has read to a certain page level or have spent a specific duration of time on the page. You can also decide to trigger the optin forms when your customer has visited a specific number of pages on your site. In addition, the display rules can be used to prevent forms from showing in certain pages.
Insights & Analytics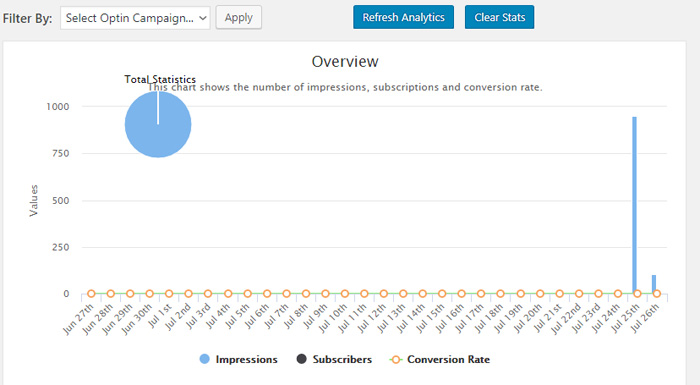 The built-in analytics in the plugin tracks data like, number of impression, subscriber's count and conversation rate. The interface is neat, providing you graphical interpretation of the data to plan and monitor what happens in your list.
The Optin stats provide vital information needed to make wise decisions. The information will give you a complete overview of what is happening to your campaign, providing an opportunity to quickly detect the optin forms that are having poor performances in other to make necessary modification.
Wrapping Up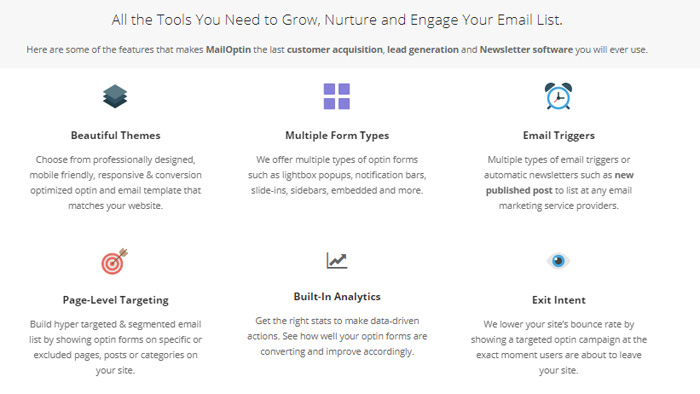 The money they say is in the list. Therefore, building a great list is a top priority for internet marketers. Nevertheless, to make this happen, you need a quality WordPress plugin with the best email list building features to start and sustain your email list building journey.
Your investment in MailOptin ushers you into a new world of possibilities with its premium features.  The ability to fully customize your desired template from an array of templates built-in on the plugin is a terrific headway. You have complete control over what you want to see in your optin forms and you can easily blend the optins to fit the design language of your site.
The plugin is extremely easy to use; within few minutes you should have created your first optin form. In addition to that, the Exit Intent feature is the solution to building an aggressive email list without distracting your visitors. This feature is equally complimented with several display rules to give you mastery over your list building strategy.
Finally, the plugin has a very strong support team to assist you whenever there is a need. Regular updates are pushed to the plugin which you can easily update through your dashboard to keep things running smoothly.  Obviously, there is little or nothing to complain about, if you want to grow your email list, MailOptin should top any solution you are considering.