Last Updated on by Vairo Kremanis
A Multipurpose Theme That Stands Above the Rest
Creating a website using WordPress has never been easier, even if you have no coding skills.  In fact, WordPress boasts being simple to use, flexible in design and functionality, and suitable for websites of any type.
However, while WordPress does offer a number of great themes for creating standout websites, and plugins for extending the functionality of those simple themes, people want more.
After all, building a successful website to represent your brand and company, convert more subscribers, and even sell your products and services is going to require many features.  And, since installing a billion plugins to meet your needs is not always recommended, theme developers have stepped up their game and have begun offering extensive multipurpose themes that do it all from one convenient location.
The talented team at Elegant Themes brings one such multipurpose theme, called Divi, to WordPress users of all kinds.  As their hallmark theme, Divi attracts the attention of website owners seeking attractive design, a full range of built-in features, and multi-purpose functionality.
Today, I am going to share with you what Divi is all about, including its best features in hopes of showing you how it may meet all of your business, blogging, and online shop creation needs.
An Overview of Divi
Divi is a comprehensive WordPress theme bringing every feature any website owner could possibly need, all to one place.  It is user-friendly, even for beginner website owners, and can help you create a stunning website without knowing a lick of code.
Look at some of Divi's standard features:
Top-Notch Security. Partnering with Sucuri.net, Elegant Themes promises Divi is secure from invasive attacks trying to ruin or steal your hard work.
Translation Ready. Not only is Divi translated into 32 languages on the front-end, it also comes fully translated on the inside too.  In addition, it supports RTL users.
Unlimited Site Creation. Unlike many themes, one license is all you need to build as many websites as you like.
Superior Support. Elegant Themes has a large support team ready to help you with any issues you run into.
Lots of Demo Content. For those looking to get a little help or inspiration, several Divi Layout Packs are available free of charge to install directly onto your website.
In addition, here are some quick features the Divi theme offers website owners:
Real-time design support
Easy customization of everything
Easy page building organization
Dozens of content elements
Fast page loading
Click and type editing
Responsive design
WooCommerce support
Global elements for easy syncing
Pre-made layouts
Divi's Main Features
Many multipurpose themes come with similar built-in features.  However, with Divi, not only do you get everything you expect from a multipurpose theme, you get a whole lot more.
Divi Drag & Drop Page Builder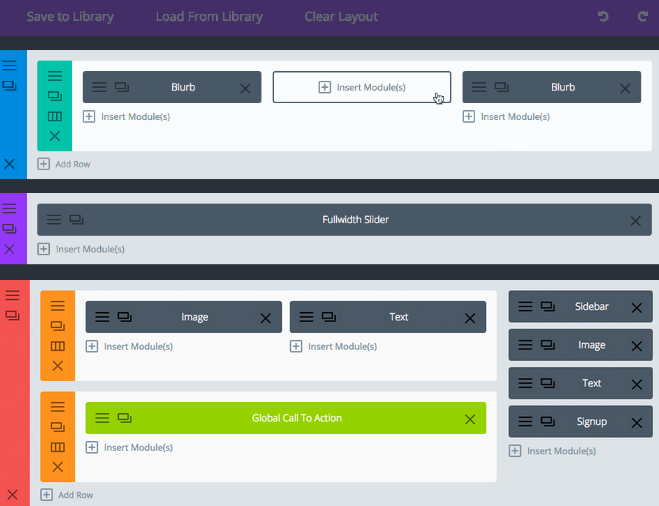 One of Divi's coolest features is the built-in Divi Builder.  This page-building tool turns all 45+ available elements into visual building blocks that you can easily drag & drop into unlimited layout configurations.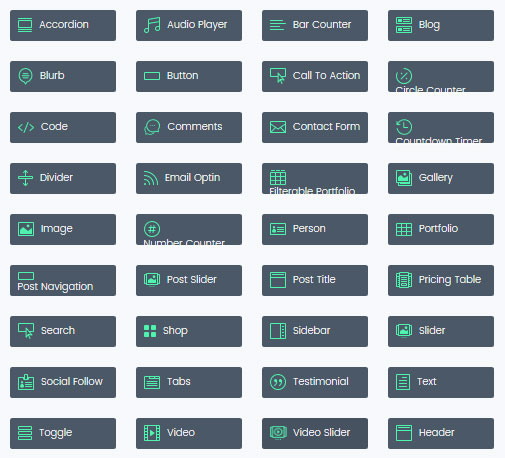 With the Divi Builder, you can customize every element's color, spacing, size, font, and more.  Moreover, you can create custom background colors, images, and even videos.  And to top it off, every change you make will be responsive by design so it renders seamlessly on all mobile devices.
In addition to content elements, Divi also provides website owners with plenty of layout options as well.  For example, start by using one of 20 pre-made layouts to get your website started.  These layouts serve a wide range of functions so you can display whatever type of page you are looking to create.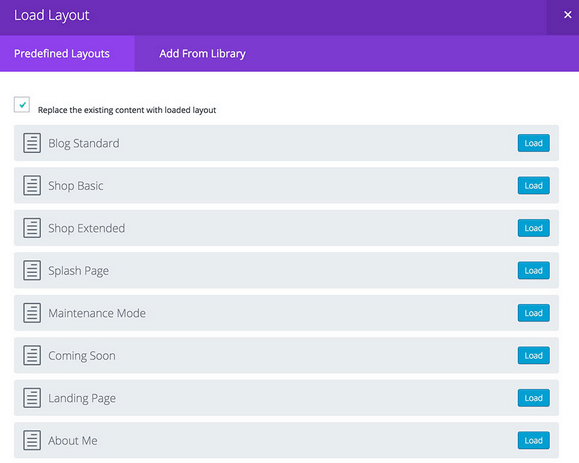 More so, you can save any template you create in the Divi Library for later use, making page creation that much easier.
Lastly, you can even export these templates to other WordPress websites.  This is especially helpful for developers that are creating multiple sites for clients.
Divi Builder Front-end Editing
In addition to page creation on the back-end of your website, with Divi and the Divi Builder you can also edit on the front-end of your website and see real time changes.  No more switching to a front-end view to see how your website will look.  Instead, click, point, and type new content directly onto your site.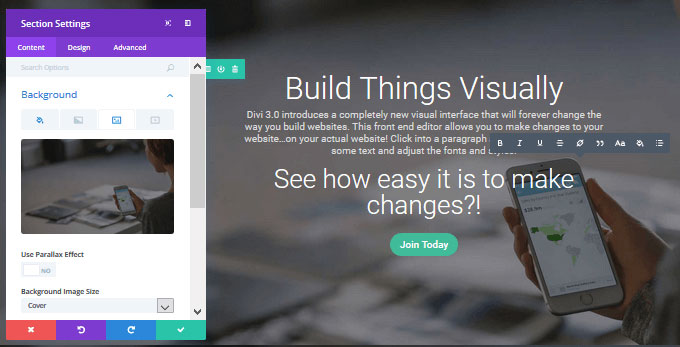 You can achieve the following customizations using the Divi Builder front-end editing panels:
Drag and drop elements and blocks to achieve a new layout
Click on text begin typing changes
Adjust font style, size, and colors
Change element settings and positions
Add new pages and edit
Save templates to your library for later use
Switch between desktop, tablet, and mobile views
Edit layouts by adding sections, changing widths, and much more
Divi's Theme Options Panel
In addition to being able to create your website using the drag & drop page builder, Divi comes with a robust theme options panel for making other customizations to your website.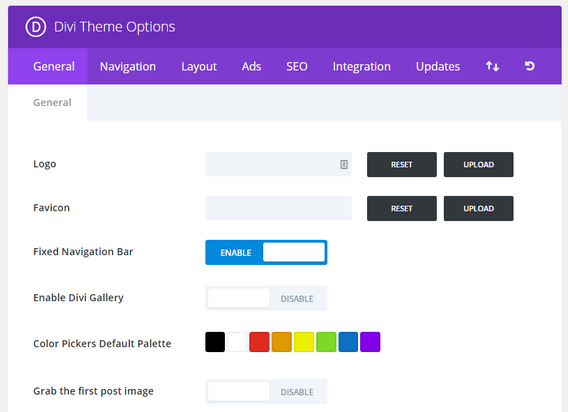 Here is a quick glance at what you have control over when using the theme options panel:
General Settings. Upload a logo and favicon, enable a fixed navigation bar, add image galleries, pick a color palette, choose the number of posts per page, and define your date format.
Exclude pages, display a Home link, and determine the number of dropdown tiers to display.
Layout Settings. Show comments on posts or pages and place thumbnails on posts or pages.
Ad Management. Enable banners, destination URLs, and AdSense codes.
Enable canonical URLs and meta descriptions, choose title auto generation, and enable custom titles, descriptions, and keywords.
Add tracking codes (such as Google Analytics) to various sections of your website.
Enable your subscription for updates.
Import/Export. Import or export Divi settings for backups, new site building, or to share with others.
Restore Defaults. Restore default settings and start over.
Divi Leads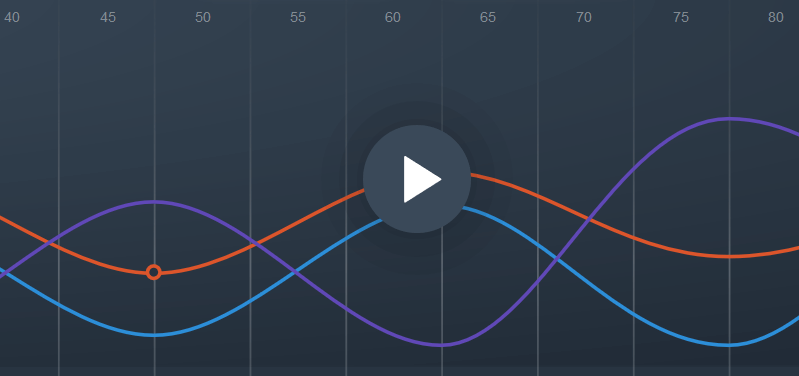 Divi comes with integrated split testing (Called Divi Leads) so you can monitor what is working (and what is not) and improve your website using the data collected.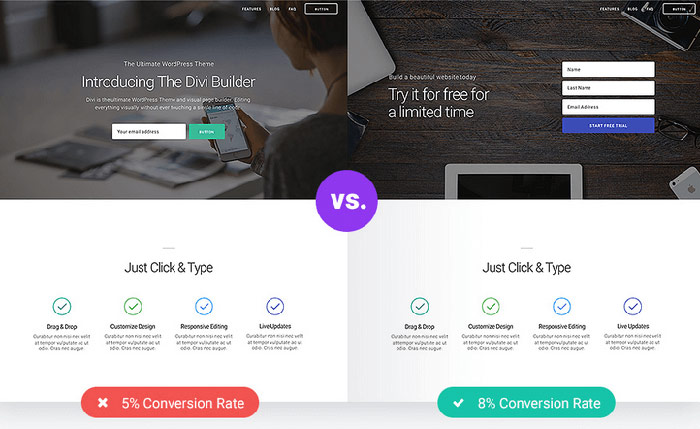 Divi is already ready to help you create the very best landing pages on the web today.  And, with the ability to A/B test anything, Divi gives you the opportunity to boost your success even more.  For example, test individual modules, rows, or sections.  In addition, try different colors, placement, and order of elements and content to see what your site visitors are most drawn to.
Test different content and design variations so you can see which conversion rates are the highest amongst the two.  What's more, you can create unlimited variations of content in each test and pit them all against one another to see which one is the ultimate winner.

As a natural extension of the Divi Builder interface, Divi Leads is easy to use.  To start, enable split testing, select testing subjects using the visual setup process, and configure your test variations.  From there, assign specific goals and watch as Divi automatically tracks your test results.
Fluid and Responsive Design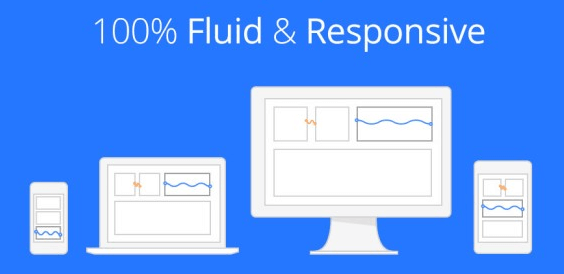 It's not enough that Divi was built to be fully responsive and 100% mobile friendly.  After all, these days this is necessary with any high quality theme, whether free or premium.
However, Divi likes to be number one, and the way to get to the top is to make yourself better than the competition.  One way Divi does this is to ensure perfect fluid responsiveness and integrate responsive editing controls into the Divi interface.
As mentioned earlier, Divi displays beautifully on all devices – desktops, tablets, and mobile phones – without users having to scroll, zoom, or flip their device.  And now, as a website owner, you can guarantee this by taking advantage of the responsive editing controls built into both the theme options panel and Divi Builder.

Simply click on the icon of the device you want to view and see how your website will render to those accessing your site from that type of device.  Since Divi was built with responsive design in mind, chances are everything will be in place, as it should.  However, in the off chance it's not, this is your chance to make appropriate changes and provide the best user experience possible.
Final Thoughts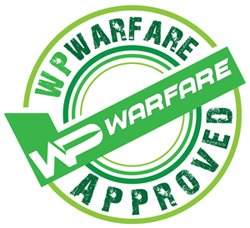 In the end, Divi is by far one of the most feature-packed WordPress themes on the market today.  In fact, aside from what I have shared with you today, there is so much more I didn't even touch on that sets Divi above most other multipurpose themes available, which is why we can easily give this theme our stamp of approval.
In terms of design and functionality, Divi is an excellent choice.  It caters to all website types and has every functionality one could need – without having to install a huge selection of plugins to achieve the same goal.  In the end, Divi truly is a multipurpose theme, and one that is flexible, affordable, stunning, and easy to use.