Last Updated on by Vairo Kremanis
Happy Thoughts gets its name from the vibrant and cheery look that this theme is made with. It is a proper business WordPress theme that is best suited for small businesses, corporates, agencies, freelancers, and other professional websites. This WordPress theme from CyberChimps offers many premium and useful features that complement its pretty appearance. In this article, we will be reviewing the Happy Thoughts WordPress theme and exploring its features in detail.
Happy Thoughts: A General Overview
Layout options
Happy Thoughts – Corporate WordPress theme offers flexibility and customization in its layouts, be it the homepage or templates. There are 2 homepage layouts to choose from, one with a full-width slider and one with a 3-column slider. The latter can be used to display images of blog posts.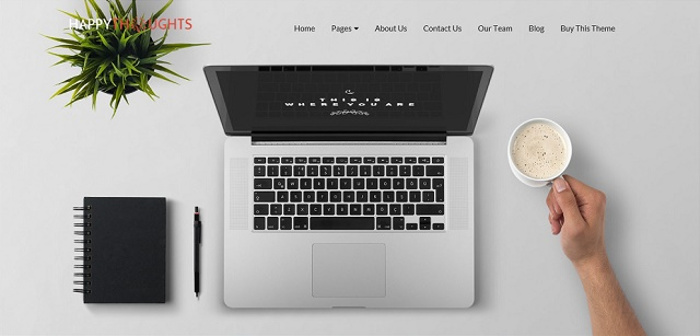 There are 2 primary page templates, About Us and Contact Us. Depending on which one you choose, the theme pulls the appropriate data to display. There are also 2 options for blog layouts, full-width or 2-column, which is always nice to have.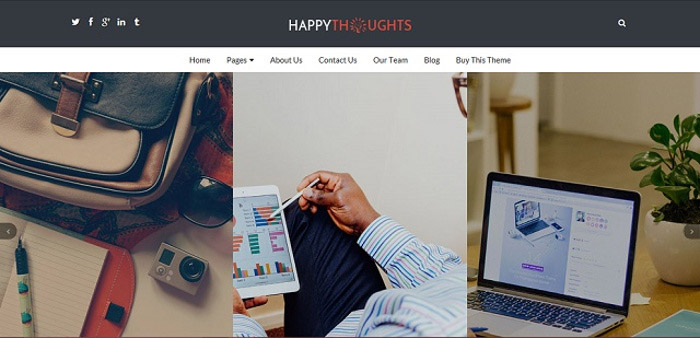 Another option that doesn't relate entirely to layout but is still in the vicinity is the breadcrumbs option on the page title. You can choose to show your viewers their navigation path at the top of the page. Although quite common practice, not all themes have it and for a business site it can eventually become quite useful.
Display options
Happy Thoughts offers some visual elements to enhance the look of your website. Let's check them out in detail.
Slider
Happy Thoughts is a slider-integrated WordPress theme, sparing the need for you to download a slider plugin. The slider is present on the homepage, right at the top. This is where you can display various images or blog post featured images.
Count Up

A count up section can be used to demonstrate various statistics of your business like clients served, issues fixed, awards won, services provided, etc. You can display any metrics of your company that you want. It adds up to 4 count ups, and features animation effects as well.
Callout
The callout section allows you to highlight any particular piece of content that you want your users to see. It also includes a CTA button and space for an image on the left. As we're moving towards the end of 2017, we're seeing more and more business owners implementing such or similar features on their business sites, so definitely a good one to have.
Features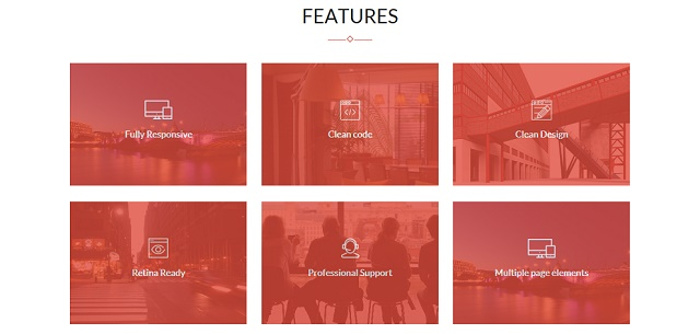 Just like callout, the Features section can also be used to display some of your most popular content. It displays the content in boxes, fetching the title and some content from the posts. Together with the background image it looks particularly nice. You can check it on the DEMO site.
Testimonials
The theme also features a testimonials section to display the client reviews or feedback you want to display. This is another rather popular element we get to see being used more and more often on the main pages of the site.
About us
This is pretty self explanatory, right? You can create this page the way you prefer, all the elements are available to put them into a good use.
Portfolio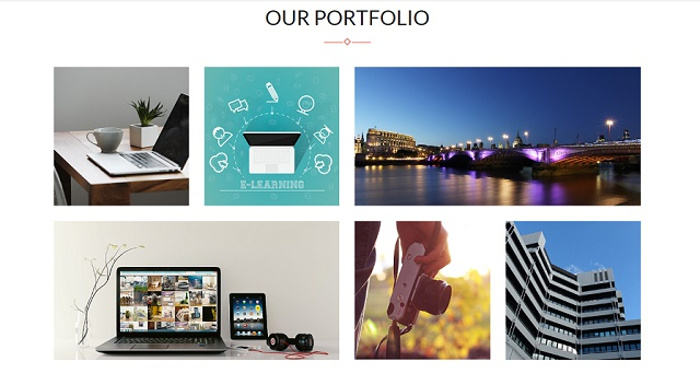 The portfolio section makes use of the Lightbox feature to display your images in a catchy manner.
Team
The Team section has a drag-and-drop feature wherein you can add team member photos and information.
Skills
There is a skills percentage section where you can show your company's expertise, domain, or skills. The section features circles with percentages of completion.
Widgets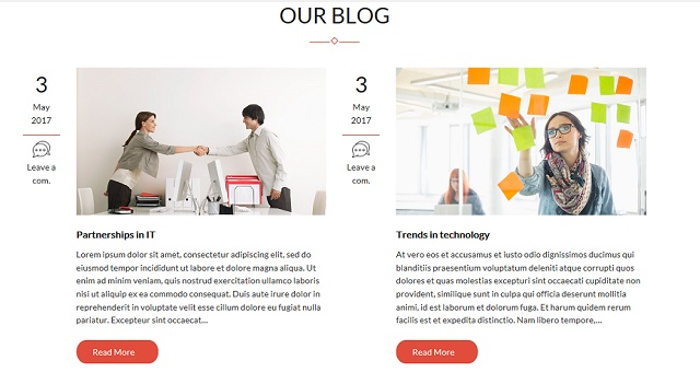 Happy Thoughts has numerous widget layout and display options, giving you the freedom of adding widgets in various places on the website. You can display your contact information, recent posts or latest projects in widgetized form.
Wait, there's more!
These aren't all the features yet. Happy Thought has a little more to offer.
Responsiveness
This theme is fully-responsive and looks great on smartphones, iPads, tablets, and desktops. It adapts seamlessly to screen sizes and resolutions without losing its effectiveness.  I've tested it on 3 different devices and was very pleased to see how well it works on all of them. Good job to CyberChimps for creating a clean and responsive code. Many theme developers still fail to deliver this.
Optimized for ranking
Happy Thoughts is SEO friendly to help with your search engine rankings. This is an especially useful feature for new websites that are yet to be crawled by Google. It's a light weight theme with very clean code which can work in your favour when comparing to heavier code themes.
And other features as..
Twitter Bar
Video files
Header elements
Google Maps
Getting this theme – Pricing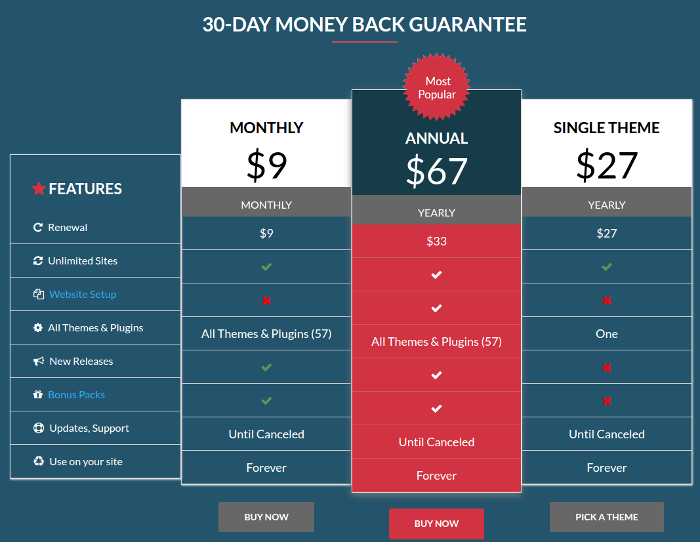 If you want to download Happy Thoughts, you can do so from the Cyberchimps store and get this single theme for $27. Or you can opt for CyberChimps Club which provides you access to current 57 WordPress themes & Plugins including Happy Thoughts. The theme has a 30 day refund policy as well as after sales support.