Last Updated on by Vairo Kremanis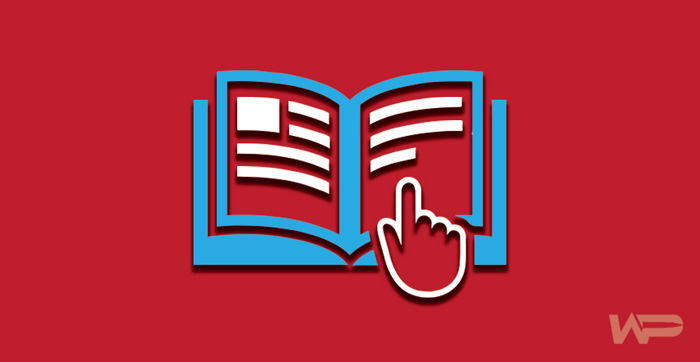 If you enjoy writing fan fiction, and plan on showcasing your work on your WordPress site, then you may quickly realize that there are a few common problems that you can run into. The thing about most fanfiction is that it is often written (and posted) in installments… and initially, it can seem like regular WordPress posts are awesome for this purpose.
But… the bad thing about posting fanfiction as regular WordPress blog posts is this… you will find that, as you post more new fiction in different posts, you will have a more and more difficult time archiving and organizing it.
So, developing a fanfiction archive for your site is really important in this case. It will help your readers to be able to easily navigate your work, which will make your site (and your work) more accessible. This will, in turn, help to increase and sustain your visitor base.
But how do you create a fanfiction archive with WordPress?
Here is what you need to know.
Why Do You Even Need A Fanfiction Archive?
WordPress, by default, utilizes two basic types of content. These are posts, and pages. These content types serve most common purposes extremely well… but fanfiction doesn't really fit very well into either of these.
There are a number of reasons for this… but mostly, fanfiction is usually something that is kept separate from the main blog on a site. Writers may also want to be able to add collaborators, or even work with other writers to write books using their site. Some developers even want to post fanfiction in a number of different genres.
So, to solve these problems, you can use custom post types and taxonomies. These will help you to create an awesome fanfiction archive that will not just make it easy to post and organize your content… but that will also make it easy for your audience to find what they are looking for.
So let's get started.

The First Step To Creating Fanfiction In WordPress
The first thing that you will need to do is to install one of our favorite writing plugins… WriteShare. This is a free plugin available on WordPress.org, and is one of our favorite tools for solving fanfiction post problems on WordPress. You will need to install this plugin, and visit WriteShare >> Settings to configure the settings for it.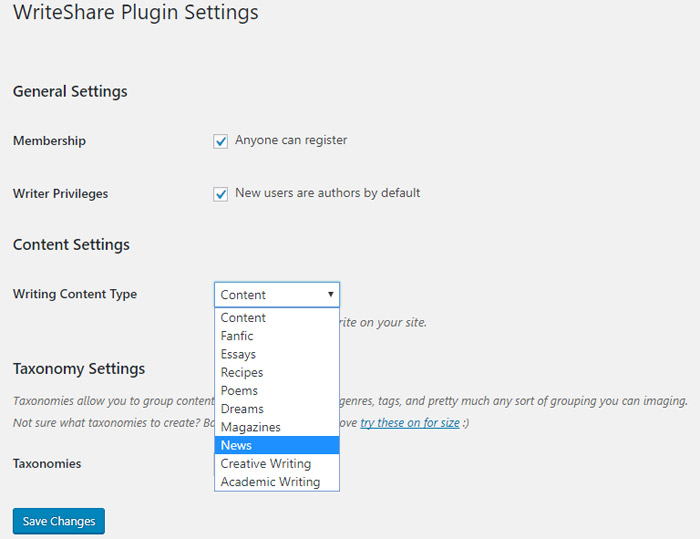 Now, here is where the settings start to get important. If you want to allow users to register on your site and create their own fanfiction, then you will need to allow users to register in the settings. You also need to go to the Writer Privileges checkbox to make sure that those users become authors.
You can also leave these options unchecked if you don't wish for users to be able to post like that.
Now, you will notice that you will have the option of 'Fanfic' in the Writing Content Type option in the plugin. This is super easy to select, and does a lot of adjusting for you automatically based on what you will need.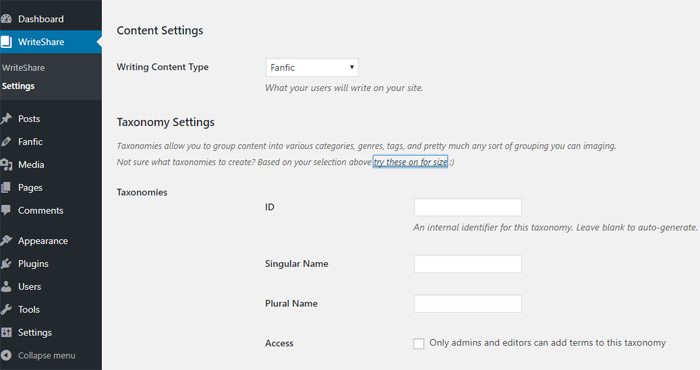 You will then reach the plugin settings having to do with taxonomies. This pretty much allows you to group different content types. You can actually select the 'try these for size' link here, and the plugin will automatically create taxonomies for you, based on the type of content that you selected in the previous settings.
For Fanfiction, this means taxonomies for genre, book, and chapter will be created. Of course, you can customize this at will – but the default is pretty impressive.
Adding Fanfiction To Your WordPress Site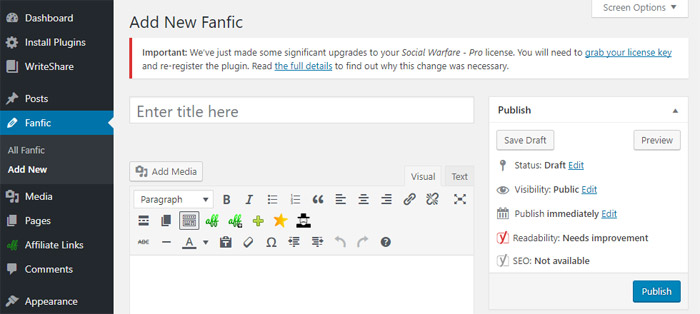 To add new fanfiction to your site, you can visit the menu item labeled 'Fanfic.' This will be located on the sidebar. Follow this to Fanfic >> Add New to add a new page. This will take you to a very familiarly-styled WordPress layout for writing fanfiction, and will give you the option to write fanfic content much like you would write out any other type of content.
Displaying Your Work On Your WordPress Site
You can add new fanfiction pieces now, but you will notice that your new work is not yet showing up on the site for visitors. To change this, you need to go to Appearance >> Menus. Here, you can edit the navigation menus of your site.
To do this, you need to click on the custom links on the left column. This will expand them. Then, you can type the URL of your fanfic archive page into the space provided. It would read something like this…
http://example.com/fanfic/
Except, you need to make sure that you are replacing the example.com with your own domain, of course.
Then, in the link text field, you can enter Fanfiction, and then you can click on the 'Add to Menu' button.
This will cause a new menu item to appear. It will be labeled as 'Fanfiction,' and will appear in the right column. You can now drag it and drop it, to custom-adjust the position… and bam! Just make sure to click on the 'Save Menu' button, so that you don't lose your changes before you exit out!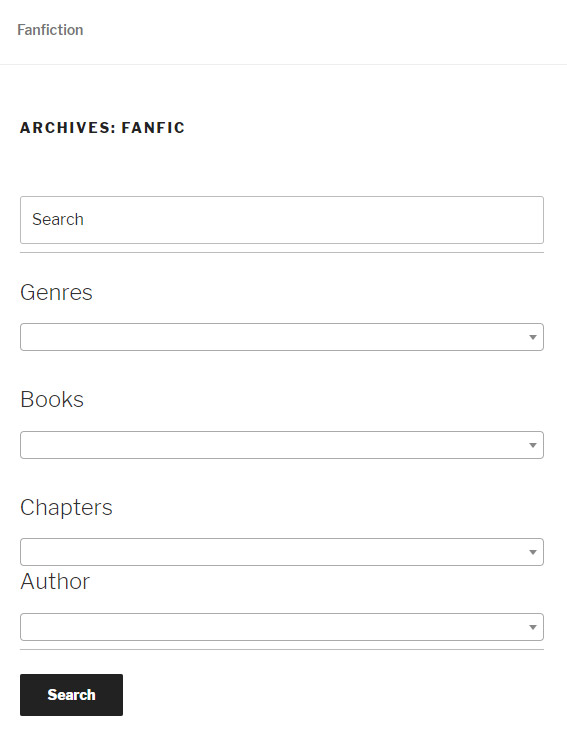 You can also build a Fanfic writing community on your WordPress site with this plugin.
To do this, you just go to WriteShare >> Settings. Then, enable membership and writing privilege options, and review your taxonomies. In this section, you can customize and restrict how authors can use taxonomies on the site, which is very handy. After saving your changes, you can then go to Appearance >> Menus, and add the following links to your navigation menu.
http://example.com/write/
http://example.com/profile/
Now, just save your changes – and you will have successfully created links to where users can log in to a page and write/submit fanfiction of their own, thus laying the framework for a thriving fanfiction community! This will allow them to edit, write, and access their fanfiction without gaining access to the admin area – which is pretty cool!