Last Updated on by Vairo Kremanis

5 Things You Cannot Neglect
Although most restaurants have websites of their own, many of them are so dated that they look terrible and do little or nothing to help establish a trustworthy reputation. Others might get by, simply assuming they already have a well-established presence and that they need not worry about their online existence. However, now that consumers invariably use the Internet to look for local venues, it should be perfectly clear that all of those social networks and rating and review websites serve an important purpose.
In spite of the growth of social media, mobile apps, and various other digital innovations in recent years, your website is still of utmost importance. Although it may no longer be the first online experience that people have with your business, for many potential customers, it will be the deciding point when it comes to reserving a table. There are still many reasons to visit a restaurant website, such as to check the menu and price-list, get directions, or even make a reservation. As such, your website serves as the hub for the entirety of your digital presence and marketing efforts.
Menu and Price List
Since many people will already know where you're located from the results in the search engine listings or on websites such as TripAdvisor, the main reason for them to visit your website is usually to find the price list. Understandably, consumers assume that the most up-to-date menu will be one they find on your website. Some restaurants don't have a static menu, but this also doesn't mean your website should not give some indication to your price range and the type of food you specialize in.
Most restaurants simply upload a PDF copy of their printed menu, but this is an annoyance to many users, particularly those on mobile devices. Although PDF files are usually rendered correctly on any screen, it is much better to present your menu as a responsively designed webpage that is easy to read on any screen. If your venue doesn't have a printed menu, and/or changes it regularly to offer daily or seasonal specials, then you'll also want to present these on your website along with the prices. Publishing a wine list and drinks menu is also advisable.
Interior Photos
Although relatively few potential customers will visit your website for the sole purpose of looking at photos of the establishment, photos undoubtedly photos have a big effect on purchase-making decisions. No matter how enticing your menu and prices might be, it's often the visual appeal of your website, and the photos on it, that help visitors to make the final decision between visiting your venue and turning elsewhere. Since restaurant businesses rely a lot on visual appeal, excellent photography is an absolute must.
Professional photos of your establishment also serve a more practical purpose in that they instantly tell your target audience what sort of venue it is, whether it's a pre-party hotspot, a place for a quiet and romantic dinner, or something else. Just as the interior design should complement the type of cuisine the venue serves and the audience it caters to, so should its visual presentation on your website, social media profiles, and other online resources. You can further leverage the power of professional photography by publishing images of some of your signature dishes.
Location and Directions
Another practical reason for people to visit your website is to find directions and contact information. It is also extremely important for search engine optimization (SEO) that you keep your name, address, and phone number (NAP) consistent and up-to-date across the board. It also needs to be formatted and presented in exactly the same way not just on your website, but also on any other online listings you have, such as those on social media profile pages and directory listings. Consistent NAP listings will help to boost visibility in the search engines and prevent confusion.
You also will need to give directions to your venue; the most practical way to do so is to integrate Google Maps into the appropriate page of your website. This will ensure that people can easily find your restaurant, no matter what device they're using. You can embed Google Maps simply by zooming in on the address, choosing the map type, specifying the dimensions, and copying the code provided. You can insert this code into your website's HTML code or into any widget that supports HTML input, such as those provided by most content management systems.
How to Make Reservations
Many of your visitors will come to your website in the hope of making a reservation. Others might not be so sure when they first arrive, but if your menu is enticing enough to make them change their minds, then you definitely won't want to lose them at this point. Therefore, it is essential that your website features a reservation page, along with clear buttons linking to it on the homepage as well as any other page of your site. You'll need to provide all of the necessary reservation options and make it as quick and easy as possible for people to book a table.
Most restaurant websites get by with a basic contact form, such as those in the form of widgets with many content management systems. However, many visitors are not impressed with generic contact forms and would rather know that their reservations are guaranteed immediately. For this reason, they may want to phone to make an immediate reservation or use an online booking engine that confirms their reservation immediately, as is the case with most hotel booking websites. There are many popular solutions, such as Resmio and Resdiary.
Or, if you are using WordPress then the most simple way would be to use a FoodPress Plugin. See the image below to understand how such WordPress Plugin reservation form would look.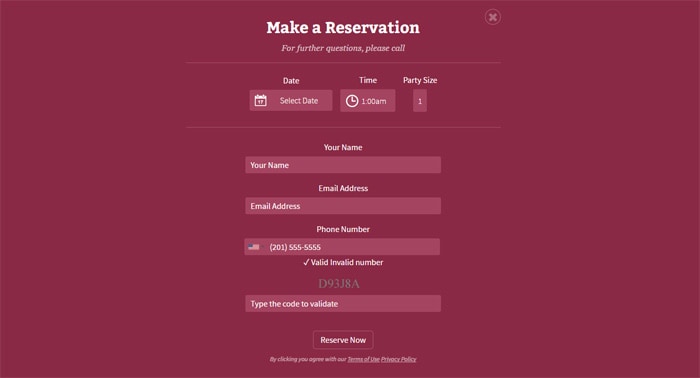 Special Offers and Events
Online deals are a particularly important part of any digital marketing strategy for restaurants, and while it's wise to use services like Groupon to fill empty tables, you can also use your website for drawing attention to the hottest deals. Since your website serves as a hub for all of your online activities, it's typically where people will go if they want to find out more about specific offers or events, even if they first heard about them only through a social network or another third-party source. As such, your restaurant website should have a dedicated page for events and offers.
You can also draw attention to special offers and events by listing them on your homepage so that they're always easy to find, even if people have to visit a different section of your website to find out more. You may also want to offer printable coupons on your website and with your email newsletters. Alternatively, providing a special offer to new email subscribers or social media followers can be an effective list-building tactic, though it is essential that you avoid any deceptive marketing tactics while doing this.
To create genuine value, your website should provide all of the above content while also remaining simple and accessible to everyone, regardless of what sort of device they're using to access the Web. You can greatly decrease the time it takes to build a working website by using a content management system such as WordPress and choosing a customizable theme designed specifically for businesses like yours. In addition, you'll want plenty of professional photography, a suitable domain name (typically the name of your venue), and simple navigational elements.
Our Favorite 2 WordPress Themes for a Modern Restaurant Website
Divi Theme
What has come to my attention is that some of the nicest looking restaurant themes that I found have all been built on Divi theme which was developed by ElegantThemes team. This is a premium theme and comes with some of the most advanced features out there, including visual drag & drop page builder, 46 content elements, more than 20 pre-made layouts (including Divi Cafe), responsive editing and a lot more cool features.
Here are a few screenshots of some of the Divi child themes that have been built for restaurants.

If you want flexibility and simplicity in terms of modification, or simply a great looking and ready to use restaurant or cafe theme, then go no further, Divi theme has all that and more.
The Restaurant Theme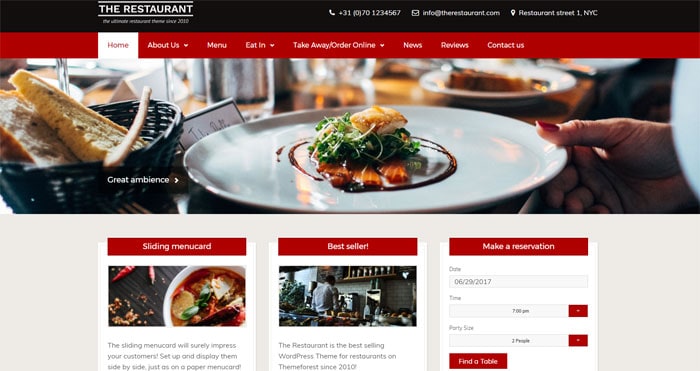 This is a very modern and slick WordPress theme with a wide range of customization options, starting with color picker to change the theme color in a simple manner, built-in reservation module, WooComerce support, a layout switcher to add your own sliding menus and much, much more.
This theme has a massive list of features and developers behind it keep improving it on monthly basis so expectations in general are very high for piece of art.
If it's an easy to use, responsive and modern Restaurant theme your're after, then this is definitely a good choice.