Last Updated on by Eddie Kremanis
The 404 error is probably one of the most recognised errors on the web and I'm pretty sure that most of WordPress users have encountered it at some point. The 404 is the response status that your websites hosting server sends to visitor's browser when the visitor gets on a page (URL) that does not exist.
WordPress deals with this pretty well and lets customize that page as needed within the themes. Witch is why most of the themes come with their default 404 pages in place. But what if you want to create custom 404 page that lets you manage all those 404 url's as well?
Meet Forty Four, a super lightweight 404 page and URL redirection plugin for WordPress created by Jeffrey Carandang from phpbits. It's packed with features, very simple to use and I love it. You can install it by going to Plugins > Add New and search for Forty Four.
Install the plugin, activate it and try to enter a URL of your site that does not exist. Your new 404 page will come up similar to ours that you can see here. Mind you, I'm using a Pro version that allows for custom logo, popup menu, and additional page layouts.
To see the logs, manage your 404 URL redirects and customize the appearance of your 404 pages, go to Appearance > 404 Page.
How is Forty Four 404 Plugin Different?
Let's look how is this plugin different from the other 404 plugins and why so many people love it – including me. Let's go over features and advantages of Free Forty Four plugin at first and then look at more options that are coming with the Pro version of this plugin.
Super Lightweight And Fast WordPress 404 Page
This 404 plugin does not include the header and the footer, any unnecessary scripts, css, images and other stuff used by the theme or plugins. The only thing you have is the styles and scripts that are used by Forty Four to display this page. The result of this is a super fast WordPress 404 page that shows instantly to your visitor. And this is important because you don't want your visitors to wait for a two or three seconds and then display a page that doesn't exist.
Responsive Modern Custom 404 Page Design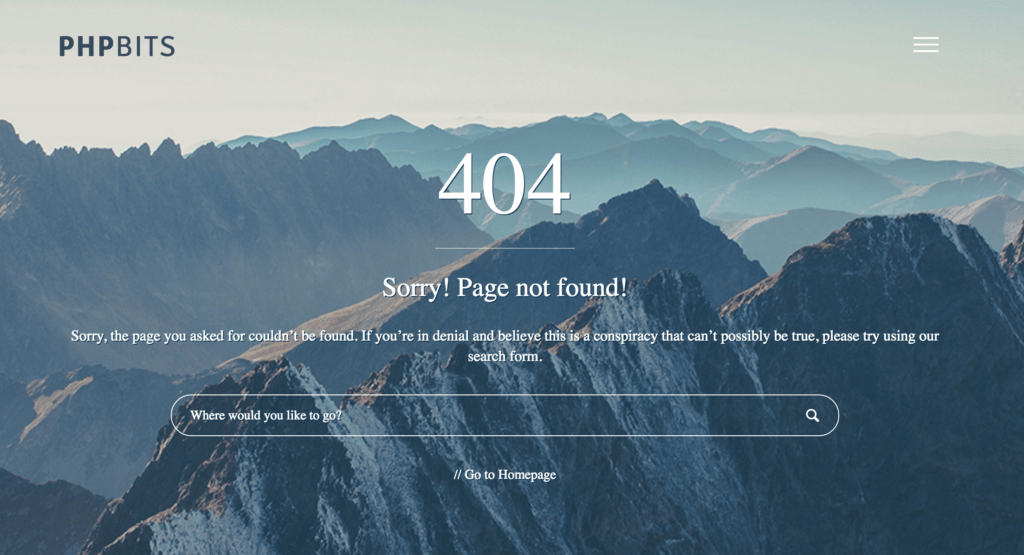 It's time to ditch your bland default theme 404 page because Forty Four comes with modern and responsive 404-page design that lets you upload your own custom background and change the color scheme to better match-up with your current WordPress theme and color scheme.
Visit Logs of 404 Error Pages
It offers the ability to see all the 404 links generated and how many times the pages were viewed. This is great as you can easily see if you have any broken links on your site and then decide whether or not redirect them to another page. You can find all 404 links visited on your site under Appearance > 404 Page: Logs tab.

Manage Your WordPress 404 URL Redirects
Forty Four also allows you to manage those  404 URL's and add a custom link redirection for each 404 link, and redirect visitors to other pages using statuses 301, 302 or 307 instead of a WordPress 404 page. To edit a URL you need to click Add/Edit Redirect in the Logs Tab. A new window will pop-up with a URL management options.

Get More Control Over Your 404 page With Forty-Four Pro
The free version is very good but if you want even more customization then you can upgrade to Forty-Four Pro to get access to all WordPress 404 Plugin Features.
Logo Branding – Personalize your WordPress 404 page by adding your logo.
Modern Pop-up Menu – Add a modern-responsive menu to your 404 page for easier navigation for visitors.
Additional 404 Page Layout – Match your 404 background image with left and right aligned layouts.
Google Fonts Typography Option – Choose what ever google font you want and change font sizes.
More Detailed WordPress 404 Logs – view your WordPress 404 visits time, referrer, IP and user agents.
User Searched Keyword Logs – See what users are searching on the 404 Page Search Form.
WordPress 404 Page Visit Referrers – See the top referrers so you can notify websites that are linking to a 404 page on your site.
Custom Scripts Option – Add custom CSS or JQuery scripts to your 404 page.
FortyFour Pro Plugin Giveaway
Together with Phpbits we are giving away 3 x licenses of Forty Four Pro. So if you have been thinking about creating a custom 404 page for your site don't miss this – enter this giveaway to win one of the Pro licenses.
How can You enter?
This giveaway is for WPWarfare subscribers only. Three winners will be randomly picked from all active subscribers with confirmed email address on our mailing list.
So if you still haven't subscribed to our weekly newsletter make sure you do so. Use the form on the right or any other opt-in form on the site. If you've already subscribed you don't have to do anything. We will let you know if are a winner.
FortyFour Plugin Giveaway Rules
Giveaway will end on July 1, 2016.
This giveaway is for Forty Four 404 plugin for WordPress and we are giving away 3 x Personal licenses of FourtyFour Pro. One Personal license per winner.
When the giveaway has ended, if you are the winner, a 100% coupon code to purchase Forty Four Pro plugin will be sent to the email address you used when subscribing.
Good luck to you all!