Last Updated on by Vairo Kremanis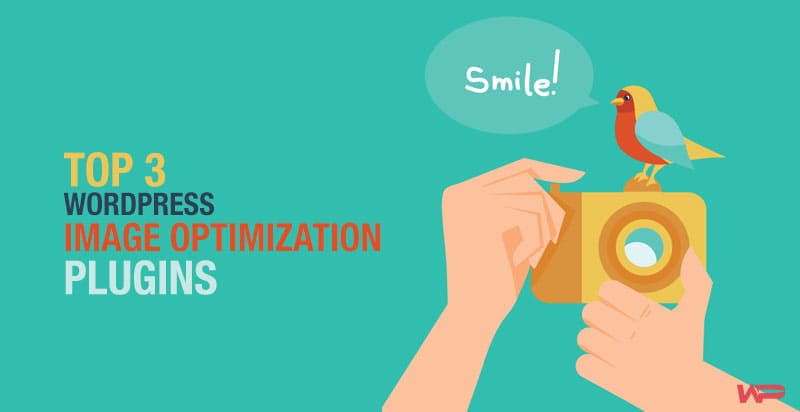 Making a choice between image optimization plugins can be a difficult task. Not only are there so many great plugins offered, you will have to choose whether or not to use the free version or pay for the plugins premium services.
The Decision
Ultimately for image optimization, it really depends on how many photographs you need on your site and what type of quality. For example, if you are in the photography portrait business you may need to have unlimited amounts of room for photographs, images, and other files. The last thing you need is your prospective customers waiting minutes just for pictures to load.
The Truth
According to the Nielsen Norman Group, most users on your website won't stick around much longer than twenty seconds unless you can hold their attention. If the main focus of your business relies on pictures to capture prospective client's attention, a long load time will chase them away.
It is imperative that people are held captive to your site for at least two minutes. It gives you, the business owner the greatest chance to sell your services or product. But in our digital age everything moves quickly. You don't want a slow load time to leave you behind.
Here are the 3 best image optimization plugins that WordPress currently has to offer and the differences between the free and paid versions.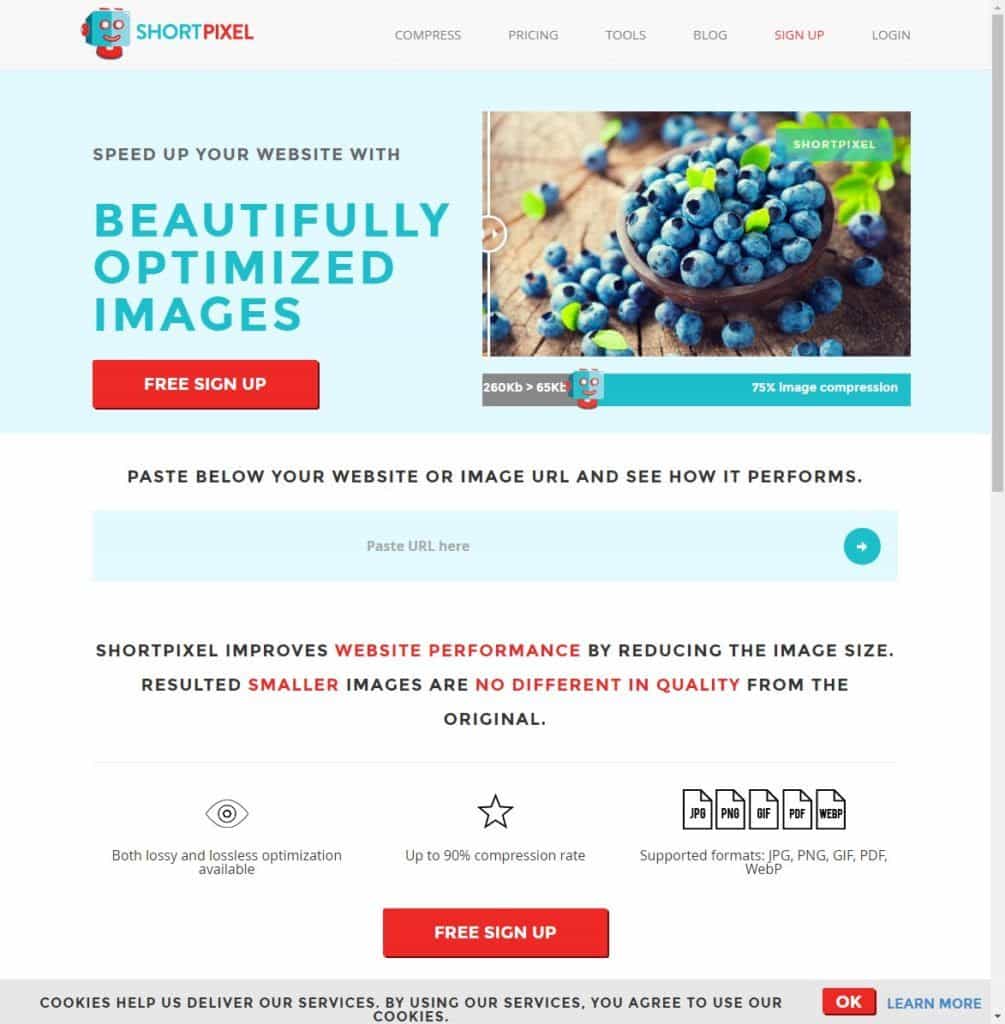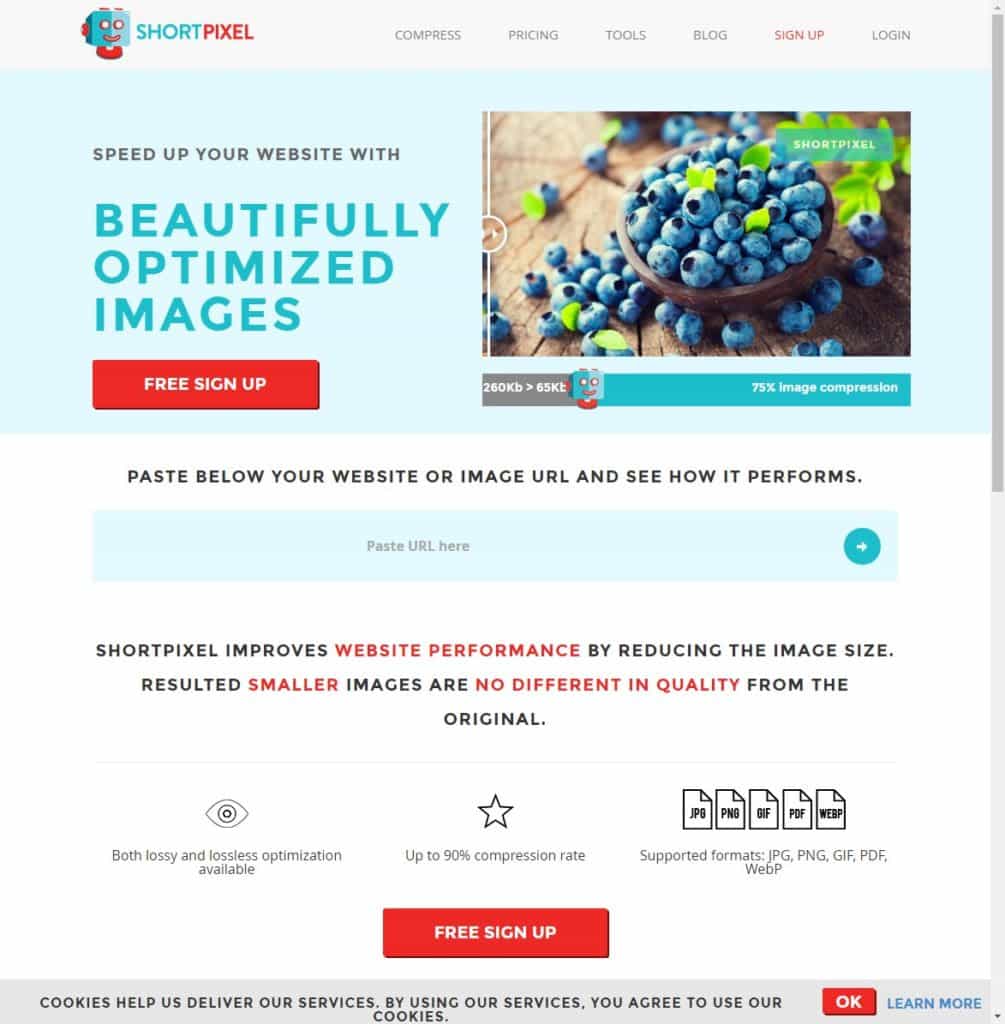 ShortPixel is a cloud based crunching service that removes the extras from your picture files making them faster to upload. It does not shrink the picture size at all and the image quality remains virtually untouched, although some reviewers believe they can spot some abnormalities, it would take a very trained eye to spot even the largest of these follies.
Supported files include JPG and PNG and even  GIF and PDF as well. As you upload these files to your WordPress site, ShortPixel will bring them into the cloud, crunch them based on your predetermined settings, and then replace them in your gallery while keeping the original file.
The advantage of the cloud eliminates the use of CPU or RAM that it would normally take to crunch photos. The downside is that it takes a bit of time to upload them into the cloud and then send them back to your gallery. A high speed internet connection is recommended.
The app itself is free, but you are limited to 100 images per month. This includes derivative photos such as thumbnails as well. Pricing options come in two different forms; subscription or credit bundles.
The subscription options range from $4.99 per month for 5,000 images to $29.99 per month for 55,000 images. Bundle purchasing options are one-time purchases with no subscription fees. They range from a one-time payment of $9.99 for 10,000 images to $29.99 for 50,000 images.
ShortPixel Free

ShortPixel Premium

Lossy and lossless compression
No File Size Limit
100 images per month

Lossy and lossless compression
No file size limit
Up to 55,000 images per month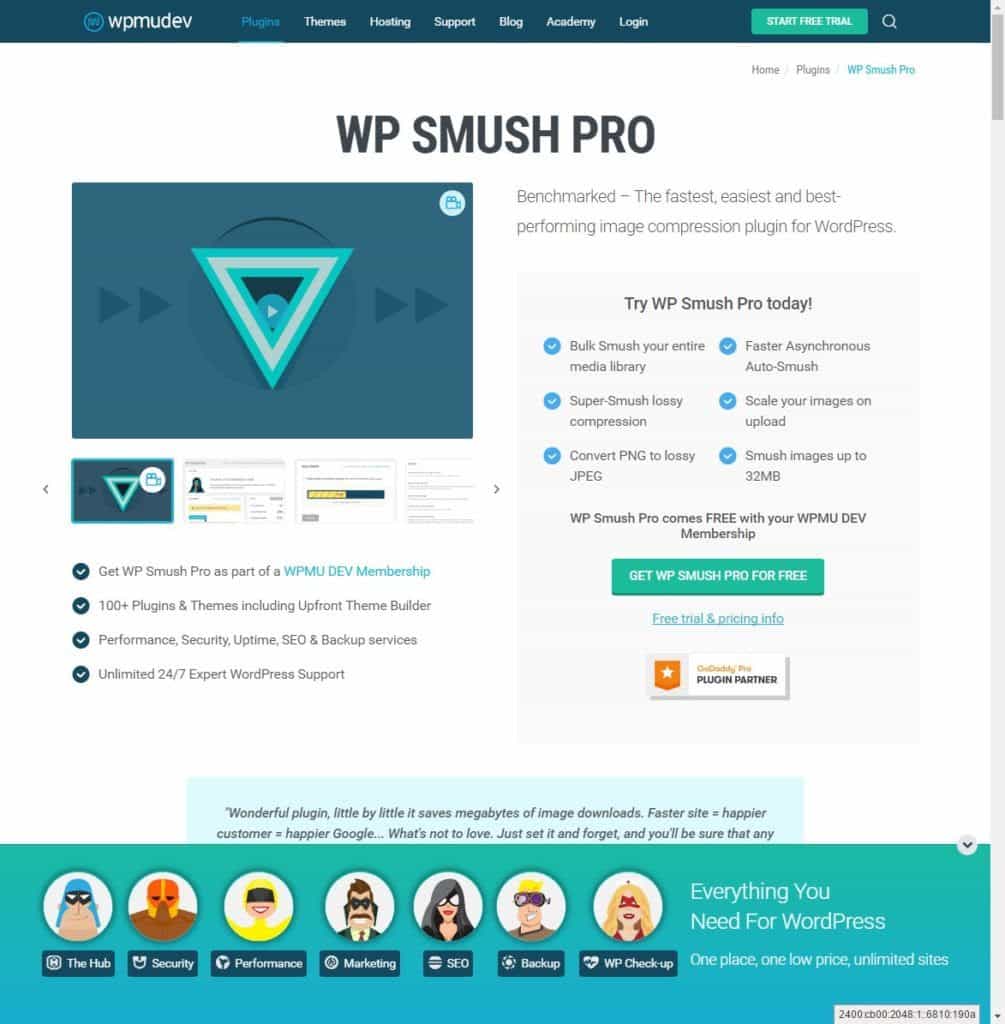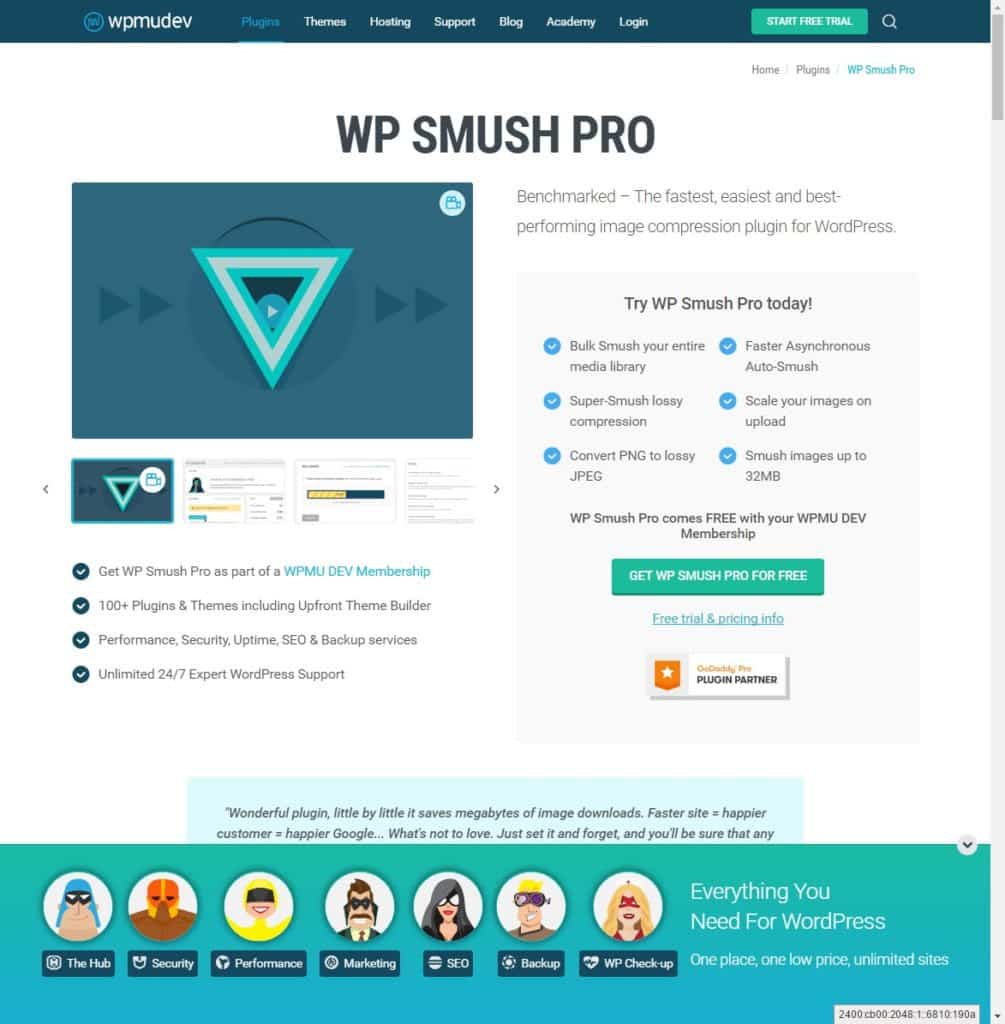 WP Smush is the 2015 reincarnation of the web's oldest image optimization program in Smush-it. Smush it was acquired by Yahoo in 2008 but then suddenly abandoned in 2015. A new Dev team picked it up, rewrote it, and added a back end cloud to do the actual file crunching.
Smush can either individually optimize each image or smush in bulk. Your media library will list the images that have been smushed already or have a "smush now" button. But this option is not available with the free version. The free version works great, but automatically smushes the images as soon as their uploaded with no other options.
The pay version also unlocks several other options for the user including applying lossy compression, integration with NextGen galleries, and backups of the original image. The premium version also allows you to smush images up to 32MB in size and remove throttling for faster downloads.
The pay version, WP Smush Pro, uses a subscription structure that starts at $19 per month and gives you access to all things WP Smush Pro including support from the DEV team. For $99 per month you get Smush Pro plus access to the entire DEV teams other themes and plugins. Both include installation on an unlimited number of sites.
The differences are stark. If you infrequently post and are just beginning or would like to remain a novice, the free version of WP Smush is excellent with over 600,000 downloads and very few negative reviews. But for taking your site to the next level, WP Smush Pro is well worth the money.
WP Smush Free

WP Smush Pro

Auto Smush on upload
Multi-site installation

Single Smush or Bulk Smush
Lossy Compression
NextGen Gallery Integration
Auto back up of original image
Smush up to 32MB images
Multi site installation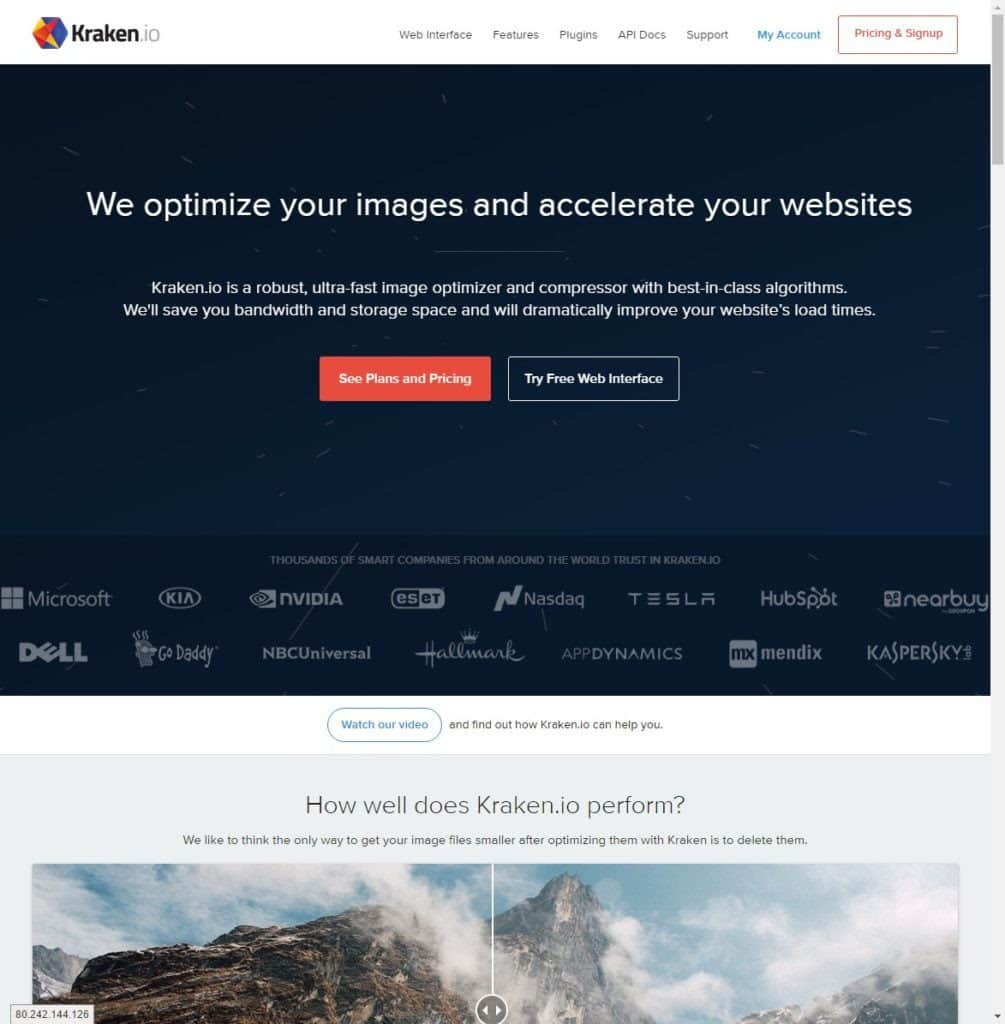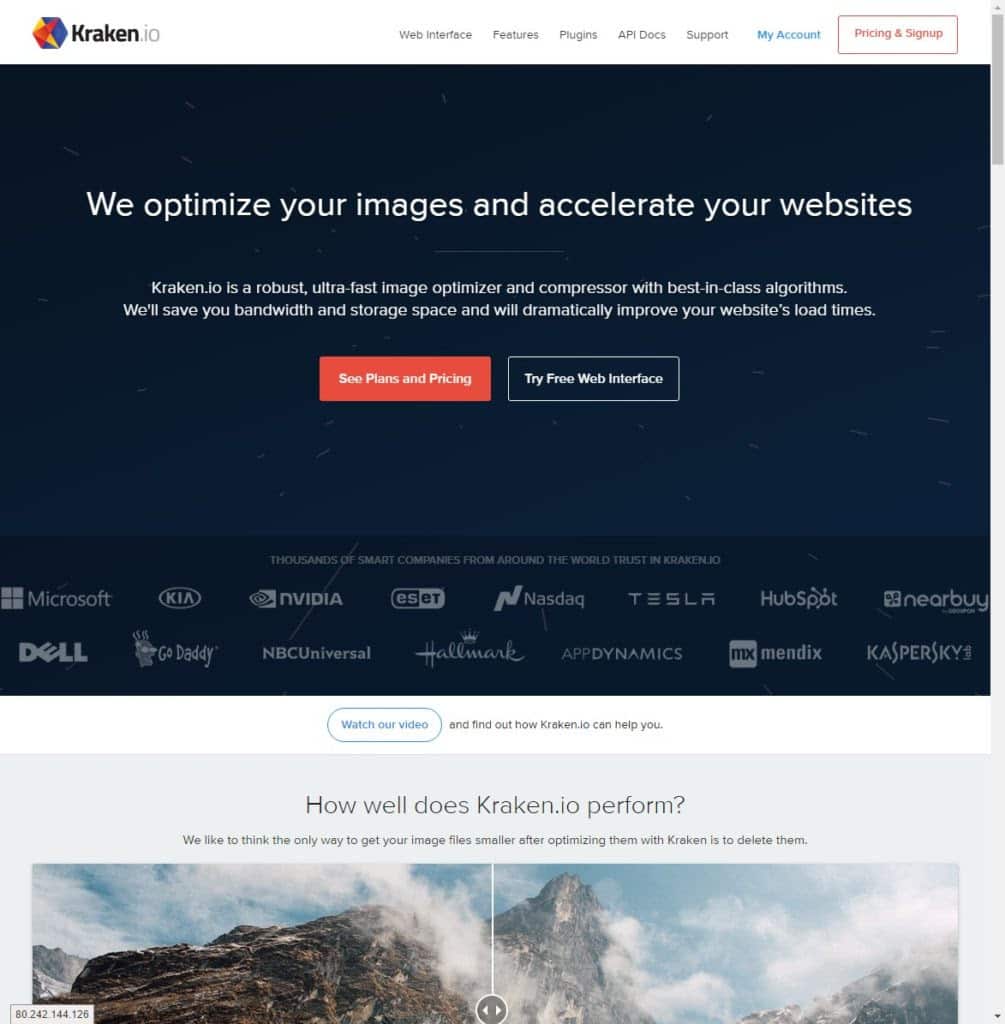 Kraken.io reduces the file size of the images to reduce bandwidth supporting a faster loading website that can improve Google search ratings. Image size will slightly reduce with the use of Kraken.io depending on whether or not you use the lossless settings or lossy compression setting. The lossless settings will see image size reduce by about 10% while the lossy compression can see image size reduction up to 30%.
Setup is a typical download for the free version but the plugin will not work right away. It is required that you sign up for an account with Kraken although a credit card is not needed. The first 50MB is free but after that you will have to start paying for more space in their cloud where the crunching occurs.
The free and paid version allows you to choose between lossy compression and lossless. But if you buy the advanced version it will unlock two more options. One will reset optimization status in order to reprocess them a different way and the other will allow multiple images to be process simultaneously.
One downside to both versions is that you are unable to see how much data you have used through the WordPress site, but have to log onto the Kracken.io site to check.
Pricing ranges from $9 for 2GB per month to $79 for 60GB per month. 50MB for free isn't very much data especially if you post often and the data used isn't just for the images but for the thumbnails too.
Kraken.io Free

Kraken.io Premium

Lossy and lossless compression
50 MB per month

Lossy and lossless compression
Up to 60 GB per month
Change optimization status
Process multiple images at once
Conclusion
Choosing an image optimization plugin really depends on how many photos you will need to upload and how often you will be posting. It might take some trial and error to find out how much space each file takes up before you find the right plugin with the right plan.