Last Updated on by Vairo Kremanis
About
WPX Hosting is, supposedly, one of the best hosting companies out there for WordPress. From the way we understand it, they only offer dedicated WordPress hosting, which puts them heads and shoulders above a lot of other companies out there.
Upon visiting the WPX home page, we were greeted with a banner that said this…
"We average 34 second responses on Live Chat support, says Live Chat Inc. How does that compare with your current host?"
Well played, WPX. They've definitely got some spirit… but can they back it up with their service?
Here's what we found out.
Hosting Plans and Pricing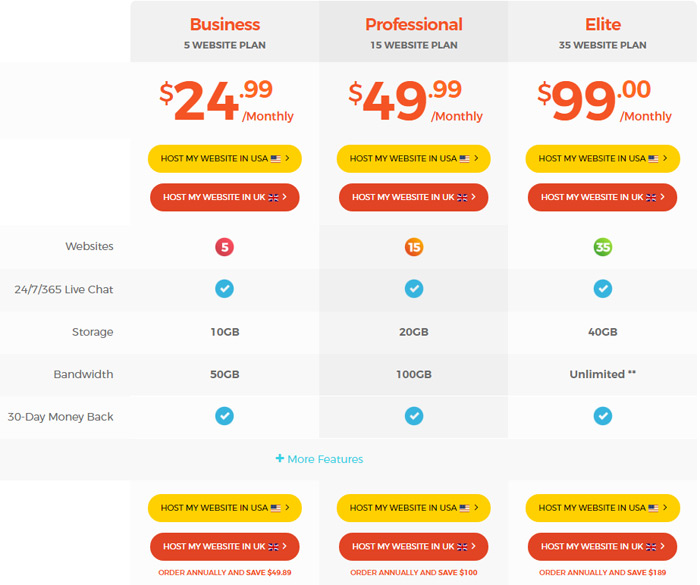 Plans and pricing are two very important things to look at whenever you are thinking about choosing a hosting company for your WordPress site – and we were pretty excited to see what WPX had to offer. As a disclaimer, you should know that we have actually been using WPX for our own hosting needs for quite some time now… but we were still interested in seeing if anything in the pricing options had changed since the last time we checked out their website.
Here is a breakdown of their basic plans.
❖ Business Plan
This plan can allow you to host up to 5 websites. It comes with 24/7 live chat, 10GB of storage, 50GB of bandwidth, and a 30 day money back guarantee. All of this is offered for just $24.99 a month – which is pretty cool.
❖ Professional Plan
This plan allows you to have up to 15 websites, comes with 24/7 live chat customer support, provides you with 20GB of storage, and delivers a huge 100GB of bandwidth. They also give you a 30 day money back guarantee with this plan, which is very awesome. All of this costs just $49.99 a month with WPX.
❖ Elite Plan
This plan allows you to have up to 35 websites. It also comes with 24/7 live chat support, 40GB of storage, unlimited bandwidth, and a 30 day money back guarantee. All of this will cost you just $99 a month – which is not bad by any stretch of the imagination.
Features and Services Offered By WPX Hosting
WPX actually offers quite a range of features that come free with a paid account. Usually, you would need to pay for them with other companies – so right away, we can see that they are offering a lot of value for the money. Here are just a few of the more prominent features that they offer free of any extra charge when you buy a paid account…
There are a lot of companies that make you pay extra for features like this, while most of them are offered free of extra charge on WPX hosting accounts.
About The Company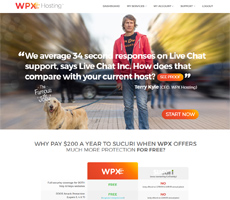 According to the official website, Terry Kyle, the CEO of WPX Hosting, built the service because he had been involved in online business since 1998. But even though he had used probably ever single hosting company out there, his experiences were still mired with disappointment.
WPX was created in 2013, with an aim to help overcome the types of problems that he had experienced during his years as a hosting service customer.
The company basically has 3 objectives… to give you speed, support, and simplicity. And based on our experiences with WPX, they certainly succeed at all of these!
WPX's physical company address is not made readily apparent on their website… but you can contact the company via their live chat feature on their website (this is how we would recommend getting in touch with them) or by clicking in the 'support' tab (if you have an account) and chatting with them that way.
WPX offers 24/7 live help and support on their site, which is pretty awesome. In fact, while we were on their site and researching their plans and pricing, a chat window popped up saying this…
"Hi, if you're NOT already hosting with us, tell me the DEAL you want to move your site/s to WPX Hosting."
Once again, well-played WPX.
But really, all funny stuff aside, their customer support is truly top-notch. We couldn't be happier with it.
WPX has a pretty common-sense cancellation policy. If you cancel within 30 days, then you will be refunded in-full, thanks to their 30 day money back guarantee. If you cancel after the 30 day mark, then you will be refunded for any months that you have not yet used.
This is very fair, and we didn't have an issue with it.
Main Differences When You Compare WPX To The Competition
When you start to look into the advantages that make WPX different from their competitors, it becomes easy to see why they are such a fast-growing company.
First of all, their dedicated  and WordPress optimized hosting makes site loading times SUPER FAST.
HERE is a screenshot showing how fast our / WPWarfare.com site is loading…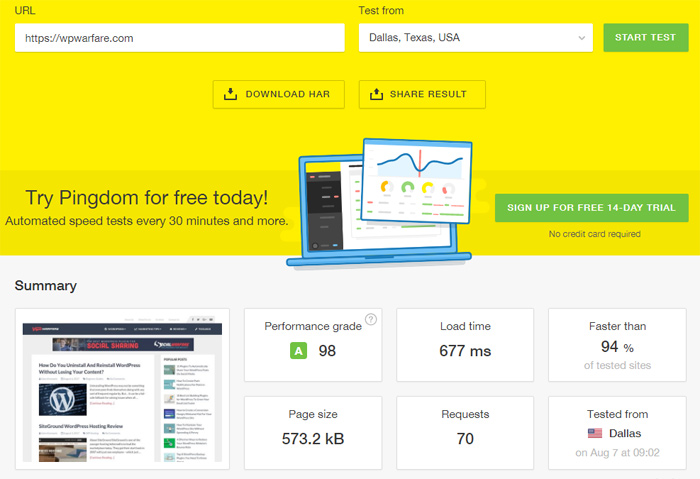 Another thing that sets WPX apart from other companies is how well they seem to be able to handle larger traffic volumes. Many WordPress site owners will tell you that cheap hosting is all well and good – until you need your site to perform well under high-traffic conditions! This will stress a WordPress site to the max, and many hosting services, unfortunately, suffer when the time comes to handle high volume traffic.
But WPX, in both our experience and from what we have read in other reviews, seems to do the trick. Their speeds and uptime don't seem to suffer from extra traffic, which is a huge upside for any WordPress site that would like to build increased amounts of traffic over time.
HERE is our score with Google Developers Tool…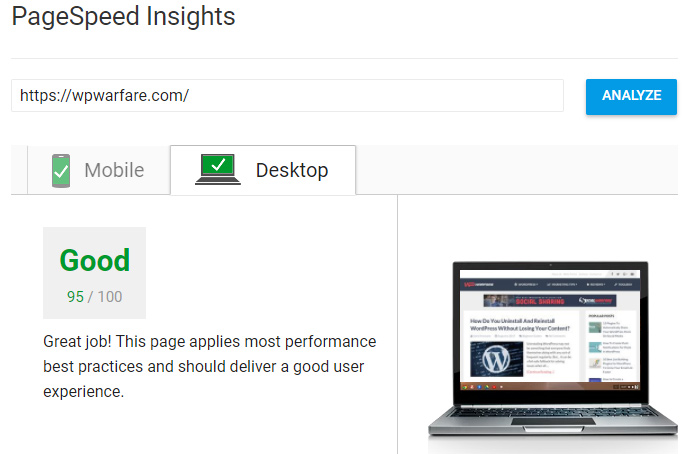 And finally, WPX seems to differ a lot from other hosting services in the quality of their customer service. We have personally experienced this first-hand, but we have also verified it with other WPX users. Simply put, they have some of the best customer service reps in the industry – and this most definitely makes a difference.
As for cons? Well, you will probably notice that WPX is a bit more expensive to start out with in terms of what you pay by the month. But WPX probably isn't really a hosting service that you would look at to get started with if you were just launching a single hobby WordPress site, either.
The simplest plan supports up to 5 sites – which just goes to show you that WPX seems to focus more on the users who would be uploading not just multiple sites, but also multiple sites that were planning on having a lot of visitors.
So yeah, this service might be a bit expensive for you if all you want is one simple hobby site. If you want that, then there are other hosting services out there that will be able to give you service at a cheaper rate.
But for companies or larger developers, you can't really beat WPX on price.
Our Thoughts About WPX WordPress Hosting
There are many reasons for why we chose this service over many of the competitors… but in the end, it really boiled down to this.
We love the features, we feel that the support is top-notch, and we really like how much loading speed we get with WPX.
There are other things that we love about them too – but these are the main things we like.
We feel that WPX is an outstanding choice if you need WordPress hosting, but only if you have needs that are big enough to warrant the higher costs associated with their plans. WPX does offer some amazing value for the money, but they sort of skip the 'small time' and go right for big, multi-site needs – which is awesome for companies or businesses that need reliable and affordable WordPress hosting, but not so efficient for people who just need one, basic site.
If you just want to manage a small WordPress site for fun, then WPX may not be your cup of tea.
What Do Others Say About WPX WordPress Hosting
As far as we have seen, other users seem to have similar things to say about WPX as we do. We have heard a few people say that their interface is almost overly simplistic – but this doesn't seem like much of a con to us.

Has WPX Been Reported On Scam Sites?
No. As far as we can tell, this is most definitely a reputable company that does legitimate business. We have even used them, and have no reason to believe that it is a scam.
The Main FAQs
Q: Does WPX offer any free protection or security with their hosting service?
A: Yes. If you check their site and look at their service features, you can see an entire list of things that they provide, including DDOS Attack Protection (with enterprise-level plans) and full security coverage for both http and https websites.

Q: Do they offer a money back guarantee?
A: Yes, WPX offers a full 30 day money back guarantee on all of their plans.
Q: Have you actually used WPX?
A: Yes, we have been using them for quite some time now, and we could not be happier with the service that we have received.
Verdict And Stamp Of Approval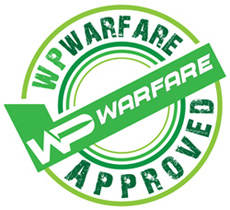 Does WPX WordPress Hosting deserve our stamp of approval?
We believe that they do, for these basic reasons.
First of all, they are very fast. Secondly, they offer awesome features. And third, security is very good. They also offer incredible customer support 24/7, and are an affordable option for larger developers.
If you are in any phase of a scale-up plan and need real speed, uptime, and security to stay astride with your growing site popularity, then this is most-likely going to be a service that you will benefit greatly from.