Last Updated on by Eddie Kremanis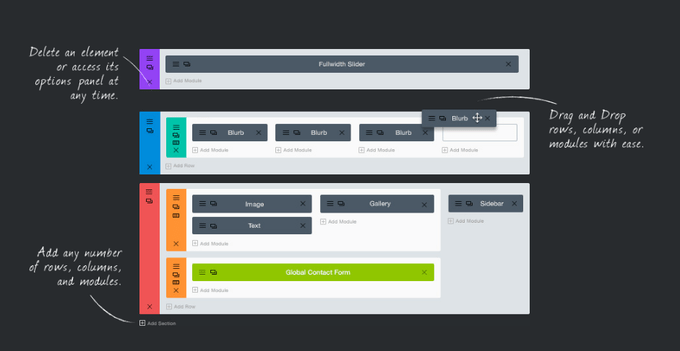 Source code stinks.
And it's not just WordPress beginners who think that.
Seeing as how WordPress has drastically evolved over the years, it's interesting to see the new tools that come about for keeping away from the source code. From shortcodes to drag and drop page builders, these features allow advanced developers to cut down production time, while also generating a user-friendly interface for beginners to make beautiful websites.
Some even argue that the default WordPress customizer is still a little too complicated, and that's why we're currently in an era that favors drag and drop builder plugins for WordPress. However, some of the builders online are complete junk. That said, the best solutions are pretty darn impressive.
They provide handy modules for dragging anywhere on a page, with functionalities for items like videos, sliders, buttons and columns.
The short story is that all you need is a mouse to make something beautiful. Drag and drop editors make it tricky to figure out the difference between sites made by developers and complete beginners.
Since so many page builders aren't up to par, we did the work and put together a list of the top solutions. Feel free to bookmark this page for when you'd like to try out a new drag and drop page builder.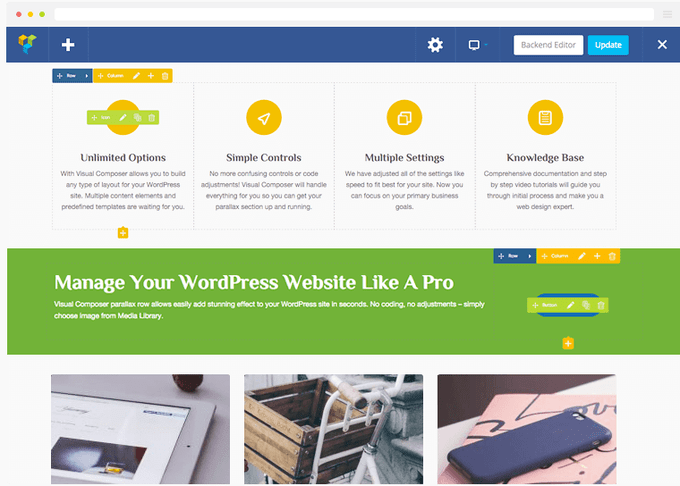 Pricing: $34, with 12 months of extended support for an additional $10.20
The Visual Composer plugin is by far the most popular solution you can find on the CodeCanyon marketplace. Not only that, but many themes provide it for free when you purchase on ThemeForest. It's tough to argue against so many supporters, and the features stand up pretty well to competitors. The unlimited controls and options are useful for adjusting any page on your site, and it's completely ready to work on responsive sites.
Pros
The plugin comes with both a frontend and backend page builder.
You get a powerful grid builder for making portfolios and other galleries.
It integrates with WooCommerce.
Parallax and video backgrounds are supported.
The plugin provides over 45 premium content elements, 60 predefined layouts, 150 third party add-ons and 40 unique grid templates.
Cons
The majority of the functionality in the plugin is based on shortcodes you implement along the way. This means that if you get rid of the Visual Composer plugin you lose all customizations.
Some users have found that when Visual Composer is included with a plugin it is more likely to break.
Has been known to slow the admin system down a bit.
You should get this drag and drop page builder if you:
Plan on sticking with one drag and drop editor into the future.
Want an editor that's pretty affordable.
Need both a frontend and backend builder.
Consider yourself a complete beginner.
Wouldn't mind speeding up your process as an experienced developer.
Are thinking about including grids in your website.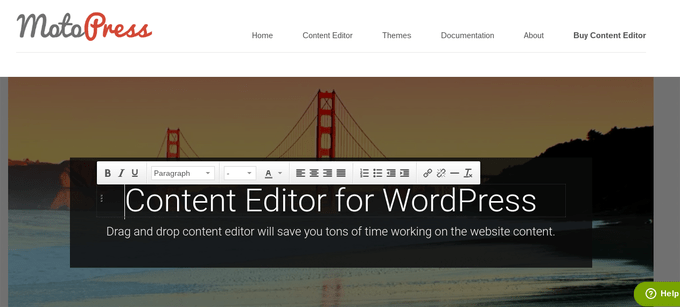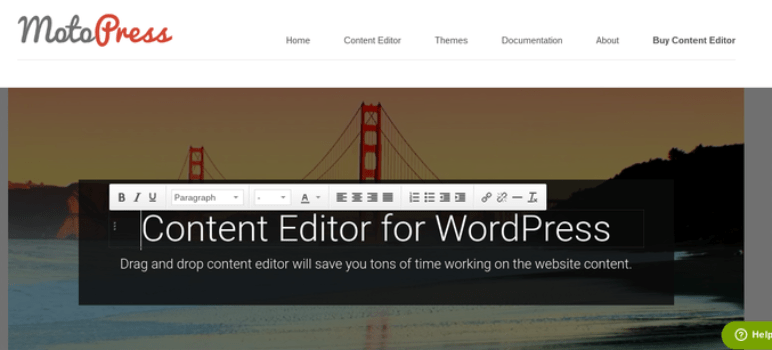 Pricing: Starting at $29
The MotoPress Content Editor transforms that default WordPress editor into more of a visual experience. This means that most of your work will still be completed on the backend, but a quick click of the button provides drag and drop items. Keep in mind that frontend editing is available, but the backend module is often easier.
Pros
Multi-site is available.
Google Web Fonts are packaged into the plugin.
This is a multilingual interface for reaching out to more people.
It integrates with WooCommerce.
You receive quite a few preset templates to get started with.
The pricing is reasonable.
MotoPress add-ons are available for additional functionality.
Cons
The editor isn't activated at all times. Therefore, you must click on the MotoPress button in the WordPress editor to reveal it each time.
The plugin runs on shortcodes, making it difficult to keep around changes if you get rid of the plugin.
The dragging and dropping uses a grid format, meaning that you can't technically place elements anywhere you want.
You should get this drag and drop page builder if you:
Don't mind clicking the MotoPress editor button every time you want to change something.
Would like a more out of the box product with tools for quick customizations, but fewer options for complete customization.
Want more unique content elements like graphs and timers.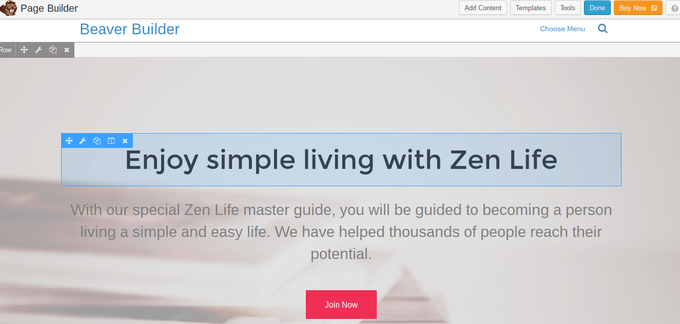 Pricing: Starting at $99 and going up to $399
Beaver Builder is the most expensive on the list, but you get what you pay for. If you look at gobarking.com, it's a great example of the design you can achieve with this awesome page builder.
Pros
You can use the plugin on unlimited sites, even for the lowest priced package.
The support is some of the best you can find.
Get access to premium modules and templates.
Integrates with WooCommerce.
Multi-site capabilities are available.
White labeling is possible.
It combines with regular WordPress widgets for an easy transition.
Importing and exporting is available.
Cons
One of the higher priced plugins on the market.
You must go with the $399 package to get white labeling.
You should get this drag and drop page builder if you:
Don't need to worry about money.
Want to import or export content from the builder.
Need incredible support.
Would like to start off with some solid templates.

Pricing: Completely free
The Page Builder: Live Composer plugin is one of the new players in the game, but it's making waves with tons of five star reviews. The primary benefit is that you don't have to pay a dime for the plugin. It's completely open source, similar to the WordPress platform you're building your site on. In fact, they don't even have a premium version that they could eventually upsell to you.
Pros
The open source nature of the theme means that you get lots of discussion online for support.
It's free.
All of your customizations are done on the frontend.
It doesn't leave any shortcodes behind if you eventually disable the plugin.
The plugin works with responsive devices.
Email support is offered (not often the case with open source tools).
Importing and exporting comes along with the package.
Cons
Open source support is often not as responsive as premium support. You're more likely going to have to spend time completing your own research online if something goes wrong.
Adjusting the size of your modules seems to be a problem.
You should get this drag and drop page builder if you:
Don't want to pay any money for your drag and drop page builder plugin.
Are sick of drag and drop editors that leave messy coding behind after uninstalling.
Would like to import and export and edit any part of your website.
Don't want to edit your website from the backend.

Pricing: Free
Before the Page Builder: Live Composer plugin came around, Page Builder by SiteOrigin was one of the only free solutions that was worth looking at. They don't try to upsell you, and it uses the widgets you know and love for dragging and dropping all over your site.
Pros
You don't have to pay a dime.
It works with widgets, which is great for people who are familiar with WordPress.
You can go back and restore a version that was saved previously.
The plugin has several built-in content blocks, along with blocks that you can add on for free.
No coding is required, and the live editing is mainly done on the backend.
The plugin is available in 17 languages and counting.
Cons
Adding an element often requires you to insert a row beforehand. This is a small step, but most of the other builders don't have this.
It doesn't seem to have a frontend editor.
Importing and exporting previously designed pages is not provided.
You should get this drag and drop page builder if you:
Don't want to pay anything for your drag and drop builder plugin.
Don't mind adding rows before inserting a content module.
Would like a nice library of additional add-ons.
Enjoy working with widgets when in WordPress.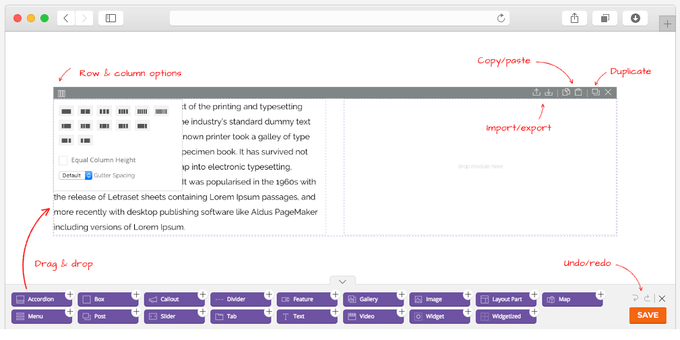 Pricing: $39 (or you can buy a Themify theme with the plugin included)
The Themify company offers a standalone builder plugin along with a large collection of themes with the Themify Builder built right into all of them. The standalone plugin integrates just fine with all third party themes, so you shouldn't have any problems there. The pricing is at the middle of the road compared to other plugins on this list, and it has various pre-designed layouts to get launched quickly.
Pros
The pre-designed layouts are plentiful and beautiful.
Edit from the frontend or the backend (or both).
The Live Preview feature eliminates the need to click a Preview button all the time.
If you make a mistake you can click the Undo button.
Duplicate your layouts to implement them on other sites or other parts of your current website.
The importing and exporting features are great for developers with multiple clients.
Every element combination is completely responsive.
Over 60 animations are packaged into the theme.
Custom styling allows for changing around elements like sliders, fonts, colors and rows.
Cons
The Themify Builder uses grids, which are great for keeping your site organized, but it can seem a bit ridged at some points.
Add-ons are offered, but they're not exactly that cheap.
You should get this drag and drop page builder if you:
Require additional customizations after placing an element on your site.
Would like a reasonably priced drag and drop page builder plugin.
Wouldn't mind the option to buy more addons.
Like to import, export and copy your previously designed layouts.
Like having the option to choose between the front and backend design module.
Think animations would be a nice addition to your site.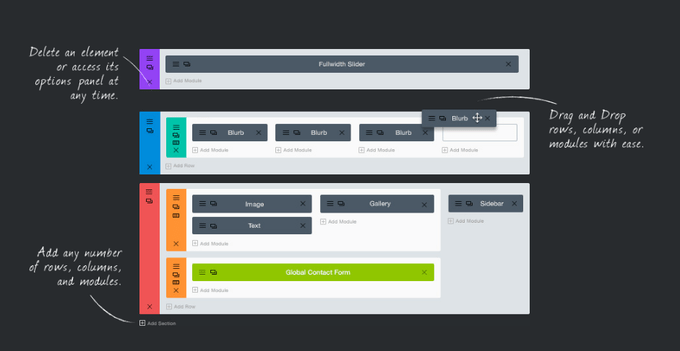 Pricing: Elegant Theme packages start at $69 per year
Okay, this isn't a standalone builder plugin, but it's too good to pass up. We like it best for developers who are going to be making dozens of websites each month, since you must sign up for an Elegant Themes subscription in order to gain access to any of the themes. Seeing as how you can only access the Divi Builder with one of their themes, that's the only way to go.
Pros
The Elegant Themes themes are as beautiful as they come.
The Divi Builder includes over 46 content modules including unique ones like circle counters, toggles and fullwidth post sliders.
Over 18 pre-made layouts get the ball rolling with your whole design process.
You don't have to touch a single line of code.
The design is completely responsive.
Elegant Themes has some of the best support out there.
Cons
You must sign up for an Elegant Themes subscription to access the builder.
You can't just buy one theme from the company.
Some users have reported that exporting to other themes and layouts may not work that well.
Most of the editing is done on the backend, whereas some people may be looking for a frontend editor.
You should get this drag and drop page builder if you:
Want a full package with dozens of themes and the Divi Builder.
Don't mind paying a yearly subscription.
Fancy yourself a professional or freelance developer with several clients.
Crave a wonderful support team.
Want more unique content modules that you can't find anywhere else.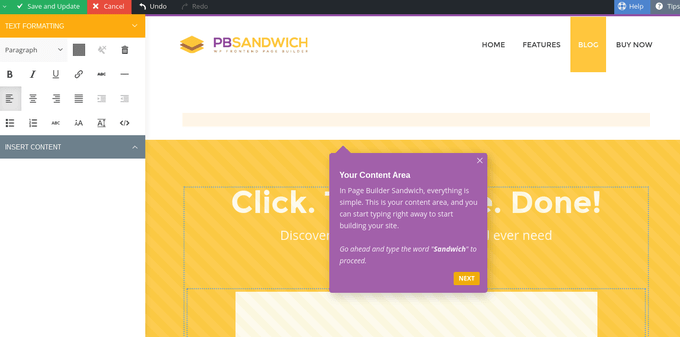 Pricing: Starting at $39 and going up to $89
It may not be one of the most well-known options on this list, but the Page Builder Sandwich plugin has lots to offer. To start, the plugin uses familiar WordPress tools to make it easier for the transition into this plugin. For example, you can add items like text, columns, pictures and videos, all with a simple drag and drop.
Pros
Pre-designed templates come along with your purchase.
Frontend editing is available.
Work with widgets if you feel more comfortable that way.
Undo changes if you make a mistake.
It only takes one step to edit each of the elements on your site.
Cons
The coolest features are actually offered in the $89 plan.
You should get this drag and drop page builder if you:
Like working with widgets.
Want to start off with some pre-designed templates.
Don't mind considering the $89 pricing plan.
Conclusion
Overall, any of these drag and drop page builder plugins for WordPress should make you happy. As for final recommendations, we like Divi for developers who need a bunch of themes as well. Page Builder: Live Composer is my favorite free solution, and Visual Composer is the king of them all if you don't mind spending a little cash.
If you have any questions about the best drag and drop builder plugins, or would like to talk about your experiences with the plugins, drop a line in the comments section below.