Last Updated on by Vairo Kremanis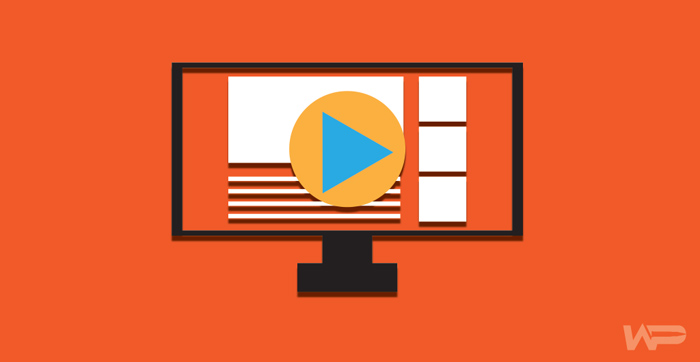 Video content has always been an attractive source of spreading a message among masses. A television is one of the brilliant examples of video content where we see ads and entertainment content. The internet was once limited to images and texts alone. But, the increase of mobile devices and fastest internet connectivity has turned it into a video focused community.
Now, the users prefer to watch videos rather than going through text or images. This is among the major reasons that YouTube, being a video sharing network, has racked a place among search engines. Videos are proving powerful in grabbing user attention either you upload it to your website or sharing it on a social networking site.
A visually captivating video helps you brilliantly present the content and create an interactive user experience. This is the reason that thought provoking videos have increasingly become a major part of an eCommerce web design. With the help of videos, the merchants are making the users stay and find more about their products, services, and brands. To help you impressively incorporate and make best use of videos, we are sharing some of the innovative ways here in this post. Hope it will benefit you in improve user engagement and bounce rate of your website.
1. Welcome Your Users With an Introductory Video
Adding a welcome message right on your website is like hiring a receptionist for your business or an attendant. The users log on to your website and need to know about it. The creation of pages like about us, products or services, is surely necessary. But, you can further assist the users in knowing about your business with a video. Watching a video is preferred the most than reading text like mission, vision, and goals. You can sum up all in a video by the CEO or an Executive member of your organization.
A welcome video has intriguing effects on the users to find more about your products and services, and consider having some of your store items. It may not only be about the business, as you can highlight the positive causes you support. Add interest content to the video according to the interest of your target audience.
2. Create and Publish Vlogs on Your Website
Vlog is the latest form of blogging that is replacing text with videos. Vlog, Video blog or Video log, is a piece of content created in video format. Every business or non-business websites need to maintain a blog to actively interact with their target audiences through interactive content. In the recent years, video content is proving more effective in grabbing user's attention. Keeping the user comfort in mind, most of the web developers are now pursuing video sharing themes for higher usability. it is facilitating users to share content with a click, whereas merchants are reaping the benefit of website internal linking. they can connect other video sources.
You can add videos about the company, its events, and personalities to the blog section of your website. The interviews about notable personalities can also be recorded, edited, and published as videos rather than narrating the whole in the text. Create ease for your readers to quickly grab industry insights from your blog by simply watching the videos.
3. Add Helpful Product Tutorials
Uploading product tutorials is a must have when you need to sell unique and technical items. The users find it difficult to understand the product and how it works when they are dealing with it for the first time. It may be about installation of a WordPress theme, plugin, or any software a merchant may need who is managing his or her small business.
A product tutorial in a word or notepad file is worst in seeking assistance. Instead, you can convert a tutorial to video with visual hints and instructions in a human voice. With the help of a video, the user can easily find the options and get to know the process, and save a lot of time. Additionally, you can upload the tutorial to a video sharing network like YouTube or DailyMotion. Embed them either to the landing pages or share them on social media platforms for higher engagement.
4. Feature Your Workers and the Work Process In a Video
Add value to your website by sharing profiles of your workers in videos. Let your potential customers know you value and expose the artisans and workers at your organization. The internet users often forget websites that are developed with a traditional concept like showing the products only and not relating it to the backend force.
The users are interested to know who made the end product. It is quite common among garment shops to share footage of their employees while receiving and unpacking new stock. It serves two purposes. The first one is getting credibility among the users and the second one is communication fresh product arrivals in a creative video.
The introduction of human may include the software engineers, the developers, or the artists behind beautiful sculptures, paintings, or hand-made products. In addition to the featuring your workers, you can narrate the work flow or process behind the creation of a product as well. It is always an intriguing experience for the users to know the product is made. It is often compulsory while selling hand-made art and craft.
Share Customer Video Testimonials
Customer testimonials and feedback are added to a website in order to gain credibility in the eyes of new users. A user need to review what other people are saying about the product or service you offer before they can draw a purchase decision. They may need to read reviews on other websites, which may not be as helpful as on your own website.
Generally, there is an image, name, and business name of a customer in a testimonial. Why not to add a video to the review to make it more authentic and genuine? Ask your happy customers to record a short video about their experience and add those videos to the landing pages. A video testimonial seems to be more trustworthy for the new users of your visitors as written reviews are often forged and scripted.
If the landing pages of your website are unable to accommodate video content, you can create a dedicated page as well. It will showcase all the reviews that are duly classified in products. Let the users easily access the videos on a separate page and know what your existing customers have to say about the products.
Final Thoughts
Using videos on your website is not a technique. In fact, it is the power of putting lives into the words written on a web page or blog post. Transform the content into visual form and let it play the magic of attracting users and compelling them stay more.
You can make use of videos for a variety of purposes. It can either be about your company, the ongoing operations, events, celebration, workplace life, or customers' contribution. Among various methods, the addition of video tutorials and testimonials may surely prove a game changer for boosting user engagement of your website.