Last Updated on by Vairo Kremanis
About RoseHosting
RoseHosting is a well-renowned hosting company, famous for having brought the Linux
VPS to the commercial market, back in 2001. While they did start with VPS oferings then,
their selection nowadays is much broader, ranging from shared plans, to dedicated
servers. And with countless reviews agreeing on the idea that RoseHosting is one of the
best hosting companies out there, there is plenty of evidence that would make them a
leading web hosting company.
Having many positive reviews makes RoseHosting already seem like an excellent choice
as a web host, however, another category to keep in mind is the support ofered. Since it
is likely that you will eventually have some issue with your server or site, having a highquality
support team to depend on is always a good thing. With their fully managed
support team providing help 24/7, their idea of perfect server support will be put to the
test.
But before the experience in regards to customer support and service, let's go into detail
with the pricing.
Plans and Prices
The price can be a big factor when choosing a hosting provider. And even though the
price of a service shouldn't be overly expensive, it's worth keeping in mind that some
providers that cost more will almost always have superior service compared to their
competitors. But in the case of RoseHosting, quality doesn't come at a price. Instead,
their ofers are some of the most competitive ones out there, with shared plans starting
from just $4.95 per month.
Shared Hosting Plans
The entry-level tier provides 1 domain, 2 sub-domains, 2GB of SSD storage (which might
not sound like a lot, but is plenty when starting a website), and 200GB of data transfer.
And as mentioned earlier, this is all for a only $4.95 a month. At this price point, you can
run a website for less than $100 a year! And while this is a yearly subscription, a monthly
subscription is only one dollar more than the yearly ofering.
As you move up the tiers of shared hosting plans, more and more functionality is
unlocked, such as a unique IP address, unlimited sub-domains, and 20 domains, as well
as increased specs such as 20GB of SSD storage and 2TB of data transfer. And with the
high-end plan costing $19.95/ month, this makes shared plans an excellent budgetfriendly
choice.
What makes RoseHosting stand out from the crowd is their use of SSDs across the entire
range of hosting plans, including the basic shared plans. This makes their servers run
faster than most other options outside of RoseHosting.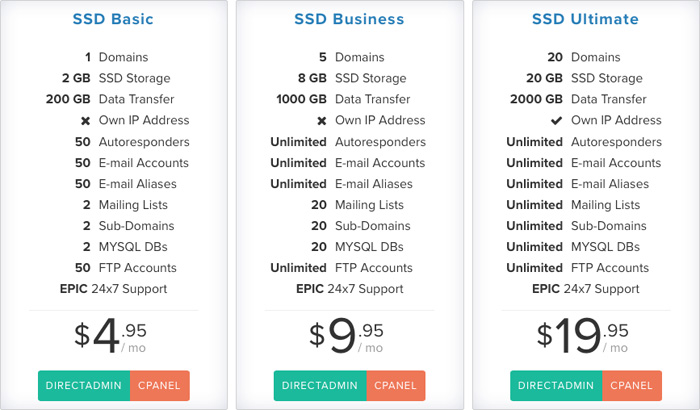 (Shared Hosting Plans)
Virtual Private Server (VPS) Hosting Plans
For most users, a VPS Hosting ofers the best balance between performance and value. A
VPS allows for completely customizable specifcations, as well as unlimited domains and
sub-domains.
The starter tier is $19.95 a month, ofering a dual core CPU, 1GB of RAM, 30GB of SSD storage, and 2TB of data transfer. A VPS will grant its users greater control
over their website, as it is in essence a standalone server that is running virtually inside
of a real physical server. These plans are more suited to users looking for a larger plan
that has the extra leeway needed for a bigger site and more active users.
And if a regular plan isn't enough for your needs, a high-end VPS will have superior
specifcations. As an extra, RoseHosting also includes a copy of DirectAdmin or cPanel
with your VPS if you choose a high-end plan. You can also create a custom VPS, where
you can create a VPS with the specifcations of your choice.

(VPS Hosting Plans)
Dedicated Server Plans
A dedicated server is a more powerful and feature-rich version of a VPS. A dedicated
server is a standalone physical server. This is unlike a VPS, which is a server as well, but is
run virtually inside of a physical server instead. This type of plan is best suited to those
looking for a more permanent and long-term solution to hosting a website.
Starting from $299/month, the base plan sports a dual core Xeon E3, 2GB of RAM, a 500GB RAID5
storage system, and 2TB of data transfer. This can seem a bit pricy when compared to a
VPS – however, a dedicated server will always have superior performance when
compared to a VPS.
And just like the high-end VPS plans, you are gifted a copy of DirectAdmin or Cpanel
when ordering a dedicated server. If a high-end plan isn't enough for your needs, you can
also build a custom server, with its specifcations made to your liking.
(Dedicated Server Plans)
Additional Features
While you do get a lot from the server plans at RoseHosting, what makes them even
more appealing is all of the extra features not typically included with their competitors.
Below are some features that are included with every plan.
SSD storage makes any server feel and perform a lot faster when compared to its hard
disk counterparts – therefore, it's always recommended to pick a hosting provider with
SSD storage.
Weekly backups bring you peace of mind in the case of a mistake or a disaster where
you delete something that shouldn't have been deleted. What's nice about the weekly
backup is that it's free, and always there if you need it. Although if you need the added
safety of daily backups, they also provide that for a small fee.
Free migration makes the process of transferring your data and website from your old
host to RoseHosting that much easier. Some hosting providers can charge extra, or don't
perform migrations altogether.
Other premium features such as 100% uptime and a free SSL certifcate are also
included. Together, all of these added benefts makes this one of the best hosting
packages on the market.
About The Company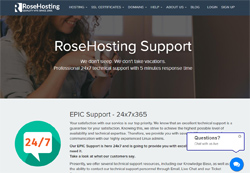 RoseHosting was the frst company to bring the Linux VPS to the commercial market, all
the way back when it was founded in 2001. While this is a sizable achievement for any
company, RoseHosting's main goal is to provide high-quality service, aided by equally
high-quality support.
Based on the reviews that RoseHosting has received over the years, it's clear that they are exceeding at achieving their goals.
The physical address listed on their website is as follows:
Rose Web Services L.L.C.
2977 Hwy K, STE 252 O'Fallon, MO 63368
Other ways to contact them are available - such as their phone number at (888)-ROSEHOST, sending them an email, or by using their live chat system.
RoseHosting has a team of Linux system administrators always on standby, with quick
and knowledgeable replies in both live chats and tickets. With only a few seconds of
waiting before a live chat begins, and a few minutes for a response to a submitted ticket,
it's obvious that their support team is lightning-fast. For a company that prides itself on
its quality of service and support, they are doing an excellent job.
Policy RoseHosting has a straightforward 7-day money-back guarantee. If you are not
satisfed with the service within the frst week of your subscription, you are refunded the
full amount of your purchase. 7 days isn't too long of a time frame, but it's not too short
either.
Our Experience With RoseHosting
This hosting service excels at the courageous practice of under-promising and overdelivering.
This is made very clear when you try out their service, as well as their support and live chat for the frst time.
The feature-list is rich, and the subscription experience is made easy with a step-by-step
process. Once you have your data migrated to your new host, everything remains
smooth and hassle-free.
The tech support and live chat service is unlike any other hosting provider out there.
Within mere seconds of waiting, you are connected with a Linux system administrator,
who will help you with any issue you have. And if you need to submit a ticket, responses
are prompt and informative.
They not only are able to fx problems related to the core functionality of your server, but
they can also fx any issues with software or confgurations that you installed afterwards.
This is what makes them unique in the hosting market – support that is willing to help
with any issues, regardless if the server itself is already functioning properly.
RoseHosting is an excellent choice for most uses – if you need a feature-packed,
reasonably priced hosting provider with a knack for support and reliability, then this
hosting provider will serve you well. What makes them especially versatile is the vast
amount of options available for hosting. From tiny servers for one web page, to full-size
physical servers for entire company websites, all of the use-cases are covered.
What People Are Saying
After looking through many sites with reviews of RoseHosting, it seems that hundreds
and hundreds of clients are also very satisfed with the service and support that
RoseHosting has provided them with. There is the occasional negative review, but it
would appear that those are fukes, and are not the usual experience that most users are
reporting.
FAQs
Q: Are the prices of their services good value when compared to the competition?
A: Yes, their prices are on-par with the competition, and sometimes can actually be even
better than the competition when you take into account the extra features not always
included with some competitors.
Q: Where is their data center located?
A: According to their site, their data center is located in St. Louis, Missouri.
Q: Do they have Windows hosting plans?
A: No, they only provide Linux hosting. However, this is not necessarily a downside, since
Linux servers are well-known for being reliable as well as the most popular choice of
operating system for a server environment.
Verdict And Stamp Of Approval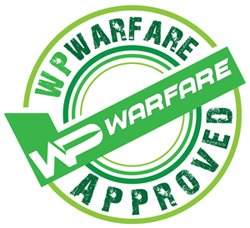 Simply put, RoseHosting has earned our stamp of approval, thanks to several reasons.
They are a good example of a quality hosting provider, due to qualities such as the
excellent pricing and features, as well as the outstanding server performance and tech
support.
We think that this hosting provider is a great place to not only start your website
or projects, but also to grow your site and eventually host your big projects. If you have
tried RoseHosting before, we would love to hear about your experience with them.