Last Updated on by Vairo Kremanis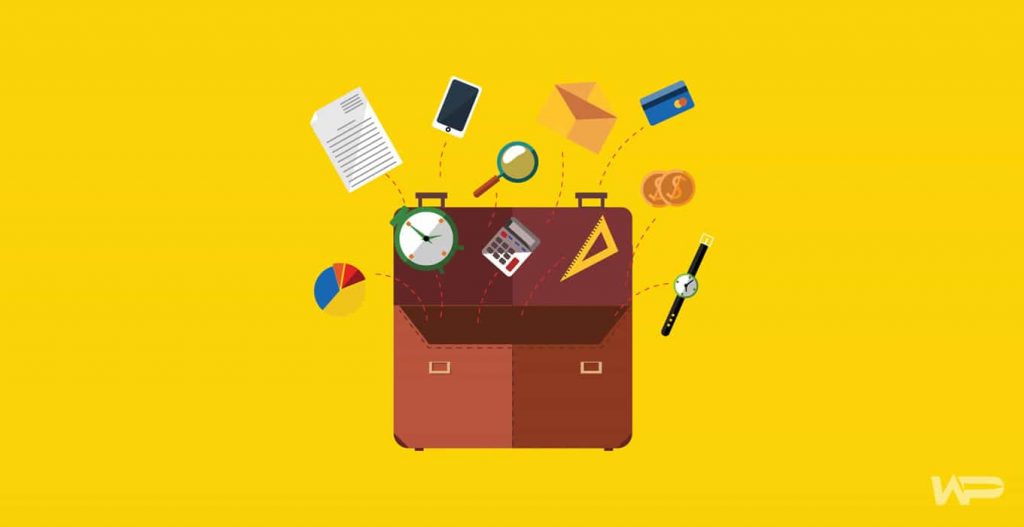 You have a portfolio of work that you are ready to share online. Now you need to choose a theme for your site. This is easier said than done with a plethora of top-notch personal and business portfolio WordPress themes out there. Which one should you choose?
In this article we look at ten of the best portfolio WordPress themes you can choose from to showcase your work in 2016. However, it is important to remember that there is no right or wrong portfolio theme. The one you pick will very much depend on your style of work, the design you have in mind for your site and the restraints of your time and WordPress experience.
Divi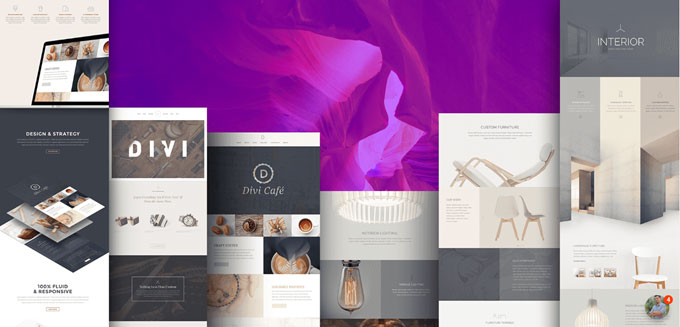 Divi from Elegant Themes is a multipurpose theme that includes a portfolio module, enabling you to create your own portfolio site. This powerful theme has extensive features and tools, resulting in almost limitless customization options. More than that, the Divi theme displays portfolios and projects in a beautiful and eye-catching way, helping your audience engage with your work.
The Divi Builder that is at the core of this theme lets you alter your website to your exact specifications, without you having to touch a line of code. That said, customization using CSS is an option if you wish. This makes the Divi theme popular with beginners and professionals alike. As you create your website you can also check your changes with live previews.
With pre-made layouts, advanced design settings, and the Divi Builder, this flexible responsive theme is a great option for personal or business websites wanting to display their work online and have total control over how they do it.
Price: $69 a year on the Personal Plan
Demo
Download
Modern Portfolio Pro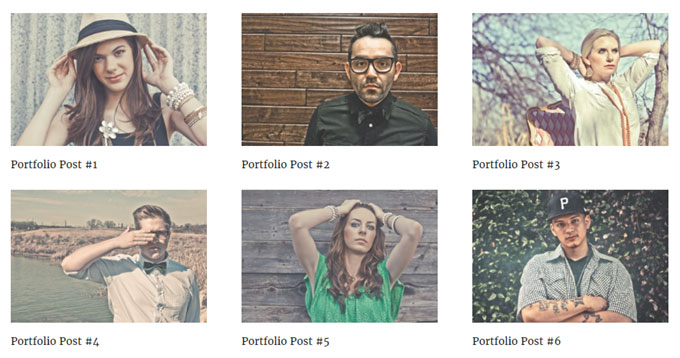 One of the best personal and business portfolio WordPress themes is Modern Portfolio Pro from StudioPress. Modern Portfolio Pro has been created specifically for businesses and freelancers to display their work at it's best. This is a modern, clean and stylish theme and a good option for people who don't want to spend too long tinkering with their site.
Modern Portfolio Pro offers a selection of custom page templates and widget areas. It also has a theme customizer enabling you to tweak your site's color scheme, content, and settings. These changes can then be previewed in real time.
Particularly important to many, if you choose Modern Portfolio Pro you can set up your site quickly and easily, getting started with just a few clicks of the mouse. StudioPress themes always come with detailed and comprehensible instructions, and having used a variety of StudioPress themes in the past, I would definitely recommend them.
Price: $99.95
Demo
Download
Salient

Salient is a multipurpose responsive theme for those wanting to showcase their work in a creative light. This stunning theme enables you to display a portfolio in style, with bright and bold visuals that are sure to make an impression.
Easy to build and customize, this portfolio theme requires no coding and is a great option for those with the vision but possibly not the skills that you would need with many other themes. Salient provides extensive theme options, and the drag and drop Visual Composer tool, enabling you to build your pages with ease. With endless possibilities, you can choose from unlimited colours, over 600 fonts and over 1000 icons and animations. This really lets you  create a site that is unique to your brand.
Salient is also WooCommerce ready and would make a truly remarkable online store, showcasing products at their best and helping to draw in customers.
Price: $59
Demo
Download
Vimes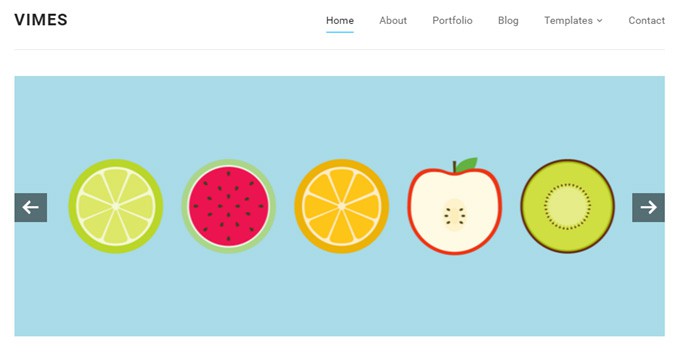 Funky, stylish and relaxed, Vimes is a strong contender when choosing a personal or business portfolio WordPress theme. Specifically built for design agencies, photographers, and artists, Vimes from WPZoom is a versatile and responsive theme.
Vimes offers a portfolio template that will help an audience focus specifically on the work displayed and not be distracted by superfluous surroundings. Custom posts are also available to show off individual projects and featured work can be promoted on the homepage via the easily configurable slider. As part of the WPZoom portfolio, Vimes uses the Zoom framework which enables you to customize every aspect of your site to suit the image of your business.
Modern and fun, Vimes is a great theme if you are trying to appeal to a younger or more fashionable audience. As with all WPZoom themes, they are fast and easy to set up and only need as much customization as you want to give. Therefore, a good option if you are looking to get started quickly.
Price: $59
Demo
Download
Yin Yang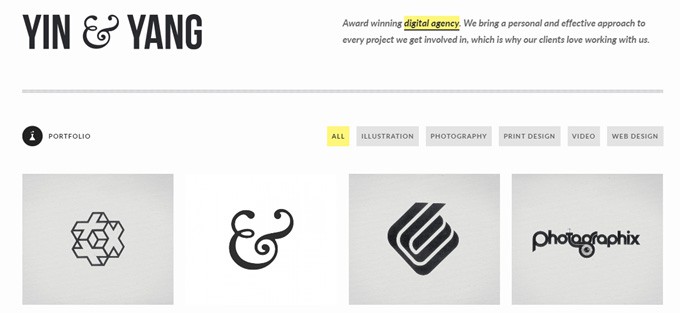 Yin Yang is a portfolio WordPress theme with a quirky design that really stands out from the crowd. This easy to use theme is responsive and retina ready, enabling your portfolio to dazzle, whatever device it is viewed on.
Although less feature-packed compared to some other themes covered in this article, the Yin Yang theme can be customized to an extent. With a variety of custom post types, image layouts, typologies as well as video support this minimalistic style will suit many.
Ying Yang is a great option for those wanting a theme that is ready to go, yet equally will display your work in a unique and elegant style.
Price: $49
Demo
Download
Core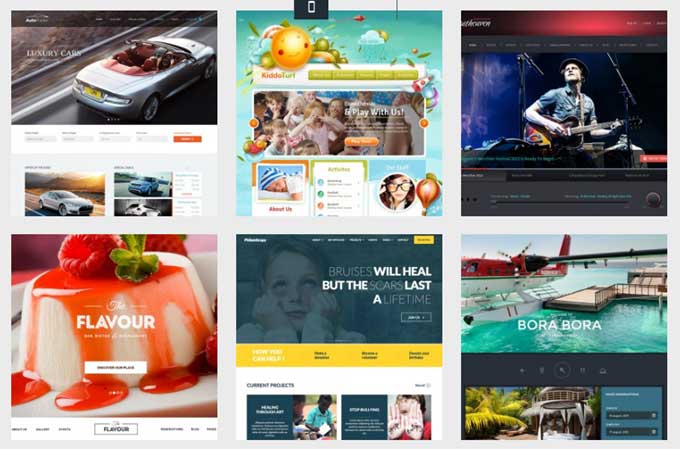 The Core from ThemeFuse is an extremely impressive multipurpose theme, offering 16 websites in one theme. Whichever website you choose to use, your audience will be blown away, with stunning visuals and a professional, yet relaxed feel that will help elevate you to an authority position within your niche.
Each website mode has been hand built for specific industries, with the different designs chosen to reflect each field. There are two portfolio sites to pick from: an agency site, an architecture site, as well as a multipurpose option. All the websites are easy to create and customize, with demo content installed in just a few clicks and the drag and drop Advanced Visual Builder provided. There are also multiple page layouts and portfolio options, enabling you to display your work in a variety of ways.
With many extra features, including being WooCommerce ready, the Core is a theme for businesses and freelancers alike who want to portray themselves as true professionals.
Price: $59
Demo
Download
Narcos

Narcos from TeslaThemes is a multipurpose theme that enables you to create a beautiful one page website, a popular trend at the moment. This responsive theme includes a selection of portfolio layouts, perfect for displaying a range of work.
Narcos includes a selection of powerful features. You can choose from six unique homepage layouts, four creative header styles and a variation of animations. As well as this the  Revolution Slider in included to display featured images in style. Narcos is quick and straightforward to setup and customize, with the demo data and the premium Visual Composer plugin included.
If you are looking for an original one page website then Narcos is a great choice. With a sophisticated image, this theme enables you to portray your business seriously.
Price: $24
Demo
Download
Gridlocked

Gridlocked is a minimalistic WordPress portfolio theme. Grid-based and versatile, it is designed with creatives in mind and provides both a classic portfolio layout and a modern blogging system in one.
Gridlocked can be configured to suit your niche, with the focus being on either your work, your blog or both. Both portfolio and blog can be displayed on the homepage or elsewhere on your site to fit your specific needs. There is also support for audio and video, enabling you to reach your visitors in a variety of different ways.
Gridlocked is fast to setup and straightforward to use, needing little customization. This is the theme to choose if you are trying to showcase your work through a blog.
Price: $54
Demo
Download
The7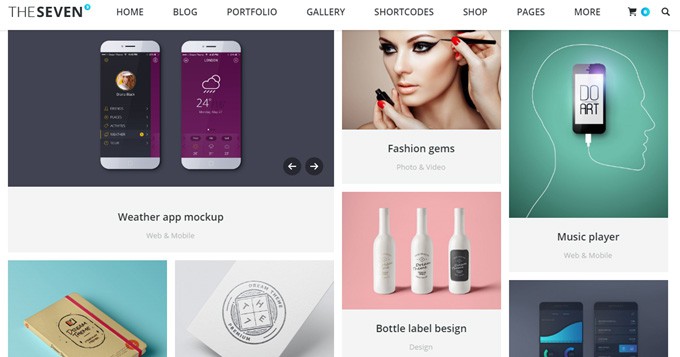 The7 is a multipurpose responsive theme that is cool, stylish and a very attractive way to display a portfolio of work. The7 boasts over 630 options, making it one of the most customizable themes out there. It also features an ever-growing library of ready-made designs, which you can build on if you wish, or just use as they are.
To display work, The7 offers a selection of page templates and post types specifically for portfolios. It also offers four different slideshow options, masonry, grid and list portfolios and galleries and a popup lightbox. This should help really give you an edge over your competitors.
The Design Wizard and Visual Composer tools let you to create a website that fits directly with your brand. The7 is an impressive WordPress theme for those out there wanting a site at the top of its game.
Price: $59
Demo
Download
Inspiro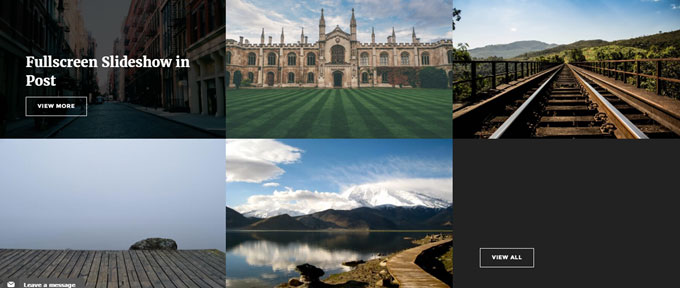 Inspiro is a portfolio theme with a focus on showcasing photos and images in a modern and awe-inspiring fashion. Enabling pictures to be displayed in a variety of layouts and sizes, Inspiro aims to impress.
This feature rich portfolio theme includes a full-screen slideshow, gallery module, and support for video backgrounds on the homepage slider. You can display an image as a hero banner, as well as create your own logo with the built in logo-editor if you wish. The advanced theme options panel also allows you to customize your site to best suit your needs.
With the options Inspiro provides you will be able to design a beautiful website to display your portfolio. A good option for photographers or those with a portfolio mainly consisting of images.
Price: $69
Demo
Download
Final Thoughts
All of the above themes are great options for a portfolio WordPress site. If you have a specific design in mind and you have the time and skills to create a totally unique site then you may be better off choosing a multipurpose theme. However, if you haven't got the time to spend tinkering or the vision of exactly what you want, then you will be better off selecting a standard portfolio theme that requires less customization.
Ultimately, you need to choose a theme that best matches your brand or business and showcases your work in a way that most appeals to your audience.
Do you use a portfolio WordPress theme to display your work? What works and what doesn't with your theme? Is there one you would recommend that I haven't mentioned? Please share your thoughts in the comments below…
Got a new theme? Great! Now make sure you run your site on the fastest WordPress hosting. See our guide here.