Last Updated on by Vairo Kremanis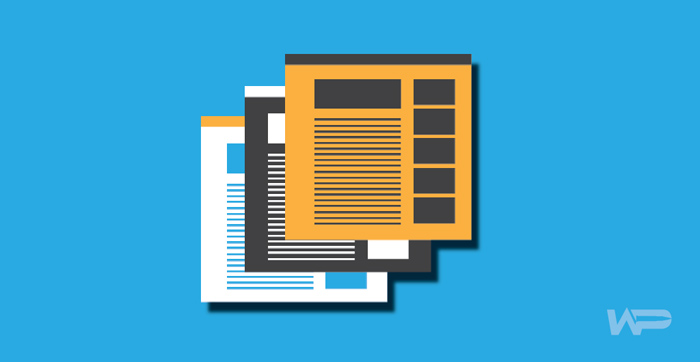 If you strive to have a delicious food /restaurant website that makes the mouths of your visitors water, you need it to be ultra-modern, image-centered, responsive, and conversion-optimized. Building such a website yourself with free website building services is a task that's impossible to accomplish. On the other side, spending $500+ dollars on a custom design is also not a wise thing to do. That's why, in this post, we bring you 30 mouth-watering templates for food-related websites. Top 30 food & restaurant WordPress themes will fit you if you plan to run a restaurant, café, bakery, sweet shop, food store, or catering website.
The themes in this post are wisely designed to ignite the appetite of your website guests with such colors as red, orange, and yellow, or to match the products you sell (blue for seafood, brown for coffee, and pastel colors for sweets). What's more, these top 30 food & restaurant WordPress themes adorn their appetizing imagery with animation and Parallax effect.
On top of being top-notch in terms of design, these themes are also extremely feature-rich. Depending on the template, they bring you such features as table reservations, food ordering, and delivery, as well as e-store functionality out of the box. Needless to say, these themes are built using valid and bug-free coding that frees your website from ever facing malicious hacker attacks.
These food & restaurant WordPress themes are not built by novices. They're crafted by the team of TemplateMonster. This company established its presence in the template market more than 15 years ago, and turned into a reputable provider of stunning templates. What's more, recently, they evolved into a full-blown marketplace with high-quality standards. If you want to experience the greatness of what they deliver, check out their full set of café & restaurant WordPress themes. Fortunately, all the themes in today's post come with round-the-clock chat/phone support to help you with any issues you may be facing.
As you can see from the title of this article, WordPress is the CMS favored in this post. And there are multiple reasons for this. According to w3techs statistics, WordPress is used by almost 30% of all the websites in the world, which makes it the most popular website engine to date. In CMS segment, this number reaches a striking 59.5%, placing WordPress out reach of its runner-up, Joomla that has just 6.8%. Such popularity of WordPress is deserved for its simplicity, stability and extendibility.
The simple admin panel of WP is good even for novices in web design. On the other hand, with more than 47,000 plugins out there for WordPress, its functionality is literally limitless, allowing you to choose what you need for your website.
It's time to experience the top 30 food & restaurant WordPress themes of 2018. To learn more about the template, explore 'Details' and 'Live Demo' links that wait for you below the theme's screenshot.
Cup-o'-Joy: Coffee Shop WordPress Theme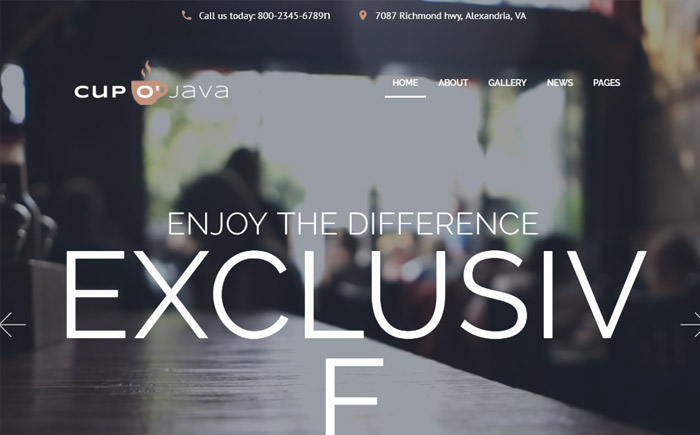 This atmospheric theme in subdued colors is steeped in coffee culture and full of its flavor. Built with Power Builder, the theme delivers you surprisingly rich layout options, letting you be a designer of every piece of your website. With the Builder, you can add diverse content modules (block quotes, accordions, countdown timers, counters, dividers, CTA buttons, etc.) to the pages of your website in a couple of clicks. Moreover, the theme harbors the TM Gallery plugin, with the help of which you can devise a beautiful Pinterest-inspired Gallery page with mosaic grid.
Patisserie: Cake Shop Responsive WordPress Template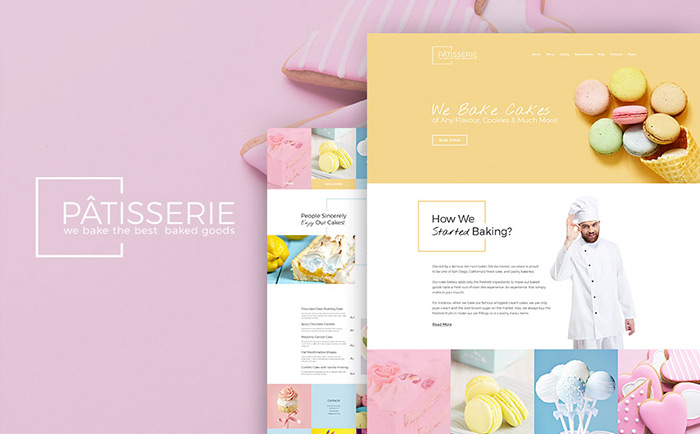 If you want to showcase your baked items and cakes in the best light, you need this top-notch theme with a trendy color palette. It features a sweet and clean design, helping users stay focused on your baked goods. The theme comes with a full set of pages that let you tell the story of your business and uncover all the advantages of ordering cakes from you. With Patisserie, you can build your website code-free with Power Builder and edit it in live mode with Ajax-based Live Customizer.
Heart Of Cuisine: Grill Restaurant WordPress Theme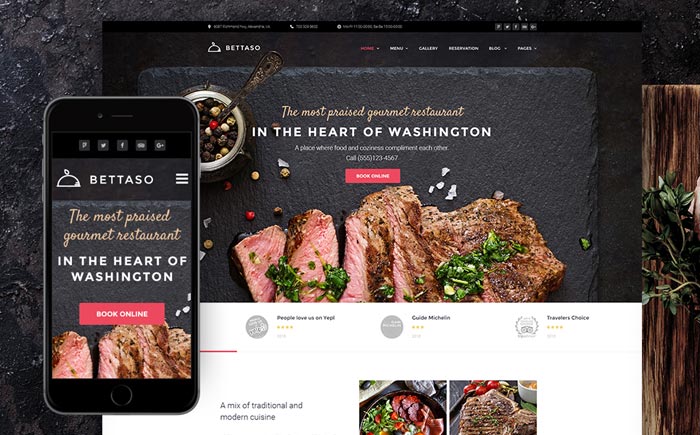 This highly appetizing template has style and visual perfection to it. The theme includes an easy-to-use restaurant menu plugin that lets you add detailed descriptions of the dishes you serve to a website. Booking a table at your place is possible, thanks to a prebuilt appointment booking plugin that shows clients a number of tables available at this or that time and lets them book one of them. If you'd like to learn more about the theme, check out the video below:
Vincenzo: Feature-Rich Pizza Restaurant WordPress Theme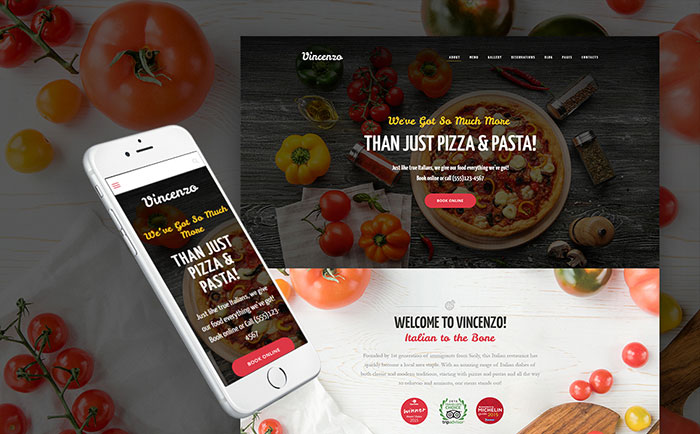 If you want to build a pizza restaurant website that reflects the best traditions of Italian cuisine, you need Vincenzo theme. This pizza and pasta restaurant website comes equipped with an ultimate pack of Cherry Plugins for attractive display of testimonials, team members, gallery, posts, services, and popups. What's more, with multiple layout options you get a chance to structure your website pages the way you like and create visually appealing blocks using card designs, mosaic and regular grids and bulleted lists.
European Style Bakery Responsive Theme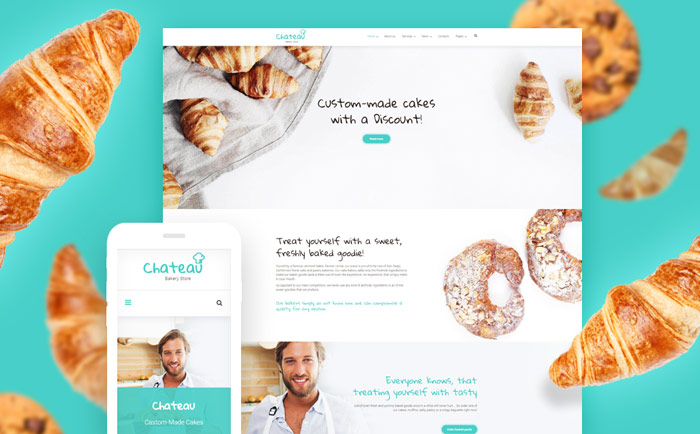 If you want to create a bakery website based on acquisitions of European cooking tradition, you need this clean and fresh template. The theme makes use of handwritten typography and lets you choose any other fonts you like from the collection of 600+ Google Fonts. With Appointment Manager plugin, your customers get a chance to order your baked goods of their preference and come to pick them up at the time that fits them best. No Doubt, the theme is fully responsive, allowing clients order your delicacies with comfort on the go.
VegDine: Vegetarian and Vegan Restaurant WordPress Theme
This vegetarian restaurant theme has a clean, fresh design with an abundance of negative space and inspiring images of the best greens. It's worth mentioning, that all the imagery used in the theme comes as a part of it. Moreover, you'll get 7 – 15 premium topic images for your website free of charge. The template comes with tons of UI elements, widgets and modules to let you build a splendid website without breaking the bank.
Duval: Clean Winery and Wine Store Responsive WordPress Theme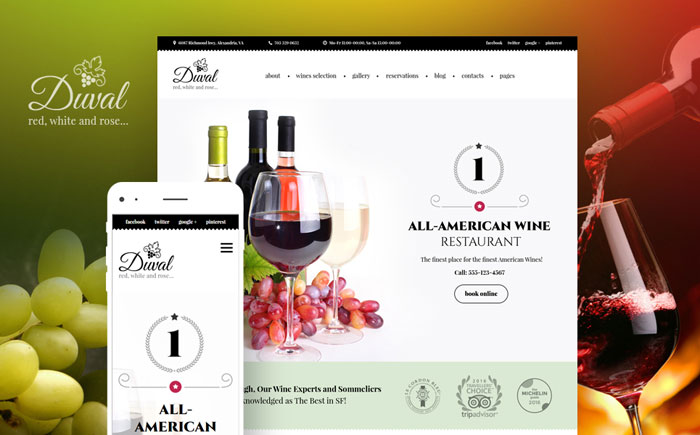 This beautiful and minimal wine restaurant template is built with Bootstrap 3 to present your winery in the most appealing way. The theme incorporates a number of custom widgets that you can add using simple drag-n-drop. Moreover, the theme comes with online table reservation systems and table map that lets users choose the table they like most at your place.
FoodLover: Restaurant Blog GPL WordPress Theme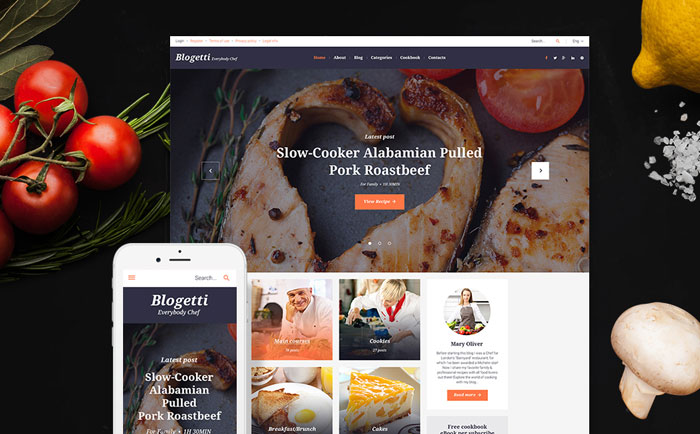 This beautiful restaurant theme is empowered with Parallax effect and lets you add video backgrounds and cinemagraphs. The theme features an encompassing fullwidth slider that lets you showcase your most appealing dishes and present your meals of the day. The theme is conversion-optimized and features wisely placed noticeable CTA buttons. Moreover, the FoodLover template is perfectly SEO-optimized, built to please the crawlers of such engines as Google, Yahoo, and Bing.
Craft Beer Pub and Brewery Resposnive WordPress Theme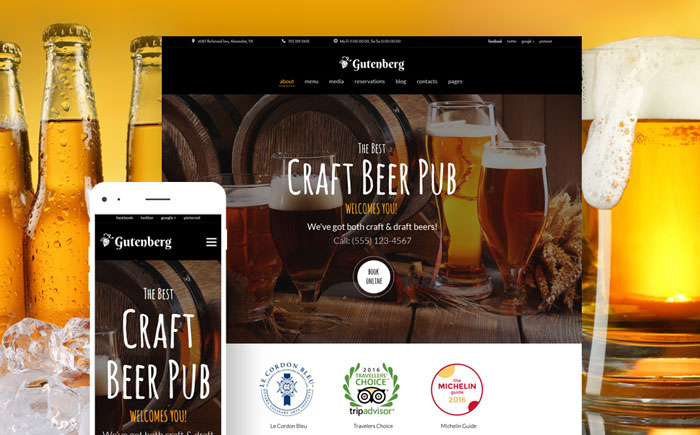 This theme is one to build a legendary brewery online presence that keeps people coming back to your website. It brings your clients a hard-to-avoid chance to subscribe to your pages in social networks, such as Facebook, Twitter, Google, and Pinterest. What's more, it features a beautiful menu block on the home page with hand-drawn elements, a section featuring your awards and an Instagram-powered gallery. In addition to this, the theme is truly full of creative ideas with large and easy-going circular CTAs and filled-with-beer newsletter subscription block.
VegiFan: Vegetarian Meals Blog WordPress Theme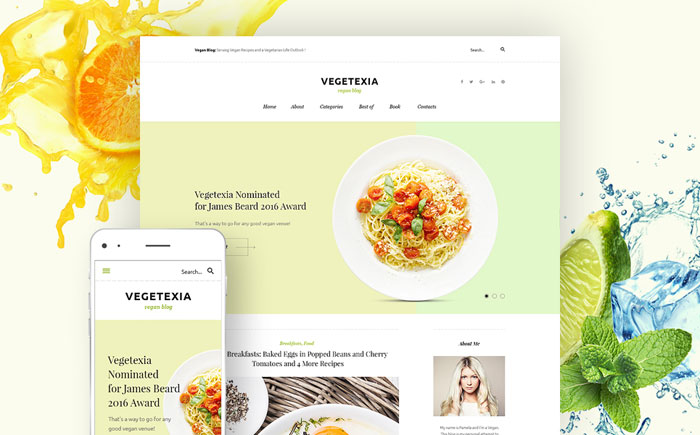 With this theme, people will fall in love both with tasty veggies and with your clean and garden-fresh website. The theme's homepage of this template is built to display not only the featured blog posts but also featured recipes and your Instagram feed. Thanks to prebuilt Power Builder WYSIWYG editor, VegiFan lets you take full control over your website without touching a single line of code. To let you run your blog even quicker, the template brings you a number of content modules and shortcodes to use for content creation.
Delicia: European Cuisine Restaurant WordPress Theme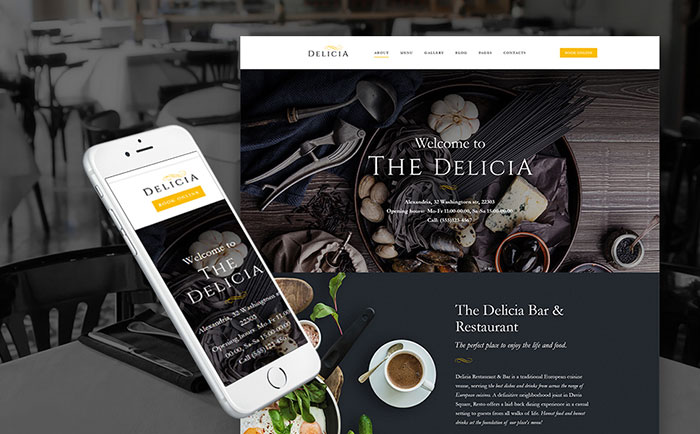 Delicia is the theme that'll thrill your site guests to visit your website at least once more. It comes with mouthwatering backgrounds and pleasant tones that ensure that your website is memorable and special. Moreover, the theme embraces multiple blog and gallery layouts, diverse sidebar positions, and header/footer styles. Moreover, you can customize the theme on the go with Live Customizer that harbors dozens of handy options.
GoTexan: Recipe Blog Responsive WordPress Template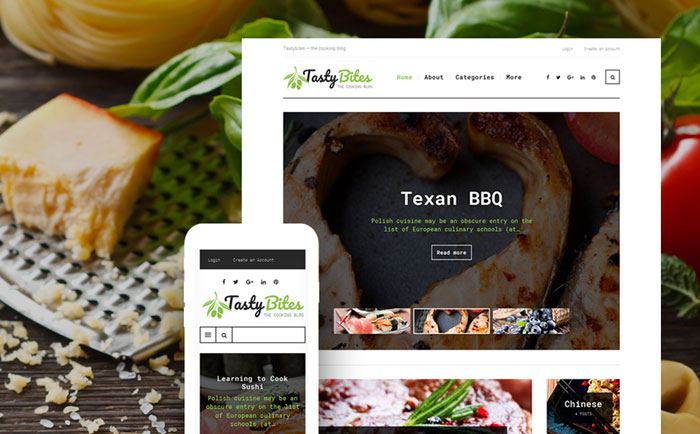 If you're an avid fan of food blogging and want your efforts not to be in vain, go for this crafted with care, responsive, and cross-browser compatible template. Being fully SEO-optimized, the template ensures you the best possible position in search engine search results and brings you multiple SEO tweaks and settings. No doubt, the template is also built to capture the data of your clients with a newsletter subscription form to generate quality leads. You'll be also pleased by rich social integration that the theme fosters, featuring social buttons in theme's header and sidebar, as well as including social sharing buttons after every post.
WhaleFood: Fish & Seafood Restaurant WordPress Theme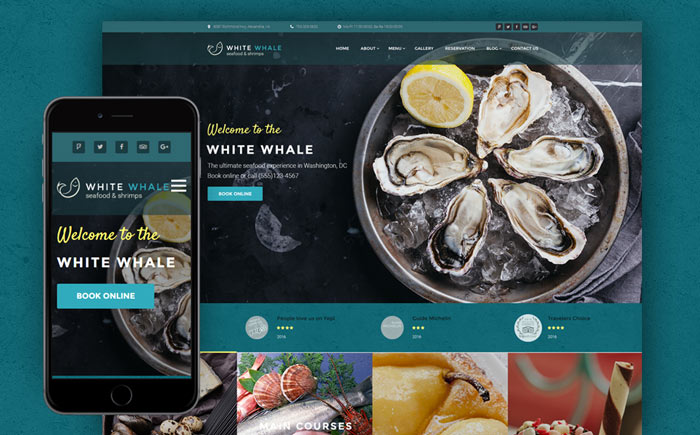 Do you need a visually polished theme for your restaurant website? Then, WhaleFood is just the template you need. The theme will not only appeal to real gourmets but also bring them the features that are desired browsing a modern restaurant website: online table reservation system and highly informative restaurant menu. Running on sound CherryFramework, the template brings you a rich set of customization options and extensions that let the dishes that you serve shine in full blossom online.
BurgerPalace: Fast Food Restaurant WordPress Theme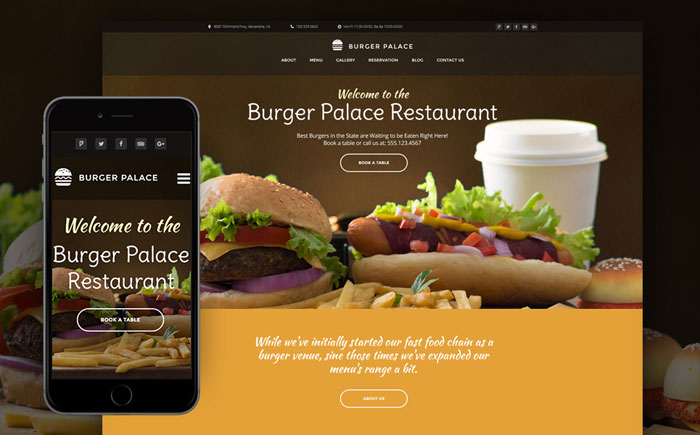 This fast food restaurant theme is made to make the mouths of your clients water when seeing beautifully presented and Parallax-powered images of the salads, sandwiches, burgers, and pizza you serve. The table reservation functionality will be a must for your place after it'll grow in popularity thanks to its strong online presence. Make your website look exactly the way you want with flexible layouts stored in a library, content modules, custom widgets, and other useful UI elements.
TacosFandom: Mexican Food Restaurant WordPress Theme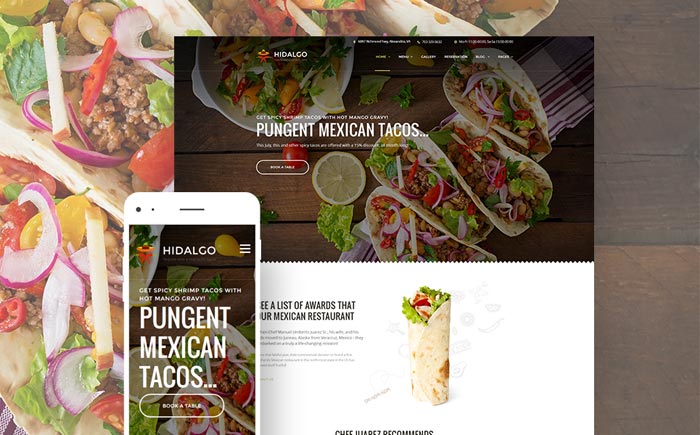 If your restaurant serves traditional Mexican food, it needs this delectable design to get a duly online representation. If you'd like to customize the theme's layouts, this won't be a headache with PowerBuilder. This visual editor comes with a library of layouts and 25 content modules to let you devise striking website pages on the go. To help your website scale and match every possible screen size, the template embraces the powerful Bootstrap 3 framework and brings you high-end responsiveness.
Favorite Steakhouse: Barbecue Restaurant Responsive WordPress Theme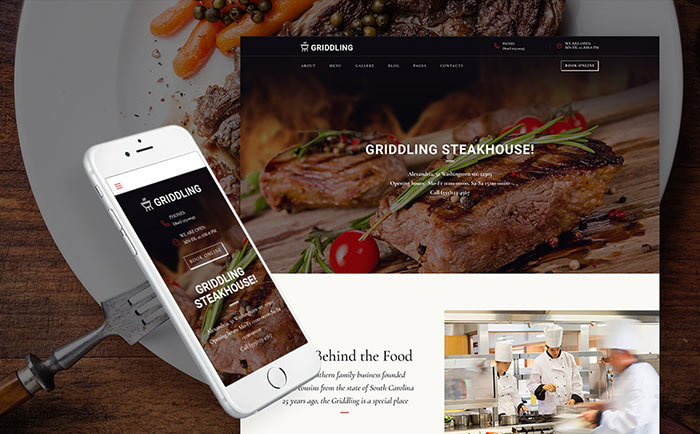 This theme is designed to urge all the meat lovers to cast their plans aside and line up in front of your restaurant. The transparent template header features not only your logo and navigation bar, but also your frequently needed phone number, operation hours, and 'Book Online' button. However, if you don't like the default header layout, you have 6 different header layouts available to choose from. Moreover, the theme includes a mesmerizing Gallery section with animated images that open in lightboxes when clicked.
Resto: Cafe and Restaurant Responsive WordPress Template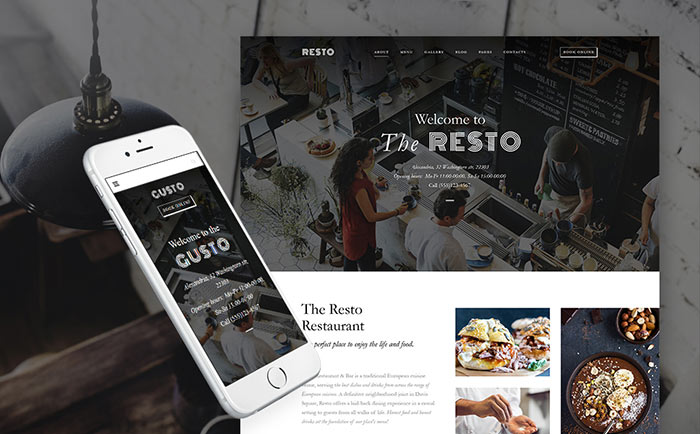 Resto is a template tailored for a café, restaurant, winery, or bistro. The theme incorporates simple and elegant backgrounds, stylish fonts, and delectable visuals to make your site guests hungry to dig into what you have to offer. It also brings you online table reservation functionality that comes with a table map to let users choose the table that best fits the occasion and their mood. Needless to say, the Resto theme comes with clean and valid coding that serves as a sound basis for your dream online incarnation.
ElegantBar: Restaurant & Bar WordPress Theme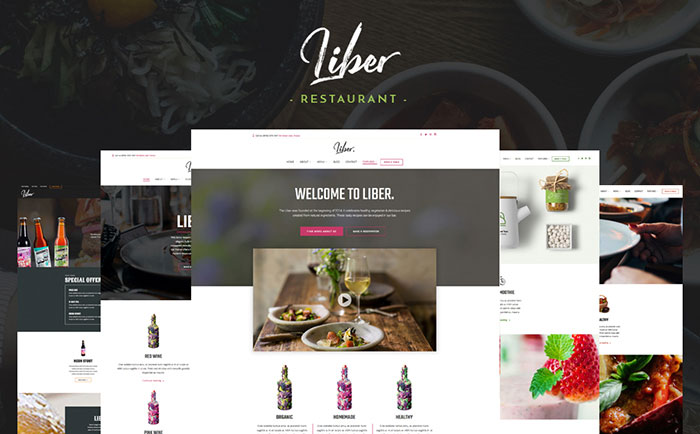 ElegantBar is a premium theme for establishing the online presence of your restaurant, bar, or pub. The theme comes with 4 skins that would serve for a classic restaurant, healthy bar, wine bar, and pub. Moreover, the theme is WooCommerce ready and lets you easily earn even more by powering an e-store on the pages of your website. ElegantBar theme comes with all the POT files included and can be easily translated into as many languages as you need (RTL is also supported).
Cookery Book: Recipes & Cooking Blog WordPress Theme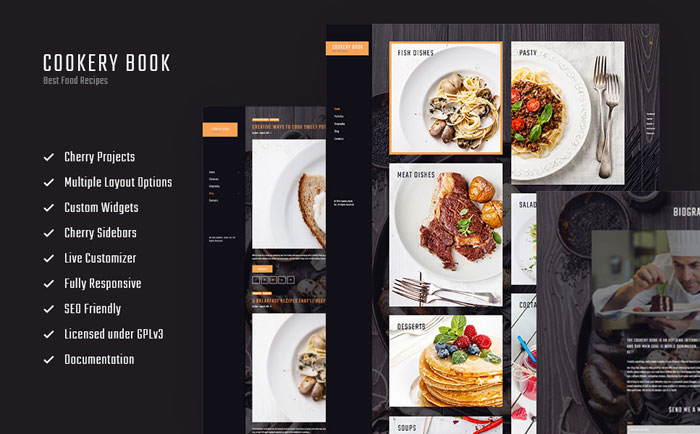 Cookery Book is an unusual website template with the menu shifted to the left and the home page presented in form of a Pinterest-inspired grid of posts. The theme also makes use of a wooden sticky background, which ensured an intricate visual effect on scroll. Moreover, the template features Cherry Projects plugin that brings you multiple gallery animations, filtering, and layout options, and lets you power an impressive collection of your dishes in a matter of minutes.
Stick to Tradition: Kosher Restaurant WordPress Theme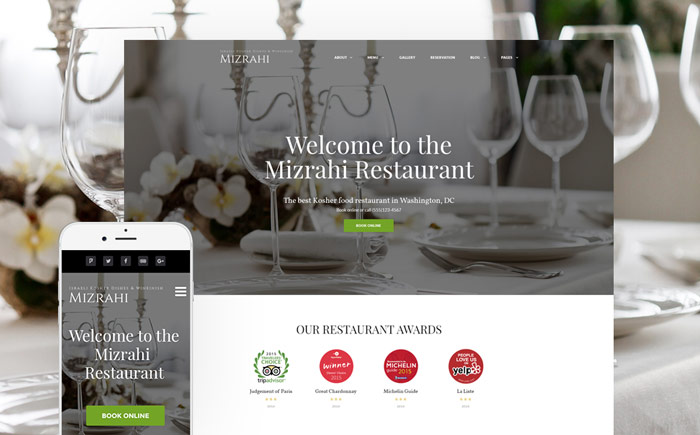 If you stick to the best traditions of kosher cooking and want to display your care and love for Jewish community online, go for this clean, visually exquisite, and reserved kosher restaurant template. The template mixes informative sections with pure white backgrounds with image-centered sections that are meant to ignite the appetite and demonstrate the quality of the food and beverages you serve. The template comes with a number of additional widgets, such as Simple Slider, post carousel, etc. that are meant to help you build a stronger online presence.
FarEast: Japanese Restaurant Responsive WordPress Template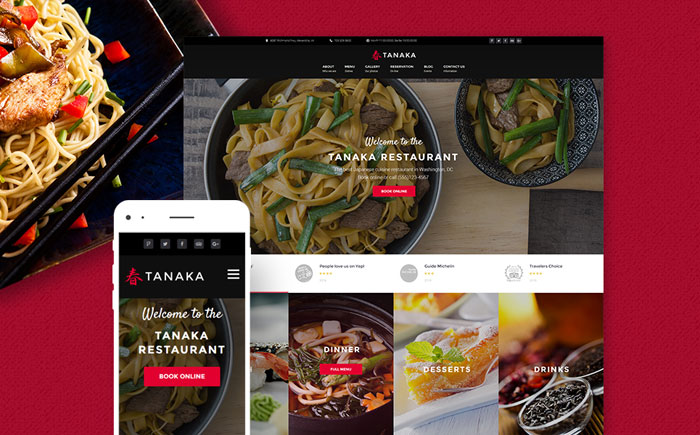 If you plan to power a tradition-laden sushi and Japanese cuisine restaurant, the FarEast template will highly please you with the design and functionality it delivers. This theme comes with custom Restaurant Menu plugin that lets you appealingly present the dishes and sets available for order and uncover all the ingredients, nutrition facts, and other information about the dishes you serve to your online visitors.
Hot & Juicy: Grill Restaurant WordPress Theme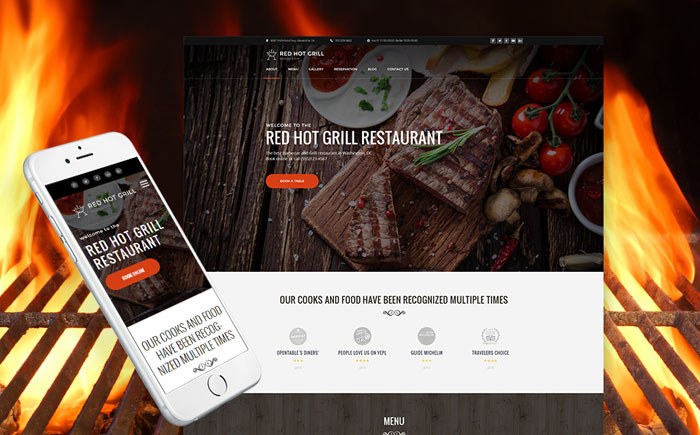 This flame-colored and impassioned theme is designed to instigate visitor's desire to taste you well-cooked steaks and meat dishes. The template incorporates table booking functionality so that your website guests don't have to call you to make a reservation at your place. Hot & Juicy theme also includes the Restaurant Menu plugin that lets you create a comprehensive and detail-rich restaurant menu in a matter of a couple of hours.
Travel East: Asian Restaurant WordPress Theme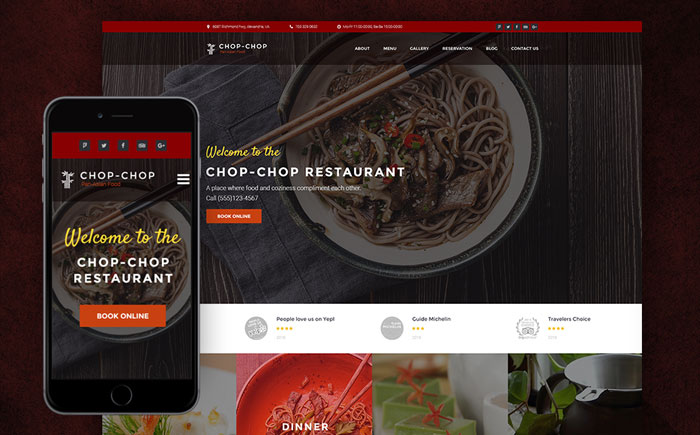 If you want to create a website with oriental flavor, Travel East will be your key to delivering a gastronomic journey to your clients. The template is simple in terms of customization, being ready for Power Builder visual customization and setup in Live Customizer. Moreover, the template brings you a pleasing number of header, footer and page layout templates, as well as a huge set of modules and widgets that diversify content presentation on your website.
Pleasant Cafeteria Responsive WordPress Theme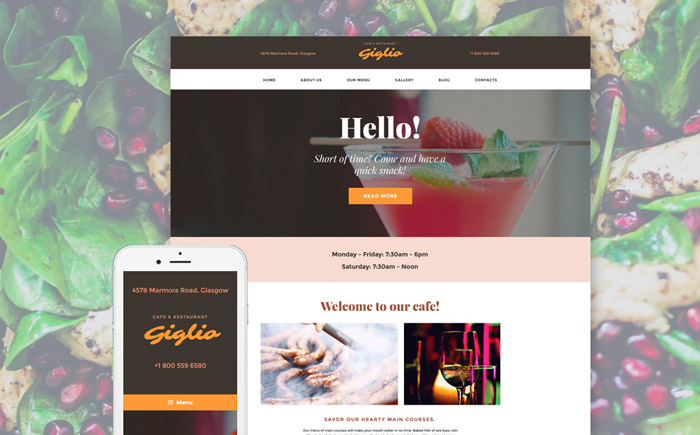 This responsive and cross-browser compatible café template is a part of the feature-rich Monstroid family of templates. Thanks to Monstroid Wizard, it takes just a couple of minutes to install the theme and get all the plugins that come with it installed. Moreover, the installation process is fully automated, and you'll just have to confirm actions a couple of times. Pleasant Cafeteria template comes with amazing 20+ plugins and MotoPress visual editor that provides for hassle-free theme customization.
Gourmet Cuisine: Cafe and Restaurant WordPress Theme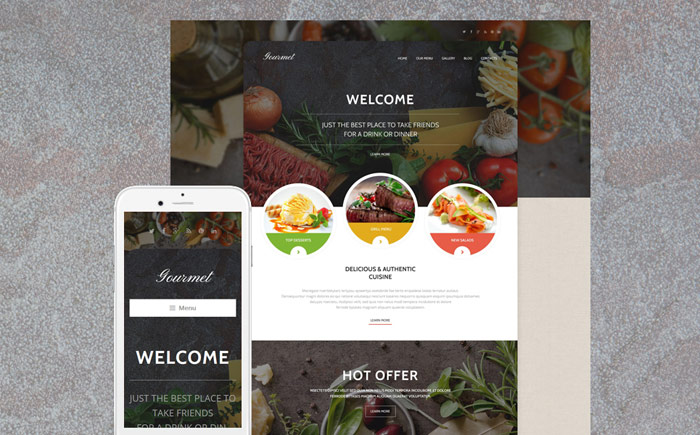 Gourmet Cuisine is a Monstroid theme to power your attractive website and bring more clients to your place. This theme has a well thought-out design with multiple hand-crafted elements to please the user's eyes. For example, the main theme's slider is followed by a row of asymmetric circular banners that showcase your most attractive delicacies. The theme also incorporates an immersive Parallax effect and lets you experiment with video backgrounds that make your website stand out of the row of other food-related websites.
LoveFood: Cafe and Restaurant Responsive WordPress Theme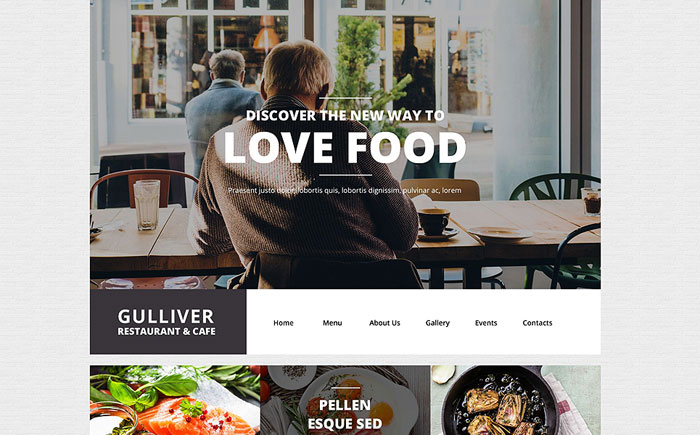 If you target all food lovers and want them to visit your place, the LoveFood theme is the one that ignites curiosity and appetite with its unconventional design and pleasing features. The website opens with a fullscreen image accompanied by a caption to immediately capture site guests' attention. Then comes the header bar, followed by a tempting banner grid, the design of which is fully image-centered. The theme comes with awesome Parallax that turns browsing a website into a journey full of attractions.
Pastini: Pasta and Ravioli WordPress Template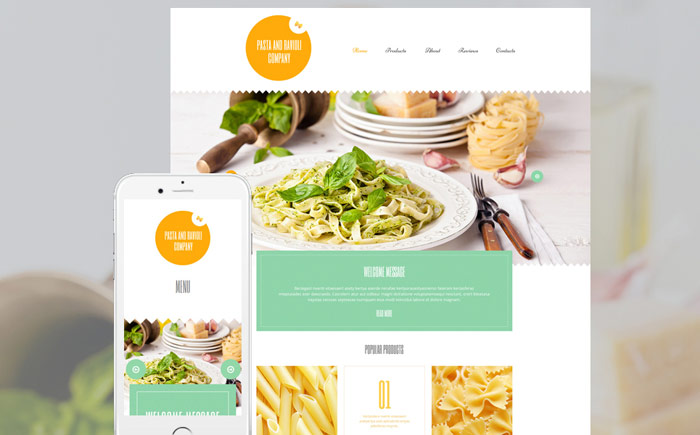 If you're an expert of Italian staples-turned-delicacies, such as pasta and ravioli, you need Pastini template that reflects the values of Italian food culture. With this Monstroid template you get access to 24/7 customer support, as well as to all the theme updates that come out. Pastini can be edited on the fly thanks to MotoPress page builder, a drag-n-drop editor of exceptional range of features. The theme is 100% cross-browser compatible, displaying just the same in all modern browsers.
FoodMusic: Café and Restaurant Responsive WordPress Theme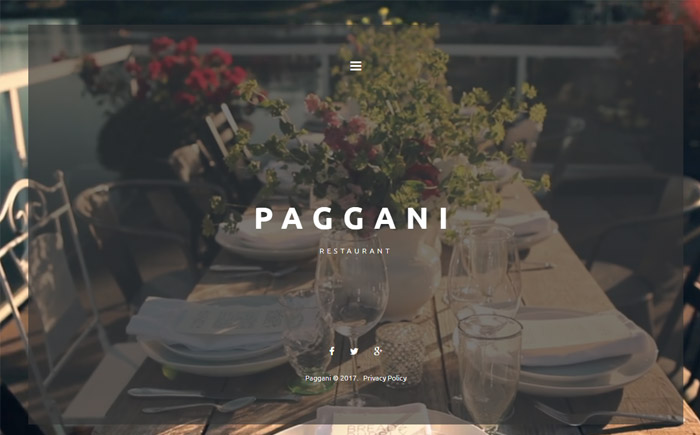 This clean and elegant theme makes resisting the temptation of spending an evening at your place almost impossible. The theme has no scroll on its homepage that serves as a beautiful landing page that immerses into the atmosphere of your restaurant. Social buttons are present right above the fold, ensuring that the number of our followers in social networks keeps growing. The FoodMusic theme features a hamburger menu that's definitely worth unfolding and exploring in depth.
Frutti: Healthy Bar WordPress Theme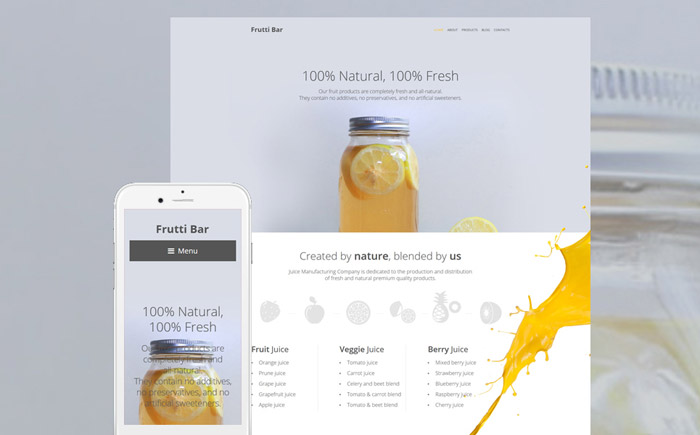 You probably won't find a cleaner, fresher, and juicer theme for your healthy bar website than the charming Frutti theme. This Monstroid theme is built on the basis of Cherry Framework and provides you with a value-laden pack of 20+ extensions. What's more, the theme is equipped with a beautiful MegaMenu to make navigating your website not only simple, but also turn it into a quite intriguing process of exploration.
I hope you already can't wait to start creating your website with one of these top 20+ food & restaurant WordPress themes. Remember that going for one of these stars of web design is a big step to your online success. I wish you a fun journey toward your dream food/restaurant website!
Got a new theme? Great! Now make sure you run your site on the fastest WordPress hosting. See our guide here.