Last Updated on by Vairo Kremanis

What is a single page website?
A single page website, also known as a parallax scrolling website, is a site that is formatted onto one page. One page websites are becoming more and more popular within the realm of marketing and online presence of companies.
The content of the website is located on one long page for the visitors to simply scroll through. There are different needs for a single website. Listed below are some of the reasons one would use a single website, and some of the reasons a single website should not be used.
When should I use a single page website?
There are a many reasons for – when should a user consider using one page design. Using this design allows you to see how, and when, visitors see your content. This enables you to tell a story to your visitors as they take a journey through the message of your company. Controlling the flow of content allows for purposefulness and direction of your website. If you are looking to actively engage your visitors, then this design may be perfect for you.
Businesses that use the single page display are able to use a lot of images to accent all of the content on their page, which also makes it more engaging for those viewing your content.
There are many software programs that specialize in single page website designs. If you are looking for something that is easy to maintain, WordPress may be a great resource for you. One Page WordPress Themes are accessible and aesthetically pleasing to those visiting your page.
When should I not use a single page website?
Even though pageless designs are up and coming in the internet community, there may be some cases where you do not want to use one for your business. If your content is more blog focused, you may want to reconsider this design because it may be a challenge to incorporate, and organize, all of your information onto one page.
It is also important to know your audience and their inclination towards a one-page design. Some visitors may stray away from your page if they do not want to spend time scrolling through all of your content.
Depending on the internet service of your visitors, a one-page design may take a very long time to load. This may also deter people from coming back to your page. If SEO is something that you are adamant about using on your page, then a single page design may not be for you. You are only able to have a certain amount of keywords on one page, so this could throw off your ability to incorporate your wanted SEO keywords into your blog.
One Page Website Design in WordPress
One page WordPress themes are gaining more popularity owing to its aesthetic and straightforward user experience. WordPress is one of the most popular CMS and crafting one page websites with one page WordPress themes has made it a wonderfully easy task.
With uses in a variety of niches, one page WordPress themes are perfect for business, corporates, agencies, freelancers and all sorts of creative websites!
CyberChimps' Single Page WordPress Themes
If you are using WordPress as website CMS, you should check One Page WordPress themes by CyberChimps – A WordPress theme store. These one page WordPress themes are tried and tested and have all the features that you have been looking for in a good WordPress theme.
One Page Business Pro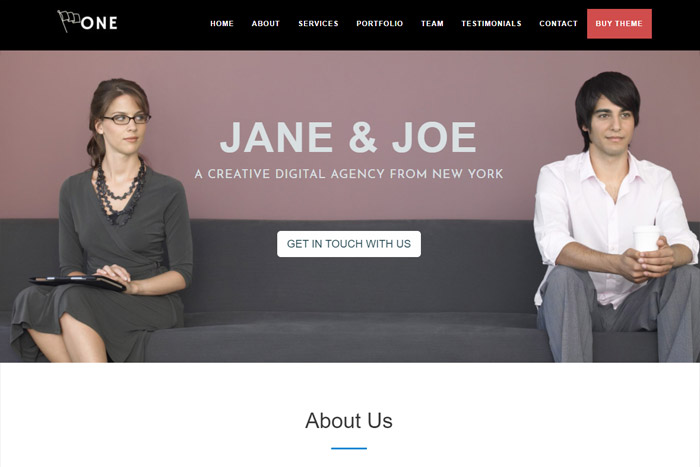 One Page Business Pro is a single page WordPress designed specially for businesses and professionals. The theme's elegant design and sophistication makes it a perfect Business WordPress theme.
One Page Business Pro is a Multipurpose One Page theme that has all the essential features that will help you engage your viewers on your one page website. With 7 stunning sections – Home, About Us, Services, Team, Portfolio, Testimonial, and Contact, you can wrap up all the relevant details in this limited space. Features like dynamic alignment, sliders,  portfolio section with modal effect etc. make One Page Business Pro a truly classic theme.
Minivet
Minivet is CyberChimps' another one page WordPress theme. With smooth scrolling and easy navigation, this theme is what you are looking for when creating a one page website!
Minivet has 5 sections on the page which can be enabled/disabled as per your needs. You can showcase all your data within these sections –  About, Services & Team, Contact, Portfolio. Minivet's home section comes with a full-width background image that gives it an impressive look. Page scroll effect with fixed header, fully customizable sections, user-friendly theme options panel and much more is certainly worth a try.
BlueArcs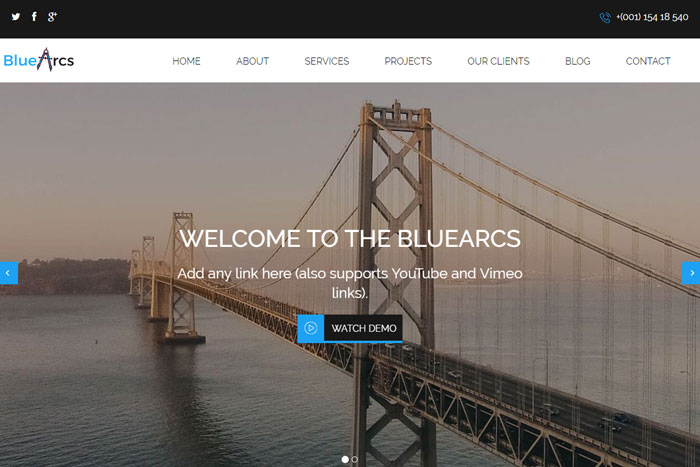 BlueArcs is a creative multipurpose theme designed keeping in mind that you can showcase all you work on a single page.
BlueArcs theme comes up with 8 sections that will provide a complete makeover to your website. The sections – Home, About, Testimonial, Services, Project, Latest blog, Contact and Footer section are fully customizable and perfect for a single page website. This theme also has WordPress features like adding a single post, creating a blog page, archive page, other pages, and many also many others
So, if you are looking forward to crafting a stunning one page website, be easy on yourself and consider one page WordPress themes and your mammoth task is resolved!