Last Updated on by Nick Braithwaite
No matter how good your site or blog might be, it's very difficult to attract and retain a following without a complementary social media presence. Of course, this adds cost in taking up extra time to make the relevant posts, and it's also easy to forget to update social media accounts. The plugins listed below simplify and automate this process while also adding a number of cool and useful features, and anyone with a WordPress website or blog should definitely consider trying one of them.
We're keeping this list of social sharing plugins up to date, this list is valid for 2021. We're 3 plugins short so please let us know if you have any recommendations!

If you've been blogging for some time, you undoubtedly have a lot of older "evergreen" content that can potentially requires little to no alteration to get it in front of a new audience to whom it would still be relevant. Searching through your archives can be time-consuming, however. Revive Old Post Pro helps to automate the process, automatically sharing old posts to your various social network accounts.
The base version is free, but there are three paid upgrades available for a one-time payment. The "personal" upgrade is usable with one site or blog and adds the ability to filter by category, shorten URLs automatically and generate hashtags based on tags. The "business" upgrade further adds the ability to schedule posts in advance and grants a license for three different sites. The "marketer" package allows unlimited use across as many sites as you would like.
It is a great plugin and comes with features other plugins do not have but it will cost you more.
Our Review
Download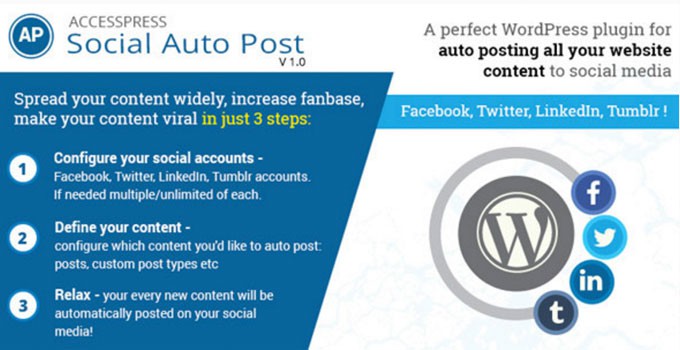 This plugin does not have a free version and requires a one-time payment to obtain, but it also allows the user to link up with an unlimited amount of Facebook, Twitter, Tumblr and Linkedin accounts. Other social media account types are not supported, but the one-time fee of $20 asked here is lower than most plugins of this nature. It is also very reasonably rated on CodeCanyon scoring 4.38 out of 5, and has been purchased 782 times which is a good sign.
I will be surprised if authors don't increase the price in upcoming months, so I'd purchase it sooner if the price is an important factor to you. For the price of $20 you'll get support for 6 months, so very low risk to go wrong if you ask me.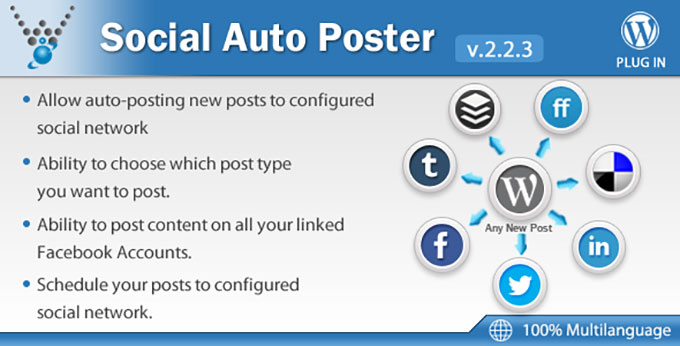 Social Auto Poster requires a one-time payment of $34, but this payment gets you unlimited connectivity with Facebook and Twitter accounts and the ability to connect one account each from LinkedIn, Tumblr, Delicious, FriendFeed and Buffer. It's a fairly basic automated post creator, but does offer the ability to create social media posts from previously published entries, which not all of these plugins offer.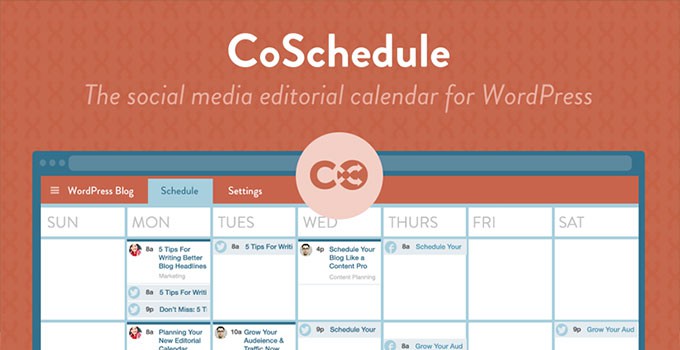 CoSchedule is an all-in-one calendar that lets you take care of both social media and blog posts from one simple interface. Of course, you can cross-post as well. Rescheduling a post is easy with a convenient drag-and-drop feature, and there's also a team management element for multiple users.
The paid versions simply add support for extra team members and extra social networks. The free version has all the basic functionality, but limits you to integration with only five different accounts.

This is a feature-rich panel that integrates with WordPress and lets you manage both your site/blog and all your various social media accounts from one interface. Added functionality includes custom scheduling and automated URL shortening.
The paid "personal" license is good for one year and one site. The "small business" license adds support for two more sites, and the "agency" license opens it up to an unlimited number of sites.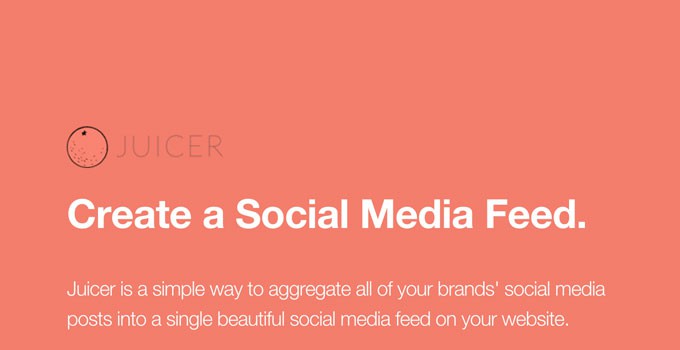 Juicer is more of a public-facing social media organizer, automatically sorting all the posts from the attached social media accounts chronologically. The free version has full functionality, but requires you to display a Juicer watermark publicly and limits the feed to one update per hour. The paid version removes the watermark and updates every 10 minutes.

MailChimp Social is a solid free plugin for those who are only looking to share to Facebook and Twitter. It actually goes a step beyond most plugins in that it also automatically converts Facebook and Twitter comments back to your original post, and you can even use multiple accounts. The only big limitation here is that it doesn't integrate with any other social media services.
There is a premium version available that adds multiple AJAX forms, eCommerce 360 integration, email notifications, added options for styling forms and detailed statistics.

SNAP allows for automated posting to just about all of the major social networks, and some of the more minor ones too. Not only that, it integrates with other blogging platforms (like Blogger and Tumblr) for added functionality or cross-posting between sites. Facebook comments can even be automatically imported as WordPress comments!
The lone downside is that only platforms that don't require an API Library setup are supported by the free version. If you want to integrate with Google+ or Pinterest, you'll have to pay a yearly fee for the "Pro" version.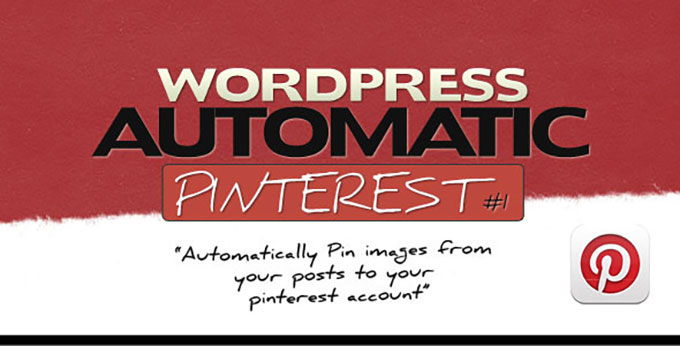 This is almost a required plugin for those who regularly pin lots of images from their posts on Pinterest. When a post is published, all of the images are automatically pinned to your Pinterest account.
The downside is that there is no free version. The paid version is only a one-time payment of $16, however. It includes the ability to pin unlimited images, pin from both featured images and thumbnails, delay or schedule pins, and integrate with WooCommerce.

This plugin is exclusively for WordPress users who also have a Buffer account (an app that schedules social media posts for multiple accounts). WP to Buffer basically just automates the process of pushing a newly published post to the Buffer account. Most social media networks are supported with the basic free version, but if you want to publish to Pinterest you'll have to upgrade to the paid "Pro" version.

As the name indicates, this plugin is aimed at those who post to WordPress and then attach a notification about the new post to their Twitter account. This plugin simply automates the process, sending out a customizable Tweet automatically that links to the new post as soon as it is published.
The free version automatically converts post tags to hashtags, shortens URLs and has support for Google Analytics. The paid Pro version adds the ability to delay or schedule Tweets, attach images to them automatically and schedule Tweets for posts that have already been published.

This plugin is about the most basic means available of automatically generating a social media post when a WordPress post is published. It's rudimentary, but it's also completely free and supports filtering shares by post or category type.
Updates:
25-05-2021 Removed Social Booster, Only Wire and Microblog Poster as they are no longer supported.
Do you know any other WordPress auto post to social media plugins that can help with Social Media automation? Let me know in comments.