Last Updated on by Vairo Kremanis
Introduction
The tagline for this plugin, on the official revive.social website, reads as follows…
"Grow your Social Media presence and keep your content alive."
This plugin comes in a package called Revive Social, which actually consists of two different plugins (Revive Old Post and Revive Network) that were designed specifically for the purpose of growing a network and an online presence, either for yourself, or for your business or organization.
But in this review, we are going to talk specifically about Revive Old Post… which was basically created to pick up old content from your WordPress blog/site, and share it on your social media sites, based on criteria that you select within the plugin. This could be useful in a lot of ways. For one, it could save time and manpower. And second, it could streamline social media efforts and help you to update your sites more regularly with more quality content.
But does it work well? And if so, is it user friendly enough to make it useful for a wide range of different users?
These are the questions that we wanted answers for… so we did some research.
Here's what we found out.
Functionality
The main idea behind the Revive Old Post plugin is that it allows you to share your blog posts on all of your relevant social media sites, on auto pilot, with the kind of regularity that you deem the best for your social media plan. If you have done much social media work in the past, then you likely know that it can take time to share your blog post to all of your sites.
But Revive Old Post seeks to help with this problem by literally enabling you to share as often as you wish to social media without ever lifting a finger. Do you want to share posts from your blog multiple times over the coming weeks? If so, this plugin can make it possible without requiring you to ever even log into your social media sites, which his pretty awesome.
The plugin interfaces with pretty much all of the popular social networking sites, including Facebook, LinkedIn, Twitter, Tumblr, and even Xing. It is also regularly updated, fast, and reliable.
One thing that we noticed right away was that Revive Old Post will let you share older posts in their full entirety. Your posts can contain pictures, hashtags, and obviously links and text… which is awesome.
The Obvious Immediate Benefits
Some of you might be wondering why this would be a useful tool… and we decided to address this right away.
As you likely know, success on social media requires a lot of things… and consistency is one of them. As far as we can tell, this is probably one of the best elements of a social media strategy that this plugin helps with, aside from streamlining the process and saving you time.
Let's take Twitter, for example. You probably know that growing your Twitter account can be a long, arduous, and time-consuming process in most cases. But this plugin literally makes it easy. You can post every hour, on the hour (or however often you want), pulling from older posts to keep them relevant and in the public eye, all without ever having to even log into your Twitter account. This can gain you re-Tweets and new follows without requiring any effort on your part, really, aside from setting up the plugin.
Obviously, you would want to continue to publish new material and add this to the rotation… but this plugin makes it all pretty easy.
Is It Intuitive?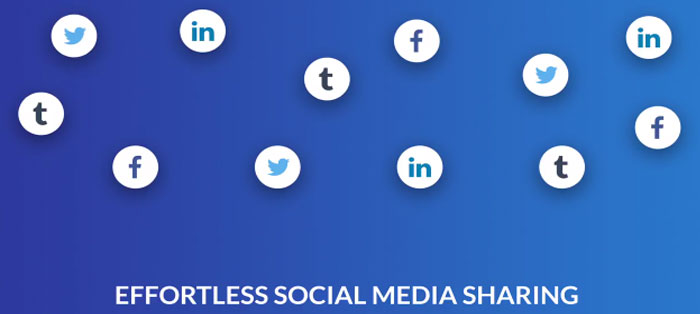 We felt that the plugin worked quite intuitively. It seems designed in a traditional WordPress style, and navigating it seems to be mostly common-sense.
Downloading the plugin and adding it to your WordPress site is pretty easy. You just upload it, install it, activate it, and you should then be able to use it. You will need your license key, obviously… so make sure that you have that handy when you get started.
You will also have to set up your individual social media accounts within the Plugin – but even this is easy. You just find the buttons for the individual accounts, add your login information, and the plugin will gain access to it.
One cool thing about the plugin is that it will even allow you to have more than one Twitter account linked, which is pretty awesome really. The plugin also lets you use Google Analytics Campaign Tracking to find out how well your re-posting campaign is doing.
Ease Of Use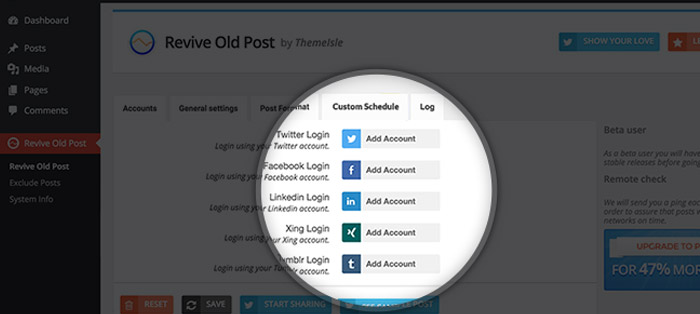 Setting up the Revive Old Post plugin to begin sharing posts is really quite simple. You just choose the account, and start making adjustments. You set a minimum and maximum age of the posts that you wish the plugin to pull from, which gives you a sharing range that you can adjust at-will. You can also choose whether or not you wish for the plugin to share the same posts multiple times.
You can also adjust the frequency with which the plugin posts… ranging from spammy to once in a while, depending on your needs and what will work with your plan.
We were actually quite surprised at how easy it was the use Revive Old Post from the interface. It's a simple matter of choosing your settings, linking your accounts, and setting everything into motion. After that, it pretty much takes care of itself unless you feel the need to change something.
Being able to track your results with the Google Analytics Campaign Tracker is also awesome.
You can even choose specific categories to pull from for re-posting, and can completely customize the sizes of images, etc. You can literally adjust almost every single aspect of your post.
(Note: If you are using Twitter, make sure to set the maximum length to 140 characters, for obvious reasons.)
Another cool feature of the plugin is that it will post in regular intervals, or you can set your own custom schedule – which is pretty cool. This is a little bit like the Facebook feature that allows you to set up automatic posts for the future – but way more in-depth, and with far less effort.
All in all, as far as ease of use is concerned, this plugin got high marks from us.
Pricing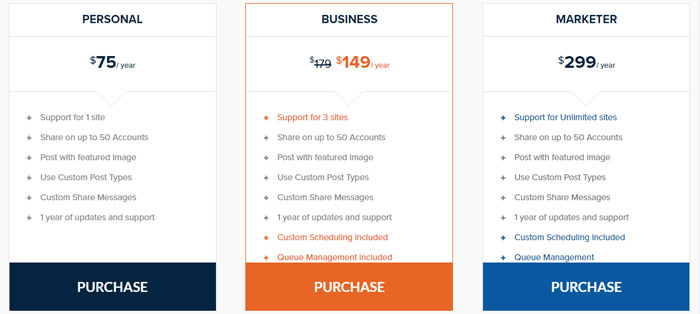 There are 3 different types of plans that you can purchase if you want to use Revive Old Post. You can choose the Personal plan for $75/year, the Business plan for $149/year, or the Marketer plan for $299/year. Each of these different plans come with increasingly better features, so taking stock of what you need is important for the process of choosing the plan that is right for you.
What we will say, however, is this… if you want to custom-schedule posts, then you are going to want to at least buy the Business version, if not the Marketer version.
Support And Documentation

This plugin comes with one year of support. You also get free updates for the first year. After the year has passed, however, you will no longer be able to receive updates or support from the company.
As far as a refund policy is concerned, the company does offer a 30 day risk-free money back guarantee for all purchases made on their website… which is pretty cool. This basically means that you can try all of their plugins risk-free, which is always a good thing.
The company also features a pretty good FAQ section on their website, where you can find answers to many of the most common questions that someone would ask about a plugin like this. They also feature a very thorough help section on their site that you can use for either finding answers to other questions related to problems, or just to learn more about the plugin.
And, of course, you can also submit support requests on their website. We were a bit disappointed that they didn't offer a phone number or something like that – but to be super honest, most companies don't offer that sort of thing anymore, and for understandable reasons. It is just easier to communicate via email in most situations, and support tickets seem to be a really good method for that.
Conclusion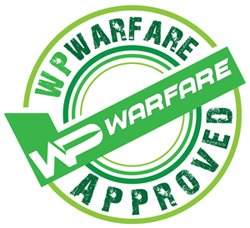 In the end, we really liked Revive Old Post. It makes handling another menial social media task effortless, and really streamlines your ability to make use of older posts to keep your online 'buzz' as alive as possible.
In general, we did not find anything which would STOP us from giving this plugin our WPWarfare.com stamp of approval. Well deserved!
Granted, it is a bit of an investment, and you need to keep it up yearly if you wish to continue to use it… but, when you take into account all of the awesome benefits it grants, you'll likely find that you can't go wrong if you want something that's going to really help you to ramp up your social media efforts while almost eliminating your time investment.
We kind of felt that you would need to make use of either the Business or Marketer plan to really get the most for your money – but when you factor in $149 spread out over a period of 12 months, you will quickly notice that the plugin has the potential to do a lot more for you than it is costing you.
Plus, on a side note, it helps to keep your old posts from just dying out… which is good for a lot of reasons. Recycling older content helps not just your rankings, but also your ability to keep your audience's attention.
That, to us, is really the bottom line.