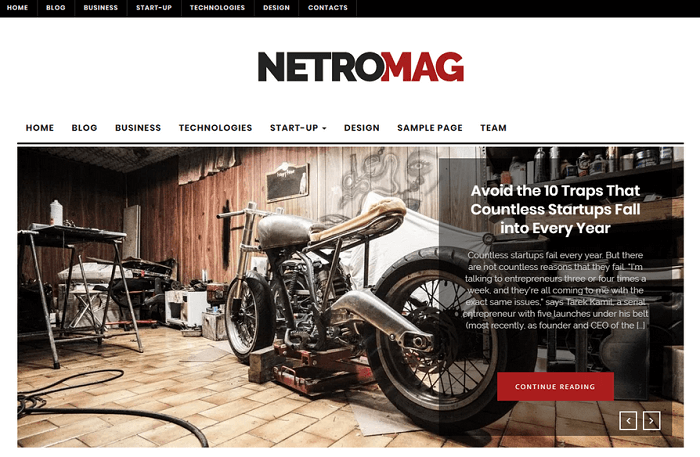 NetroMag is the perfect WordPress theme for those looking to start a techie, fashion, travel, or personal blogging website.  Elegant and clean, this fully responsive and mobile-friendly theme packs a powerful punch when it comes to design and functionality, while still maintaining a minimal feel that won't drag your website down.
What is NetroMag?
NetroMag is a lightweight and slick looking WordPress theme that comes free of charge.  However, even though it lacks a price tag, this theme does not lack anything when it comes to functionality.
In fact, NetroMag is known for playing well with popular WordPress plugins such as:
Caching Plugins. Caching plugins offer website owners a simple way to store static website data in cache to deliver to site visitors quickly and efficiently.  Some of the most popular include WP Super Cache, W3 Total Cache, and WP Fastest Cache.  Rest assured NetroMag is compatible with all caching plugins, and know that providing your site visitors the best page loading speeds possible is one of NetroMag's main goals.
Optimization Plugins. Whether you want to optimize your website's images using Smush It or EWWW Image Optimizer, improve your SEO efforts using Jetpack, or clean up your site using plugins such as WP-Optimize or Hummingbird, know that NetroMag will never get in the way of your efforts to speed up your website's performance.
In addition, NetroMag works seamlessly with Orange Themes Custom Widgets, which comes with widgets like Latest News, Social Links, About Blog Author, Feature, and Team.  Plus, it works well with Easy Bootstrap Shortcode for adding stylish icons and buttons to your website for increased functionality.
Built as a simple, yet effective theme for those with a limited budget, NetroMag aims to reduce the clutter so many multi-purpose WordPress themes come with, so that site visitors can concentrate on your killer content and stunning imagery.
In fact, the team behind NetroMag want you to know that despite your evolving website, NetroMag will always provide a solid foundation for you to build, and grow, you website on.
NetroMag Features
Despite its simplistic nature, NetroMag comes with a slew of helpful features for website owners looking to build a truly standout website.
To start, easily customize all of your website's elements using the native WordPress Theme Customizer.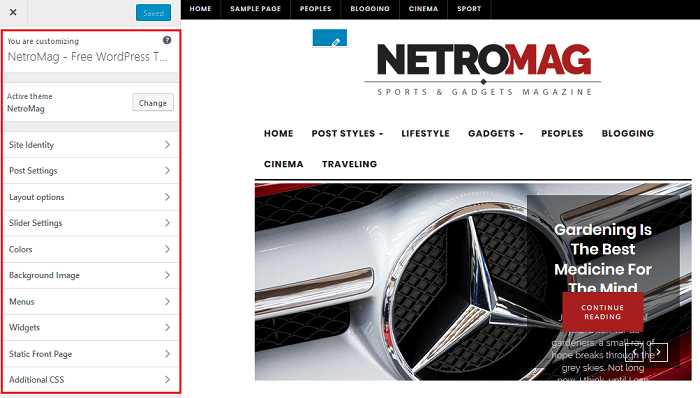 For instance, here are some of the things you can customize:
In addition, let's look at some of NetroMag's best features.
Homepage Slider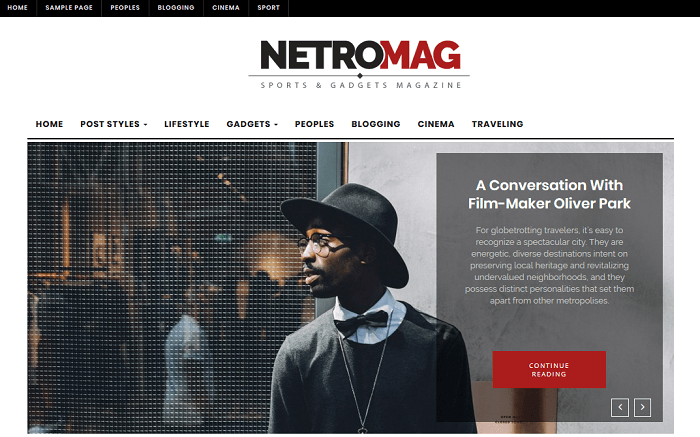 Turn your featured posts into a fully functioning homepage slider for sharing your best content with those clicking on your website.  Easily enable the slider functionality in the Theme Customizer and choose which category of content you want to display for site visitors.
Background Image

Choose a background image and decide its positioning – fill screen, fit to screen, repeat, or custom.  Additionally, adjust the image position and even enable it to scroll with the page.
Widgets
NetroMag comes with several widgetized areas.  Most notably, it comes with a full width or 3-column footer widget section for displaying a variety of information to site visitors.

For example, add any of the widgets that come with the Orange Themes Custom Widgets plugin.  Or, you can add widgets such as Recent Posts, RSS, Tag Cloud, Video, or even the Search Bar widget.
It is also worth noting there is room in both the sidebar and footer sections of NetroMag for adding advertisement images.  This feature is great for monetizing your website.  Sell ad space or become a product or service affiliate.  No matter which route you take, you will generate revenue in no time using the NetroMag WordPress theme.
Featured Image
If you choose to disable NetroMag's slider functionality, know that you will still reap the benefit of having a large featured image for each blog post you publish.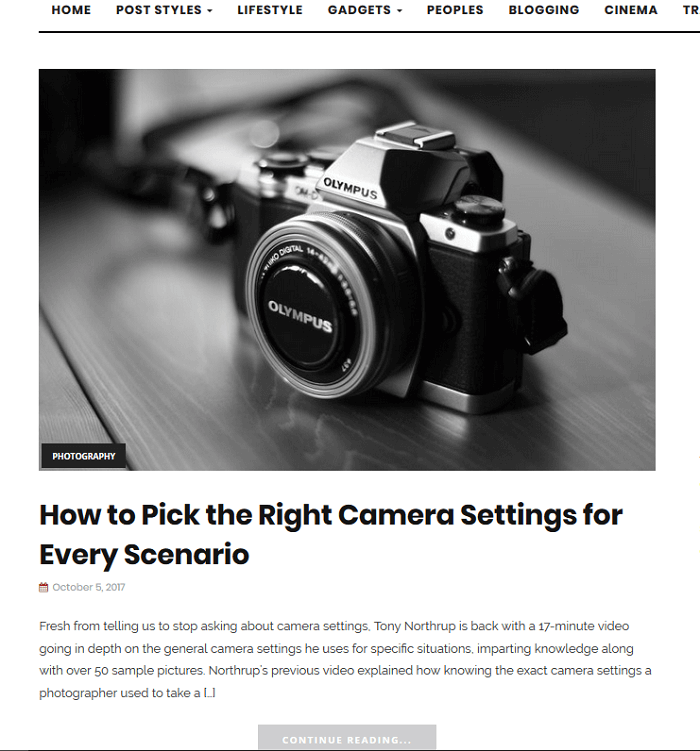 Not only does this feature allow you to add more visual appeal to your website, it gives readers a chance to get an idea what each post is about before clicking on "Continue Reading".
Other Notable Features
NetroMag's flexible design comes with some additional theme features worth mentioning before you make the final decision whether to check it out on your WordPress website:
In the end, if you are looking for a simple, lightweight, and elegant WordPress theme, check out NetroMag and see if it's the right fit for you.  Thanks to its full feature set and stunning visual design, NetroMag has a lot to offer those in the technology, fashion, or travel industries.  Plus, its versatility lends a perfect platform for those looking to start a personal blog.
NetroMag  Demo
Download  NetroMag
Other FREE Themes
And don't forget, its free to use so there is nothing in the way of you trying it out on your WordPress website today.