Last Updated on by Eddie Kremanis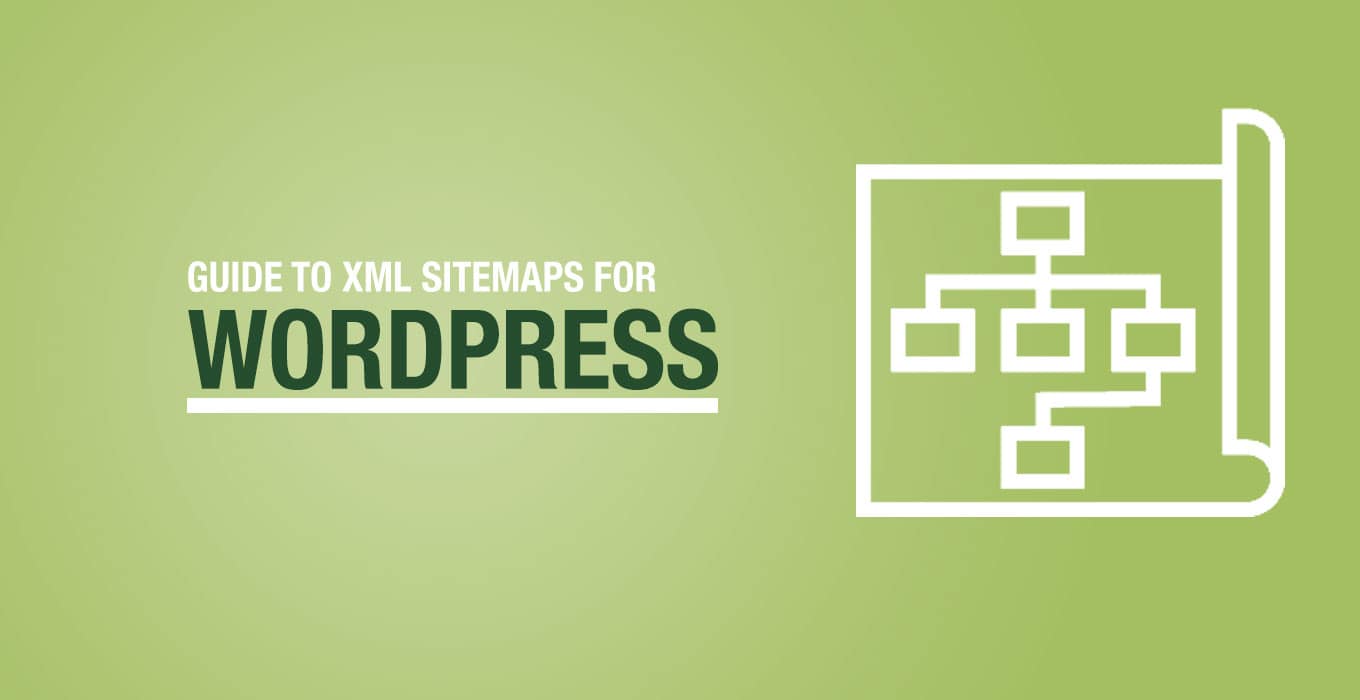 Search Engine Optimization (SEO) has been a buzz word in the Internet marketing niche for a long time now and since a few years,  nearly everyone knows at least a little about it. One of the essential tasks of SEO is to show your website's content and structure to Search Engines in a well organized and easy to understand way.
In 2005, Google introduced XML Sitemaps as a means to show whole website structures and content to Search Engines and shortly after, Microsoft and Yahoo followed suit.
The basic idea of Sitemaps is rather simple. Ideally, it contains all the URLs of a website with relevant data such as when it was last modified, how frequently it is updated and whether one particular page should receive priority over others. In simple terms: it is the breadcrumbs or navigation menu for Search Engines to navigate the website.
Why Are Sitemaps So Important Anyway?
Search Engines are getting smarter every day and one could ask whether an XML sitemap is necessary anymore. According to Google, there are plenty of good reasons why you should still create one for your website:
If you have a really large website, it can happen that web crawlers overlook some new or recently updated content. Due to limited resources compared to the Internet's vast amount of content, Search Engines tend to have "difficulties" in finding new content on these huge websites or refreshing their indexes when a page is updated.
If your site has a lot of content, let's say a really big archive that is somehow isolated from the rest of your website or that is poorly linked to each other, it'll be hard for crawlers to find and index these pages.
If your website is new with no inbound links altogether, Search Engines have no chance of even discovering your new website and pages. The way Search Engine crawlers work is basically that they follow each found link on a web page to access new pages. Without any inbound links, they won't even know about your website.
And finally, if your website features rich content or appears in Google News, XML Sitemaps will help you to show Google additional information, which in turn enable Google to show the popular rich snippets and content.
Now, if you still aren't convinced about using Sitemaps, read on and you'll see that it can be done for free, does not take a rocket scientist to do it, and takes no more than 15 to 30 minutes to set up.
How to Create XML Sitemap for WordPress?
There are plenty of plugins out there, which enable you to set up an XML Sitemap for your WordPress site. Some of them are specialized plugins with a lot of customization options and no other purpose than creating and submitting your sitemap to major Search Engines. Some, on the other hand, are general SEO plugins that also create Sitemaps among other things.
In this article, we'll go through 2 of the best-known plugins and let you choose based on your needs and preferences.
Google XML Sitemaps WordPress Plugin

Google XML Sitemaps WordPress plugin has an active user base of over 1 million and is a specialized plugin with only one focus: Creating Sitemaps. And as specialized plugins tend to be, it offers a lot of customization options in comparison.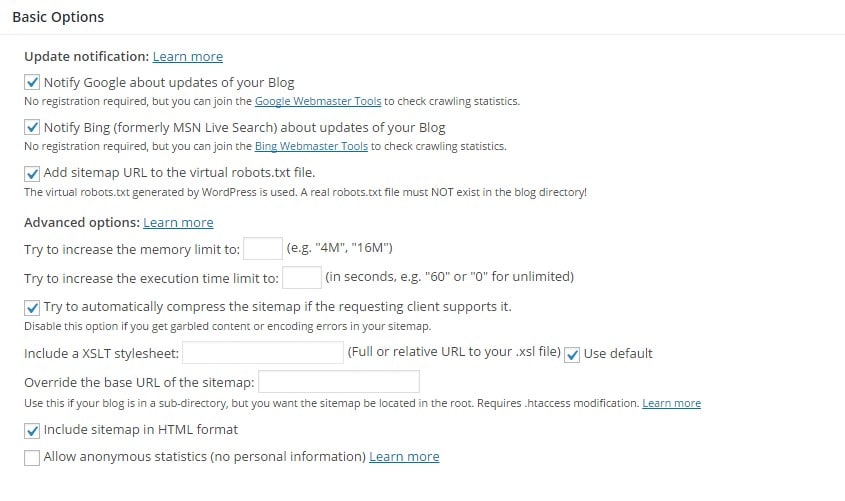 Every time you add new content to your website, the plugin updates your website's Sitemap. By default, the plugin is set up to notify Google and Bing whenever the Sitemap is updated. It basically pings SE's to let them know about the event. The plugin also inserts your Sitemaps URL in the robots.txt file. Robots.txt is the first destination of Search Engine crawlers when they arrive at your website. In case you are wondering, robots.txt is a special text file for crawlers that, contrary to Sitemaps, tells them what parts of a website should not be indexed.
Google XML Sitemaps also lets you choose what parts of your website to exclude from the Sitemap and specify certain priority and frequency of change for each part. Priority and frequency of change are suggested values for Search Engines to know how often they should re-index a certain page and whether the crawling of a certain page or category should take precedence over another.
Important note: If you are using an all-in-one SEO plugin like Yoast, you should disable its sitemap generation functionality. Otherwise, you could run into conflicts between the two and confuse Search Engines and damage your rankings, in a worst case scenario.
Yoast SEO Plugin

With over 1 million active installs and an average rating of over 4 stars, Yoast SEO is the best-known all-in-one plugin for onsite Search Engine Optimization.
With this plugin, creating XML Sitemaps couldn't be easier. By default, the plugin is set up to automatically create a Sitemap and ping Google and Bing to notify them about updates. It also enables you to set a max entry limit for sitemaps. This is particularly useful for huge websites with thousands of posts and pages. According to Google, a single sitemap is limited to 10MB file size and 50 thousand URLs. Additionally, some budget hosting providers have very limited resources and the plugin's default of 1000 entry per page may be too high for them. When your URLs exceed the number of allowed entries per page, Yoast SEO automatically splits your Sitemap and creates a so-called Sitemap Index which points to your actual Sitemap files.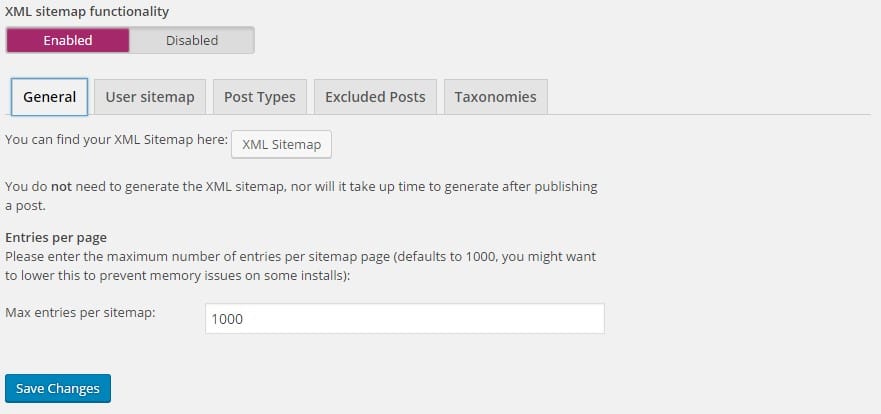 In addition, Yoast SEO lets you customize the following options for the Sitemap:
Whether Author/User URLs are included
Whether specific WP Roles are included
Whether Pages, Post or Media (attachments) are included
Enables you to exclude specific posts from appearing in the Sitemap
Whether Category and Tag URLs are included
How Sitemaps Help Protect Your Intellectual Property
Since the early days of the Internet, plagiarism, a form of intellectual theft, has been a widespread problem. In recent years, Google, in order to protect its users from redundant content and present the best possible results, has introduced algorithm updates that severely punish websites for plagiarism. Basically, the first URL with unique content that is indexed by Google bot will be considered the owner of that content.
Now, you have the option of manually submit your posts to Google to be indexed, the minute you publish them, to prevent others from stealing your content before it was recognized by Search Engines. But doing it manually each time takes too much time.
Therefore, having a proper Sitemap plugin that automatically notifies major Search Engines about new content, protects your intellectual property (and potential ranking) and saves you the added headache of manual submission.
Final Thoughts
Whether you go with a specialized plugin for Sitemap generation or choose to stick with an all-in-one SEO pack depends on your needs and preferences.
If you are a veteran Yoast user (or a similar plugin like All in One SEO Pack for that matter), there are really very few cases where you need nearly granular customization and would want to change sides to a specialized plugin. After all, the added complexity isn't suited for everyone's technical knowledge and time is a valuable commodity.
But if you are new to the party altogether, or need those extra options, feel free to use a specialized plugin for creating Sitemaps.