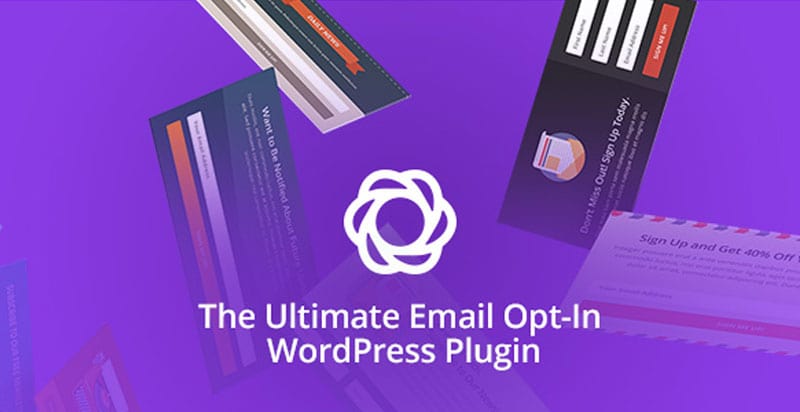 Editor Rating

Rated 5 stars

Spectacular
$89
---
Reviewed by:

Published on:

Last modified:
---
Building a bigger list of email subscribers is no doubt on every website owner's mind. After all, your success as a business owner often lies in how many people you can attract and convince to subscribe to your email list, all with the hope that they will visit your site again and eventually make a purchase from you.
And, it should come as no surprise that your email opt-in form is the first step you must take in this process of collecting emails.
Luckily for those who use WordPress there are many plugin options to aid you in your list building efforts. From free options to premium ones, it can be easy to wonder which one is best for you and your website's needs. That's why today I want to share with you one WordPress plugin that often leads the pack when it comes to customization, effectiveness, and backend user experience.
Yes, I am talking about Bloom, the email opt-in plugin from Elegant Themes.
So, let's take a closer look!
What is Bloom?
Bloom is an email opt-in form plugin that enables you to display email signup forms on your WordPress website. When your site visitors enter their information into those forms, they are then added to your email list that is integrated with email marketing services such as MailChimp or Aweber. From there you are able to regularly connect with your email subscribers via newsletters and other email correspondence.
The importance of building an email list cannot be disregarded. It encourages first time visitors to your website to come back and allows you to stay connected with those that are loyal followers. You can provide your subscribers with newly published content, promote new products, inform them about special sales, and push them to visit your site again and again.
Six Email Opt-in Form Types
Bloom offers you six different types of opt-in forms that can be placed in many locations throughout your website. This increases your visitors' exposure and ups the chances they will sign up.
Pop-Up. This form jumps out at your readers and appears over the page they are currently viewing. Though there has been much debate over the annoyance of this type of form, the truth is they are very effective.
Fly-Ins. Much like the Pop-Up form, the Fly-In simply pops up in the bottom corner of the screen to catch your reader's attention.
Inline. If you want to display an email form inside of your content, this style is perfect for you. Inline forms have a fixed placement and are great for landing pages or within blog posts.
Below Content. Placed at the end of your content, the idea behind these forms is that if a reader finishes reading your entire post chances are they will be interested in signing up to receive more information.
Widget Area. This form type makes it easy for you to place a form within any widgetized area. Popular places include the sidebar and footer areas of your website.
Require Opt-In. This form requires an email in exchange for access to premium content you want to make available only to subscribers.
The great thing about Bloom is that you can use any number of different email opt-in form types throughout your website. This way you can test conversion rates and get the perfect placement combinations for your site.
Maximum Customization
Bloom provides endless options for creating a unique opt-in form while managing to keep things easy. After choosing from one of the six opt-in form types, you will be able to customize your form using one of the dozens of pre-designed templates made available to you.
With 115 pre-made templates, Bloom holds nothing back when it comes to form design. And if you are feeling adventurous, you even have the option to custom make your own opt-in form from scratch.
In the Design settings you can tailor things such as the title, message, image orientation, text fonts, borders, and color schemes to match that of your website. You can even enter your own custom CSS if you want to. The only limitation Bloom has is that of your own imagination.
Timing Triggers
The Display Settings portion of the plugin covers how you will display your newly created opt-in form to your site visitors.
Bloom comes with a number of "triggers" that define how your optin form will present to your readers. Triggers are essentially actions that your readers perform that will trigger your opt-in form to appear to them.
Again making it easy for website owners to configure, Bloom provides the following trigger types to choose from:
Timed Delay. Display your form after your readers have been on the webpage for a specified amount of time.
Bottom of Post. Did your reader make it to the end of your post?  Well, remind them to sign up once they reach the end by showing them your form.
After Scrolling. Once a certain percentage of scrolling action has taken place, show your readers the optin form and invite them to sign up.
After Commenting. The interest is there if a reader has taken the time to comment, why not encourage them to subscribe as well.
After Purchasing. Offer future product updates and deals by triggering an optin form to appear right after the checkout process.
After Inactivity. Catch the attention of a reader who is stalled on a particular page and hope they become re-interested enough to sign up.
The one downside to Bloom is that they do not incorporate exit intent technology like many of the other popular opt-in form plugins do. However, if you manipulate the triggers Bloom provides, you can mimic exit intent and have a very similar effect.
In addition to when your optin forms are displayed, Bloom gives you the chance to determine where they are displayed as well. Show your forms everywhere, or pick and choose from the homepage, archives, categories, tags, posts, and/or pages.
You can also enable your opt-in form to show for individual categories.  Are you super picky? Designate your opt-in form to display on individual posts and pages.
A/B Split Testing
Comparing the performance of multiple variations of the same opt-in form can help you determine which ones are most effective.
Bloom gives you the chance to create a duplicate form that you can then make small changes to by clicking on the A/B Testing icon next to the opt-in form you want to test. Remember, it is best to change only one element at a time to get a true feel for which opt-in form is the more popular choice among your visitors.
Once you have created your two opt-in forms, select Start Test and Bloom will begin displaying each opt-in form equally to your visitors. After the desired amount of time has passed and you feel you have gathered enough information to make a decision, simply click End & Pick Winner and choose the winning opt-in form.
This option makes split testing your opt-in forms very intuitive and super easy. A/B testing is something that all website owners should take part in. By testing and tweaking even tiny elements on your website you can improve your website significantly.
Email Marketing Integration
Bloom easily integrates with all of the top email marketing solutions on the market today.
Just choose your email service provider from the drop down menu, enter your account name, and paste your API information into the required fields and your Bloom opt-in form will directly connect to your email marketing service.
You can also integrate Bloom with unlimited email marketing accounts meaning you can subscribe readers to the different lists you manage. Bloom will organize each account by provider and aggregate the lists and subscriber counts in one convenient place so you will always know what is happening with each separate account.
For those of you not using one of the available email services, Bloom does support a custom HTML form.
Useful Performance Statistics
Improvements cannot be made if you do not have access to the right statistics. That's why Bloom provides analytical data regarding each active opt-in form so that you can keep the ones that work and cut the ones that don't. And what's great is that the data is presented in a visually appealing and easy to understand way so you don't need to hunt and search for information.
Bloom's Statistics section displays the number of impressions, conversions, and the conversion rate for each active opt-in form on your website. You can also view real-time updates for each opt-in form, your overall growth statistics, your highest performing pages, and a graph showing you how your list has grown over time.
Final Thoughts
When it comes to email opt-in forms Bloom is quite impressive. Its intuitive interface, beautifully designed templates, split testing abilities, and available analytics make for the perfect recipe when it comes to building a solid email list.
Every step is clearly outlined so the endless customization options do not overwhelm you on the backend. You are simply free to create opt-in forms that match the look and feel of your website in no time at all.
The integrated A/B testing feature adds to Bloom's impressive features. Rather than consult with another program or plugin, it is all built right in and ready for you to use.
If you are looking for a WordPress opt-in form plugin that is easy to use, has endless design options, and is ready to help you build a bigger email list full of eager subscribers wanting more from you, I would strongly recommend checking out Bloom. It is not by coincidence that it is one of the most widely used opt-in form plugins today.
Have you tried using Bloom on your WordPress website? What were your thoughts about the design process, the A/B testing ability, and even the available statistics? I would love to hear all about it in the comments below!
Pros
Six different types of opt-in forms
115 pre-made templates to choose from
Option to custom make your own opt-in form from scratch
Beautifully intuitive interface that's very easy to use
Integrated A/B testing feature and analytics
Cons
Can't be purchased on its own
No exit intent technology
Summary: If you are looking for a WordPress opt-in form plugin that is easy to use, has endless design options, and is ready to help you build a bigger email list full of eager subscribers wanting more from you, I would strongly recommend checking out Bloom. It is not by coincidence that it is one of the most widely used opt-in form plugins today.
$89
Last Updated on by Vairo Kremanis